How to Do a Voice-Over in Your PowerPoint Presentation
One surefire way to make your presentation more engaging and provide greater context on each slide is to add a voice-over. In this article, you'll find a few ways on how to include a voice-over in PowerPoint. You can:

How to Add a Voice-Over to Each Slide
Recording audio narration for each slide is the easiest way to add a voice-over to your presentation. Here's how you can do this step by step:
1. Open the slide you want to add the narration to and then go to
Ins ert > Audio > Record Audio
.

2.
Enter a name for the recording.

3. Click the red dot to start recording and begin reading your script.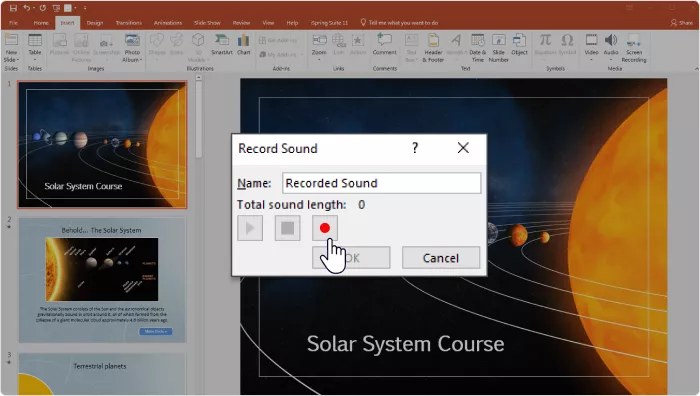 4. When you're finished, click
Stop
.
Once the recording is complete, you can review the voice-over by selecting the
Play
icon on the slide. If you like it, click anywhere outside the playback controls to accept the recording.
How to Record a Voice-Over for an Entire Presentation
Instead of adding a voice-over to each PowerPoint slide, you can record narration for the entire presentation. To narrate the entire slideshow, just follow this guide:
1. Go to the Slide Show tab and click Record Slide Show.

2. In the Record Slide Show box, choose Record fr om Beginning if you'd like to start right fr om the beginning of the presentation, or sel ect Record fr om Current Slide if you want to narrate the slide show beginning from a specific slide.


3. With PowerPoint, you can record audio or video narration. By default, it records both camera and audio. If you'd like to capture only your voice, turn the camera off by clicking on the corresponding button.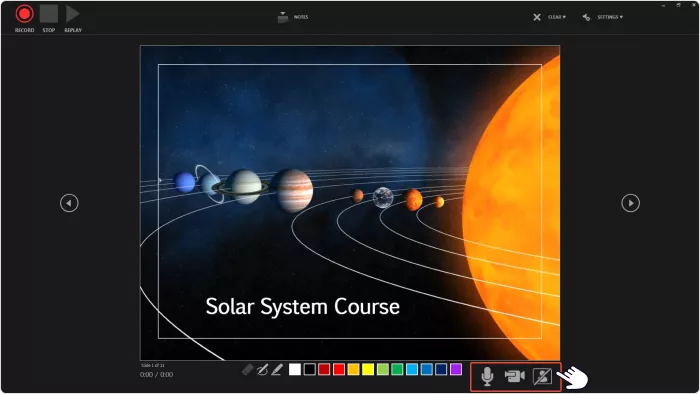 4. Use directional arrow buttons to progress to the following slides. When you finish, click on Stop.
5. Finally, save the PowerPoint file.
How to Record a Voice-Over and Fine-Tune It for the Best Quality
As you can see, PowerPoint provides great voice recording options, but it doesn't offer any audio editing tools. That's why it's pretty challenging to get good quality sound without background noise, breath popping, and unnecessary breaks.
If you'd like to create a presentation with a high-quality voice-over, you'll need a specific voice-over PowerPoint software like iSpring Suite Max. It works as a PPT add-in and comes with a good deal of audio recording and editing options.
Here's how you can record a voice-over for your presentation using iSpring Suite:
1. Download a free 14-day iSpring Suite Max trial and install it on your computer.
2. Open your PPT presentation and head over to the iSpring Suite tab.

3. Click on Record Audio.

4. In the recording window, add slide notes that will prompt you while you record and se t the desired parameters by clicking Options. For example, you can adjust the volume and set noise removal. To record audio for a single slide, sel ect the Process this slide only checkbox.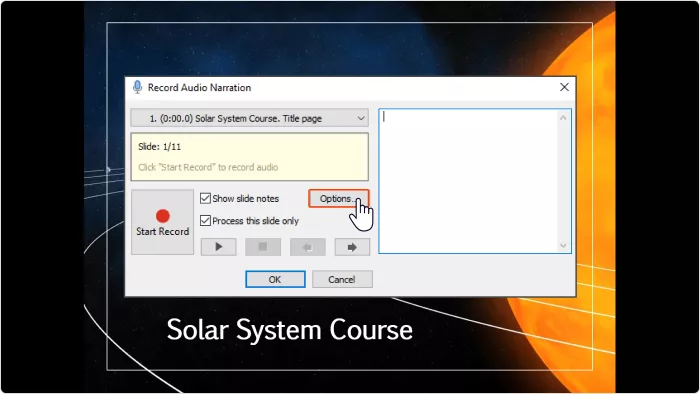 5. When you're ready, click Start Recording. To synchronize your narration with animation and transition effects in the presentation, click the Next Slide/Next Animation/Skip Transition buttons that will replace the Start Record button every time an effect appears.
6. Once you've recorded your narration, click
OK
to save it.
How to edit a voice-over in PowerPoint
As mentioned, iSpring Suite has a built-in audio editor that allows you to get your voice-over just right. To fine-tune your audio, go to
Manage Narration
on the iSpring Suite tab.

In the opened window, sel ect the recorded clip on the timeline and click on
Edit Clip
.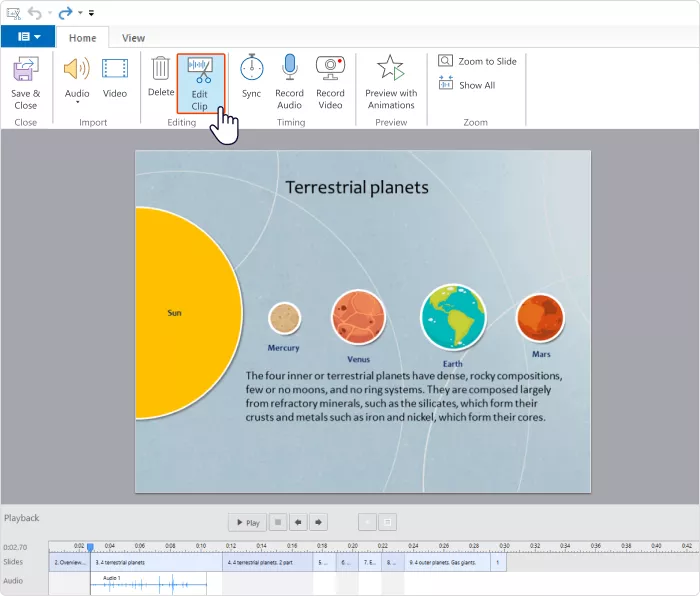 Here's precisely how you can improve your narration.
Delete fragments
Click and drag to select the fragment you need to remove on the timeline; then click
Delete
on the toolbar.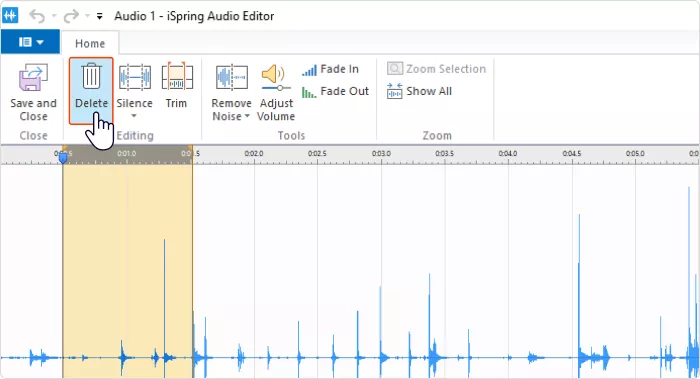 Add silence
To ins ert some seconds of silence at any point of your voice-over, put the cursor on the desired place and click the
Silence
button on the toolbar.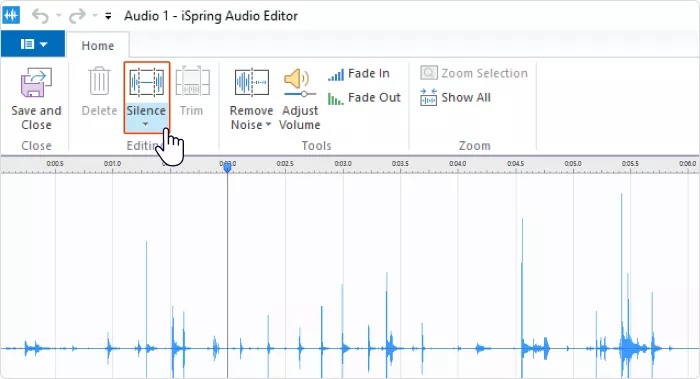 You'll see the dialog box in which you need to specify the duration of the silence (in seconds and milliseconds). Then click
OK
.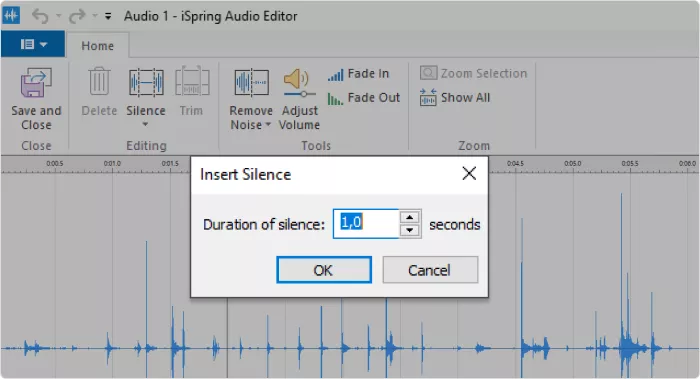 Trim clips
On the other hand, if the silent parts seem unnaturally long, you can trim them off. Just select the fragment you'd like to remove and click
Trim
.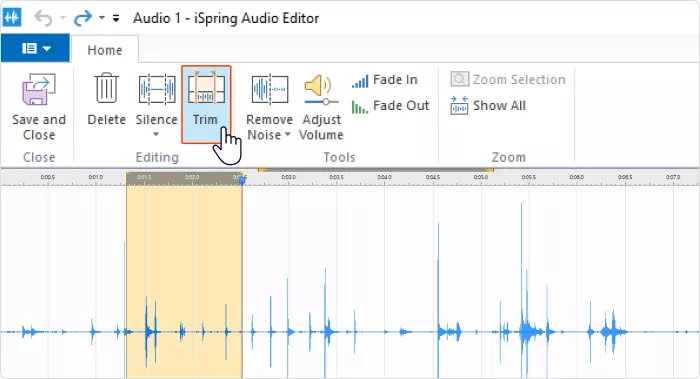 Remove noise
If you notice that there's some background noise in your audio, select the noise part on the timeline, click
Remove Noise
on the toolbar, and then choose
Remove Noise
once again.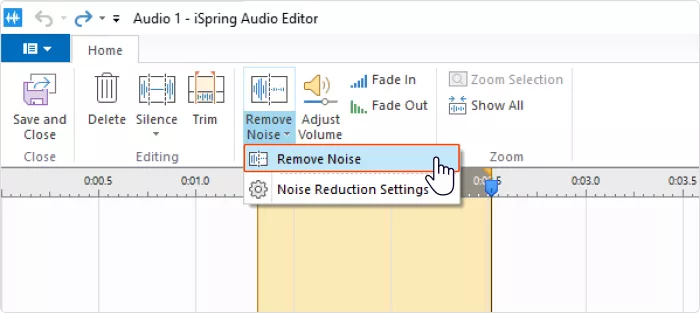 You can also se t the parameters of sensitivity, frequency smoothing, and noise reduction that will be applied to all your future voice-overs in
Noise Reduction Settings
.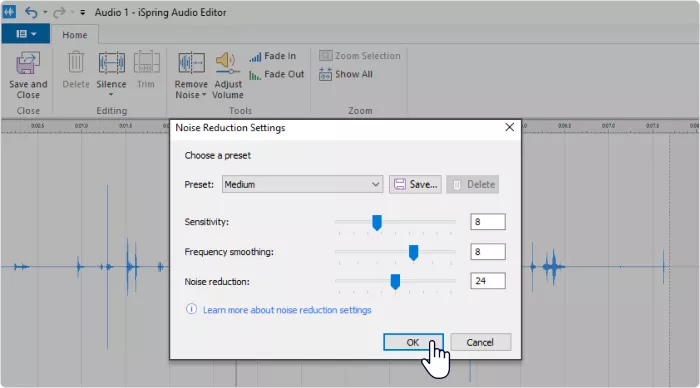 Adjust volume
If you'd like to change the volume of your narration, click
Adjust Volume
and drag the slider to make your voice-over quieter or louder. Use the
Play
button to check the volume level.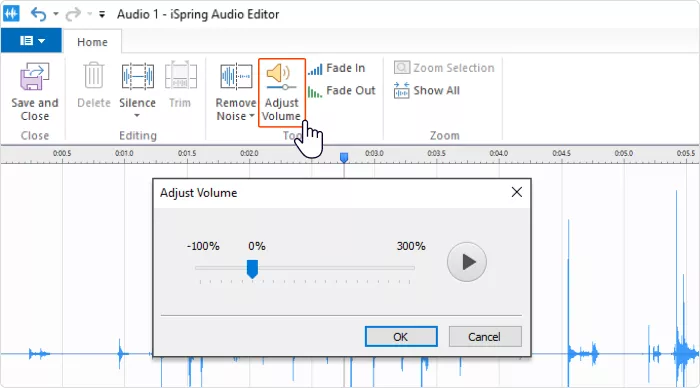 Set fade effects
If you need to create a smooth segue fr om one part of your presentation to another, use the
Fade In
and
Fade Out
effects. By selecting the part of your clip that you wish to fade and applying the Fade In and Fade Out options, you'll be able to create natural-sounding transitions between tracks.

How to Add a Pre-Recorded Voice-Over to PowerPoint
Microsoft PowerPoint allows for the uploading of audio files. If you have a ready-to-go voice-over, you can add it to your presentation in seconds. You just need to choose
Ins ert > Audio > Audio on My PC
. The narration will be added to your slide immediately.

However, if you'd like to adjust the slide and animation timings with your narration, you'll need iSpring Suite again.
1. To add an audio file via iSpring, go to
Manage Narration
on the iSpring Suite tab.

2. If you'd like to record audio fr om a particular moment, place your cursor at that point of the timeline. Then click
Audio
on the Narration Editor ribbon and choose the file you want to add.

3. In the
Import Audio
window, specify whether the audio file is to be added at the current cursor position or at the beginning of the selected slide. To let the software adjust each slide duration to the duration of the narration automatically, check the
Adjust slide duration
box.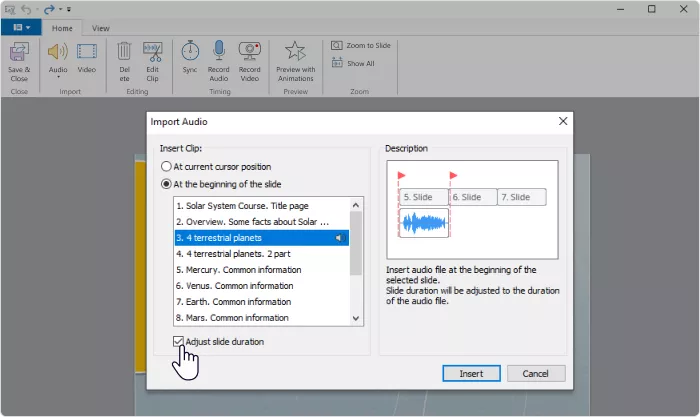 How to Generate a Voice-Over Without a Narrator
If you want to save time on recording audio or just don't have a narrator to create a compelling voice-over, you can use iSpring Suite's built-in text-to-speech tool. It enables you to turn texts into natural sounding voice-overs with clear pronunciation and dulcet tones in a matter of minutes. Check out this brief guide on how to convert text to narration with iSpring:
1. Head over to Manage Narration on the iSpring Suite toolbar.

2. Click the Audio button and choose Text to Speech.
3. Select the language and voice.

4. Add text to the empty text field and click the Insert button.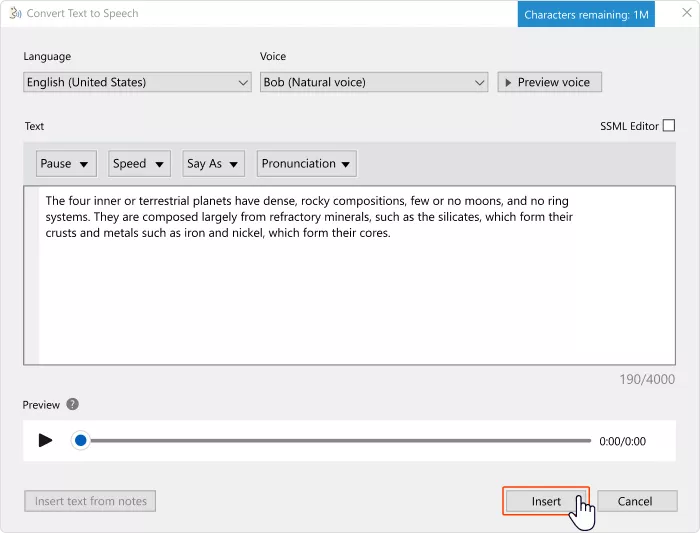 5. Choose when to start playing the narration – right when you open the slide or further on.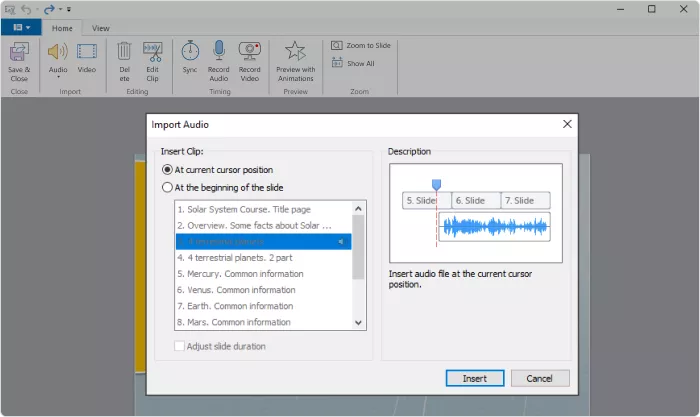 Congratulations! Your voice-over is now ready to go.

How to Publish a Presentation with a Voice-Over Online
A great benefit of using iSpring Suite to create a presentation with audio narration is that you can publish it to an online format and share it with your audience on the web.
Regardless of whether you recorded audio in iSpring Suite or used its text-to-speech tool, your next step is to export your slides. To do this, click Publish on the iSpring Suite toolbar.


Then select wh ere you want to publish your presentation and in which format:
Video – if you'd like to upload your slide deck to YouTube

SCORM or xAPI – if you want to upload your presentation to an LMS

HTML5 – if you need to upload your slideshow to a website

Finally, click
Publish
.
Congrats! Your presentation with a voice-over is ready.
How to Listen to a Voice-Over in PowerPoint
Once your narration is ready, you can go back to the slides and listen to it. Here's how to play audio:
Select the slide with the voice-over.

Find the audio icon on the slide.

Hover over this icon and click Play.
Tips on Recording a Professional-Sounding Voice-Over
Following these extremely simple tips will help you create high-quality narration – even if you've never done it before.
Set up your recording space. If you don't have a professional audio recording studio, you can simply find a small quiet room that's free fr om any noise fr om the outside world. Shut the windows firmly and turn off all unrelated devices.

Get all the necessary equipment. To record a voice-over on PowerPoint, you don't need to buy pricey tools. All you need is a computer/laptop and a good microphone.

Prepare yourself for recording. First, sit up straight. Good posture will help you maintain good breath support, allowing you to speak in a strong, clear voice. Then take a drink of water. If you record a voice-over with a dry mouth, it will make noises — smacks, clicks, pops — that will annoy your audience.

Pre-read the script. Read the script aloud to see if it's well written and appropriately constructed for narration. If you're struggling with the script, rewrite the parts that might be giving you difficulties – choosing words and phrasing that are easier to speak. You also need to find out which words you should emphasize to trigger the feelings you'd like to transmit.

Speak in a natural and pleasant manner. Pronounce each word clearly, but don't concentrate on it too much, or you'll sound robotic. Consider your tone. You need to sound pleasant, but not too excited or overjoyed. Smiling while reading a script can help you sound happier and more natural.

Don't stop if you make a mistake or misspeak. If you use iSpring Suite, you don't have to be afraid of making mistakes because you don't need to start over. You can always fix the recording when you edit. Just go back a sentence in your script and start speaking again.
As with anything, recording voice-overs will become easier the more you do them. So don't give up if the recording isn't perfect the first time!
Endnote
Recording a compelling voice-over on your PowerPoint presentation is extremely easy if you follow our guide. And you'll be able to record a professional-sounding voice-over using iSpring Suite Max. This tool will also be beneficial if you'd like to:
Create engaging online courses

Build interactive online quizzes

Create role-play simulations

Record video lectures and screencasts
Download a free 14-day iSpring Suite Max trial and create a presentation with a high-quality voice-over today, without paying a cent!
Helpful Resources
Related Articles