How to record a voice-over for your PowerPoint presentations with iSpring
iSpring Suite provides a convenient way to record and insert audio and video narrations in your presentation in perfect synchronization with your slides and animation timings. This article will focus on recording a voice-over narration for your PowerPoint slides.
There are two ways you can accomplish this task:
The

Record Audio

function
The

Manage Narration

function

Record Audio
This simple mode will take you to a full-screen slideshow of your presentation with a small control panel to manage the recording process. To access it, click Record Audio on the iSpring toolbar. Note: This method will record separate audio files for each of your slides. If you'd rather have a single track over your entire presentation, use the Narration Editor (details below).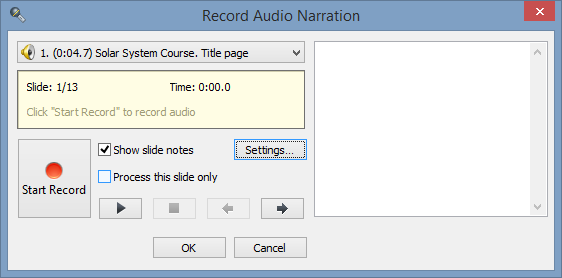 To start recording, click

Start Record

.
To navigate to the desired slide, use the dropdown menu at the top, or the directional arrow buttons. You can also preview your course using the

Play

and

Stop

buttons.
The

Settings

button will allow you to set default slide timings, and select your audio (and video) recording device.
Check

Show slide notes

so you can read from your notes while you record.
Check

Process this slide only

if you would like to take a break between slides.
When you are done recording, click

OK

— or, to erase your recording, click

Cancel

.
Audio recorded in such a way will be automatically added to the Manage Narration Editor where it can be fully adjusted and synced.
Manage Narration
If you would prefer to have a more detailed overview of the recording process, with more options to synchronize narrations with slide and animation timings, use the Narration Editor, accessible via the Manage Narration button on the iSpring toolbar.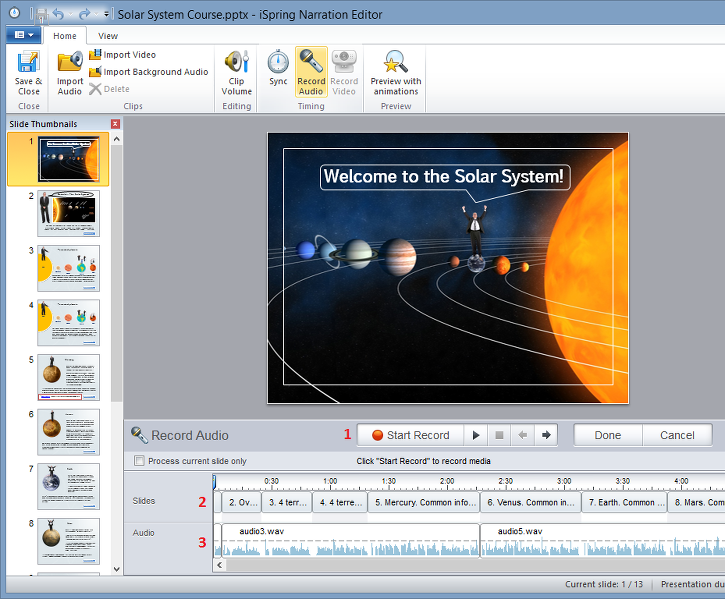 Click Manage Narration -> Record Audio on the top toolbar, and you will enter the recording mode.

Here, you can navigate/preview your presentation, start recording, save or cancel the changes you've made. When you click Start Record, that button will change to Next Slide or Next Animation, allowing you to click through your presentation as if you were delivering the lecture live on a projector. Each of your live clicks will automatically preserve those specific timings for slides and animations.
The Slides timeline shows the duration of each of your slides, as well as the positions of any On-Click animations (displayed as yellow tags on the timeline). You can click and drag these to adjust the duration and timing of your slides and animations.
The Audio timeline shows a waveform display of your recorded audio files. You can trim these, or drag and drop them to the desired locations on the timeline.
When you are ready to see how your presentation will look and sound with your freshly-recorded narrations, click Done and then click Preview with animations on the top toolbar. When you are satisfied with the final product, click Save & Close. You can always return to the Narration Editor in the future to make further changes.
Advanced Settings
To cut one narration into separate clips equal to the slide length, use advanced settings. By default, this option is disabled. To enable it, do the following:
Click Publish and go to the Advanced tab.

Check the box Generate narration files for each slide.
This will create separate audio narrations for each slide of a presentation.
Managing Files
iSpring automatically manages all your presentation's resource files in a separate folder with the same name as your PowerPoint file. The audio files are stored in a subfolder called audio. You can access them here for post-production purposes (for example, if you would like to edit them in a professional 3rd-party audio editor). Make sure to close PowerPoint before making such edits, and do not change the file names.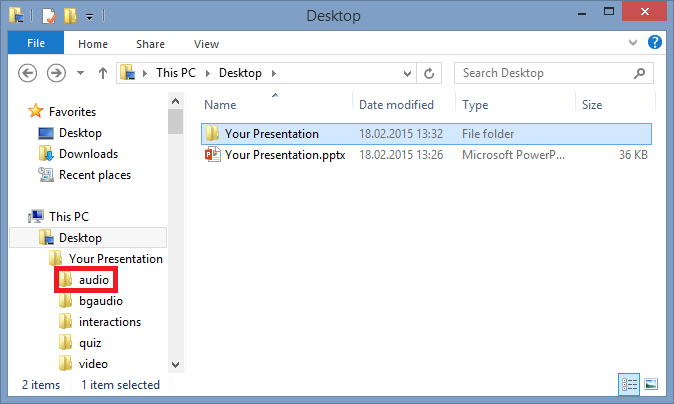 Related Articles