You have prepared an engaging PowerPoint presentation. How do you deliver the created presentation to your clients?
Instead of uploading the source PowerPoint file (PPT or PPTX) to your Web site and asking clients to download, save and then open the presentation, how about making it ready for viewing straight away?
Doug Wolfgram
I like iSpring because it is the only PowerPoint conversion tool that creates the high quality slides that I need. PLUS they understand the move to HTML5 and are leading the way!
Just convert your PowerPoint presentation (PPT or PPTX) to a Web-ready format to ensure easy and secure playback. In this article you will learn:
When to choose Flash, HTML5 or combined format for publishing
How to publish content to the combined format with iSpring
How to optimize your content for mobile devices
HTML5
The recent trend for internet users is to surf the web with tablet devices. The problem is that your clients can't access Flash presentations on iPads or Android tablets. Windows RT and Windows 8 devices can handle Flash to a certain extent, but they are still relatively rare.
To solve this problem, try publishing to HTML5:
Supported on all mobile platforms. HTML5 is supported by all mobile devices. No matter what tablet or phone your clients are using, they will be able to play an HTML5 presentation right from the device.
Played in HTML5 browsers without extra plugins. Presentations in the HTML5 format can be viewed in all modern Web browsers and they don't need any additional plugins for playback.
Can be indexed by search engines. Your marketing presentations probably have great content. When you upload your HTML5 presentation online, all text will be indexed by search engines, which is great for SEO.
Flash
Publishing PowerPoint to Flash is a simple and complete solution that has been known for years. But why Flash?
Easy to embed into a web page. A Flash file can be easily embedded into a web page, eliminating the downloading/saving/launching steps. As the presentation plays right on your web page, the number of views will go up dramatically.
Smaller in size than PPT. A Flash file is considerably smaller in file size compared to a PPT, which is important for those on a slow network connection. Plus, the Flash technology allows you to start viewing the presentation immediately, without completing the download.
File distribution is under control. Since you don't have to hand the source file to viewers, it's still in your full control, and you can update it when necessary, and always remain confident that your clients are getting the most up-to-date and accurate information.
Plays in virtually any browser. A Flash file plays in any web browser with the Flash plugin installed (including Internet Explorer 6), in Windows, Linux and Mac OS platforms.
Combined HTML5 & Flash Format
As described above, the Flash format isn't the best option when it comes to viewing presentations on mobile platforms. At the same time, the HTML5 format may not be played correctly in older browsers like Internet Explorer 8, which is widely used as the default browser of the still-popular Windows XP. Furthermore, there are some aesthetic considerations such as smooth font rendering which are currently superior in Flash, while HTML5 still has some catching up to do.
To reach your full audience while retaining the highest possible quality of your original material, your business presentation has to support both Flash and HTML5 formats. Until now, this would mean having to create and upload Web presentations in two different formats, which often confuses clients.
Luckily, these worries are a thing of the past with the help of iSpring Converter Pro 7, which introduces the new output mode – Combined (HTML5 + Flash):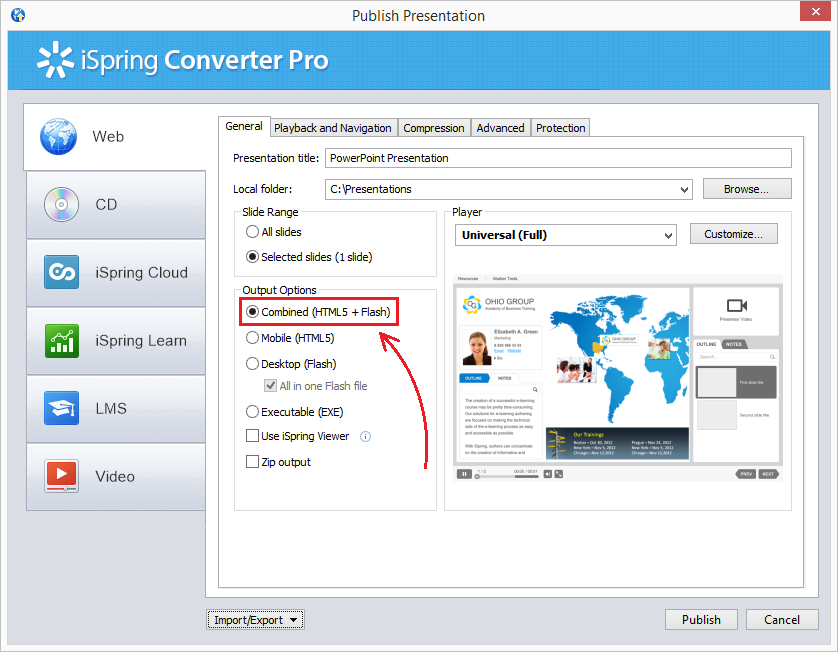 Combined Publishing
iSpring Converter Pro publishes your presentation as a smart package combining Flash and HTML5 files. When a client accesses the page with the presentation, a momentary check is performed to verify if the Flash Player is installed in the browser.
If it is, the Flash movie will be shown (as mentioned above, Flash is still slightly superior to HTML5 in terms of visual quality); if not, the HTML5 file will play instead. This way you have a presentation which plays flawlessly for all clients whether they use iPhones, iPads, Android smartphones or tablets, outdated office PCs or cutting-edge Ultrabooks.
iSpring content is highly adaptive in terms of screen size and even shows different player controls for those who view the presentation on a 23-inch widescreen and those who use an iPhone.
When shown on a large display, the multiple player elements are available, including the side bar, the outlines, and presenter info. On a mobile device, the same presentation has a minimalistic player interface with the most essential controls only. If it isn't done this way, the player pane would occupy a large part of the phone's screen, not leaving enough room for the actual content.
With iSpring's Universal Player your presentation is accessible from any device and always easy to view.
How to Optimize Your Content for Mobile Devices
It's good to have iSpring as a means to deliver your business presentation online. However, to make your visual content really effective and easy to view, the original PowerPoint file has to comply with certain peculiarities of mobile devices as well.
These devices may have small screens, touch-based interfaces and possibly slow wireless connections. Here are a few tips on how to optimize your PowerPoint presentation to display them on tablets and phones:
Use sans serif fonts of large size

Characters smaller than 18 point are hard to recognize. The best choice is to use Arial, Calibri, Helvetica, Segoe UI or Verdana 24 pt. and larger.

Make all touch targets (hyperlinks, buttons) easy to tap

If a target is smaller than 1 inch x 1 inch (2.5 x 2.5 cm), the fingertip action might be inaccurate. 1 inch x 1 inch is exactly the minimum size of of PowerPoint shapes, which is much more convenient.

Optimize presentation for slow or unstable networks

Leave only those media (audio, video) you can't do without in your presentation and reconsider if all the slides are really necessary. iSpring will take care of the rest – the media content will be compressed in the best way.

Make audio and video launch on click only

On-click launch is recommended for the reason that iOS devices don't permit the launch of media content automatically. And even in case your client uses Android or Windows Phone OS, the sudden loud sound may be irritating.
Hopefully these tips will help you to create effective multi platform business presentations and demos.