October 1, 2019
6 Training Center Software to Take Learning to the Next Level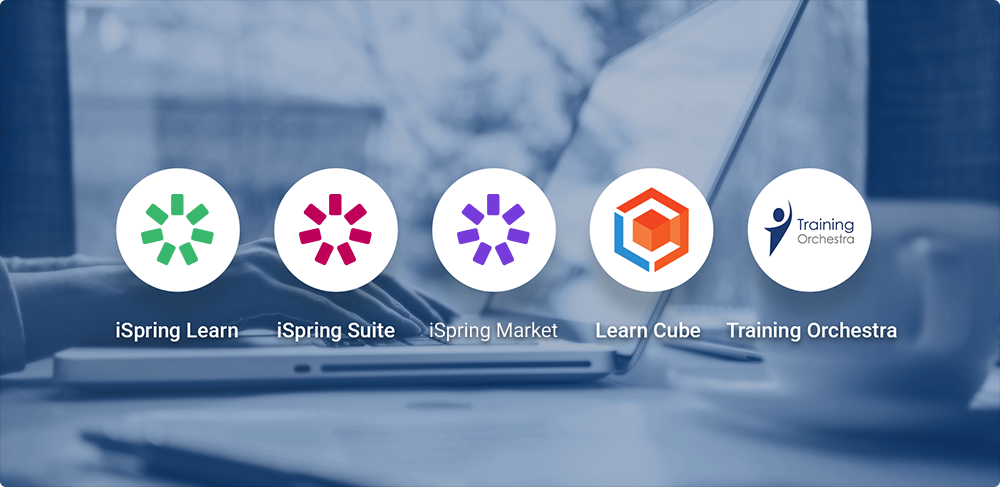 What do we mean by training center software? First, let's define what we mean by a training center. Collins defines this as "a place where people undergo skills training for work."
This is a nice simple definition, but let's not forget that a 'place' can also be online, for example, it can be a website or app rather than a physical location. Additionally, training may not always be for 'work' — for instance, some people study for supplementary educational qualifications, or simply for personal interest or self-development. So here is the definition we would offer:
Training center: a physical or online location where people undertake skills training.
Now that we have established what a training center is, let's break it down a little further and define the two main use cases for a training center.
Commercial organizations that offer training to other businesses or individuals.
Companies that have in-house training centers to upskill their employees.
We've made a thorough analysis of six different training center software offerings that are suitable for each of these specific cases and more. Read on to find out which solution will best suit your needs and business model.
Training Center Software: Quick Comparison Chart
The table below shows a quick side-by-side view of all the training center solutions we reviewed and who the different platforms are suitable for. Continue reading for a detailed analysis of each platform.
| | | |
| --- | --- | --- |
| Platform | Type of solution | Target user group |
| 1. iSpring Learn LMS | One-stop LMS solution for fast and hassle-free corporate training management and delivery. | Corporate LMS users looking to manage their learning in a fast and intelligent way. |
| 2. iSpring Market | Platform for managing and selling training courses online. It has everything to build, host and sell your eLearning courses. | Established training businesses and entrepreneurs who need to get their training courses online quickly and easily and then monetize them. |
| 3. LearnCube | Virtual classroom software that lets you provide instructor-led or blended training sessions. | Online language teachers and individual teachers looking to run 1-on-1 or group classes, and larger businesses looking to automate and manage virtual classroom training. |
| 4. Mettl Certify | Certification platform for managing online exam and certification programs and the required assessments, including psychometric, technical, and cognitive tests. | Larger organizations running multiple testing and certification programs and looking for an easy way to manage the process. |
| 5. Training Orchestra | Training management system seeking to provide an efficient way to manage, track, and sell training. | Medium-to-large enterprise training companies who deliver face-to-face training and want to streamline courses, resource and client management. |
| 6. iSpring Suite | eLearning course authoring tool without technical headaches. | Training centers who want to author courses in-house, and people who want to flip their offline training assets into high-quality SCORM courses without learning complex software. |
1. iSpring Learn LMS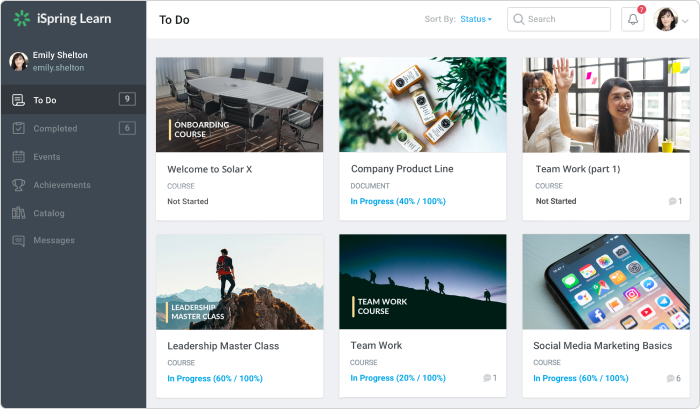 iSpring Learn is a one-stop learning management system (LMS) for getting your corporate training delivered fast and hassle-free. It's a complete corporate platform that allows you to train all your staff in a single program or offer different learning paths according to employees' knowledge level. You can keep all your learners under control by assigning them eLearning courses and tracking their results, as well as scheduling web meetings and offline sessions and checking employee attendance. With iSpring Learn, you can put new employee onboarding on autopilot, automate compliance, sales, and channel training, and easily provide employee certification.
The learning portal is accessible 24/7, both from desktop and mobile devices, so your employees can learn anytime and anywhere.
Key features:
Simple user and group management: Re-create your organization structure to make it easier to assign, manage and track training. For example, you can quickly assign a course to selected teams, or view an activity report on an entire department, like sales or manufacturing.
Learning paths: Combine courses, assessments, and other training materials to create step-by-step learning paths. For example, you can build a one-week onboarding program or an annual learning path for executive managers.
Events calendar: Manage all training activities – live trainings, workshops, and web meetings – from one single tab.
Multi-format file support: Upload your SCORM courses and learning materials in PPT, FLV, MP4, SWF, MP3, WAV, PDF, DOC, or XLS format.
Zoom meeting integration: Create web-based virtual classroom sessions and let iSpring Learn track your attendance, viewing, and other statistics.
Advanced reporting: Track training progress from a user-friendly dashboard.
Mobile-ready learning: All your courses will be fully mobile responsive so your learners can train on any device.
Free mobile app: Let your learners take courses on their mobile devices, even offline.
Interactive long-format articles: Create engaging eLearning courses with images, videos, knowledge check questions, and quotes right in the LMS.
Robust conversion tools: Turn your PowerPoint presentations into eLearning courses.
Custom options: Customize the full look and feel of both the admin and user portals, translate the user portal into your language, or assign a language version to every organization.
Completion certificates: Issue certificates to your employees when they complete a course.
Full tech support: Available when you need it 24/7.
Best suited for:
iSpring Learn is ideal for use as a corporate LMS to manage training centers. The simple user and smart group management, combined with powerful content distribution, scheduling, and reporting features make this a great proposition for any business looking to manage their learning in a fast and intelligent way.
2. iSpring Market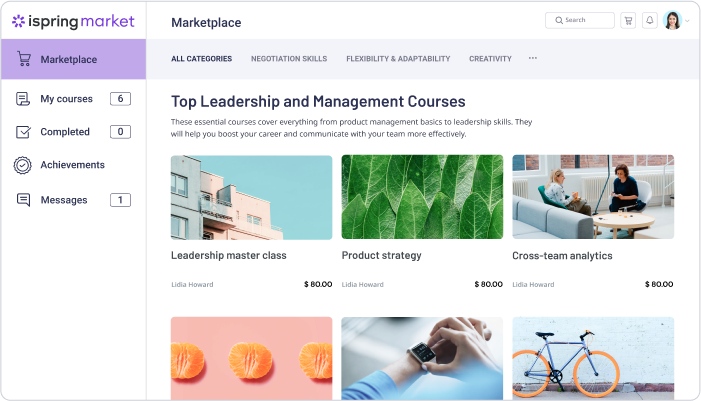 iSpring Market is a new platform that offers a great solution for managing and selling training courses online. It has everything you need to quickly build, host, and sell your online courses.
You can easily create your own personal, customizable storefront and put your eLearning courses on sale. iSpring Market supports SCORM packages, video, audio, documents, presentations, assignments, and more. You can sell these content items separately, or combine them into courses right on the platform. A big plus point is that information on the storefront is indexed by search engines, like Google or Bing, bringing you organic traffic for your courses.
The learning experience is at the forefront of iSpring Market with a learner portal as standard for all your customers, allowing a great course experience on any device — your learners can consume training anytime and anywhere. The platform provides certification as an incentive and tracks detailed analytics so you always know where your business is at.
Key features:
Digital storefront: Add your courses to a virtual storefront to spark your learners' interest and generate sales.
Learner course portal: All your learners' purchased courses are accessible via a convenient portal. The portal can be accessed from any device.
E-commerce reports: Track revenue data. Identify best-sellers to see what people like, and make the rest of the content just as successful.
Automated payments: Accept payments for your courses via credit card or online payment systems including Stripe, PayPal and Authorize.net.
Multi-format support: Upload and sell your Videos (FLV, MP4), documents (PDF, DOC, XLS), presentations (PPT), courses and quizzes (SCORM), dialogue simulations and assessments (iSpring).
Course creation: Upload your content, create, and divide your course into chapters. Set up completion rules and deadlines.
Assignments: Create different types of learner assessments fast, from multiple choice questions to a detailed set of instructions with a demonstration attached.
Completion certificates: Issue certificates to your learners when they complete a course. You can use a default certificate or design and upload your own.
Support team: Get rapid help with any questions you may have by phone, email, or live chat.
Best suited for:
iSpring Market is ideal for both established training businesses and entrepreneurs to get their training courses online quickly and easily and then monetize them, either via a B2B or B2C model. The simplicity of use matched by the wealth of features and the inclusion of certification makes this a great choice for those wanting to offer certification programs as part of their online training business.
3. LearnCube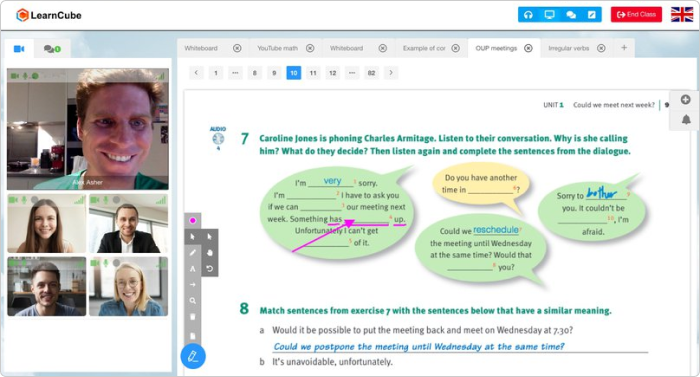 LearnСube is virtual classroom software purpose-built for live online education. It aims to bring a real classroom experience to teachers and learners in an easy-to-use virtual environment that makes learning engaging and fun.
Teachers will appreciate the use of the interactive whiteboard combined with online course materials that can be shared with the students for an interactive experience.
Key features:
Interactive whiteboard: Collaborate easily with a modern online whiteboard for teaching. Draw, type, annotate, load content, switch using multiple whiteboards, and more.
Uploadable lesson materials: Easily upload, save, and instantly access your multimedia content to enrich and enhance your classes.
Video recording: Easily record your live sessions for your learners to review when needed.
Custom branding options: White label your classroom with logo, colors and domain.
Reliable audio and video: Highest quality audio and video possible for your sessions.
Best suited for:
Online individual teachers looking to run 1-on-1 or group classes, and larger businesses looking for an easy solution to automate and manage their virtual classroom training.
4. Mettl Certify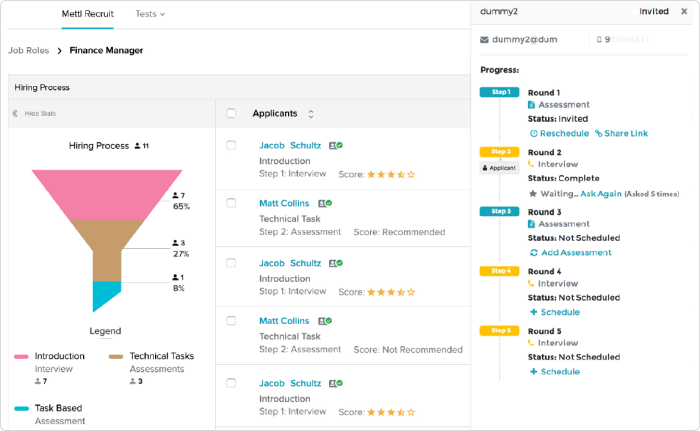 Mettl Certify is a certification platform for managing online exam and certification programs and the required assessments, including psychometric, technical and cognitive tests. Catering to all levels of certification, from test preparation to professional certifications, Certify makes the process of creating, delivering, monitoring, and issuing certifications simple.
There are robust options for question creation that cover everything from multiple choice questions to advanced academic essays and software simulations. Once you design your exams and certifications, the platform takes care of everything, and has a strong focus on security and auditability.
Key features:
Variety of question types: Use simple questions (MCQ, MCA,etc.) or advanced ones (case studies, simulators,etc.).
Software simulators: Test hands-on software skills using simulators.
Custom grading logic: Set your questions and grading logic on the basis of sections.
Rich media support: Use images, Flash and videos in your questions or responses.
Section-based workflows: Create test sections; define time limits, cut-offs, and workflow.
Minimal bandwidth requirement: Your users only need a 128 kbps connection.
Standards compliant: Adheres to ISO 9001 standards.
Scalable: You can deliver 50k+ assessments daily to multiple locations, and manage large volumes of content and candidate records.
Full support: You can get round-the-clock support via email, chat & phone.
Best suited for:
Larger training center businesses providing multiple testing and software or industry certification programs and looking for an easy way to manage them in a highly secure and auditable online platform.
5. Training Orchestra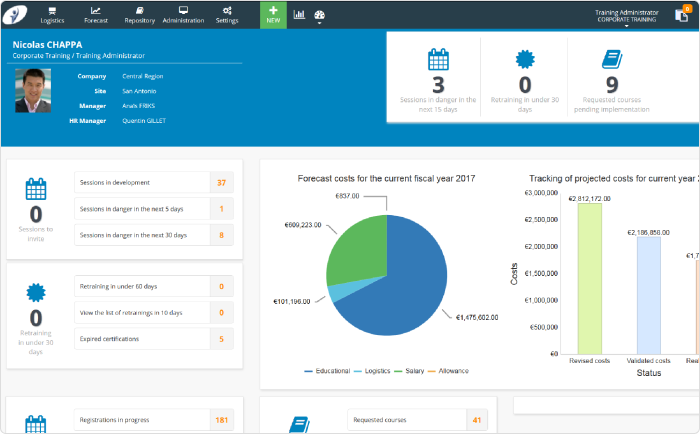 Training Orchestra is a scalable courseware management system seeking to provide an efficient way to manage, track, and sell instructor-led training services. With Training Orchestra, your teams can collaborate effortlessly on session scheduling, resource planning, budget optimization, reporting and more, while handling multiple locations, languages, and currencies. This platform is a replacement for the old way of tracking and managing training via spreadsheets, databases, or proprietary software. Positioned to benefit professional training companies, from order to invoice.
Key features:
Build sessions and activities intuitively: Curate, integrate and schedule all your training assets into training sessions and standalone activities.
Global activity view and tracking: Get instant global visibility over your training activity and access session information. Track session occupancy rate and status through color codes and live indicators.
Resource occupancy optimization: Monitor your instructor time and training assets to plan your resources.
Monitor resources: Use timeline and agenda views which automatically identify scheduling conflicts and provide you alerts.
Graphical course scheduling: Streamline and collaborate on all your training sessions with associated instructors and resources in minutes through intuitive drag-and-drop graphical views.
Budget & profitability monitoring: Get pertinent, consolidated budget information to anticipate and optimize your budget and monitor your business's financial performance.
Corporate university: Collaborate internally and with external stakeholders.
Best suited for:
Medium to large enterprise training companies with high volumes of courses and clients to manage. If your company has multiple instructors, courses, training locations and clients, this software is designed to make it all possible to manage in a single platform.
6. iSpring Suite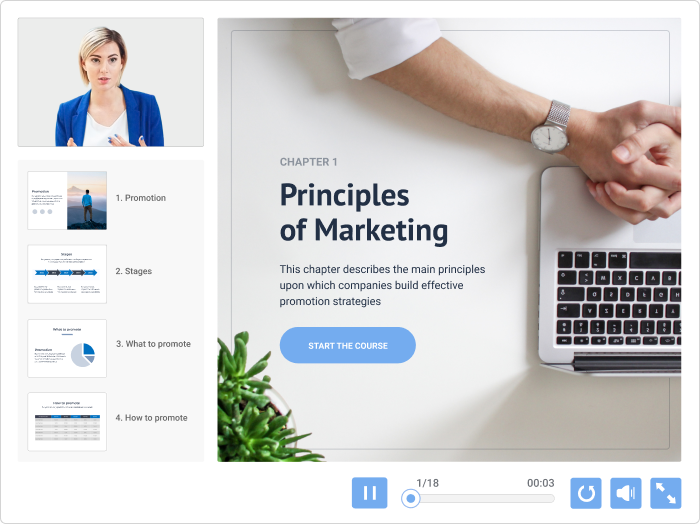 iSpring Suite is a full-featured authoring solution that allows you to create eLearning courses for your training center fast and easy. If you already have some learning materials, like PPT presentations, PDF and Word documents, you can turn them into online SCORM courses in a few clicks. With iSpring Suite, you can also create eLearning content from scratch. It allows you to build slide-based courses, quizzes, dialog simulations, screencasts, video lectures, and other interactive learning materials. To speed up the process of creating courses, there's a full content library of high-quality stock images, characters, location backgrounds, icons, and controls.
To turn iSpring Suite into a 360-degree training center, simply add an LMS. iSpring Suite is compatible with almost any LMS and, of course, pairs perfectly with iSpring Learn.
Key features:
Powerpoint integration: Use your existing presentations with all assets, animations and other automation intact to create eLearning courses fast.
Interactive flipbook creation: Turn your Word and PDF documents into interactive SCORM flipbooks.
Engaging assessments: Build quizzes for your learners via a simple drag-and-drop interface and 14 question types.
Professional video studio: Easily record and edit your screencasts and webcam.
Dialog simulations: Create high-quality conversation simulations with branching for sales trainings and practicing dealing with customers.
Interactions: Use ready-made templates to create interactive glossaries, catalogs, timelines, references, and FAQs.
Multi-format publishing: HTML5, SCORM, AICC, xAPI and cmi5. Host your courses your way.
Content library: Find the professional-grade asset you need, when you need it, without 3rd-party libraries.
Full responsiveness: Your courses adapt for mobile devices automatically, so you don't need to create different versions of courses for smartphones, tablets, and PCs.
Mobile app: Learners can download the iSpring Play Mobile App and instantly take courses on their mobile devices.
Best suited for:
Businesses and corporate universities who are looking for a fast and easy way to move existing instructions, manuals, presentations, and textbooks online with full support to get creative and add quizzes, dialog simulations and interactivities. Ideally suited for training centers and course sellers who want to author courses on their own, without learning complex software.
Summary
We hope this article will provide some guidance on evaluating and choosing training center software that suits your business perfectly.
How do you use training center software to enhance your business? We'd love to hear your comments below.