April 23, 2022
5 Udemy Alternatives: What Else Is Out There?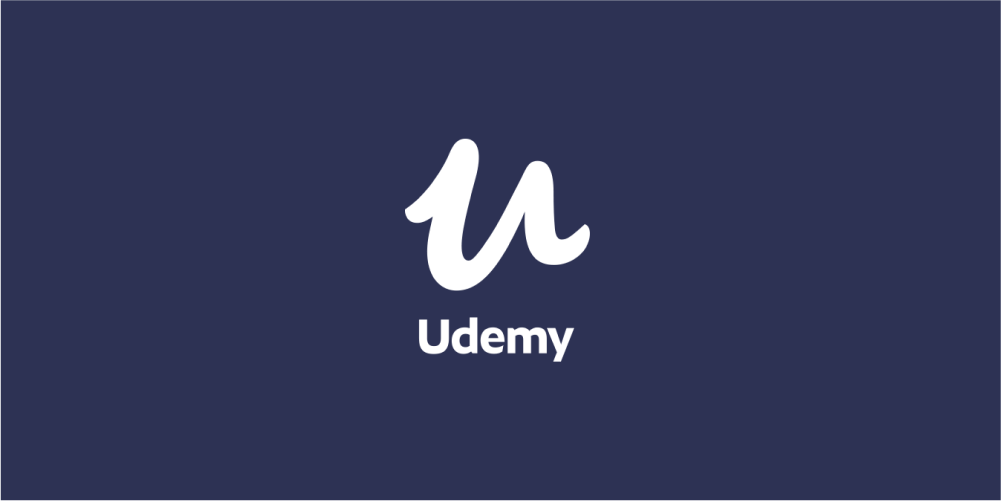 If you're a business or training center that's been searching for the right platform to sell eLearning courses, chances are you've come across Udemy, one of the biggest players in the industry. But its popularity is no guarantee that it will meet your unique business needs. You need to factor in what type of content you're creating, whether your platform can support your course content, structure, and your branding and marketing needs. There are many comparable Udemy alternatives that you might have overlooked. These decisions require due diligence.
This article provides a Udemy review and 5 solid alternatives that might better suit your needs.
Udemy Review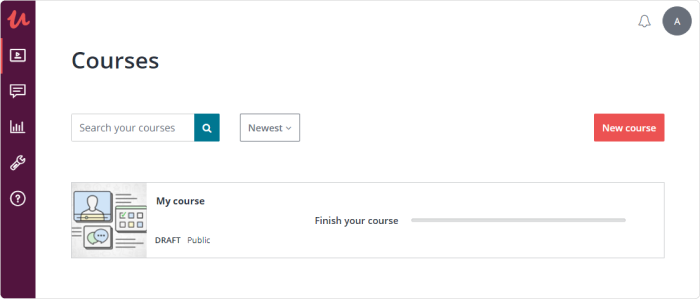 Overview
Udemy is an eLearning platform that offers a host of features, tools, and themes to get your eLearning courses up and running. The platform is extremely user friendly with a very basic, standard-looking interface. Nevertheless, it walks you through every step of the course creation and selling process.
One of its biggest draws is that it enables you to tap into a huge user base of over 24 million students. However, your customer base isn't truly yours – they subscribe to Udemy to gain access to your courses. So, you don't have access to user emails for marketing campaigns or detailed analytics about your course sales and learner activity. This makes it one of the least-functional e-commerce platforms.
Course building and management
Udemy is also quite restrictive in the type of content you can upload, virtually limiting you to only video-based courses. It only accepts MP4 files, and while you can upload text- or slide-based courses, all courses mandatorily accompany narration, which might be less preferable for some course creators. And while not necessarily being a bad thing, courses must meet specific standards for approval, such as a minimum duration of 30 minutes, split into at least 5 lectures, and high-definition videos of at least 720p or 1080p.
Your course offerings must be organized according to Udemy's predefined categories and subcategories, and your course structure is limited to Udemy's section and lecture structure. All in all, if you're new to course creation, Udemy takes on the brunt of the work and "thinking it out" for you. It's a great tool for beginners, but not businesses that would like the flexibility to craft their own courses using various media types with specialized learning paths.
Marketing and selling
If you're looking to control the look and feel of your courses, landing pages, and marketplace, then you're beholden to Udemy's basic and relatively bland interface. There's no personal branding, white labeling, or any real business identification markers. You're also limited in terms of incentivizing your courses. While you can create coupons and promotions, you can't offer subscriptions, memberships, upsells, or bundles. So, again, you're beholden to Udemy's business model.
Pricing
The good news is that the pricing is entirely free. But for marketing your course, Udemy takes a hefty percentage ranging from 50 to 80%, depending on various factors. Therefore, it's not the best platform for making money in the long-term, and you'll likely end up trying to find ways to generate organic traffic and market the courses on your own to sidestep these fees.
Best for
Udemy is best for edupreneurs and individuals new to teaching, creating, and selling eLearning. If you're a business that needs to have an administrative team or to manage learners, then keep reading for more Udemy alternatives.
1. iSpring Market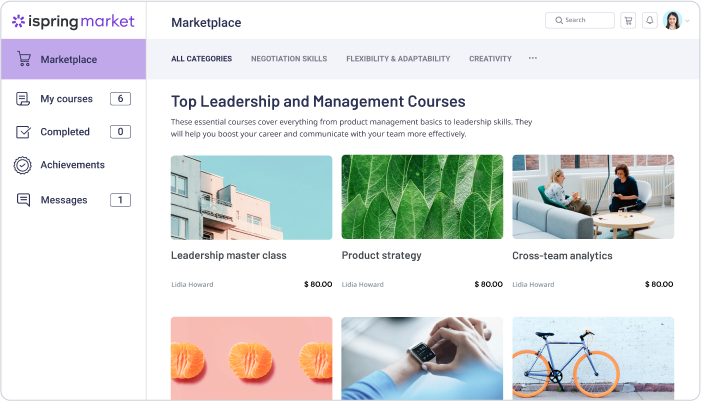 Overview
As with Udemy, iSpring Market is an excellent solution if you're looking to get your course up and running quickly and easily. However, it offers a wider degree of features and flexibility than Udemy. For example, it supports virtually every content type, from text, audio, video, and SCORM packages to PDFs and HTML files. In just a few clicks, you can build impressive courses, set up a storefront, and generate organic traffic on search engines like Google and Bing.
It's extremely straightforward, thus providing a pleasant user experience for both you and your learners. Although it offers a wide range of e-commerce options, it still has all the features of a fully functional LMS.
Course building and management
Building and managing courses on iSpring Market is very easy to do. Your courses are broken down into chapters, and the way you order them yields a unique learning path or step-by-step course. One of iSpring Market's most distinguishing features is that it supports interactive SCORM content, meaning you can create highly immersive eLearning courses with sophisticated simulations, drag-and-drop quizzes, and more.
In addition to having full control over the nature of your courses, you can control specific parameters, such as a time limit and the order of course completion. iSpring Market also provides detailed analytics about learner progress and activity across your courses so you can assess and enhance user engagement. You can stay updated effortlessly with automated email notifications.
And because you can assign administrative roles, it's great for businesses and teams who might need a team leader, department head, or L&D representative to keep track of employee progress. When it comes to the course building and management process, iSpring Market provides everything you need under one roof.
Marketing and selling
Because iSpring Market largely caters to businesses and training centers, it offers all necessary e-commerce features.
The platform provides an attractive and easy-to-use storefront for hosting your courses. Each course has its own page, where users can find its description and reviews. You can incorporate your personal business branding into your storefront if needed.
iSpring Market also provides a high-conversion sales funnel with a variety of incentivization options, including freebies, discounts, and coupons.
In addition to PayPal, you can use different payment gateways like Stripe or Authorize.net, accept international currencies, and receive detailed sales and storefront analytics that can be leveraged to bolster revenue.
Pricing
With iSpring Market, the fee you pay is determined by the number of registered users. Pricing is determined on a per month basis and billed annually.
500 users, 25 Gb for $37/mo ($444 per year).
1,000 users, 50 Gb for $77/mo ($924 per year).
2,000 users, 100 Gb for $247/mo ($2,964 per year).
Best for
iSpring Market is a platform that marries functionality with simplicity. This means if you're an individual or business who's looking to sell online courses quickly, easily, and with control of your course design, marketing, and sales, then iSpring Market is a solid option. You can assign admin roles and sell course licenses to enable large teams to train with ease. You can also turn your courses into full-fledged certifications. It's a nice mix of LMS and marketplace.
2. Thinkific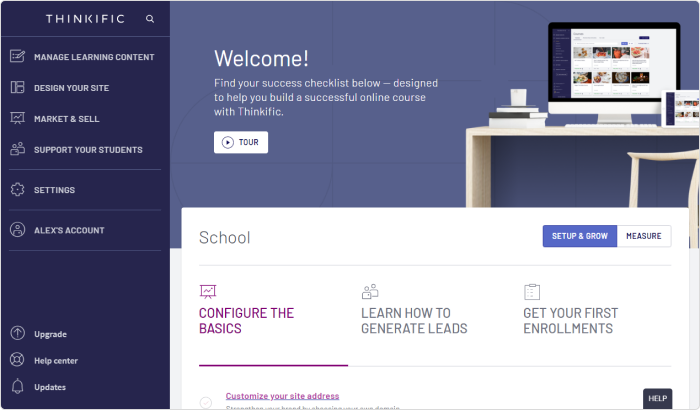 Overview
If you've been reading Udemy reviews, you've probably seen it compared and contrasted with Thinkific, another big fish in the eLearning pond. While Thinkific doesn't require a technical background or any programming knowledge, it provides a wide feature set with deep customization capabilities. It offers just enough themes and aesthetic options to make your courses and business stand out from the competition. Moreover, it further expands its functionality by integrating with a variety of plug-ins.
Course building and management
You can easily build courses using Thinkific's intuitive drag-and-drop builder and organize your content into "blocks" to keep things fresh and engaging.
Like iSpring Market, it accepts a wide range of content types: videos, audio, images, PDFs, etc. However, it doesn't support SCORM content. And due to the size of video files and storage limitations, you'll need to use third-party hosting platforms like Wistia, YouTube, or Vimeo, and paste the embed code in Thinkific. However, the platform has a native quiz builder tool, which is great for keeping your courses interactive and measuring the effectiveness of your content.
Finally, if you're uploading multiple file types, you can sidestep the tedium of importing one file type at a time with Thinkific's handy bulk import feature.
Marketing and selling
The nice thing about Thinkific is the degree of freedom you have regarding the look and feel of your marketplace. But this freedom comes at a cost: simplicity. For example, customizing your landing page might require some degree of technical savvy.
Its Site Builder tool consists of 3 aesthetically pleasing themes that can be white-labeled and tailored to your brand. Also, you have many sales and marketing tools/integrations at your disposal. For example, you can use the LinkedIn integration to expand your customer base to your professional connections.
In addition, you can sell fixed-price courses, subscriptions, or memberships, and leverage email campaign integrations like ActiveCampaign and ConvertKit. You can also spur your buyers to action with coupons, freebies, and discounts.
Thinkific requires a Stripe account for accepting money or you're stuck with only the PayPal option.
Pricing
The platform offers a free plan with all the basic features, such as uploading courses and creating quizzes, but you're limited to 3 courses before you need to upgrade. Nevertheless, as you move up to more comprehensive plans, you receive access to additional integrations and unlock more sophisticated marketing capabilities. The Basic Plan is $49, the Pro Plan is $99, and the Premier Plan for large organizations is $499.
Best for
If you're looking for a low-tech way to create and sell eLearning courses while still maintaining your brand, then Thinkific is a great platform. But while Thinkific supports a variety of multimedia, your courses will only enable passive rather than interactive learning.
3. Teachable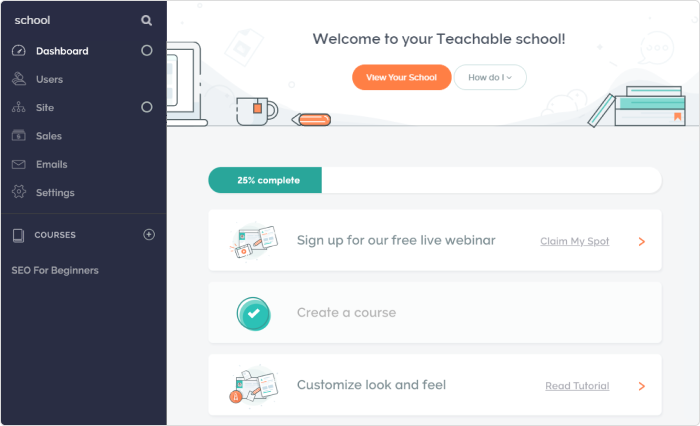 Overview
Teachable is another very comparable Udemy alternative, but it adopts more of a learner-centered mentality. As such, this platform is a close rival to Thinkific. You can also create well-organized courses with ease using its similar drag-and-drop tool. Moreover, Teachable takes branding and customization to a whole new level by allowing for HTML/CSS coding on your website. If you have coding experience and a specific vision for your brand/website, then this is a solid option.
Course building and management
You can build courses in Teachable in next to no time by simply uploading your content and organizing it into "sections" and "lectures" using the drag-and-drop tool. It supports your standard content types (video, audio, images, and text) and enables you to create and receive assignments/projects. When creating courses in Teachable, every file you upload becomes its own lecture.
You can also perform bulk actions like changing settings across multiple courses, e.g., course expiration dates. So, it's easy to both create and manage your courses on this platform.
Marketing and selling
While Teachable only offers one theme, this is counterbalanced by the fact that it offers many customization options, including HTML\CSS coding. Depending on your branding and/or technical skill level, this could be an important consideration.
When it comes to actually marketing and selling your courses, Teachable offers an impressive list of features. In addition to selling fixed-price, subscription-based, or membership courses, you can also generate coupons, bundle your offerings, and leverage Google analytics and course tracking to enhance your content and/or business strategy. Another handy feature is that with Teachable, you can create blogs to generate traffic.
Pricing
Teachable is highly affordable for what it offers, much more so than Thinkific. It has a Free Plan and a Basic Plan at $29.99/month. However, you're charged a substantial percentage of your sales until you upgrade to the Professional or Business Plan. Upgrading also unlocks many useful features, such as website branding, bulk imports, and advanced reporting.
Best for
Teachable is a fine choice for businesses or individuals who are looking to create and sell online courses with more control over the look and feel of their storefront or marketplace. It's great if you're creating courses with minimal interactivity.
4. edX Studio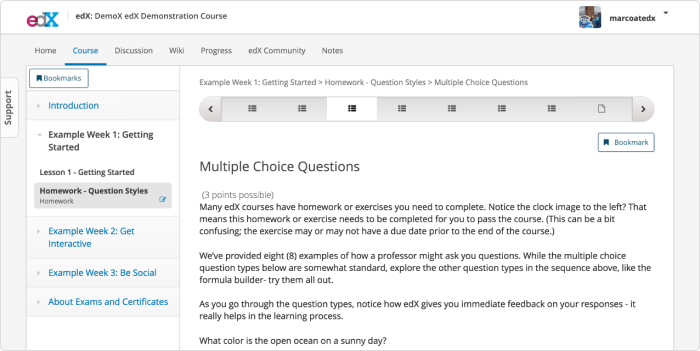 Overview
edX Studio is a learner-centric eLearning platform that is used by large organizations or educational institutions. Thus, it is a highly scalable and flexible option. It is a high interactivity platform that enables automatic grading so that large user bases can receive instant feedback on an individual basis.
Unlike Udemy, edX Studio gives you access to learner data and lets you retain full rights over your content. However, if you're looking to sell access to your courses, you will have to work with a separate e-commerce service. You also need coding knowledge to use this platform and take advantage of its many features. So if you're not tech savvy or willing to fork out money for a developer, then you'll find this platform "frustrating" at best.
Course building and management
edX Studio uniquely focuses on enabling businesses to create high-quality courses and provides support for course organization. For example, it offers an outline editor that helps you structure your courses into a hierarchy of sections and subsections. It also offers a simple drag-and-drop tool to help you accomplish this.
Moreover, you can regularly and automatically test learner knowledge by choosing from their library of diverse question types, create learning paths that incorporate various multimedia, and easily use the platform to work with a team of course creators or admins. You can also release sections or "drip" your content incrementally to your learners. It puts the learning experience first.
Marketing and selling
edX Studio has to be integrated with either edX's proprietary e-commerce tool, or another service. This platform is a non-profit Massive Open Online Course (MOOC) provider, meaning that many courses are offered for free. Recognizing the need to cater to for-profit businesses and entrepreneurs, EdX created its own e-commerce service, eduNext.
However, the features offered are minimal. For example, you can restrict access to courses until receipt of payment, or allow users to audit courses and then upgrade if they'd like to receive a certificate or graded assignments. You can also generate coupons for partial or total discounts. But your payment gateway options are quite limited: PayPal and Cybersource.
Pricing
While edX Studio is free, its e-commerce integration is where the money comes in. For example, if you opt for their proprietary tool, eduNEXT, it could cost anywhere from $0 to $62 per month. As you upgrade plans, you gain access to an increasing level of sophisticated branding, marketing, e-commerce tools/integrations, and data analytics.
Best for
edX Studio is best for businesses that are looking to create courses with assessments and automatic grading. However, you'll need an intimate knowledge of coding to work with most of its features. Moreover, if you don't mind having multiple subscriptions instead of an all-in-one solution, then this could be a great way to go. For example, to sell your courses, you'd have to integrate edX Studio with eduNEXT or another e-commerce service.
5. Udacity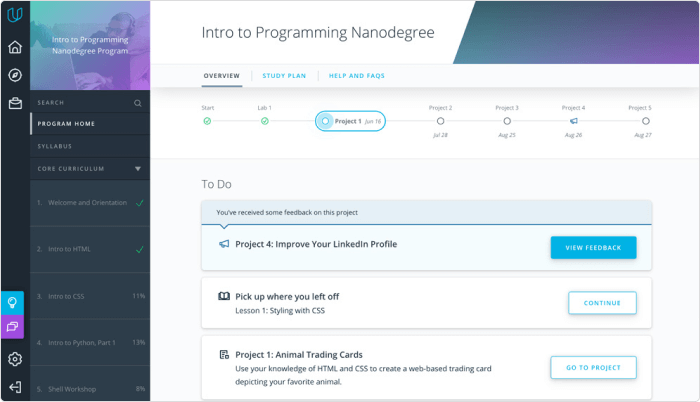 Overview
Udacity is another MOOC-based platform, and one of the most popular of its kind. Like Udemy, it offers a basic interface that doesn't jump out at you aesthetically but is, however, logically and intuitively organized.
The courses offered on the platform tend to be geared toward specific careers, especially in IT and computer science, so depending on the nature of your business or courses, this platform might not attract your target audience.
Still, it is good for creating highly structured, formal, university-level eLearning. You can carve out specific learning paths that align with particular career goals or advancements.
Course building and management
Like Udemy, Udacity courses are video-based, which might seem like a lot of work for some. Fortunately, Udacity's production team works closely with its course creators (or instructors) to edit, test, and polish your courses. Unfortunately, this platform doesn't enable a "team" setup with multiple course authors or admins. Therefore, this platform is best geared toward individual content creators, or "instructors," rather than businesses or teams.
Marketing and selling
Udacity takes care of the marketing aspect of your courses by offering them to its wide user base. But the problem is that they're marketing for themselves. You're not the one getting paid per sale. Instead, they make a profit off of the sales and pay you a fixed price for content development. Therefore, there's no real way to generate passive income under this model.
This is largely different from what we've discussed with previous platforms. However, there are opportunities for revenue-sharing based on the number of students enrolled in your course(s). Nevertheless, the main advantage of Udacity is that you'd gain access to hundreds of thousands of businesses and professionals worldwide, which is great for exposure.
To make the most of this exposure, you would already need to be well-established as an expert or thought leader in your field to garner interest in your courses. For example, Udacity users would need to be able to Google or easily find out more information about you or your business outside of the Udacity platform. So, you'd need your own high-ranking website or e-commerce space for Udacity users to further explore in case you've piqued their curiosity off-platform.
Pricing
The beauty of Udacity is that it's free. However, to bring value to the platform, you will have to be an established leader in your field. As mentioned, Udacity will pay you based on the completion of your courses.
Best for
If you're a business or training center hoping to train employees, then you should probably look elsewhere. It is definitely geared toward individual instructors or course creators – often IT or computer specialists – who want to reach their professional goals. While you gain significant exposure to top-quality professionals and enterprises worldwide, you're paid based on course completion rather than sales. But you could qualify for revenue sharing based on the size of your learner base.
Final Thoughts
Creating and selling online courses is no small feat. That's why you need to perform due diligence when choosing a platform to support and deliver your content. What are your business priorities? Some platforms are learner-focused, whereas others provide extensive e-commerce features while only supporting basic course formats.
iSpring Market is a reliable eLearning platform that is both learner-focused and provides a thorough suite of e-commerce tools. If you're keen to get your eLearning up and running as soon as possible, try iSpring Market risk and credit card free.