June 5, 2023
Best 40 Training Video Software for 2023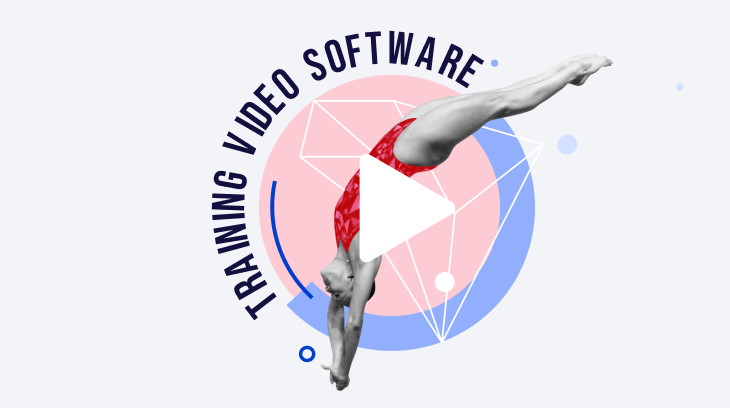 Are you going to create your first training video? Or do you already have experience and want to upgrade with a new tool? We have researched and compared the 40 best training video software programs. Since the tools differ in their functionality, we have divided them into eight categories, from simple screen capture apps to advanced video editing software. Check out these best software for training videos to find an ideal fit for your specific needs and make professional-looking videos.
Tools for Screen Capturing and Webcam Recording
This type of software for training videos is a one-size-fits-all solution that is extremely popular among eLearners. You can create different kinds of training videos using a single app.
With these tools, you can also create complete video-based courses with experts.
Here are a few instructional video software programs that can help you make instructional videos in a snap. If you want to find more options, check out our list and comparison of the 16 best free and paid screen recorders.
1. iSpring Suite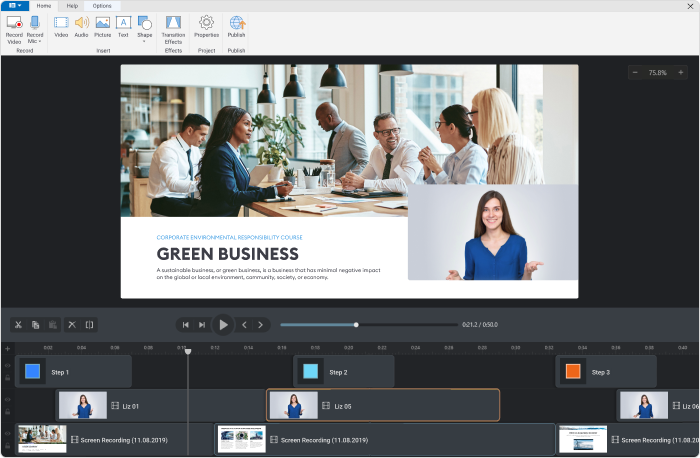 iSpring Suite is a robust yet easy-to-use authoring toolkit and a training video creator that allows you to create training videos by recording your computer screen together with webcam footage and audio. It has a simple interface and all the options needed to create video tutorials like a pro. For instance, you can add titles and captions, insert infographics, images, and music, or create transition effects.
With iSpring, you can also build an interactive quiz to perform a knowledge check after your viewers have watched a video, or create online courses and role-plays to enhance your employees' knowledge from the video lesson.
Besides, iSpring Suite lets you convert texts to lifelike voiceovers, which is extremely useful when you're short on time or want to save the cost of a professional actor to narrate your video.
In other words, iSpring Suite is one of the best training video software solutions for those who are serious about crafting high-quality eLearning materials.
Cost: Starts at $770/year for the entire toolkit. Free 14-day trial →
2. Camtasia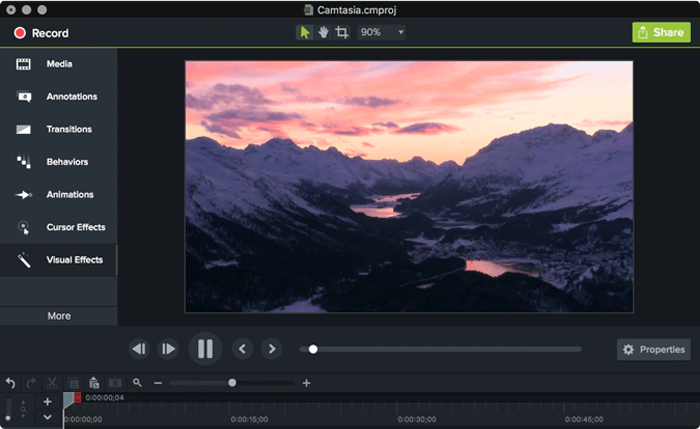 Camtasia is an easy-to-use training video software that, like iSpring, allows for capturing any area of your screen and including webcam input. It also lets you record audio clips to get the perfect audio for your video. Or you can simply choose a ready-made track from Camtasia's library of royalty-free music and sound effects. The tool offers a lot of flexibility in terms of adding overlays and using animations and video effects. To test your viewers' knowledge or simply engage them, you can insert a quiz or survey into your video.
Cost: $299.99. Free 30-day trial.
3. Hippo Video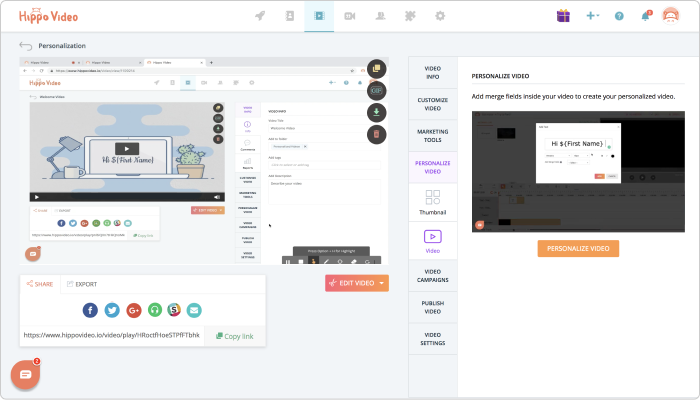 Hippo Video is an all-in-one video training software that is designed for creating videos using a webcam, screen capture, and audio. Some of its features include editing options like trim, crop, add callouts, emojis, tags, highlighting mouse-clicks, and adding introduction or end cards to the videos. Unlike many other similar platforms, Hippo Video provides detailed analytics on who is viewing your corporate training video, how they are viewing, where they are sharing, and how they are reacting to your videos.
Cost: There's a free version. The paid version starts at $15/month.
4. Panopto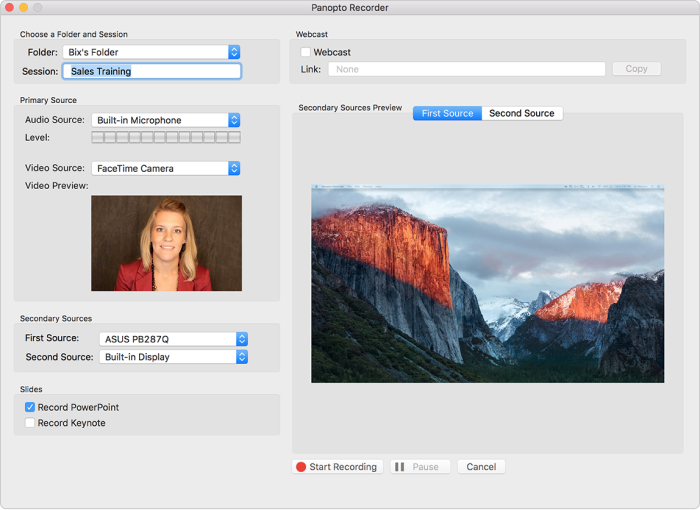 Panopto is a full-featured video platform for training and presenting. It has good screen capture, webcam recording, and live streaming capabilities. The platform includes video editing tools that allow you to trim unwanted parts and split videos into smaller clips, upload and sync additional content, and embed interactive quizzes and polls. You can use Panopto for video hosting or integrate your video library into your LMS, CMS, SSO, and more. Like Hippo Video, Panopto provides you with analytics on viewer engagement.
Cost: Free basic plan. Paid plans start from $14.99/month for individuals but are only available in certain countries.
5. Screencast-O-Matic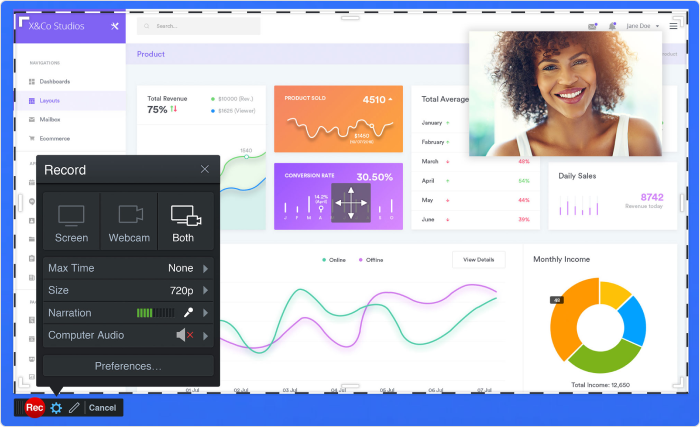 Screencast-O-Matic is a screen recording tool that lets you capture your screen, webcam, or both at the same time. You can create training videos and use basic video editing capabilities for free. However, to access advanced editing options, you'll need to purchase a paid version. It lets you add animations, effects like green screen, automated captions, and more.
Cost: Free basic recording and editing features. Paid plans start at $4/month, billed annually.
6. Ezvid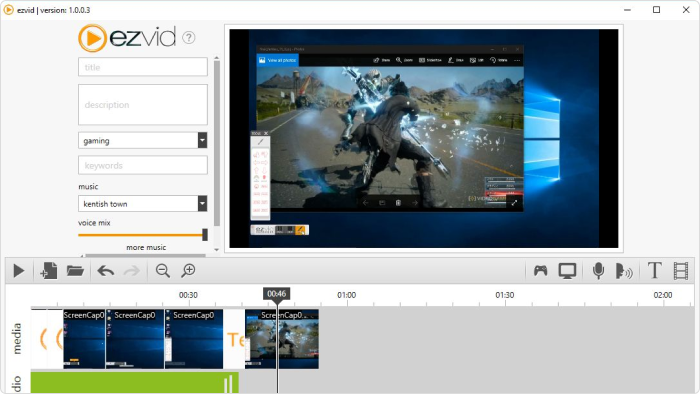 Ezvid is a decent training video creator with simple screen recording. It lets you capture your screen and webcam, draw on recordings to highlight main ideas, and customize playback speed. You can edit videos, and add images, texts, and more. Besides, like iSpring Suite, the tool offers a text-to-speech converter that makes narrations much easier.
Cost: Free.
7. Flashback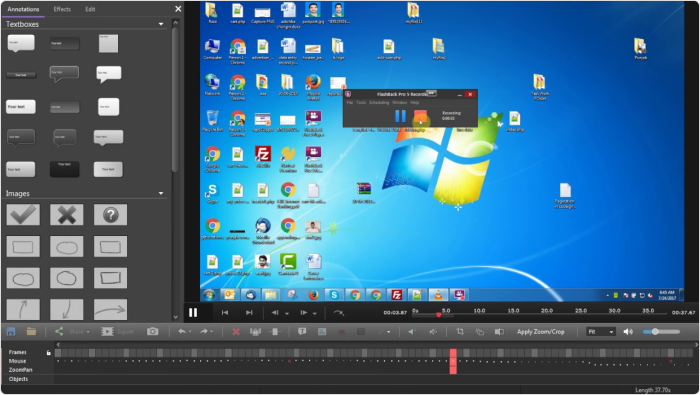 Flashback is a screen recorder that lets you record your screen, webcam, and system sounds. You can trim footage, make clips, and enhance your instructional videos with captions, arrows, and images. Besides, Flashback also allows you to add commentary and music​.
Cost: Free basic plan. Paid plans start at $49 for a single perpetual license.
8. Loom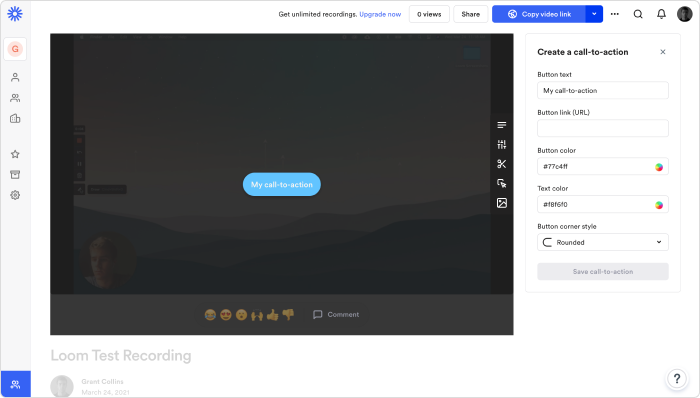 Loom is a modern solution for fast screen recording, sharing, and collecting feedback. Apart from screen and webcam recording, you can add customizable buttons to link to relevant resources, emphasize mouse clicks, and draw on your screen as you record. Besides, you can monitor learner engagement based on their feedback, reactions, and statistics on who watched your video and for how long.
Cost: Free basic plan. Advanced plans start at $8/month, billed annually.
Interactive Training Video Software
Interactive videos engage learners in interaction with the content through different tools. Viewers can click the buttons, answer questions, and perform other digital actions. By using specific software, you can create training videos with branched scenarios – learners will be able to choose their own path and go with the personalized experience, like in a computer game. This way, interactive videos make learning even more fun and engaging.
See Lifesaver – a great example of an interactive video that teaches CPR through four action-packed scenarios.
Here are three video learning software solutions that will help you provide interactive experiences to your learners and throw them right into the heart of the action.
9. Vimeo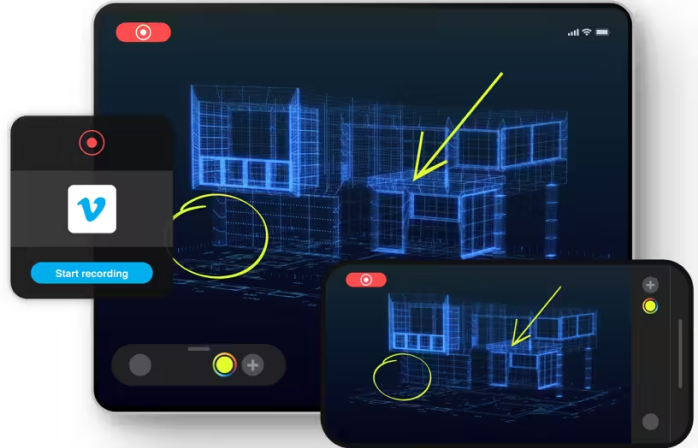 Vimeo is best known as a video hosting platform, but it's actually a comprehensive video making solution that teachers and instructors can use to create interactive videos for training purposes and employee communications. After Vimeo acquired Wirewax, it has been upgraded to include the technologies of interactive touchpoints over videos. Clickable decision points, quizzes, and informational overlays on your training videos will invite learners to explore the topic further and measure their engagement with the content.
Cost: The standard plan costs $20 per seat/month. A free trial is available.
10. Verse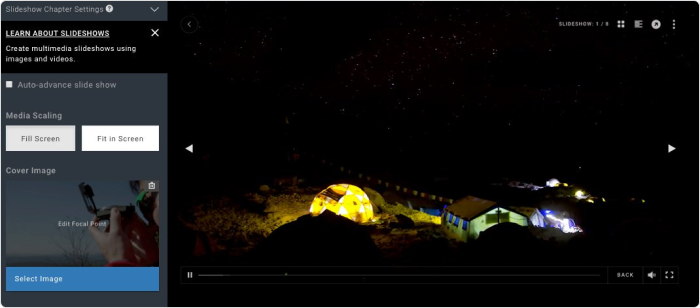 Verse positions itself as a "storytelling platform that seamlessly connects your videos through interactive elements and transforms static content into dynamic digital experiences". It allows for creating videos with clickable hotspots, video branching, chapters, and multimedia slideshows. The platform also comes with an analytics tool so you can keep track of views and in-video interactions.
Cost: Pricing plans start from $100/month billed annually for a single user.
11. LearnWorlds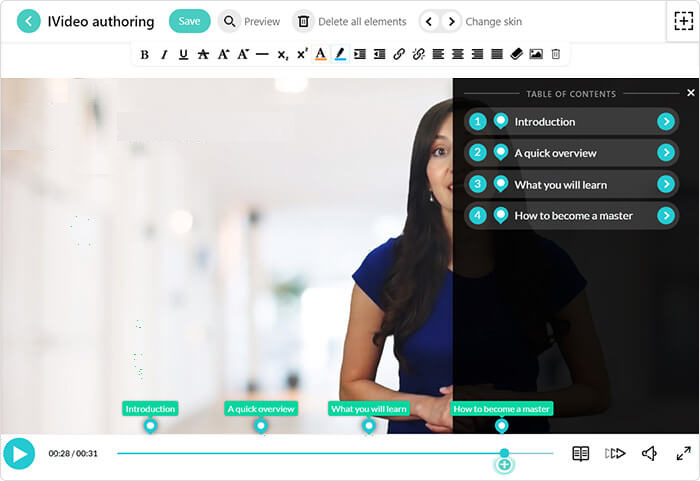 LearnWorlds is an all-in-one platform for creating online training courses and offers a pretty powerful video editor. This video course software can help you create video tutorials with interactions like action buttons and questions, with ease. You can build choice-based paths to let learners "choose their own adventure" and enhance video-based learning with interactive quizzing.
Cost: Starts at $29/month.
AI-Powered Video Creation Tools
With the rising recognition and popularity of ChatGPT and other artificial intelligence tools, tech companies are prompted to enhance their software solutions with advanced AI capabilities.
AI video generators abound on the market, but if you look for AI-powered software to specifically create training videos, here's a roundup of several appropriate tools.
12. Wondershare DemoCreator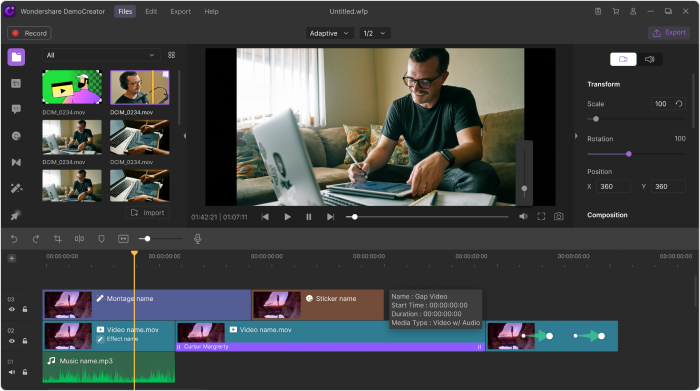 DemoCreator is an online video maker that combines screen recording and video editing functionalities with powerful AI capabilities. With this tool, you can make a personal AI virtual avatar that will lip-sync and mimic your prerecorded video. Smart webcam recording in DemoCreator features AI facial recognition and enables the addition of masks and other creative effects to your video. Coupled with more conventional video training software features, this makes DemoCreator a good option if you want to get creative with video tutorials.
Cost: Pricing plans start from $45/year. The library of video effects, called DemoCreator Effects, is purchased separately. Its pricing plans start from $8.99/month.
13. Synthesia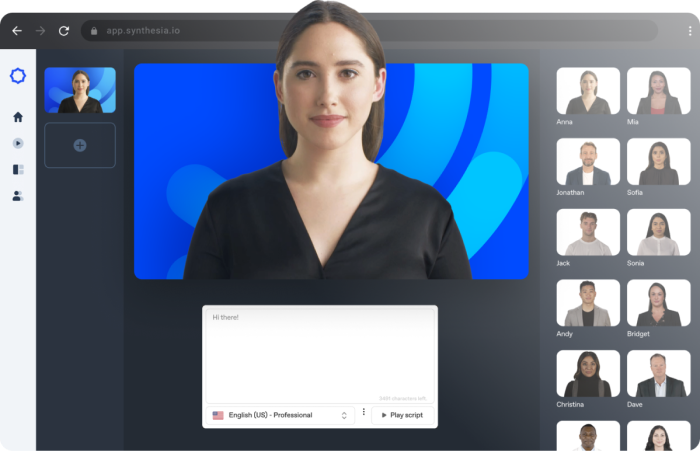 Synthesia is one of the first AI video makers that provides the ability to create video content with highly realistic characters and authentic voice-overs from text. With this platform, you're entirely able to produce stunning training videos on your own. Synthesia offers 140+ AI avatars of actual actors and 120+ languages for artificially made voice-overs. Users can also create their personal avatars to be featured in videos and engage with the audience on a whole new level.
Cost: There are personal and enterprise plans. The price for a single-seat personal plan is $22.50/month.
14. VEED
VEED.io is another AI-powered video tool that can generate training videos. The technology behind VEED allows you to transform texts into images and voice-overs, and then create a video from this AI-generated content. You also can use AI-generated scripts that VEED can prepare for you, or an extensive stock library with tons of royalty-free assets. What differentiates VEED from other tools is that it's browser software and thus provides great flexibility in content creation.
Cost: There is a free version for one-off short projects and several types of paid subscriptions. Prices start from $24/month.
Animated Training Video Software
Animation videos are a simple way to emotionally connect to the audience and keep them engaged. For instance, with a good script and powerful visuals, you can showcase product instructions and guiding.
Check our shortlist of top animation training video software programs:
15. Vyond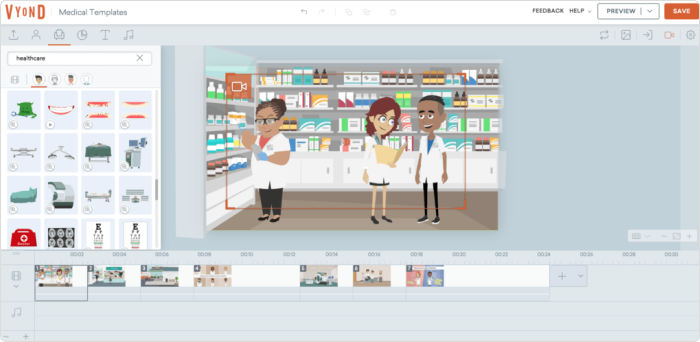 Vyond is an-easy-to-use video training software designed for creating high-quality animated videos. What is special about this platform is that it provides ready-made video templates that are pre-filled with props, backgrounds, characters, motion, and more for different industries and occasions. You can use them for your employee training videos as they are or customize them to your brand and message, and add unique content. Character customization options in Vyond are also quite extensive.
Cost: From $299/year per seat.
16. Animaker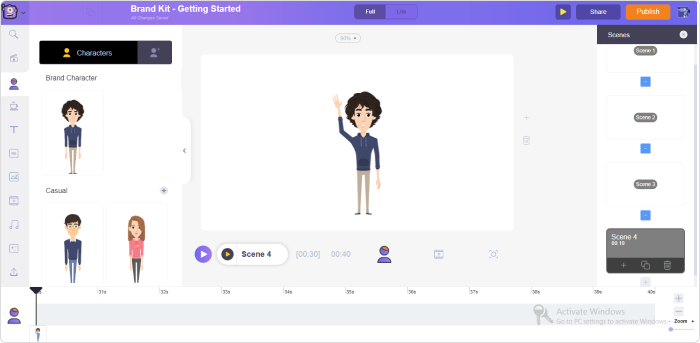 Animaker is a video training platform that lets you easily create animated videos by selecting from a variety of ready-made characters, specifying their movement and facial expression, and changing it as many times as you want. The tool offers the ability to create animation videos using different styles, including infographics, 2.5D, handcraft, and whiteboard animations. Animaker has a built-in library that provides a huge collection of characters, charts, and icons, as well as sound and visual effects.
Cost: Pricing plans start from $10/month, billed annually.
17. PowToon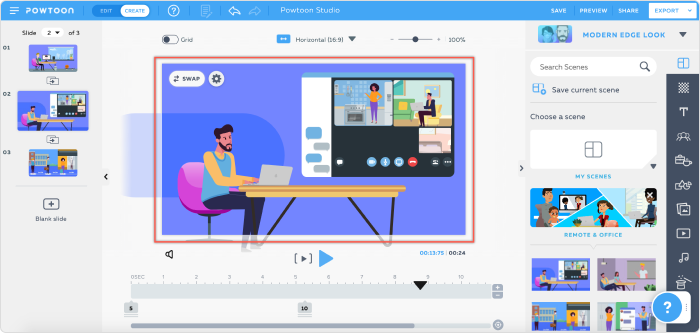 PowToon is another template-based video animation maker. It boasts a wide variety of characters in contexts that most concern work life and allows you to create not only colored animations but sketching outlines as well. The tool also offers a broad array of locations that you can choose, drawing on your business industry.
Cost: There's a free plan. The paid version starts at $19/month.
18. Adobe After Effects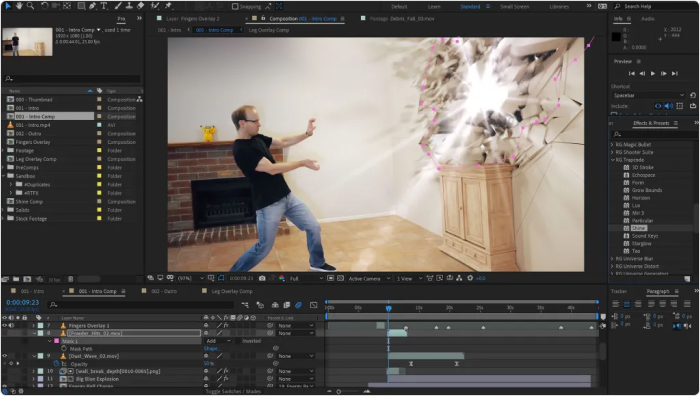 Adobe After Effects is a professional graphics software program. With this tool, you can take any idea and make it move, but, of course, it will require some serious training. It provides 60 million images, graphics, and videos to let you save time on searching, and tons of customization options. Adobe After Effects has some unique features that make it stand out from other competitors. For example, it includes the Character Animator tool that makes characters come to life by means of simple mouse clicks.
Cost: $20.99/month.
19. Moovly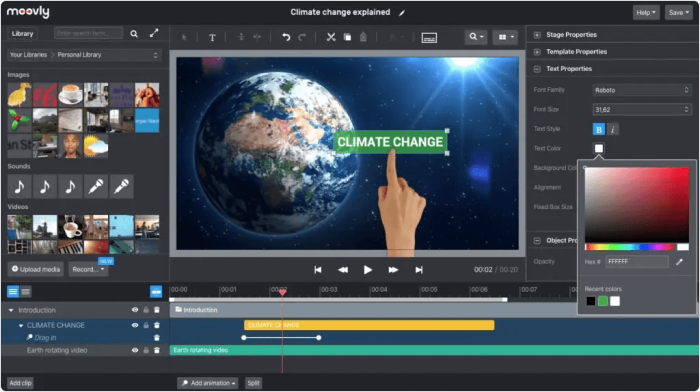 Moovly is an easy-to-use tool for creating interactive videos with animation. It allows you to create videos from scratch or use an extensive library of ready-made images, sounds, and video templates. Moovly lets you customize your video style to match your brand or training needs. Footage-based videos, motion graphics, cartoon, or doodle style – pick any approach you prefer.
Cost: Free basic plan. Paid plans start at $300/year.
20. Wideo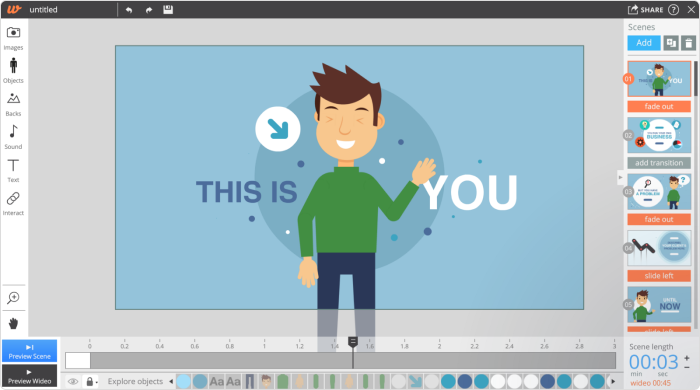 Wideo is an online video platform that lets you create animated presentations and videos from ready-made templates. Wideo's content library includes templates for various purposes and helps you reduce production time considerably.
Cost: Free plan with limited options. Paid plans start at $19/month.
21. iClone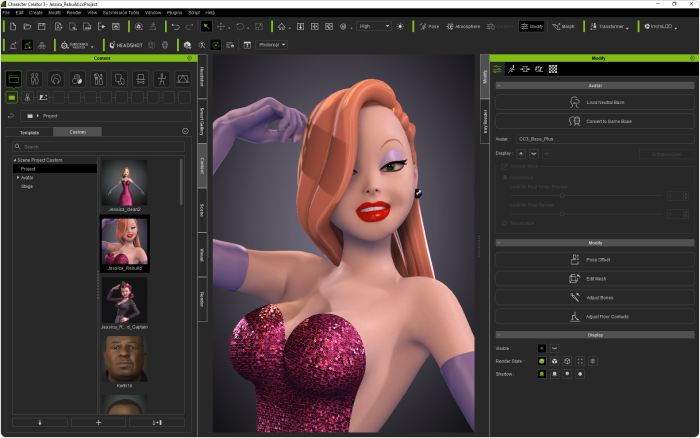 iClone is a 3D animation software program. It enables you to create engaging training videos with realistic 3D animated characters, interiors or natural outdoor environments, and even advanced lighting and shadowing effects. The software comes packed with ready-made templates for quick design.
Cost: Starts at $199.00. Free 30-day trial.
Video Editing Tools
There's a great number of video production tools that can help you create nice footage. We've covered a few solutions – both lightweight editors to get the job done in minutes and advanced software for experienced video editors. See the reviews to find the program with the right features for you.
22. Filmora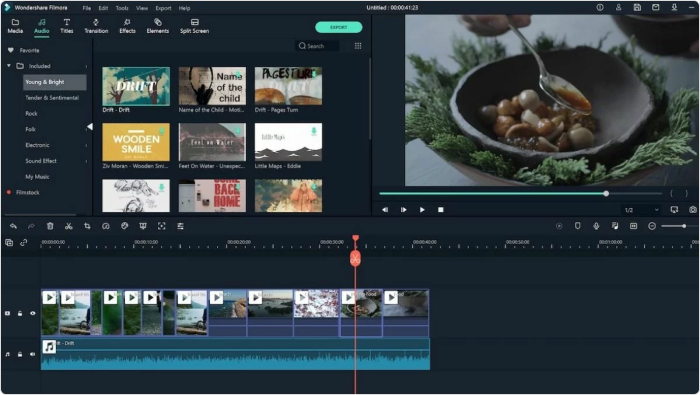 Filmora is a training video software that includes all the basics and a great number of advanced editing tools in the most easily accessible manner. With Filmora, you can quickly add and edit video clips, music, text, and filters. It supports 50 formats and can retrieve files from social media. Some interesting features include speaker speed control, camera shake fixing and video stabilization, various effects, and motion tracking. To create training videos even faster, you can use high-quality free loyalty media, audio, and video effects by downloading them from the Filmstocks store available on Filmora.
Cost: Starts at $49.99/year. A free 7-day trial.
23. AVS Video Editor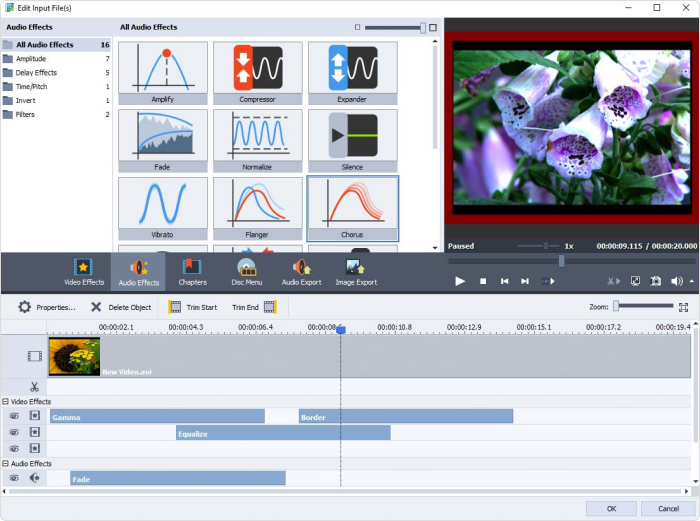 The AVS Video Editor is a video recording and editing software for Windows. It lets you trim your videos, merge them with other fragments, fix color issues, and stabilize shaky recordings. With this video editor, you can also add a narration, audio, images, captions, and more. Also, you can adjust the ready-made videos for mobile devices like iOS and Android smartphones and tablets.
Cost: Pricing plans start at $69/year.
24. HitFilm Pro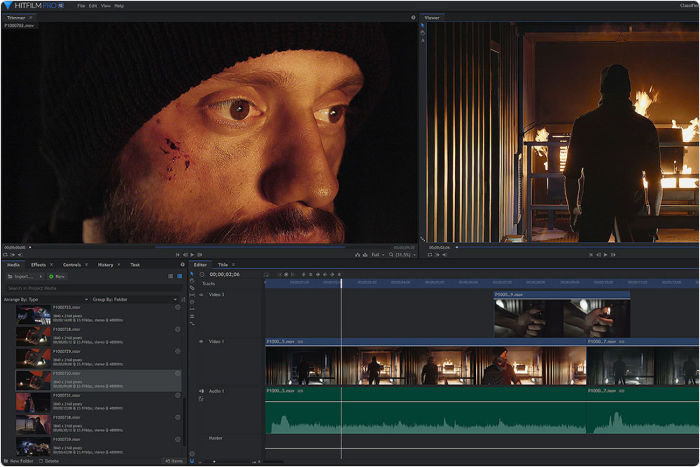 HitFilm is professional software best suited for creating cinema-like training videos. It offers all the standard and advanced editing features, such as trimming, merging, and color grading and correction. Moreover, it lets you import 3D models to create blockbuster scenes, and provides other cinematic effects. This tool has powerful editing capabilities but is only a good fit for experienced specialists with advanced tech skills.
Cost: $349 for a yearly license.
25. VSDC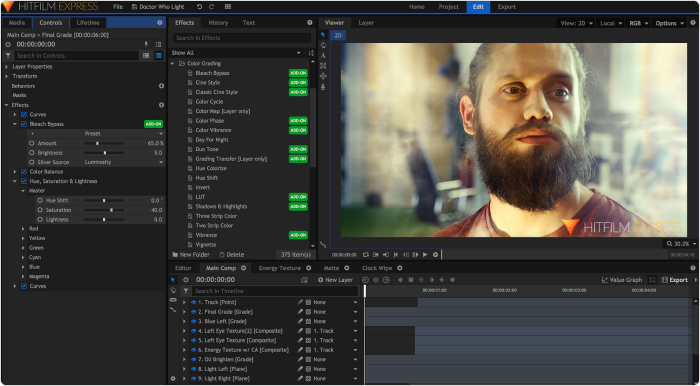 VSDC is a free video editor and a training video creator that offers many powerful options. You can correct colors, transform objects, add transition effects and Instagram-like filters, stabilize recordings, and much more. The tool lets you adjust your training videos for various devices, convert videos to multiple formats, and upload them to social media and YouTube.
Cost: Free.
26. OpenShot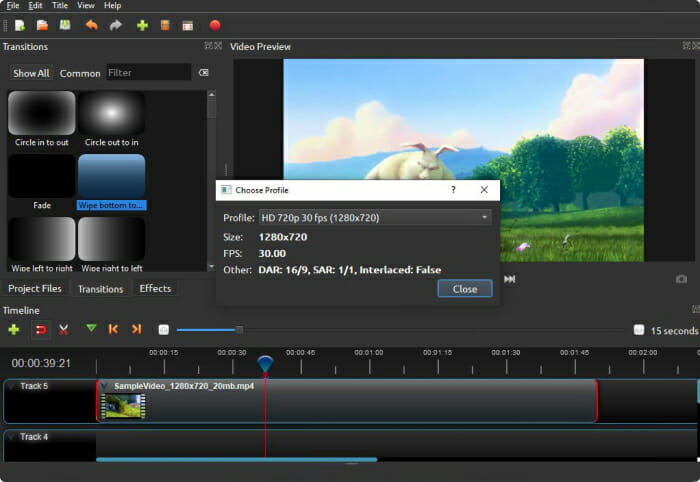 OpenShot is a simple training video recording software that has all the basic features and capabilities for editing videos. It allows clip scaling, trimming, rotation, snapping, and adjusting location. The tool also provides a wide variety of video effects, unlimited tracks and layers, different kinds of animations and keyframes, and time-mapping speed changes.
Cost: Free
27. Pinnacle Studio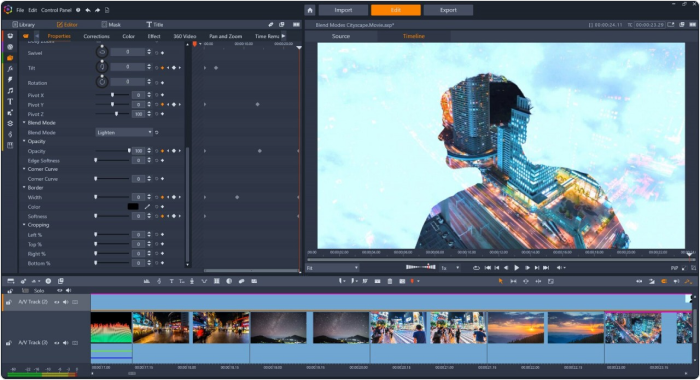 Pinnacle Studio is an easy-to-use yet robust training video creator that gives plenty of options beyond simple editing. It is fully loaded with advanced effects, filters and powerful tools, including comprehensive Color Grading, MultiCam editing, Video Masks, Green Screen effects, and more. It also provides some unique effects like stop-motion and 360-degree editing.
Cost: Starts at $64.95.
Apps for Creating Training Videos on Mobile Devices
Today's smartphones are powerful enough to record high-quality video. With the help of special apps, you can edit the clips you've made and turn them to professional training videos right on your phone. If this is what you're looking for, here are our suggestions:
28. Videoshop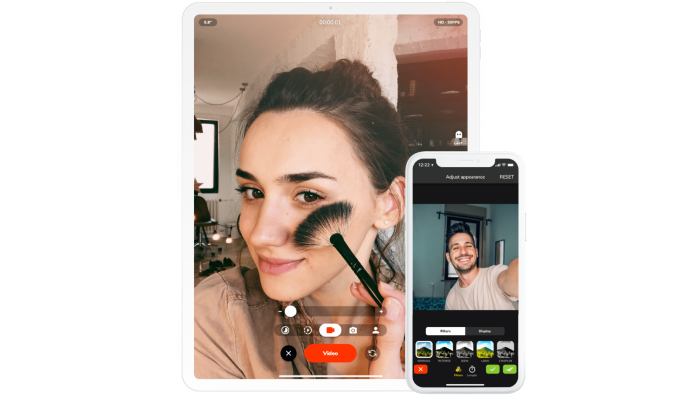 Videoshop is an app for iOS and Android that lets you make truly great training videos right on your phone. The app offers essential editing features like trimming, clip merging, rotation, flipping, and resizing. It also offers advanced options that enable you to add slow motion, correct colors, and edit sound. You can upload ready-made videos directly to YouTube, TikTok, Instagram, WhatsApp, and other platforms.
Cost: $3.99/month.
29. iMovie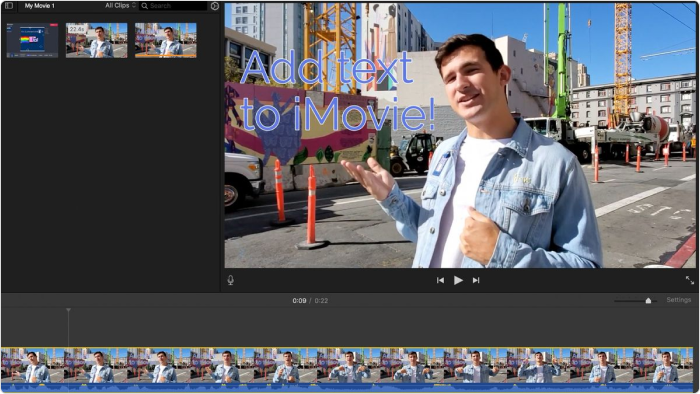 iMovie is a video editing app for iOS with a streamlined design and intuitive editing options. It lets you turn your photos and clips into 4k training videos. The app has such features as video trimming, split-screen, audio editing, creative video filters, and a pre-made transitions library. One of its notable qualities is that you can start editing your training video on iPhone or iPad, then finish on your Mac.
Cost: Free.
30. VideoShow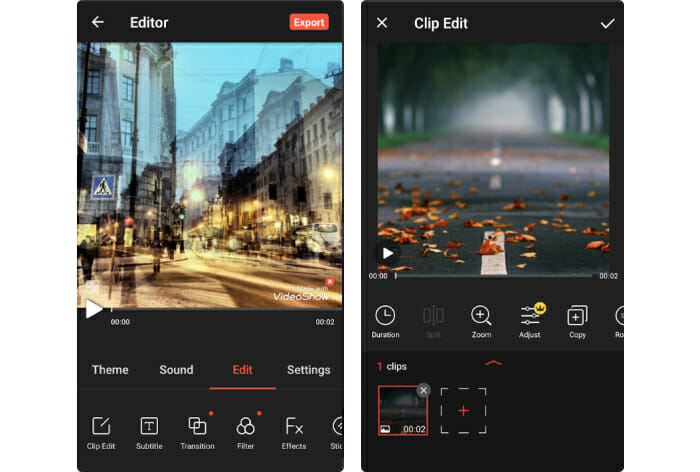 VideoShow is an iOS and Android mobile video editor that makes it easy to merge, trim, split, reverse, rotate, convert, and compress video. You can erase and change the video background, use fast motion or slow motion, add filters, transitions, and sound effects, and live dub your training videos.
Cost: There's a free version that exports videos with a watermark. The Pro version costs $59.99.
31. KineMaster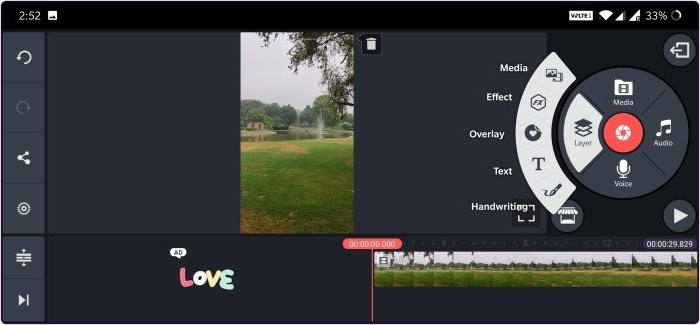 KineMaster is a pro-level video editing app for Android. It has powerful tools like multiple video layers, blending modes, chroma key compositing, voiceovers, speed control, special effects, 3D transitions, subtitles, and more. You can share your video on YouTube, Facebook, Dropbox, and other platforms right from the app.
Cost: There's a free version that exports videos with a watermark. The Premium version costs $39.99/year.
32. Magisto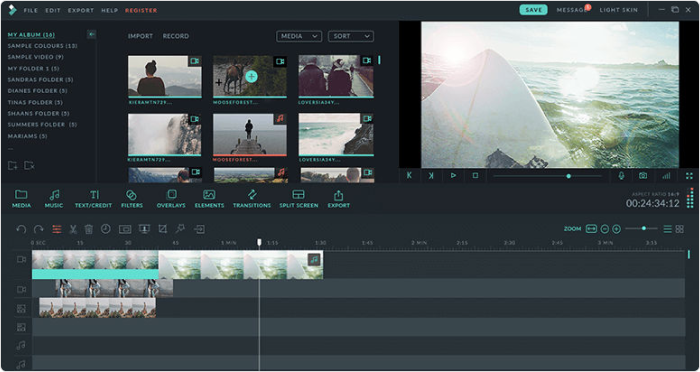 Magisto is one of the easiest video editors for mobile phones. To create a training video with this app, you only need to select the desired footage, the editing style, and add music. Magisto will transform them into a seamless micromovie. Simplicity is both its advantage and disadvantage, as you don't get many editing features and can only create standardized videos with this app.
Cost: Starts at $4.99/month, billed annually.
33. Animoto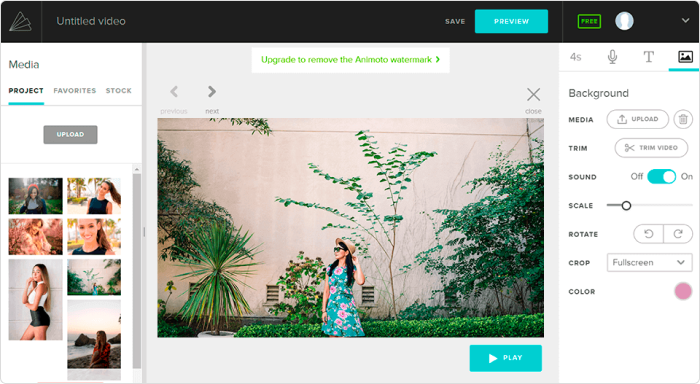 Animoto is a video making app with a drag-and-drop interface that works on iOS devices. To produce a tutorial video with Animoto, you need to select a storyboard template, upload your images and videos to the app (or select from the library), edit your footage by changing colors, adding music, texts, and a company logo, and then share your video with learners. Video content made in Animoto is more appropriate for social media.
Cost: There is a free basic plan that offers all the standard features but leaves a watermark on your videos. Pricing plans start at $8/month.
YouTube Video Editing Software
YouTube is one of the most popular video platforms that can bring you a really large audience. You can use it for video sharing and finding more learners from all over the world! To ensure that they'll find your YouTube videos engaging and exciting, you'll need powerful editing software. We've compiled a list of the most popular editing tools used by YouTube bloggers. Check them out!
34. Adobe Premiere Pro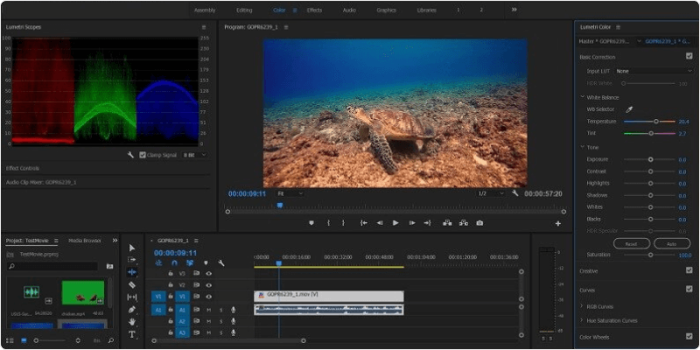 Adobe Premiere Pro is the most widely used professional video editing solution, but it comes with a steep learning curve and mostly suits skilled video editors. It allows you to do more than just basic editing, including layering, compositing, and motion graphics. What separates Premiere Pro the most from its competitors is its powerful finely tuned color, lighting, and audio editing options. Moreover, it enables you to edit footage in any format, from 8K to virtual reality.
Cost: $20.99/month.
35. Final Cut Pro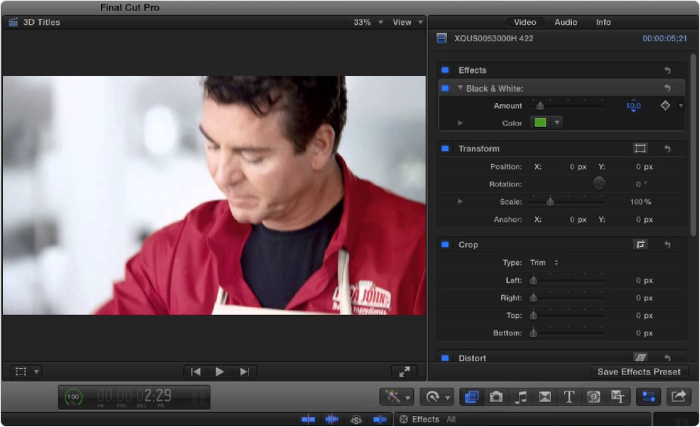 Final Cut Pro is another leading software for editing YouTube videos that offers multiple powerful features for achieving the best results. Besides standard video editing options like trimming and merging, the tool provides advanced audio, color, motion, and layer editing features. If you're looking for a solution that lets you create truly cinematic video tutorials, Final Cut Pro might be the best choice. However, you should know that, like all advanced tools, it requires strong technical skills. This tool is only available to Mac users.
Cost: $299.99.
36. Corel VideoStudio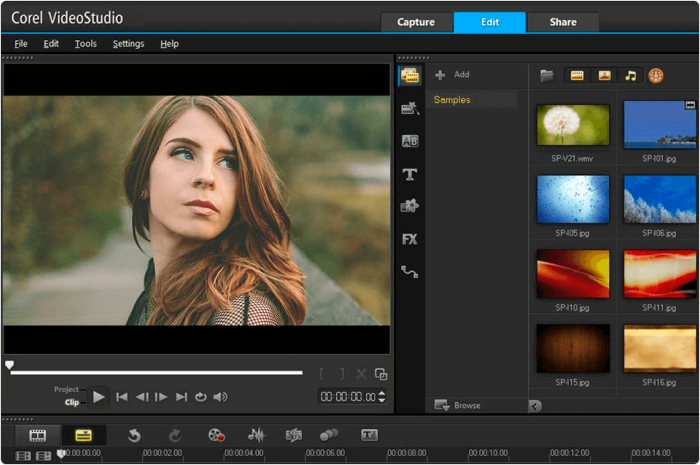 Corel VideoStudio is an award-winning video editor with comparatively easy-to-use functions. The software lets you create attractive videos using basic features and level up wherever you're ready to dive deeper into editing. Corel VideoStudio also offers templates, title presets, transitions, and filters for faster editing.
Cost: $79.99.
Video Converters
Sometimes it's not enough just to record and edit your video – you also need to have it in a particular format, so learners can view it on their devices or so you can upload it to your LMS. If you face similar challenges, you need a video converter. We've collected the best solutions and provide them for you here:
37. Wondershare UniConverter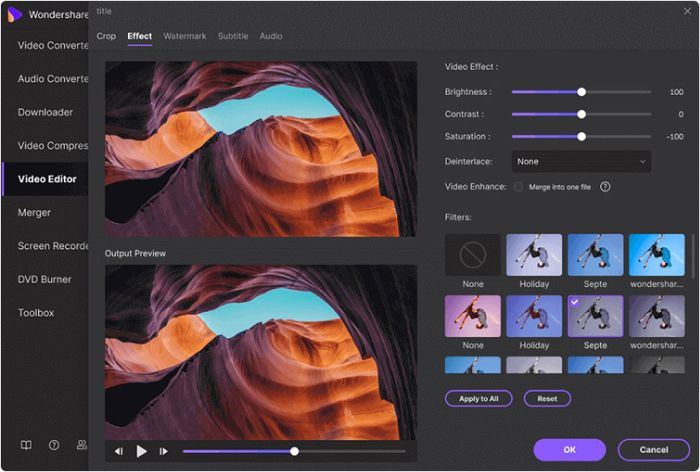 Wondershare UniConverter is a tool for converting, compressing, and editing videos. It supports all popular formats, such as MOV, MP4, AVI, and MP3. Conversion takes very little time, and videos don't lose their quality. Besides, with UniConverter, you can save videos from YouTube and convert DVDs into any video format and use them in your eLearning projects.
Cost: Starts at $39.99/year.
38. Freemake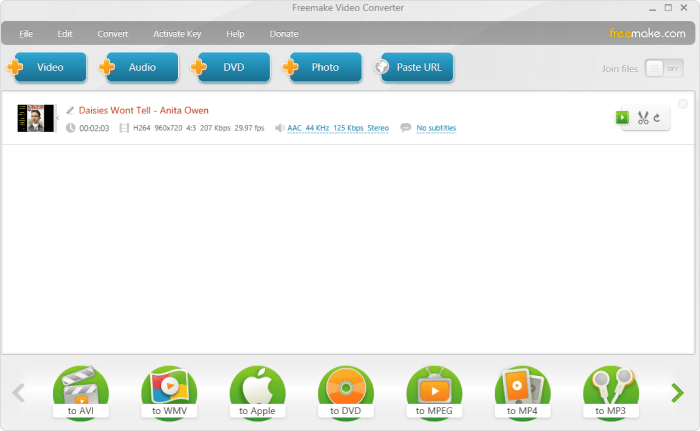 Freemake is a robust video converter that is free of charge. It lets you convert over 500 audio and video files, edit videos, burn DVDs, and more. Highly popular worldwide, this tool is a great solution when budgets are low. Works on both Windows and macOS.
Cost: Free.
39. VideoProc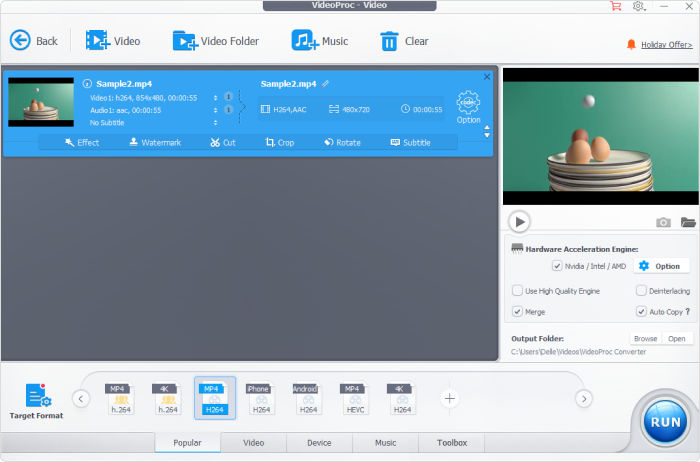 VideoProc is a video editing software that's focused on conversion. The tool supports over 420 video formats and lets you process HD and 4K HDR videos from your iPhone, GoPro, DJI, and cameras. For example, you can convert H264 to H265 (HEVC), MKV to iPhone, GIF to MP4, and even 3D to 2D. VideProc works both on Windows and macOS, including the latest processing units like Apple M1 and Apple M1 Pro.
Cost: Starts at $59.90/year.
40. Movavi Video Converter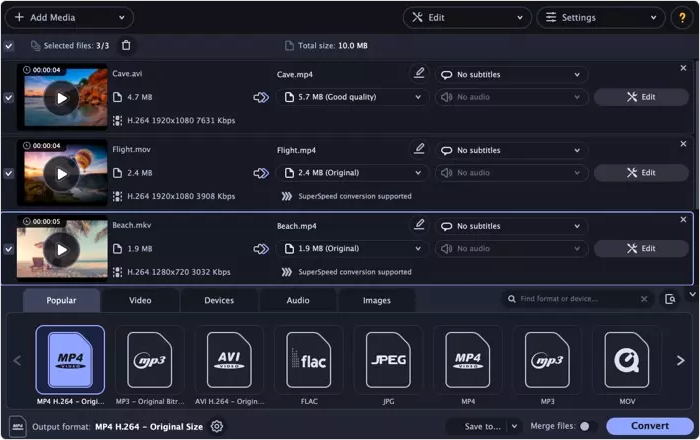 Movavi is a video converting solution that lets you process files quickly without compromising the quality and then transfer your video tutorials, podcasts, and infographics into any format and to any platform or device. With Movavi, you can also compress large files and edit your videos. The tool is available for both Windows and macOS.
Cost: $54.95/year or $64.95 for a lifetime license.
Looking for Training Video Software?
Creating high-quality training videos can be a challenge. However, with the use of training video creators, the job becomes far easier. With the best software for creating training videos, you'll be able to make the video content that your learners will love.
We've selected the best video software tools for each category. Check them out!
The Best Software for Screen Capturing and Webcam Recording
iSpring Suite is easy to use and offers the screen capturing capabilities that you truly need for video creation in eLearning. With this screen recorder, you can quickly record and edit any kind of instructional video, add narration and special effects, and reinforce learners' knowledge with interactive online quizzes.
Download a free 14-day trial to test-drive iSpring Suite and see how it works in your case.
The Best Interactive Training Video Software
Verse offers the most powerful opportunities for creating and delivering interactive videos to your learners. Apart from the cost, it is the very best software solution in this category.
The Best AI-Powered Video Creation Tool
Synthesia allows for creating credible, highly realistic training video experiences without outsourcing and hiring professional actors. It can be a real time saver for training specialists and educators who experiment with AI.
The Best Animated Training Video Software
Vyond lets you design very attractive animated videos and is user friendly. Tastes differ, but we like this tool best for its library of beautiful characters and locations, and robust video creation capabilities.
The Best Video Editing Tool
While Filmora may not be the most powerful video editing software, it provides useful advanced features that instructional designers and L&D specialists need to create video tutorials. Besides, it has an intuitive interface that makes it easy even for those with no tech skills to work with training videos.
The Best App for Creating Training Videos on Smartphones
If you need video creation software for your phone, consider Videoshop. Unlike other apps, Videoshop offers all the features for transforming your footage into exciting instructional movies that you can share with your learners on social media.
The Best YouTube Video Editing Software
We have two winners for this category:
Adobe Premier Pro is the best YouTube video editor for Windows users.
And Final Cut Pro is the best solution for macOS users.
Both tools provide you with incredible editing features that will help you make thrilling tutorial videos for YouTube.
The Best Video Converter
Wondershare UniConverter is your best option for converting videos fast and keeping the high quality intact.
---
Look through these apps, pick the best one for you, and start creating instructional videos!
Which tool are you most excited to try first? Let us know in the comments below!
FAQ
How do you make an effective video tutorial?
There are many factors that affect the quality of your instructional video: recording and editing software, background, clothing, annotations, communication approach, cinematic rules, etc. See our guide on how to make an effective video tutorial.
Where can I host a training video?
You can store your training video on any data storage platform, like Google Drive. However, if you want to share your video with learners and monitor their progress, the best option is to upload your video along with other training content to a learning management system.
Useful Resources