February 22, 2023
The 21 Best Video Tutorial Software Programs: Free & Paid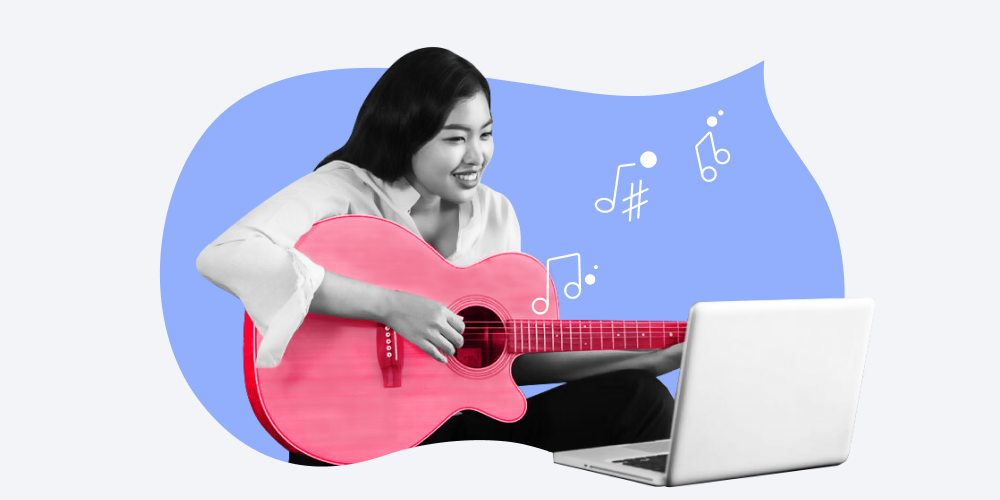 Do you want to show your audience how to use software or demonstrate how a product or concept works? Or will you create how-to videos for your online course? Then, you'll definitely find this hit parade of the best video tutorial software helpful.
This is a roundup of 21 tools that can help you create engaging video tutorials and improve your training output. We've organized them into two groups – paid and free – to enable you to find the best software for making tutorial videos with whatever budget you have.
Paid Video Tutorial Software
We've collected the best tutorial making software that you'll have to pay for if you want to record training videos on a regular basis. All these programs have free trials, so you can test them and decide which tutorial video maker is right for you.
1. iSpring Suite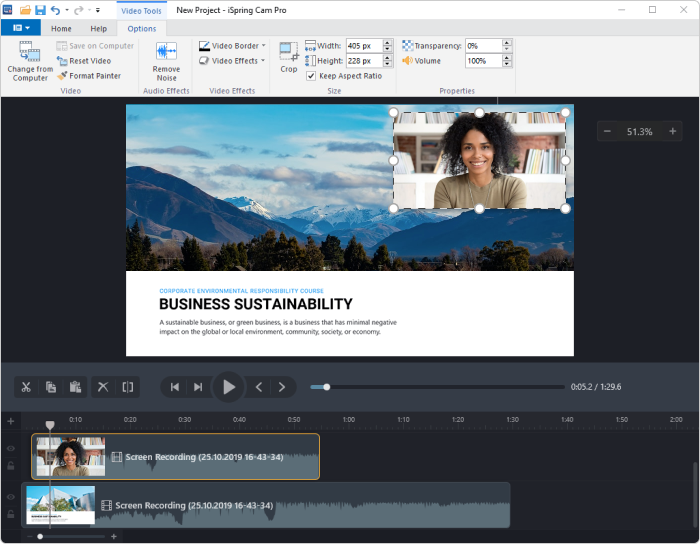 iSpring Suite is one of the best tools for creating video tutorials. It is a comprehensive solution that allows you to create high-quality training videos by recording your screen with a webcam and audio. This authoring tool has all the necessary features to make your tutorial videos look professional. For example, you can add titles, annotations, and images, create visual hints and apply transition effects. To measure learners' understanding after watching the tutorials, you can create interactive quizzes. iSpring Suite also allows you to build slide-based courses, dialogue simulations, and interactions.
Cost: $770/year for the whole toolkit. Free 14-day trial →
2. Camtasia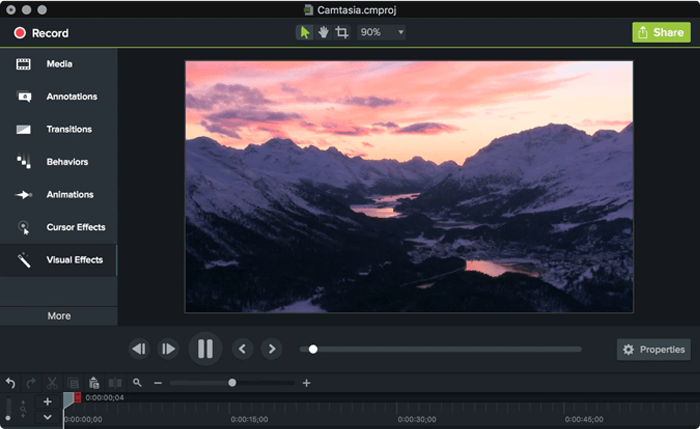 Camtasia is an easy-to-use screen recorder with powerful video-editing options both for Mac and Windows. As with iSpring, you can make a screen capture, record, and insert a video using your webcam, and support a screencast with audio, images, and text. Camtasia has a full set of animations and video effects, including green-screen. To make a lesson more immersive, you can add your own music or choose a track from Camtasia's library of royalty-free music. To engage your learners and measure learning in your tutorials, you can add quizzes and interactivity. Camtasia allows you for publishing videos on YouTube or Vimeo.
Cost: $359.99. Free 30-day trial.
3. Snagit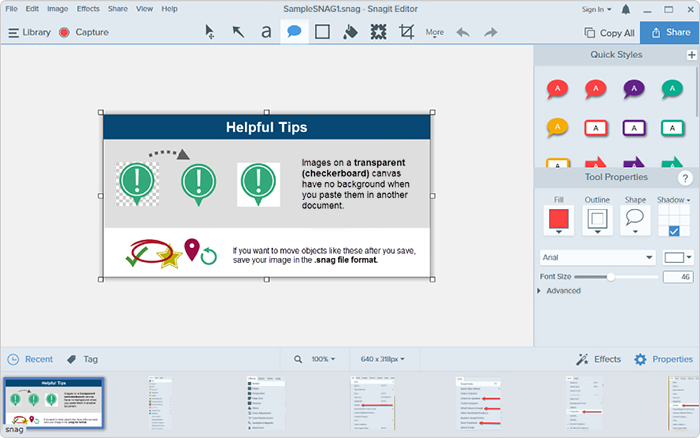 Snagit is a simple screen and video recorder. You can record the action on the screen and audio (from a microphone or system audio) as an MP4 file and, if desired, turn it into an animated GIF. With the Snagit video maker, you can trim your longer video tutorials into snippets or GIFs and share them with your learners in a couple of clicks. The tutorial creator makes it easy for users to add a video to email, documents, training materials, blogs, or social media.
Cost: $75.59. Free 15-day trial.
4. Ashampoo Snap 14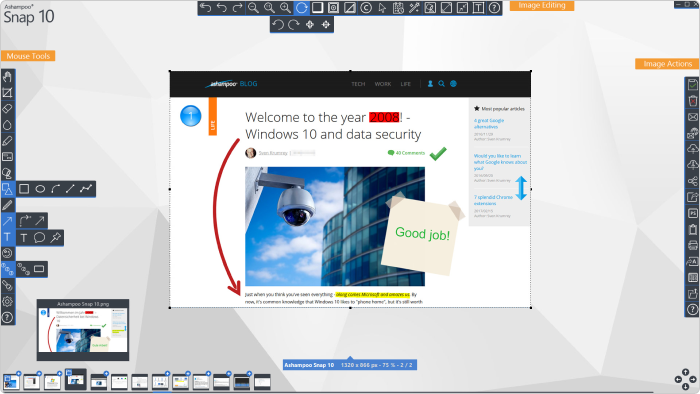 Ashampoo Snap 14 is another simple tool for creating video tutorials. This video maker software lets you capture your screen and add arrows, graphics, automatic numbering, and visualized mouse clicks and keystrokes to create self-explanatory steps, and turn your screencasts into video tutorials. Like with Snagit, you can export your videos as GIF animations and send them to your learners via email, upload them to all common clouds services like DropBox, Microsoft OneDrive, and Google Drive, or save them to Ashampoo Webspace.
Cost: $40.00. Free 10-day trial.
5. ActivePresenter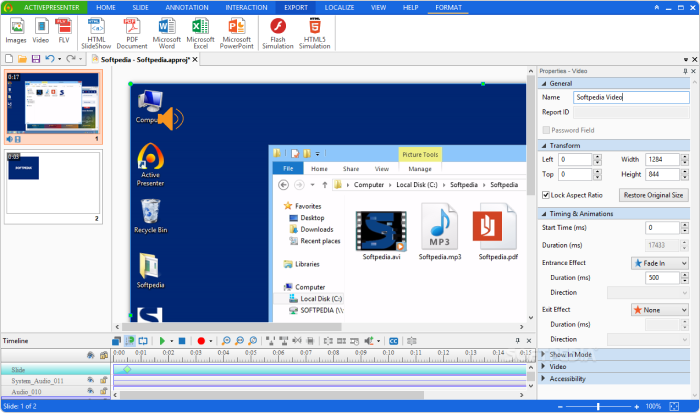 ActivePresenter includes the full set of tools needed to record a screencast or a cool tutorial video, annotate, edit videos, and create interactive eLearning content in HTML5. You can make polished and high-quality video tutorials and training simulations with different line/fill/text styles and shadow effects. ActivePresenter has a flexible event-action mechanism that allows you to build various learning scenarios based on viewers' responses.
Cost: There's a free plan. The paid version starts at $199.
6. FlashBack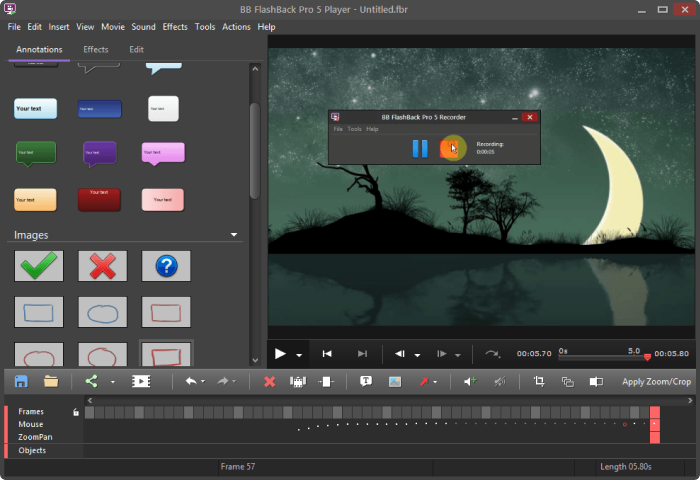 FlashBack is another great tutorial making software that allows you to capture your screen, audio, and webcam. It has a feature-packed video editor in which you can make engaging video tutorials by adding text, callouts, sound, images, blur effects, highlights, watermarks, and interactive buttons to your screen or video recording. You can export your tutorial videos in multiple formats or upload them directly to YouTube or FlashBack Connect.
Cost: $49.00 for 1 PC. Free 10-day trial.
7. Joyoshare VidiKit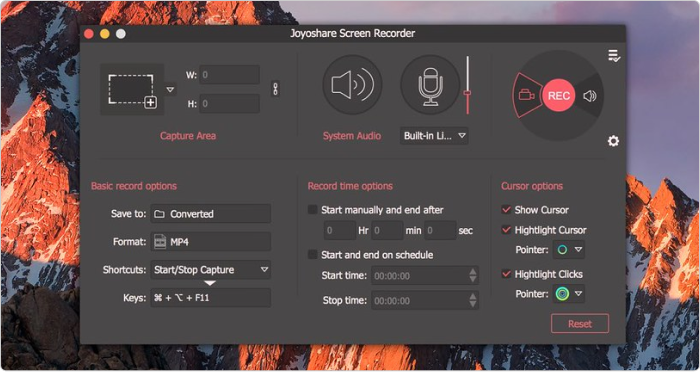 Joyoshare VidiKit serves as a smart screencast and audio recorder. You can choose to record a video tutorial with or without system audio or microphone sound. The tool also lets you take screenshots during the recording process whenever you like.
Cost: $15.95. Free trial.
8. Filmora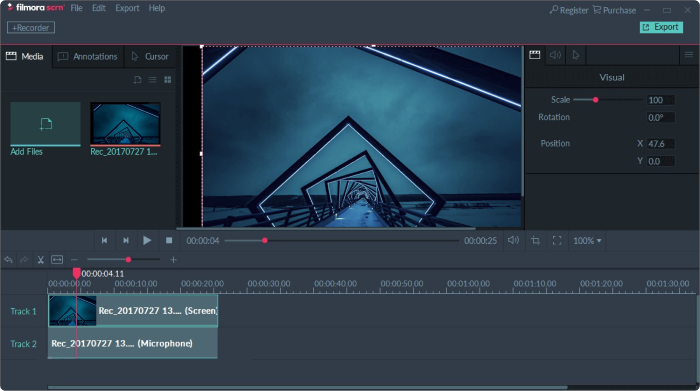 Filmora is video tutorial software that provides a stable and smooth screen recording experience and allows you to edit your video tutorials quickly and easily. You can record from your computer and webcam simultaneously and create picture-in-picture video content. To enhance the learning experience for your viewers, you can complement your screencasts with images, videos, music, and other media files, annotations, and drawn circles and arrows. This tutorial maker enables you to export your videos to multiple formats, including MP4, MOV, and GIF.
Cost: $49.99 for 1 year or $79.99 for a lifetime license. Free trial.
9. ScreenFlow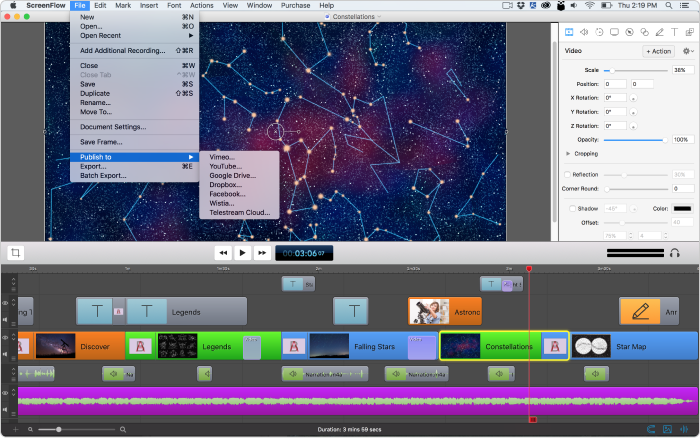 ScreenFlow is advanced screen recording and video production software. It comes with powerful editing options like adding transitions, video animations, text animations, freehand annotations, multi-channel audio, and more. You can even animate graphics, titles, and logos. This interactive tutorial maker has a built-in media library with over 500,000 unique media clips that you can use for your tutorials. To make a series of video tutorials quickly and easily, you can create a customized template and simply populate it with a screencast when needed.
Cost: from $169.00. Free trial.
10. DemoBuilder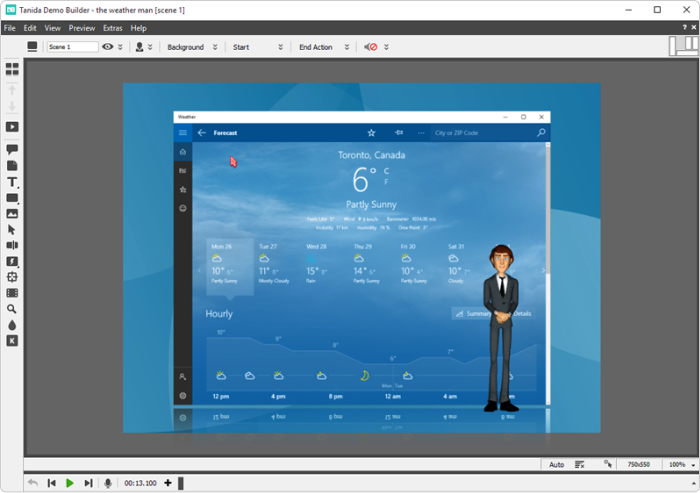 With DemoBuilder, you can create professional and fully interactive tutorials and marketing videos with a wide range of tools and animations. The video maker allows you to edit videos with balloons and notes, cursor records, click zones and buttons, and 3D effects. To make your tutorial videos even more engaging, you can add animated characters who will talk with your voice and use various actions and realistic movements, from walking and talking to intricate eye and head movement.
Cost: $298. Free 15-day trial.
11. Hippo Video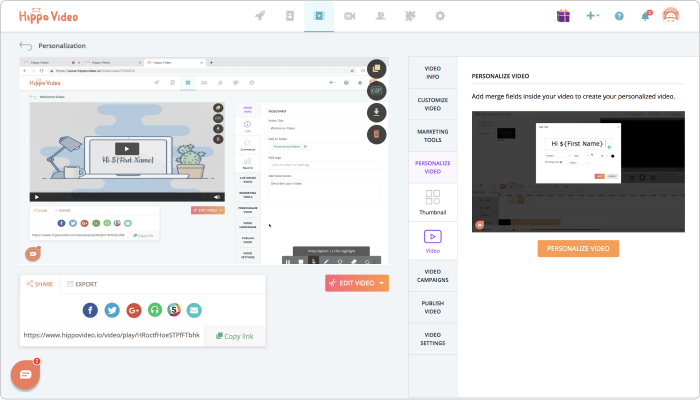 Hippo Video is advanced video software and video hosting platform that enables you to create tutorials in HD quality by using your screen capture, webcam, and audio. While recording, you can annotate, highlight mouse-clicks, erase, and more. What is special about Hippo Video is that it has a robust reporting engine. For example, you can track how many people have watched and shared your video, see the locations you got video visits from, and get information about viewers' likes and dislikes.
Cost: There's a free plan. The paid version starts at $15/month.
12. Panopto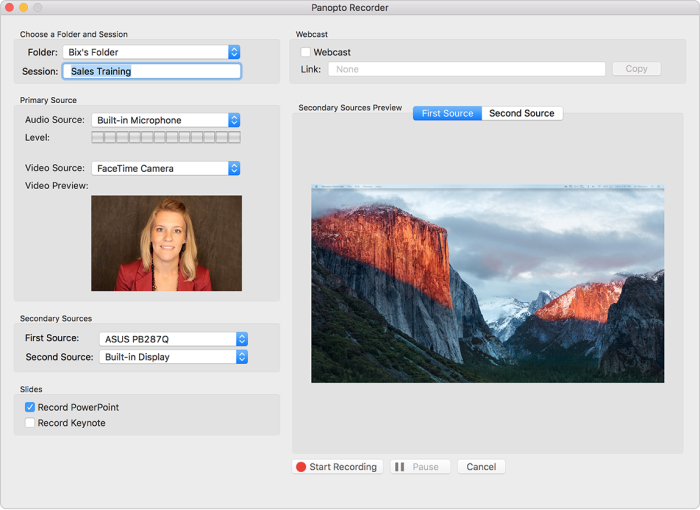 Panopto is an online platform with built-in multi-camera video recording software. It allows you to capture video from your screen(s) and simultaneously record an unlimited number of video feeds with the help of a webcam, a camcorder, and more. Panopto's video editor makes it easy to trim unwanted sections, switch between different video feeds, and even embed quizzes, polls, and surveys. This online tutorial making software also allows you to live stream your instructional videos and share the recordings instantly when the broadcast ends.
Cost: Upon request. Free trial.
13. Animoto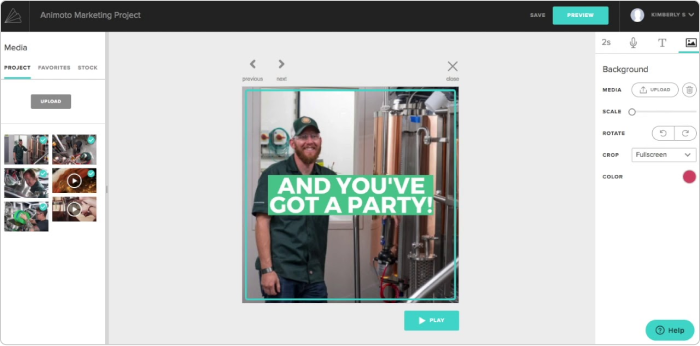 Animoto is another video tutorial builder with lots of great customizable video templates. To make a tutorial video, you simply need to choose a storyboard template, upload your photos and video clips, or select from the Getty Images stock library, and customize the template by changing the colors, adding text and music.
Cost: From $33.25/month (annual billing). Free trial.
14. Moovly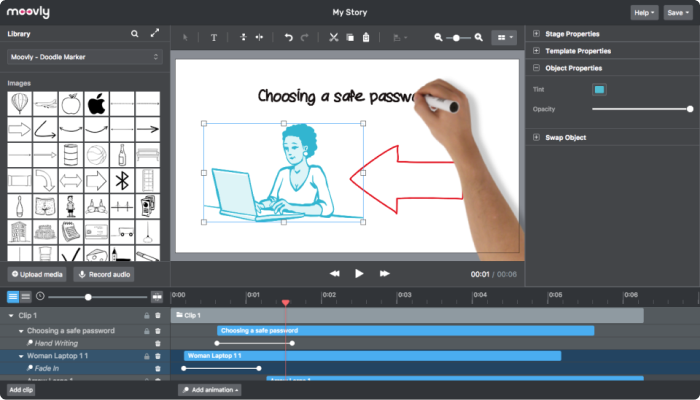 Moovly is another video tutorial maker with lots of great customizable video templates. You can make a tutorial video simply by dragging and dropping your images, clips, and music into pre-built templates. The tool allows you to quickly personalize everything: colors, footage, animated backgrounds, sounds, and more.
Cost: From $24.92/month (annual billing). Free trial.
Free Video Tutorial Software
You've now been introduced to the best tutorial creation software that requires some fee. But what if you're not quite ready to pay and need to create a training program? Here are some free video tutorial software that can prove helpful.
15. Open Broadcaster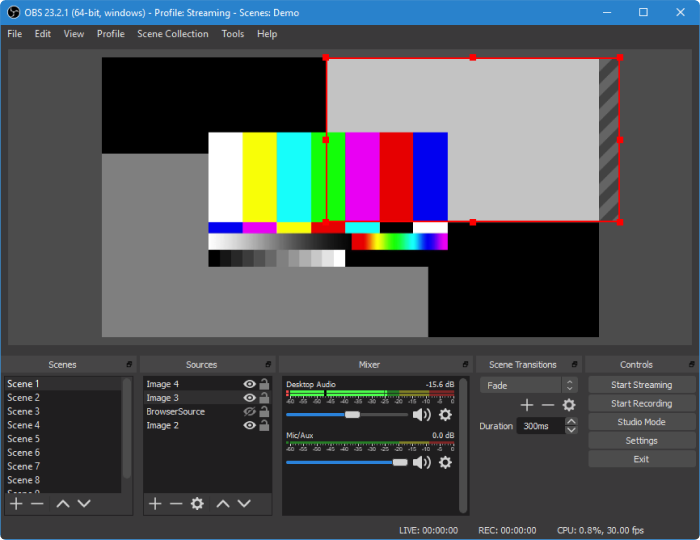 OBS Studio is a video maker and open broadcaster software designed specifically for video recording and live streaming. It's more focused on recording gameplay, but it can also be used as a tutorial video maker. The studio records in HD in full-screen at 60 frames per second. It includes real-time video/audio capturing and mixing. Open Broadcaster provides robust editing options, including different kinds of video and audio filters and custom transitions. However, the tool has quite a steep learning curve, so creating instructional videos with it will require some training time. This free tutorial maker works on Windows, Mac, and Linux.
16. Free Cam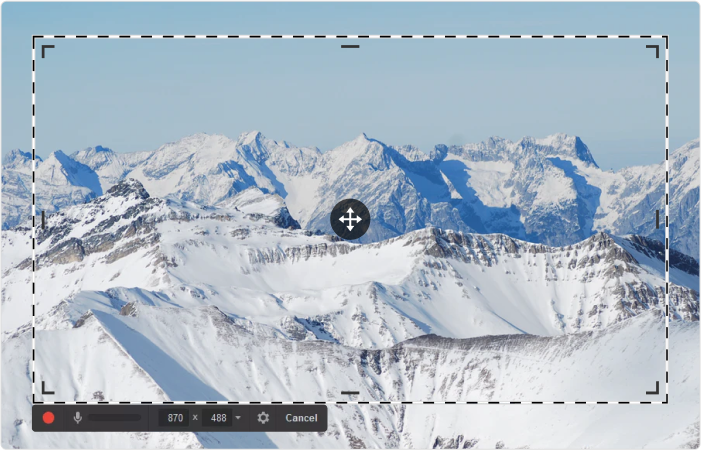 Free Cam is another great example of tutorial software. It lets you easily create training videos, edit them, and publish them to YouTube, or save them as 720p quality WMV videos that you can share via any channel you wish. With Free Cam, you can record full screen or a selected area, record your voice and system sounds. The software also offers you an option to emphasize important details in your video tutorial by highlighting your mouse cursor and adding mouse click sounds. Creating a simple video is free, but there's also a paid PRO version with additional features.
17. Ezvid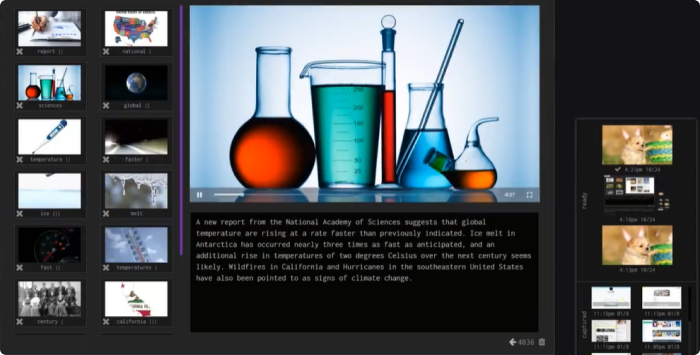 Ezvid is a great video creator powered by voice synthesis. It allows you to make screencasts with voiceovers with a minimum of hassle, so you can use it as a video tutorial app. Unlike many competitors, the tool comes with a screen drawing functionality that enables you to draw directly on your screen. You can also enhance your tutorial videos with images and video clips.
18. CamStudio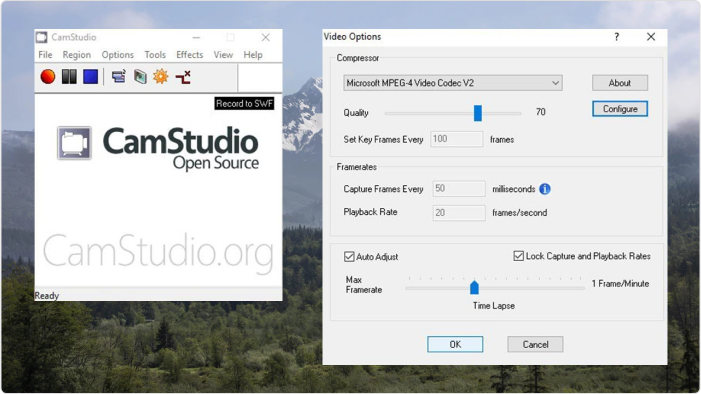 CamStudio is a free tutorial video maker. It doesn't have a lot of features, but it's still a pretty handy tool for creating tutorial videos. CamStudio lets you record audio and your computer screen. You can add annotations and change the form of the cursor. As for the tutorial video itself, CamStudio offers a free set of options like time-lapse footage, frame rates, compression, and quality control. You can export your video in two formats: AVI and SWF.
19. Webinaria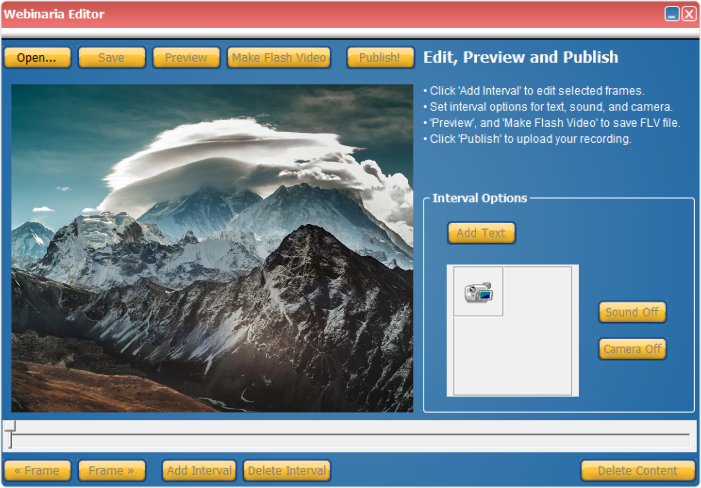 Webinaria is a free open-source screen recording software. It provides all of the basic options you need to create a good tutorial video. With this tool, you can record a video of your screen – either a full screen or only a window – and you can also record audio and include texts. A major advantage of this tutorial creation software, as compared to other free tools, is that it lets you use your webcam and offers a built-in video editor to spruce up your videos.
20. Screen-O-Matic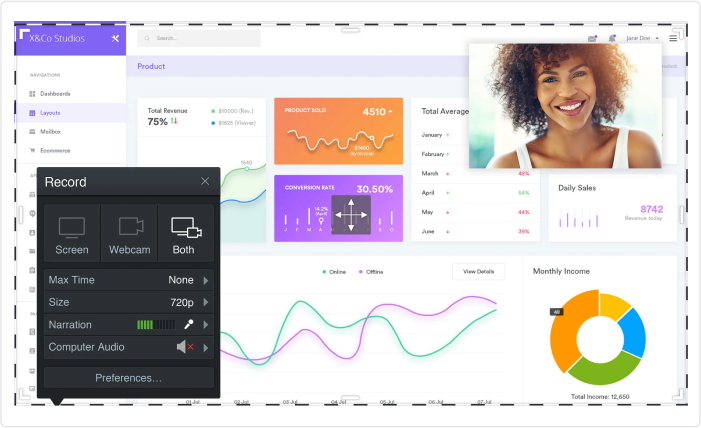 Screen-O-Matic is one of the best apps for making tutorials. Unlike the rest of the programs presented here, it's not absolutely free. Still, the free plan offers enough options to create a video of decent quality. With Screen-O-Matic, you can record both your screen and webcam at the same time, publish your tutorial videos directly to Google Drive and YouTube, record audio narration, add captions, and stock music. The cons of the free version are the time limit of videos (15 min max) and the fact that it does not include a video editor.
21. Icecream Screen Recorder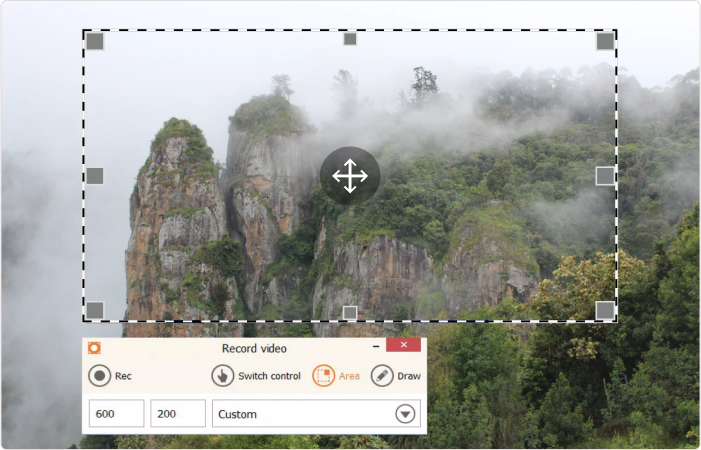 Icecream Screen Recorder is a free screen capture software that lets you record screen and audio. It also offers webcam recording, which is useful for webinars. You can add text, arrows, and shapes to your tutorial video. Also, the tool's features include simple customization (you can add your logo) and mouse click animation. The tool has a fairly simple interface.
Finding the Best Video Tutorial Software
As you can see, there is an abundance of tools for screen capturing, video recording, and editing for every taste and budget. Here are a few tips that will allow you to choose the best app to create video tutorials and squeeze more out of its functionalities:
Refer to trusted software ratings and lists (like this one above)
Read the reviews on software marketplaces like Capterra, G2, and TrustRadius, and find out what other users think
Get trial versions and see video tutorial making software in action
If you need a general suggestion, it would be to narrow your search by opting for the best software to create video tutorials that you can use right away. If you're a novice at creating training videos but want to make something more advanced with a complex, sophisticated tool, be prepared to spend some time learning how to use it. To get an idea of where to begin with video tutorials, look at these free ready-made templates from Vimeo.
FAQs on Video Tutorial Software
Let's go over the most frequently asked questions about video tutorials.
What is a video tutorial?
A video tutorial is a type of instructional video that comprises a set of recorded steps on how to do something. Video tutorials can come in a variety of forms: demonstration videos, simulations, how-to videos, and recorded lessons. A video tutorial is similar to a training video. To create either of these, you need tutorial video makers.
How can you find the best tool for making video tutorials?
Consider your needs and your proficiency with video creation. Narrow your search down by comparing various tutorial video makers and reading user reviews. Instead of getting rushed into buying sophisticated software, we recommend opting for tutorial makers that are specifically designed for learning and training.
What is the best video editing software for creating tutorials?
The best option for you depends on what you need. We believe that iSpring Suite is great for recording full-fledged video tutorials and more. And this is the key point: with the tool, you can make your tutorial video extremely interactive and create online courses with quizzes, surveys, and dialogue stimulations within the same PowerPoint interface. Feel free to harness its full power with a 14-day free trial.
---
All of the solutions covered in this article are suitable for creating video tutorials. We hope this hit parade helped you find the best video tutorial software for your needs. You also can find more practical tips on how to use video in learning. Have you used any of these tools to create video tutorials? We'd love to see your comments below.
Useful Resources