September 1, 2023
Best 20 Explainer Video Software for 2023 [Updated]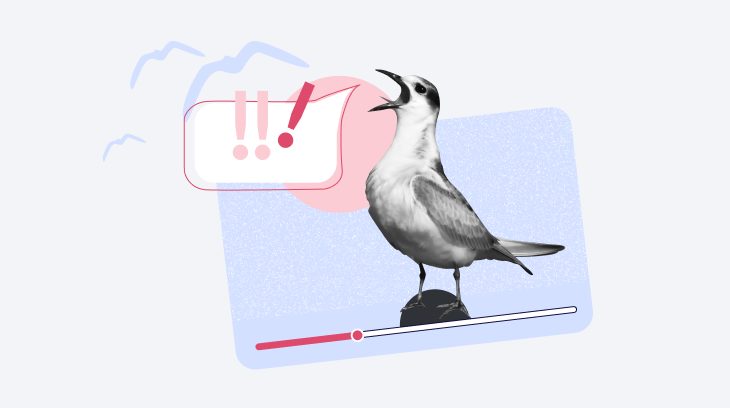 This is a roundup of the 20 best explainer video software solutions that can help you create compelling videos and improve your marketing. For your convenience, we've divided them into five groups:
Share them on social media or bookmark this article to revisit any time.
Live-Action Explainer Video Software
Live-action explainer videos are real-life situations with live people. They can simply be talking-head videos with annotations or short movies with a plot.
To create a live-action video, you'll need a camera and video editing software. Some of the holistic tools we've compiled use three options at once: they allow you to record, edit, and share videos. Check out our shortlist and find a solution that meets your requirements.
1
. iSpring Suite
A full-fledged studio for creating live-action videos in the familiar interface
OS: Windows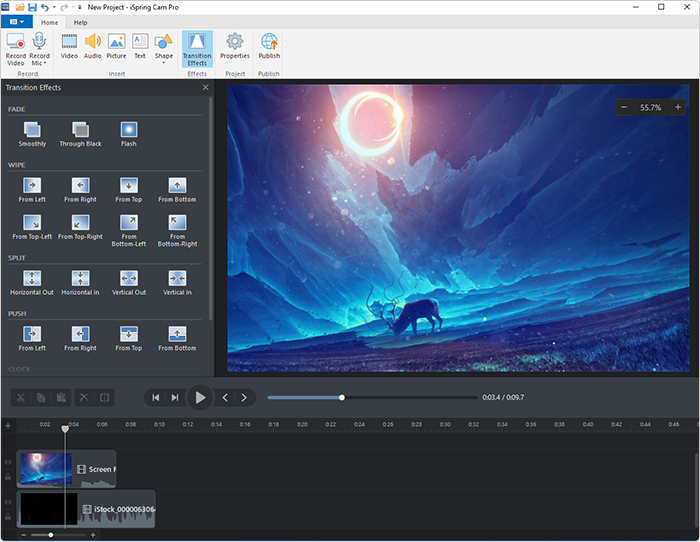 iSpring Suite is PowerPoint-based authoring software that includes tools for creating online courses, quizzes, and conversation simulations. It also includes a professional video studio that makes the video production process a breeze. Though the toolkit is more focused on producing eLearning content, with the iSpring video studio, you can also make explainer videos. You can create a screencast, record a webcam video right in the tool, or take a ready-made live-action video and enhance it with images, infographics, PowerPoint slides, and captions. The studio also makes it easy to mix videos and support them with music or a voice-over.
As an option, you can create a presentation explaining your product or service in PowerPoint and turn it into a video with iSpring Suite. This tool preserves all PPT effects and transitions.
Key features:
Can record the screen, a webcam, and create picture-in-picture videos
Has a multi-track timeline for video editing
Adds images, visual hints, and captions
Creates smooth scene transitions
Includes a text-to-speech tool
No time limits for recording
Pricing: $770/year. Free 14-day trial →
2. Camtasia
A robust tool for creating video tutorials quickly
OS: Windows and Mac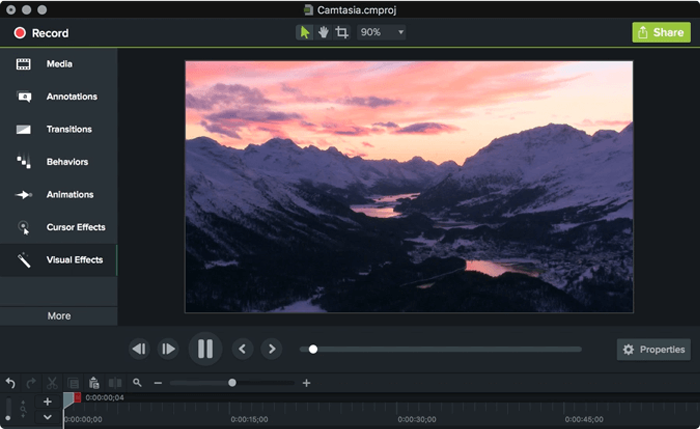 Camtasia can be helpful both for screen capturing and webcam recording. It also provides basic editing options for polishing videos. As with iSpring, you can use a webcam or a ready-made recording for your explainer video and make it more engaging by adding eye-catching titles, annotations, effects, and more. To support a video with music, you can choose a track from Camtasia's library of royalty-free music or upload your own audio.
Key features:
Has preset customizable video templates
Comes with a library of royalty-free music and sound effects
Has a simple drag-and-drop editor
Provides a variety of transitions and animations
Adds quizzes and interactivity to videos
Has a green screen function
Pricing: $299.99. Free 30-day trial.
3. Soapbox
Rapid video creation for marketing needs
OS: Windows and Mac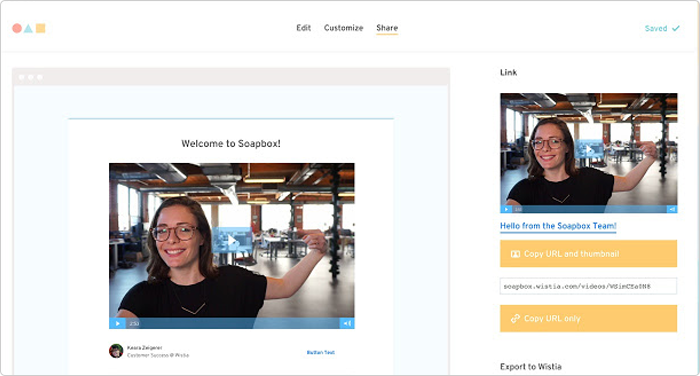 Soapbox is a Google Chrome extension that enables you to quickly and easily record, edit, and share videos. To create an explainer video, you can make a talking-head style recording with your webcam and complement it with text, images, slides, and other videos.
Key features:
Can record a screen, a webcam, or both
Has an easy-to-use video trimmer
Comes with a service for hosting and sharing videos
Allows collaboration on videos
Integrates with analytics, marketing, and other tools
Pricing: There's a free limited plan. The paid version starts at $19/month (annual billing).
4. Adobe Premiere Pro
Best for professional video and film editing
OS: Windows and Mac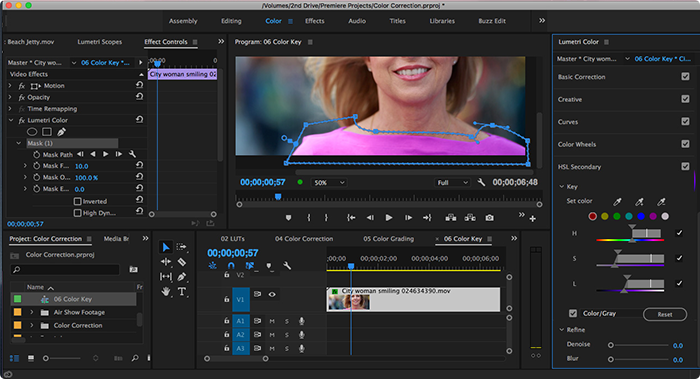 Adobe Premiere Pro is a leading video editing toolkit used by professionals for creating films, video clips, and documentaries. You can also use it to make explainer videos. To do that, you need to upload a previously recorded video and do some editing. The tool kit enables you to do more than just basic editing, including compositing, layering, tilting, motion graphics, and sound design. You can also edit the footage in any modern format – from 8K to virtual reality.
Key features:
Can create animated motion graphics
Has a set of advanced features for video editing
Allows for audio editing and sound effects
Provides access to the Adobe Stock library
Integrates with Photoshop, After Effect, and a service for collaboration – Frame.io
Pricing: $239.88/year. Free 30-day trial.
Animated Explainer Video Software
Animated explainer videos illustrate a product, service, or concept using moving graphics. With graphic elements, you can create a memorable story and explain abstract or complex concepts. See how iSpring did this:
5. Vyond
A decent tool for creating videos with characters
OS: Web-based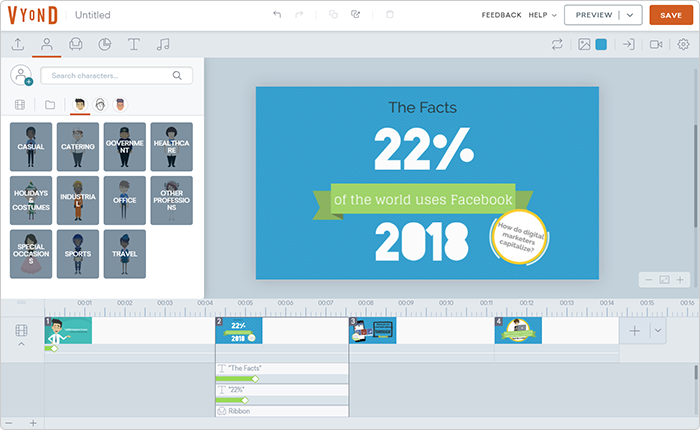 Vyond is a fast online tool for creating animated explainer videos with professional output. It has everything you need to tell a compelling story beautifully and visually with an explainer video. The software offers an extremely rich library of pre-made scenes, characters, objects, and audio tracks. To make your video even more engaging, you can use dialogue, lip-syncs, and realistic movements.
Key features:
Includes hundreds of pre-made video templates and assets
Provides limitless customization
Has an automatic lip-sync function
Has a built-in text-to-speech tool
Includes a version history tool for quick editing
Pricing: From $49/month or $299/year per seat. Free 14-day trial.
6. Powtoon
A video creation tool for corporate use with many animation styles
OS: Web-based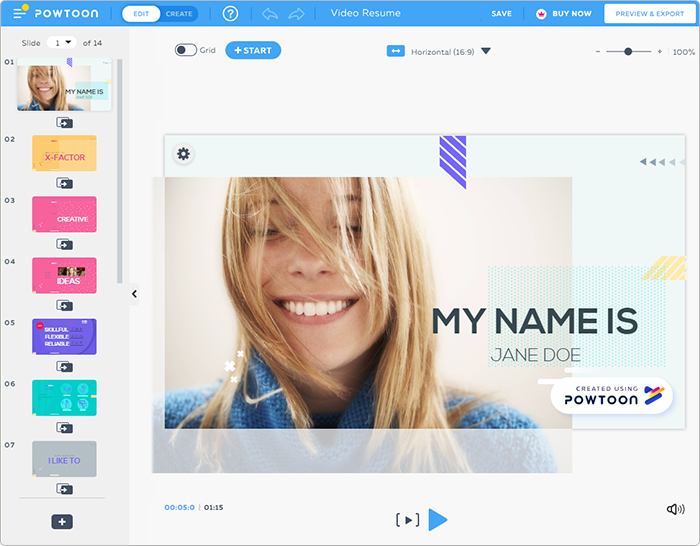 Powtoon is a comprehensive online platform for visual communication that allows you to create various types of video content. It has a strong animation tool and hundreds of templates and characters for creating animated explainer videos without specific skills, external help, or overspending. Among the animation styles that Powtoon offers are cartoons, infographics, sketches, and whiteboard doodles.
Key features:
Comes with a library of video templates, animation, characters, and footage
Provides vast customization features for characters
Includes an extensive selection of soundtracks
Adds videos, images, GIFs, and voiceovers
Integrates with YouTube, Facebook, Wistia, Hubspot, and more
Pricing: There's a free plan. The paid version starts at $15/month (annual billing).
7. Animaker
Animated presentations for enterprises
OS: Web-based
Animaker is online animation video-making software with drag-and-drop functionality. With 6 different video styles, including infographics, 2.5D, and typography, and 120 different types of animations, it lets you create beautiful explanatory videos. The app is home to a big collection of characters, charts, and icons, as well as sound and visual effects, which can help you spice things up. With Animaker, you can create vertically optimized videos that fit right on a mobile screen.
Key features:
Has tons of professionally made templates
Comes with ready-to-go animated characters, properties, BGs, icons, images, videos, and more
Includes a character builder
Has the auto lip-sync tool
Allows for animating objects in a click
Pricing: There's a free plan. The paid version starts at $12.5/month (annual billing).
8. Wideo
A platform for creating animated marketing videos
OS: Web-based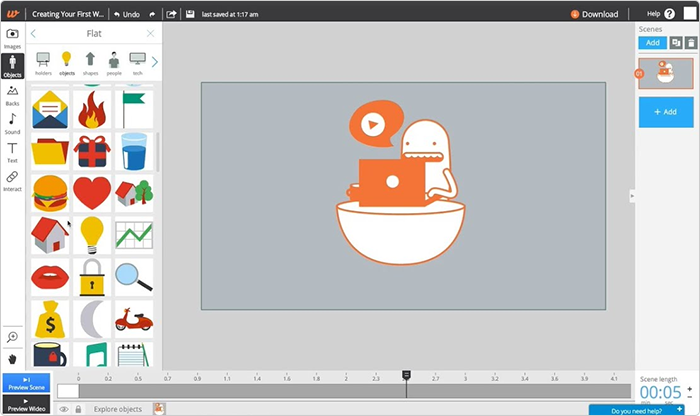 Wideo is another web-based app for creating, editing, and sharing animated explainer videos in an intuitive manner. It offers 100+ templates that are fully customizable, over 1,300 images, and 50+ music tracks. If you don't want to use the standard objects provided in the library, you can use your own.
Key features:
Comes with hundreds of brandable video templates
Has a wide range of images, object styles, animations, and soundtracks
Allows the creation of both simple and complex animations with ease
Can create horizontal, square, and vertical videos
Provides comfortable and agile video editing
Pricing: From $19/month (annual billing). Free 7-day trial.
9. Explaindio
Specially designed for explainer video animation
OS: Windows and Mac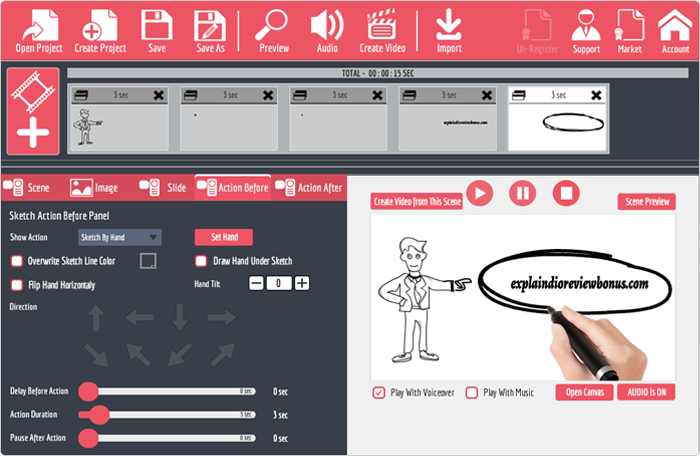 Explaindio is a robust tool that allows you to bring together 2D and 3D animations, sketch elements, and full-motion videos. You can easily create explainer videos by combining pre-made text animations, animated scenes, fonts, characters, and audio tracks to get the look and story you want.
Key features:
Comes with pre-made video, image, and doodle object animations
Provides access to over a million stock photos and videos
Includes ready-made characters
Offers full multi-timeline editing
Provides easy export options: horizontal, vertical, and square
Pricing: From $37/month (5 users included).
10. Cinema 4D
Animation software for professional use
OS: Windows, Mac, Linux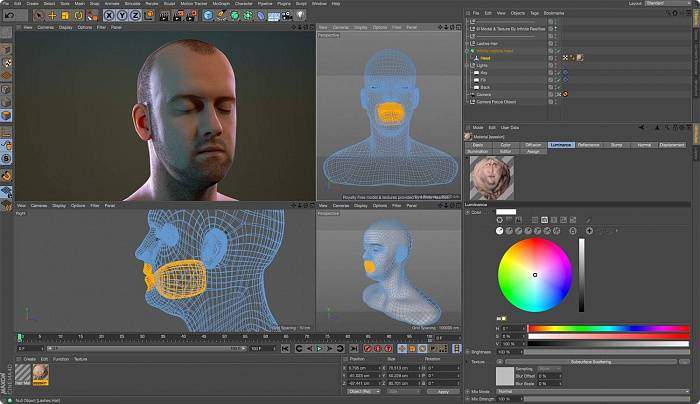 Although Cinema 4D is widely regarded as a professional software for 3D animation, it also allows you to create 2D animations with more control. The Sketch and Toon tool applies flat shading with a single click and helps your graphics appear in 2D. Cinema 4D has a gentle learning curve and provides an extensive library of preset scenes, materials, and objects.
Key features:
Provides a broad selection of interactive modeling tools
Offers a wide range of character animation tools
Has great capabilities for rendering
Provides access to libraries of preset contents
Integrates with Adobe Illustrator and After Effects
Pricing: $59.91/month (annual billing).
Whiteboard Explainer Video Software
Whiteboard videos are a particular type of animated video in which pictures appear to be hand drawn on a whiteboard. The script is presented as a third-person narration or a use-case that supports the story that is told through the drawing. This is a good example of what a whiteboard animation looks like (Yum Yum Videos):
We've compiled the most popular tools that can help you get started making your whiteboard animation videos quickly. See which one meets your needs!
11. Sparkol VideoScribe
Professional-looking sketches are now available for beginners
OS: Windows and Mac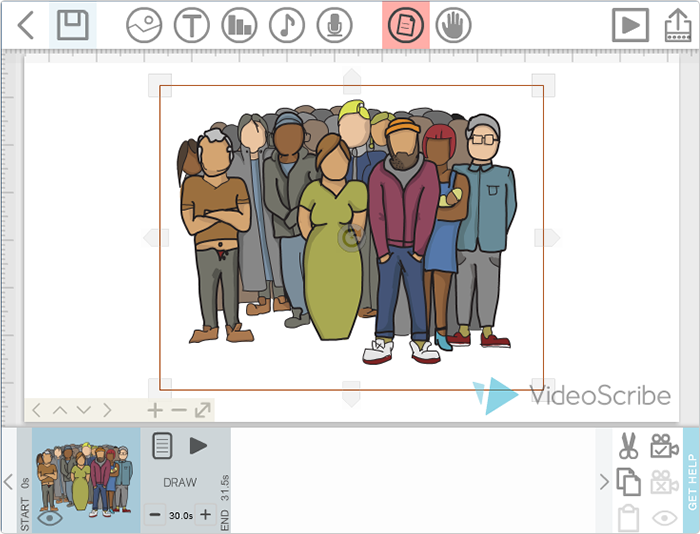 Sparkol VideoScribe lets you create hand-drawn, animated explainer videos with no design or technical know-how. With the large built-in library of images and an easy-to-use timeline with drag-and-drop functionality, you can make videos in a snap. VideoScribe also has a great audio library, with around 200 tracks to choose from.
Key features:
Has a hand-drawn animated illustration library
Provides access to an ever-expanding template library
Offers multiple image and text animation options
Can record voice-overs
Has a royalty-free music collection
Pricing: From $15 per user/month (annual billing). Free 7-day trial.
12. MySimpleShow
Automated creation of whiteboard doodles
OS: Web-based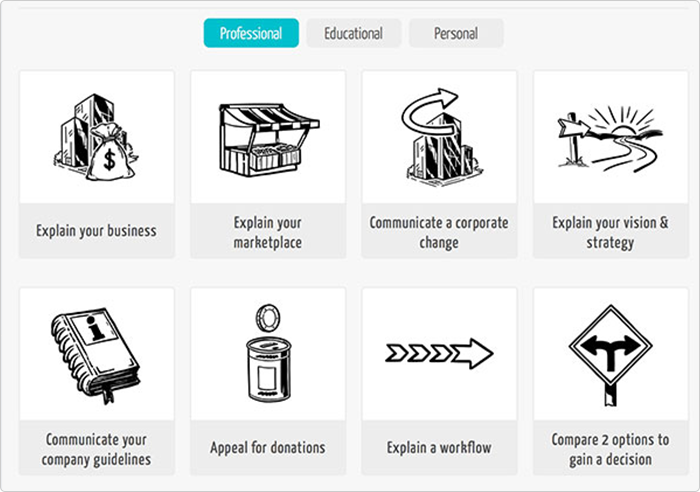 A hand dragging different elements across the screen and swiping them away, supported by a voice-over, is exactly what you'll see in videos created with MySimpleShow. This is a simple online tool with a unique explainer engine. Just choose a storyline template for your topic, write a story, and the software will offer you a selection of characters, objects, and animations that you can use to build your video.
Key features:
Includes thousands of simple illustrations
Features Explainer Engine that generates a storyboard
Provides the most relevant storyline templates
Can record voice-overs
Has a text-to-speech tool
Pricing: From $79/month (annual billing).Free trial.
13. Raw Shorts
Intuitive animation software for creating video sketches for free
OS: Web-based, Mac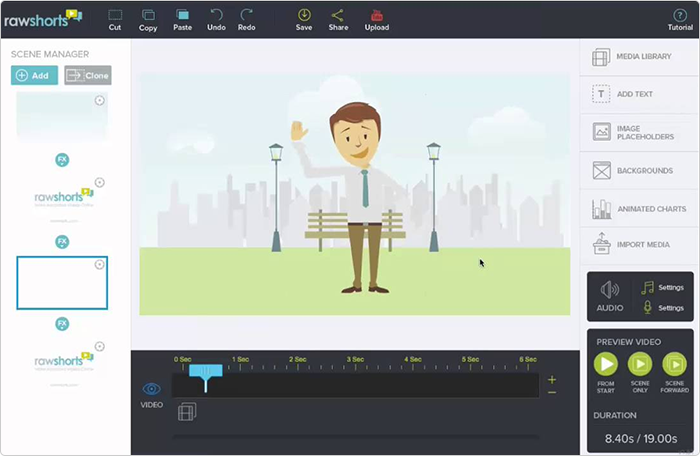 Raw Shorts is an online whiteboard animation software with a drag-and-drop interface. You can create an explainer video even if you have no animation skills simply by choosing ready-made templates, graphics, and characters, and adding media and text. Raw Shorts stands out from other tools for its specific transitions and animations that can be applied to each element beyond just the "drawn by hand" classic whiteboard style.
Key features:
Has a simple drag-and-drop video builder
Offers thousands of whiteboard style templates, graphics, and characters
Allows you to add your own media, transitions, effects, and audio
Can convert text documents to video with the power of A.I.
Allows team collaboration on videos
Pricing: There's a free pricing plan. The paid version starts at $20/month (annual billing). 7-day free trial.
14. Doodly
Automated customizable doodles for every niche
OS: Windows and Mac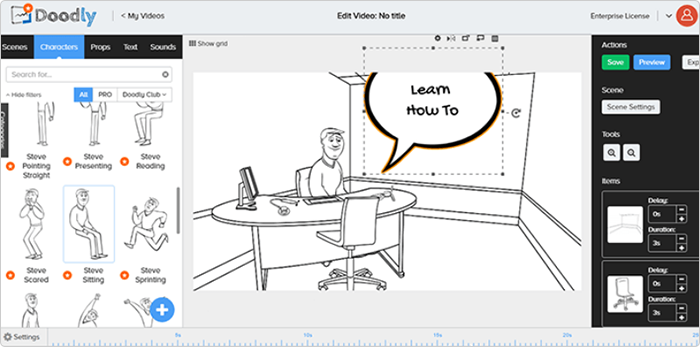 If you want a cool explainer video with marker or pen drawing sketches, you can create it yourself with Doodly. To make a video, you can use doodle images drawn by Doodly's professional graphic artists, or upload your own images. The tool will automatically draw the image for you. You can also record your voice-over audio directly within Doodly and sync it to your sketch with ease.
Key features:
Has a unique technology that allows you to draw any images that you upload
Provides thousands of custom drawn whiteboard doodle images
Offers a large selection of male and female hand types
Includes royalty-free audio music tracks
Can record voice-overs and easily sync them with doodle sketches
Pricing: from $490/year.
Explainer Video Slideshow Software
Video slideshow software is typically easy-to-use apps that allow you to create a video by combining photos and ready-made clips. They usually come with basic video and photo editing tools so you can enhance your slideshows.
Here is an example of an explainer slideshow video:
This review covers quite a few programs that can help you make an explainer video in a snap.
15. Animoto
Best for creating social media videos with cool templates
OS: Cloud-based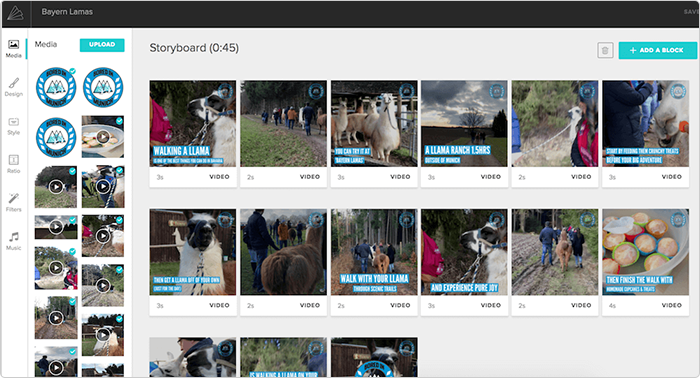 Animoto is a tool for creating slideshows with music for video marketing purposes. You can create explainer videos simply by dragging and dropping your own images and video clips into pre-built templates. The tool allows you to quickly adjust colors, fonts, music, and more to customize your video.
Key features:
Comes with a large variety of video templates
Has a built-in library of photos, video clips, graphics, and songs
Provides great customization capabilities
Can create square, landscape, and vertical videos
Lets you gather, review, and implement time-stamped feedback
Pricing: From $8/month (annual billing). Free 14-day trial.
16. Wave.video
A huge collection of stock videos to pull from.
OS: Cloud-based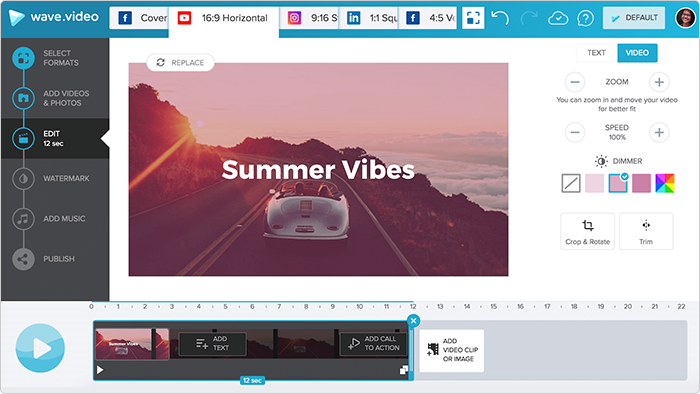 Wave.video is a simple but robust video-making solution with the largest stock video and image library – around 300-million videos. You can use a ready-made template or upload your own video clip and customize it by adding text and logo, setting custom colors and fonts, and applying branded video filters. To make your explainer video even more engaging, you can also add stickers and GIFs.
Key features:
Offers a wide range of video and audio editing tools
Has an image editor for creating thumbnails, lower thirds, and overlays
Comes with ready-to-go video and audio clips, photos, and pictures
Allows live streaming
Enables you to store, host, embed, and distribute your videos
Pricing: There's a free plan. The paid version starts at $24/month (billed as $281/year).
17. Biteable
Best for easy video creation and customization for corporate needs
OS: Web-based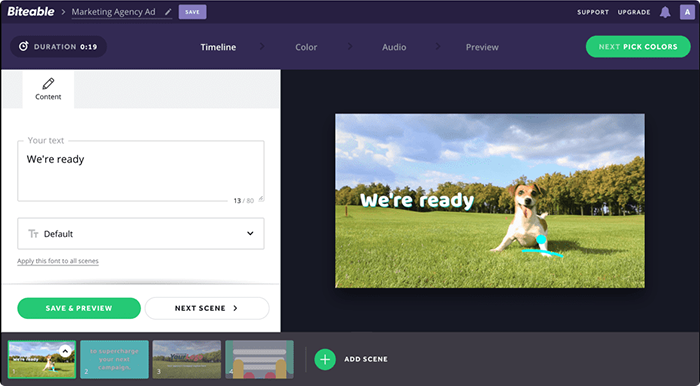 With Biteable, you can turn your photos and videos into a beautiful explainer video. This online tool offers hundreds of ready-to-use templates. Depending on your audience and brand, you can choose between tech, professional, humorous, and a host of other styles. To personalize your video, you can add pictures, text, and music, and integrate your brand colors.
Key features:
Comes with 1.8 million images, clips, and templates
Offers advanced controls for animations, audio, and timing
Includes a library of premium tracks
Provides great customization capabilities
Has an analytics tool for tracking views, view duration, and viewer location
Pricing: Has a free version. The paid plan starts at $49/month (yearly billing).
Interactive Explainer Video Software
Interactive videos give the viewer the ability to interact with the content itself and even control it as if playing a video game. They can click on-screen objects, answer questions, and even buy products, all within the video. This totally transforms the viewer's experience by making it more fun and engaging.
See how Maybelline New York uses interactive videos to show how its products can help women look more attractive. This is more than just an explainer video, since it not only explains how the product works, but also teaches customers how to use it properly.
Here are three software tools that will help you create a fully immersive experience for your customers.
18. Vimeo Create
Online video creation and editing tool
OS: Cloud-based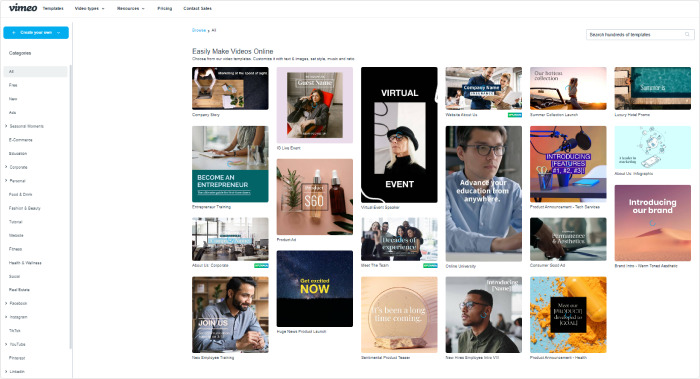 Vimeo provides accessible online video editing tools for creators looking to efficiently make adjustments to their videos. Through Vimeo Create, users have the option to choose from a variety of templates or start from scratch, allowing for customization with graphics, stock footage, and more. Additionally, the one-take video creation and editing feature streamlines the process, allowing users to refine videos by editing the transcript and removing filler words and pauses with a single click.
Key features:
Offers a free online video editing option for Vimeo members.
Provides a selection of 500 professionally designed templates suitable for various purposes.
Features an intelligent video editor that simplifies the creation of polished videos.
Allows for the inclusion of a personalized brand kit.
Provides access to a wealth of informative resources from industry professionals and experts within the Vimeo community.
Pricing: A single-use plan – $12 per month (annual billing).
19. Kaltura
A full-fledged platform for video creation, hosting, and broadcasting
OS: Cloud-based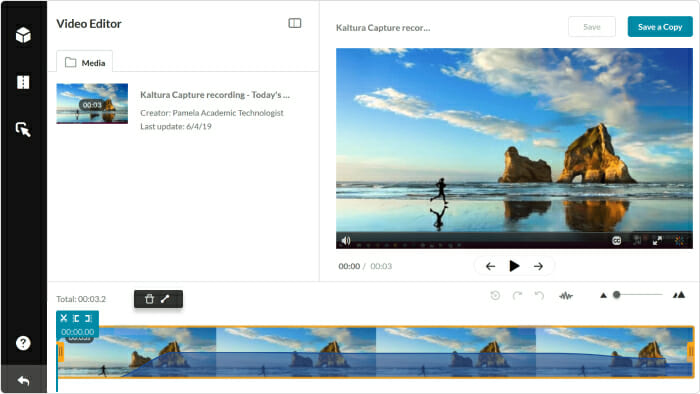 Kaltura Video Portal is a cloud-based tool that allows turnkey video creation and management for corporate and commercial use. It enables you to easily create, edit, and enhance videos with various interactive content and activities. With Kaltura, you can add clickable elements, hotspots, and branching structures to your videos to put the user at the center of the experience and let them choose the path of their content.
Key features:
Offers a wide range of video creation and editing tools
Can add captions, on-screen questions, hotspots, and more
Provides great capabilities for content management
Allows in-depth analytics
Has integrations with Zoom, Microsoft Teams, etc.
Pricing: Upon request. A free trial is available.
20. Brightcove
Online video platform with marketing focus
OS: SaaS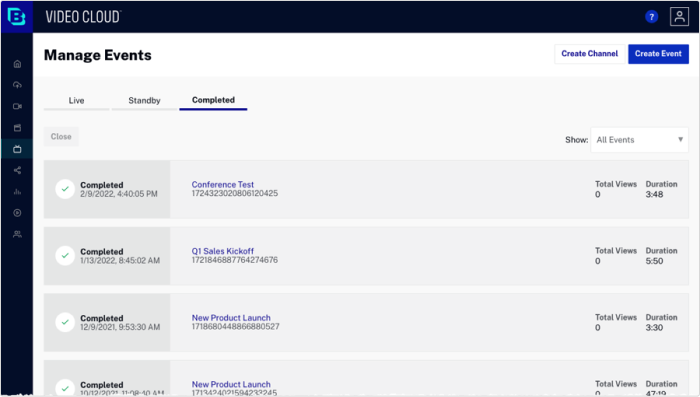 Brightcove focuses on video marketing resources to improve viewership. This platform offers consulting, strategy, and design services. Targeting medium to large-sized companies, Brightcove provides various features to support marketing, analytics, viewership, advertising, and other aspects of video content delivery.
Key features:
Viewer-facing video portals for content display
Integration with professional tools like MAP and CRMs
Server-side ad insertion to bypass ad-blockers
Advanced video analytics
Reliable content delivery
Pricing: upon request.
Frequently Asked Questions
What are Explainer Videos?
An explainer videos is a short videos that focuses on explaining a product, service, or concept. It's typically used in online marketing to demonstrate how something works or what a company does. It can be made as a live-action video, a cartoon with animated characters, or an illustrated whiteboard story. Companies often place them on their websites or social media channels.
No matter what type of explainer videos you want to create, a well-made, high-quality explainer videos can help promote your business, entice customers to try your product or service, and boost conversions.
What Makes a Good Explainer Video?
A good explainer videos should communicate your message to the customer clearly and give them an understanding of your mission, product, or service. It will let them learn what you offer and how this can be of value to them. To be effective for your business, an explainer video should:
Address a customer's pain points.
Focus on the benefits for the user.
Show a product or service in action.
Explain a new feature or your unique service in simple terms.
Follow the KISS principle (keep it short and sweet).
Be entertaining.
Use humor when appropriate.
The best part is that you don't need to hire a video production studio to make an explainer videos that will work. When armed with special tools and with your audience in mind, you can create effective explainer videos on your own. Let's dive into the types of software that will help you with that.
How to Choose the Best Explainer Video Software?
If you're looking for an explainer video maker, chances are you're going to create videos yourself, without hiring a professional videographer. If that's the case and you don't have any experience in video production, opt for an easy-to-use tool that has a low learning curve and allows you to make professional videos with a minimum of effort.
Another important thing you need to consider is the type of explainer video you're planning to create. So, consider if it will be a talking-head video with annotations, an animated video with fun characters and graphic elements, an interactive video with hotspots and quizzes, or a simple slideshow.
After you decide on the type of the explainer video, make a list of easy-to-use solutions you find appropriate and see what features they offer. This will help you reduce your list to several tools. Then check out their user reviews and see the software in action with a free trial. Choose the one you love most.
How do You Make a Winning Explainer Videos?
These 8 tips apply to both live-action and animated explainer videos, and can be helpful for you.
Understand your target audience. Choose the tone that will address them best.
Develop your script with care. It should consist of an opening, a climax, and a close with a punch. Don't make it wordy – up to 160 words will be sufficient for a 1-minute video.
Add a human touch. Create a main character or film an actor/speaker to make the video more credible and engaging.
Make a storyboard. This is a sequence of brief sketches that will display how you imagine your future video and help to plan the scenes.
Pay attention to the rules of shot composition. Use the Rule of Thirds to position the primary subject correctly and capture the viewer's attention.
Choose a suitable location or setting. Place the product and the characters in the setting where the audience expects them to be: a clinic, a kitchen, a classroom, or an office.
Work in a quiet environment. A small place with no echoing and undesired noises, as well as a clip-on mic for actors or narrators, will make post-production sound editing easier.
Ensure that both light and color are sufficient. They should manage the attention of the audience and not be distracting or overwhelming.
---
All the tools covered in this article are great for creating explainer videos. Pick any of these tools and experiment with the trial version, or start out on the free plan to get a feel for the app.
Have you used software to create explainer videos? Let us know in the comment section below.
Useful Resources