Have you decided to try screencasting for the first time? Or are you an adept user and want to upgrade your experience with a new tool? Here we have researched and compared the 11 best screen recording software for Windows (both free and paid) to help you find an ideal fit for your specific needs.
While versions of recording software differ in price and functionality, most share a number of features such as:
adjustable video frame
cut-and-paste editing options
unlimited recording time
direct link to social media
Which tool should you use for making an effective video tutorial, marketing your business to online customers, or even recording a new maneuver in your favorite game? This short list is all you need to make an informed decision and start creating.
Free Screen Recording Software That Saves Money
Have you tackled numerous trial versions and received nothing close to the bang for the buck you expected? Or are you simply looking to save some money? In either case, there are plenty of free screen recorders that can get your job done with the most satisfying results and without emptying your wallet. A word of caution, though; some may urge a paid upgrade after you have already downloaded a "free" tool.
Here, we have compiled five safe and, at the same time, outstanding free screen recorders that successfully compete with the best paid screen recorders.
1. Free Cam
Free Cam is a really simple free screen recorder with a built-in audio/video editor. The attractive and intuitive interface allows you to create screencasts with the ease of a professional. Even though this software is free, it doesn't place any watermark and it's ad-free.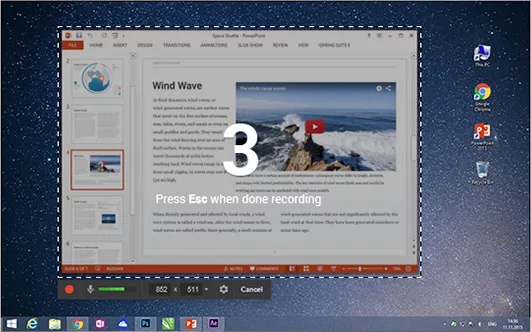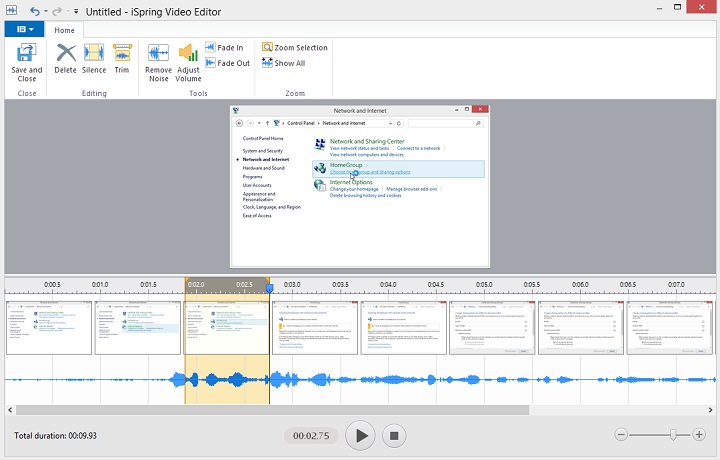 Pros
no watermark, time limits and ads
records voice-overs and computer sounds
high-quality resolution
users can save videos as WMV or upload them directly to YouTube
easily deletes unwanted fragments of video
removes background noise
wide selection of audio effects
Cons
saves recordings to WMV only
no webcam recording
Watch this demo to see what you can do with Free Cam:
2. DVDVideoSoft's Free Screen Video Recorder
Free Screen Video Recorder is a full-featured but lightweight free screen recorder from a developer known for its free conversion software. It is capable of recording Skype conversations without any limitations and, therefore, useful for Skype interviews and online conference calls. Similarly, different applications for Windows can be singled out and captured as discrete elements. Included is a basic and user-friendly image editor, surprisingly helpful for attaining a polished look.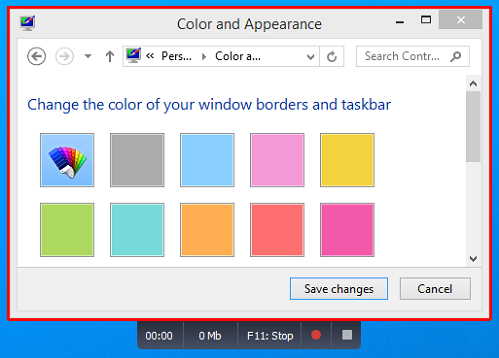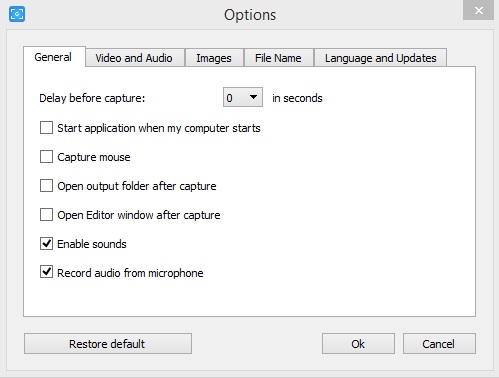 Pros
offers a convenient screenshot feature
different modes for recording screen and video
suitable for recording Skype conversations
step-by-step instructions provided on the website
available in 10 languages
output formats include BMP, TGA, JPEG, PNG, and GIF
Cons
microphone sound recording only
excessive ads may interrupt your work
saves recordings to AVI only
lacks coherent interface and built-in media player
may install unwanted software during download
does not notify users if disconnection occurs
3. ShareX
ShareX is an open-source ad-free tool that boasts almost as many custom features as some paid software screen recorders. ShareX is mostly targeted towards developers and power users, so an average customer might be lost in the cornucopia of advanced tools and editors.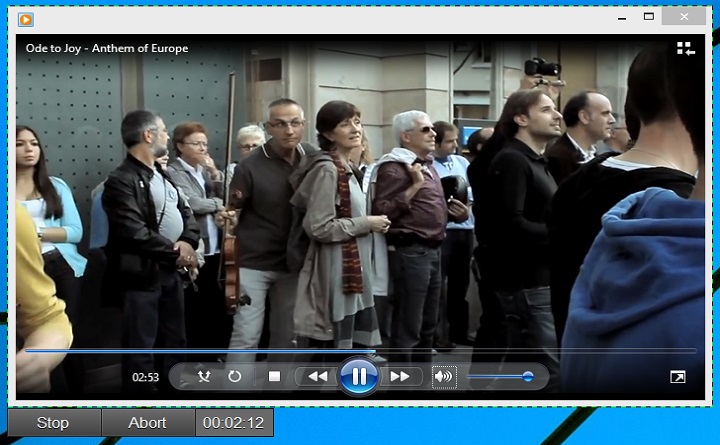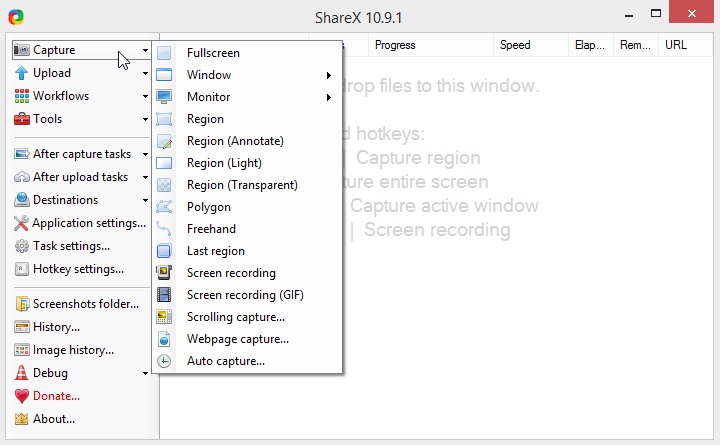 Pros
records full screen, window, monitor, region, freehand, or scrolling
incorporates hotkeys for easier and quicker navigation
supports many URL sharing services
imports existing videos, music, or photos
custom watermarks and color effects
Cons
low quality of game recording
complicated for an average user
no webcam recording
reported to fail while uploading large files
no video editor
4. CamStudio
CamStudio is a good choice for one-time or occasional users with minimal editing needs. This lightweight, open-source screen recording software creates videos in AVI format that can later be converted to SWF. While its compactness appeals to some, others call for further development and increased technical support.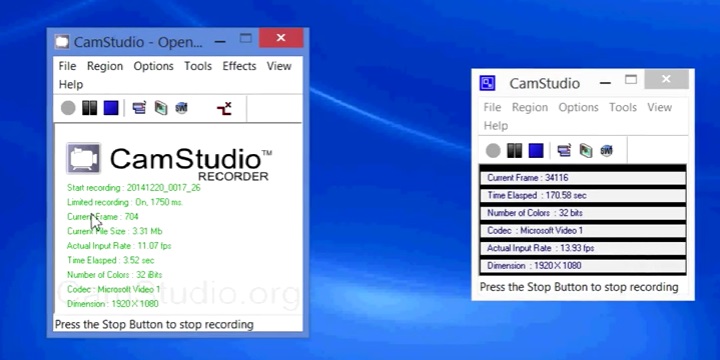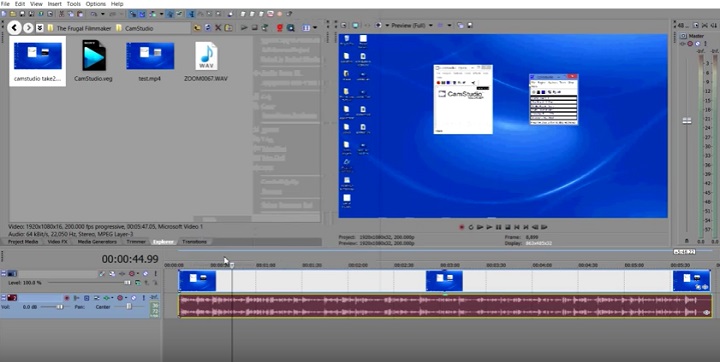 Pros
creates a screen-in-screen video
converts AVI format into Flash
allows you to create small size files
custom cursor
available quality options for output video
Cons
reported to spread harmful viruses and malware
output is incompatible with certain browsers
audio falls out of sync
SWF files may slow down your computer
lack of interactive and animation features
minimal tech support
5. Ezvid
Ezvid claims to be the world's easiest screen recorder, and they may be not too far away from the truth. Ezvid's clarity is enhanced by the product's speed: specifically designed to save users' time, it will help you to produce and upload videos directly to YouTube in a matter of minutes. That is why the tool enjoys notoriety among gamers and movie fans who are interested in frequently making video clips in the quickest manner possible.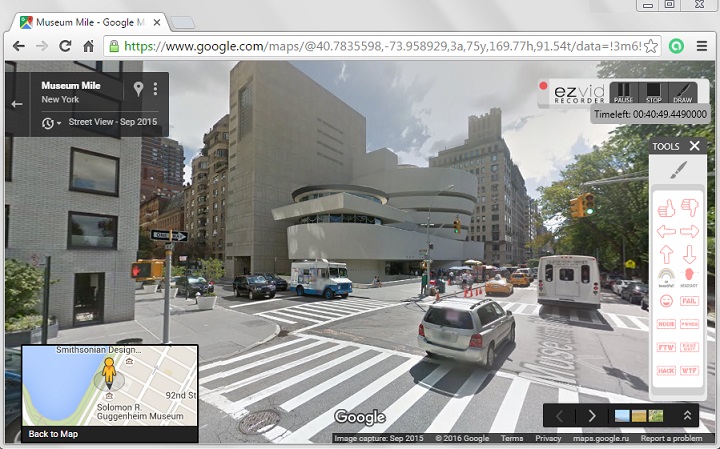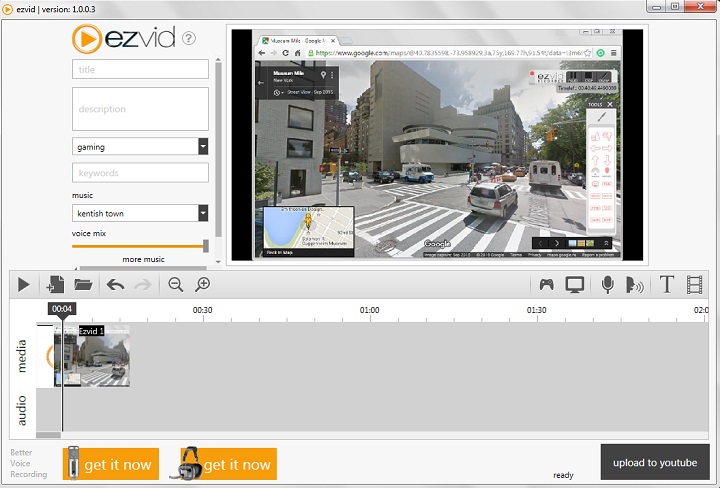 Pros
offers computer speech for narrative purposes
automatic high-quality resolution (1280 x 720p HD)
speed control over output videos
sleek and modern interface
instantaneous upload to YouTube
selection of popular music tracks included
Cons
reviewers report extraneous noise
minor bugs and inconsistencies
fullscreen game is not available
Paid Screen Recording Software That We Love
The Internet's bountiful supply of screen recording products means one is bound to find free and low-cost options. However when searching for high quality performance, elaborate presentation, and expert technical support, many users are ready to invest their money in paid software. Here are six paid screen recorders that have gained customers' and reviewers' trust and now continue to expand their eminent presence in the market.
6. iSpring Suite
iSpring Suite is a fully-stocked authoring toolkit designed for eLearning. It includes a professional video studio as well as a set of other standalone tools for online training: a course authoring tool, a quiz editor, a conversation simulator, and an interaction editor. The video studio allows you to make screencasts with voiceovers, video tutorials with annotations, and screencasts complemented with a presenter video. After a screencast is recorded, you can easily edit it: remove noise, insert media objects and annotations, delete unwanted fragments, and add transition effects. The iSpring Suite authoring toolkit costs $970 per year. You can start with a 14-day free trial.
Pros
allows you to complement a screencast with a webcam video
records a narration
has a multi-track timeline for video editing
adds images, visual hints, infographics, and captions
creates smooth scene transitions
no time limits for recording
Cons
only mp4 video format is available
few interactive and animation features
limited 14-day free trial
​
7. Camtasia Studio
Camtasia Studio is a feature-packed tool for detail-oriented enthusiasts. It allows you to record audio and video one after the other, combining the results afterwards. While the price might turn some off at $299 per license, tech-savvy individuals are sure to appreciate the capabilities for customizing and refining their work. A 30-day free trial is available.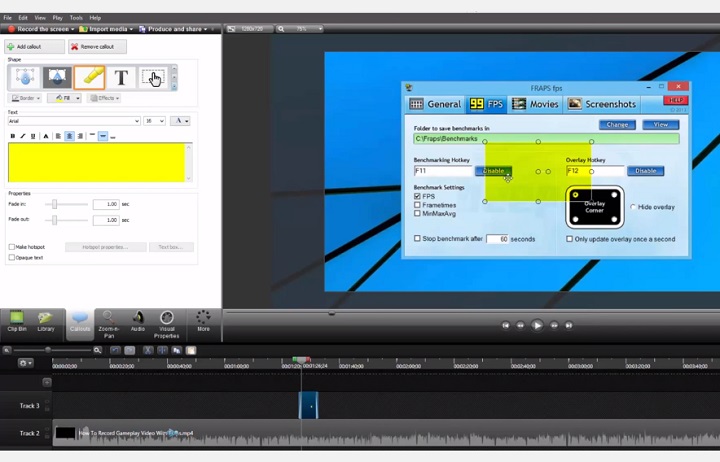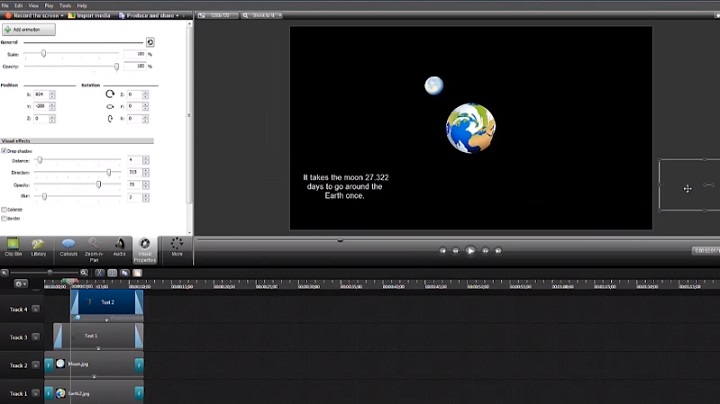 Pros
audio, video, and cursor tracks can be edited separately
imports existing videos, music, or photos
adds captions, callouts, and quizzes to your videos
offers zooming and panning options
incorporates webcam
frame-by-frame editing
Cons
one of the most expensive screen recorders
slows down on large and heavy projects
requires periodic paid upgrades
busy multi-track interface
limited 30-day free trial
8. MadCap Mimic
MadCap Mimic is a versatile multimedia tool ideal for creating interactive videos and simulations. Here you can work in three recording modes – manual, automatic, or full-motion – and enjoy an array of single-sourcing features such as custom frames and condition tags. Pricing options include $144 per year or $428 for life. You can likewise select a 30-day free trial.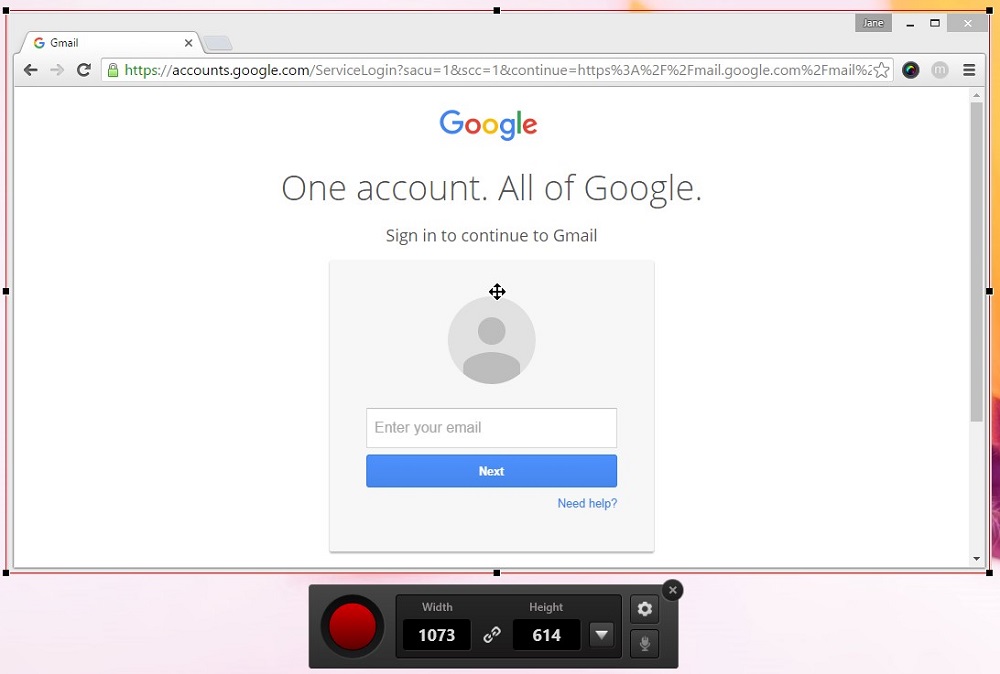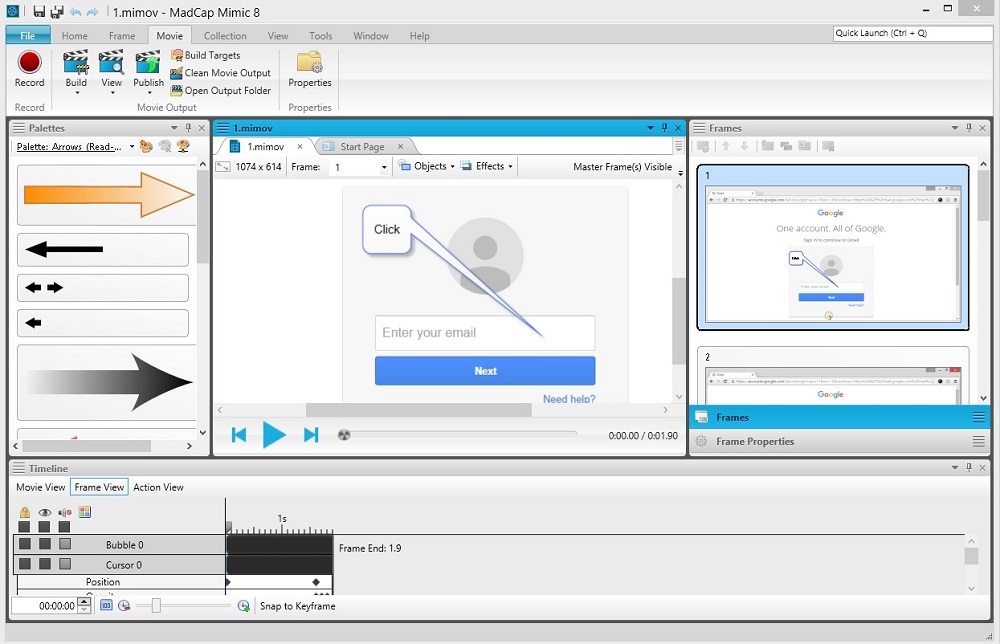 Pros
allows you to create video with interactive content
saves design content that can be reused later
output formats include WebM, MP4, and Adobe PDF
a large range of available visuals and video effects
multi-language team of technical support engineers
free product upgrades with the paid version
Cons
watermarks appear on output
occasional bugs reported by users
hefty interface may be difficult to navigate
limited 30-day free trial
9. FlashBack
FlashBack by Blueberry Software is a full-motion-based screen recorder with a simple and handy interface. It is particularly popular among university professors and students. This may be explained by the agreeable pricing: you can choose between a personal license ($49) and a business license ($99), both of which come with a free 30-day trial, or download a fully free version without editing features.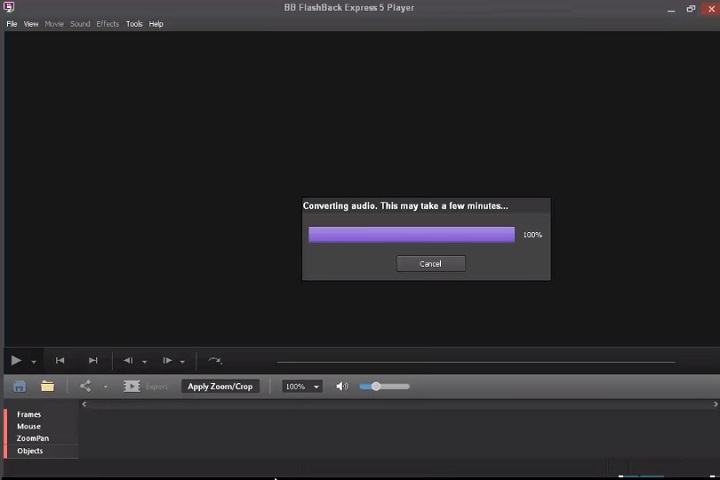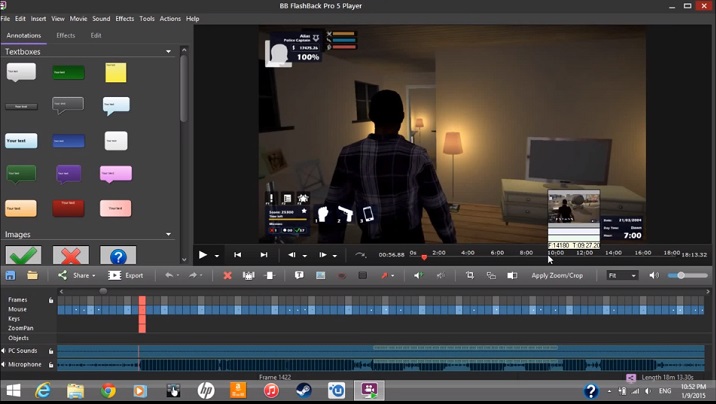 Pros
records multiple monitors
allows you to add distinctive and custom watermarks
incorporates webcam
offers zooming and panning options
provides a TechAssistant feature for reporting PC defects
Cons
difficult to modify existing demos
allows you to import files only in FBR format
does not track the movement of windows in use
limited 30-day free trial
10. TinyTake
TinyTake by MangoApps is a sophisticated screen recorder ideal for commercial presentations and employee training. To many, its primary appeal is an easy sharing feature that lets one attach an output file to any messenger or send it to an office device. A free version is available for personal use only. Commercial buyers will pay between $29.95 and $199.95 per year, depending on the included capabilities.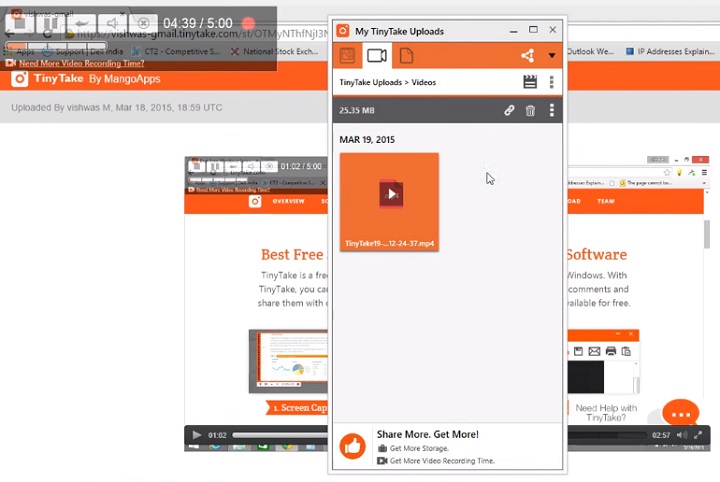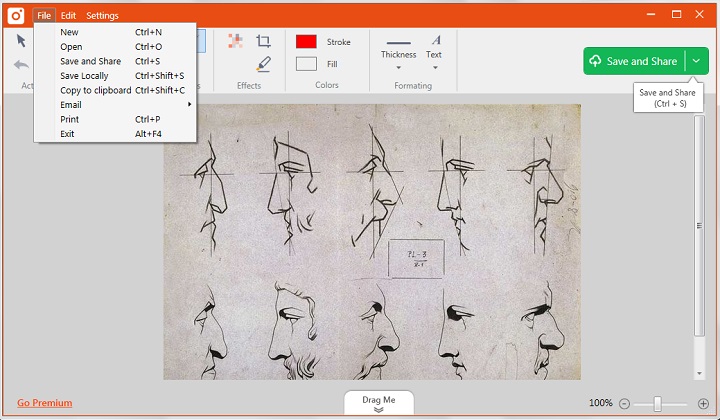 Pros
bulk file sharing
public URL available for sharing
allows you to create custom shortcut keys
built-in online file viewer for images, videos, and documents
video player is compatible with mobile devices
proxy server friendly
Cons
video recording is limited to 2 hours
free version has 5 min limit for video recording
video files are saved as MP4 only
versions under $99.95 are significantly limited in features
no free trial available
11. Screencast-O-Matic
With relatively low prices and a simplified free version, Screencast-O-Matic is marketed to compete with free screen recording software for educators and businesses. For multiple users, Screencast-O-Matic offers a site license with prices ranging from $9 per month for 10 computers to $250 per month for 1000 computers. Additional expenses come with Pro Hosting, available in three plans: $10, $29, and $99 per month. You can start with a 30-day free trial.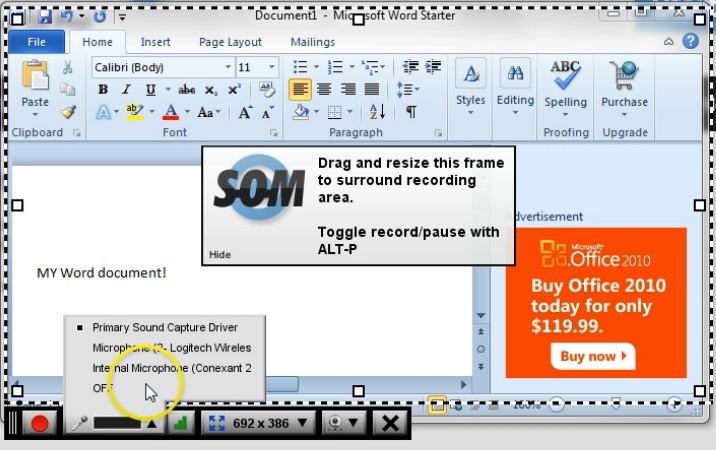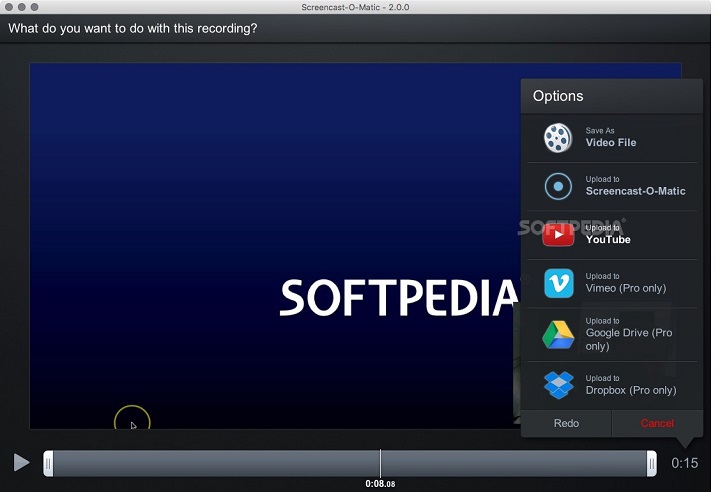 Pros
publishes to Vimeo Pro, Google Drive, and Dropbox
offers computer speech for narrative purposes
incorporates a screenshot tool
provides site licenses to groups of 10-1000 computers
embeds recorder on a website ($99 per month)
Cons
multiple minor expenses add up to a high cost
ad-free hosting available only with purchase of Pro Hosting
15-minute limit on uploads to Screencast-O-Matic.com
requires Java
reported to crash browsers
Conclusion
In comparison, both free and paid tools from the best screen recording software can be effective methods of capturing your work-related or entertainment activities on Windows.
Ultimately, whether you should spend some money on one of the products above depends on the nature of your tasks. Thorough professionals working on eLearning video projects will most benefit from iSpring Suite and its iSpring Cam Pro video studio. Experienced users with keen technical skills might opt for ShareX. Those looking for a simple and reliable recorder for tasks in hand will be pleased with Free Cam.