March 9, 2023
Product Knowledge: How to Turn Your Employees into Product Experts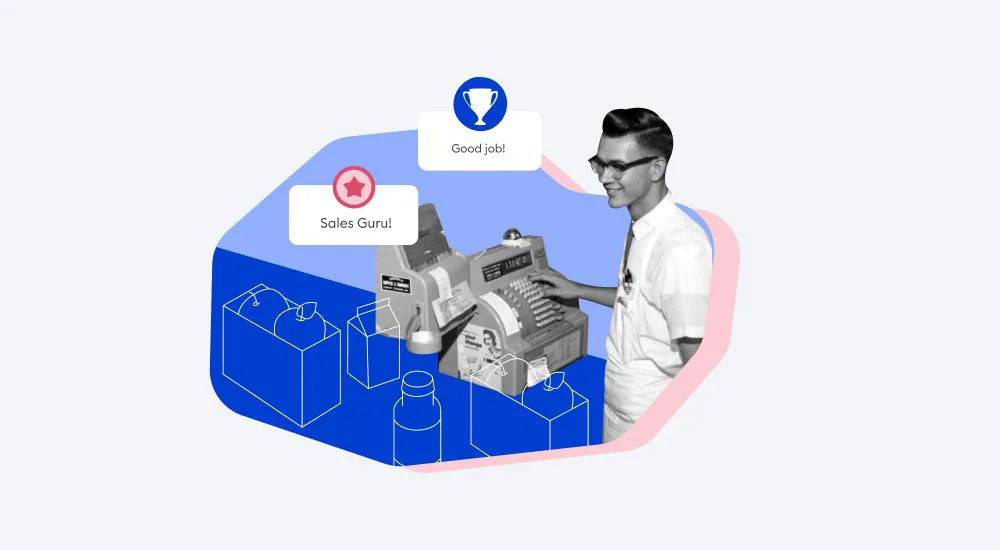 According to a survey, 83% of shoppers believe they're more knowledgeable than retail store associates. Customers now expect more than just friendly welcoming staff. Most of them are tech savvy and well-informed about the products they're considering purchasing, so it's easy for them to trap your sales rep with a trick question.
To keep this from happening, make sure your employees have profound product knowledge. The most efficient way to keep staff up to date about your items is to create a well-oiled product knowledge training program. In this guide, we've compiled everything you need to know about it, including:
What Is Product Knowledge?
In a narrow sense, product knowledge is an understanding of a product's specifics and functionality.
In a broader sense, product knowledge includes not only the product itself but also the company's activities, industry specifics, the latest trends, and everything that retail personnel need to know for effective customer interaction.
Why Is Product Knowledge Important?
Product knowledge is the superpower of customer-facing employees, as it determines sales success and brand loyalty. Let's consider the importance of product knowledge training for different roles.
Retail assistants
The customer may have already read product reviews and studied your website before coming to the store. So, they won't forgive your employee's ignorance of the product.
Retail staff should be able to communicate details about the product clearly, explain its benefits, offer alternatives, and even cross-sell complementary products. When clients can't get a clear explanation of the product, the store risks losing them.
Sales professionals
Sales staff should clearly understand the value that your product has for each client and be able to present features in an impressive manner.
Retail sales training boosts employee enthusiasm, develops their confidence, and strengthens their communication skills. Product-savvy staff are enthusiastic when talking to clients and can solve customers' issues more quickly. This helps form a positive customer experience and gain clients' trust.
Marketing specialists
Marketing staff are the very people who introduce your product to potential customers. If they don't fully understand the purpose of the product and the benefits it provides, they won't be able to address the pain points of your audience and promote it effectively.
So, to create a strong positioning and promotion strategy, it's important to make sure your staff is well acquainted with the product and the company's activities.
Types of Product Knowledge
You may mistakenly suppose that product knowledge training focuses only on the product and its features. Although that is a significant aspect, it should include many other things as well.
Industry
Customers expect your sales reps to be knowledgeable not only about your product but also about the entire niche. Thus, your staff should be aware of the latest trends and general news so they can speak the same language as potential customers.
It's also critical to provide your employees with all the information about your competitors and their goods. If your sales reps are completely aware of the niche, its key players, and their benefits and drawbacks, they can explain why your goods beat their solutions in terms of value, quality, or price.
Brand
Brand knowledge includes your company's values, philosophy, positioning in the market, mission, and related aspects. If your personnel are well acquainted with your brand's uniqueness and positioning, they will carry that forward in their daily communications with customers.
When employees know the strategic goals and believe in the brand's story, they become motivated to work harder through a common sense of purpose.
Customer
You need to ensure that your staff has a clear idea of who your clients are: what they're looking for, and what their price expectations and motivations are. This will help your sales reps analyze customers' needs to offer the best solutions.
A good way to systematize customer knowledge is to build a target audience profile that describes your perfect client's characteristics. It helps your staff understand the challenges and goals your potential audience has.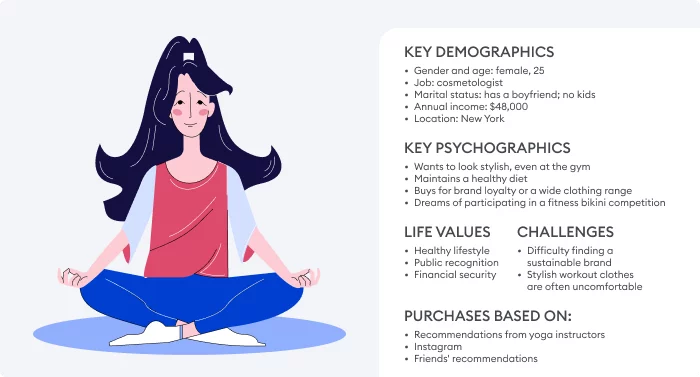 Also, when interacting with clients, your team needs to be familiar with the customer's journey. This is a path a client follows from the moment they learn about you to the point when they buy, as well as post-purchase service. It helps sales reps understand the customer's life cycle clearly and their role at each stage.
Product
Product knowledge, in the narrow sense, is the foundation for successful sales. It comprises all the information you have about the product and its usage, including functionality, customizations, use cases, and pricing details. Also, your sales reps should be well informed about all procedures, such as exchanges, warranty, and refund policies.
To make client communication easier, prepare a list of common questions. What things does your team get asked the most — from technical features to use cases? This helps them prepare for inevitable questions. For example, if you run a clothing store, your associates should know in advance not only the available colors of the jacket but also how to care for the specific fabric — whether it should be dry-cleaned or wrung out, and so on.
Along with knowledge of the product, staff should have an idea of which products or items are related and can be sold together. Complementary products are usually lower-priced things that support a more expensive product. For example, if a customer chooses a mattress in your store, use this to sell them bedding. In a jewelry store, you can offer a ring in addition to earrings and thereby increase the size of the customer's total order.
How Can You Improve Product Knowledge?
It's hard to imagine effective and scalable product training without the benefits of advanced technologies. This is especially true in large enterprises with multiple branches spread across different cities or even countries. Hundreds of employees must keep their fingers on the pulse of a constantly expanding product range, discounts, and other important issues.
As adherents of eLearning, we've compiled useful tips to help you create a quality product training program or refine an existing one.
Tip 1. Create a convenient and easily accessible learning environment
Product knowledge training never ends because a business and its products don't stand still. So, it's better to build a system in which people can learn on demand, using training materials available online at any time. Fortunately, such a solution already exists — 89% of American companies use learning management systems (LMSs) for corporate training.
A learning management system is an online platform where you can store and easily distribute training materials among learners. Let's consider the most valuable benefits of an LMS taking iSpring Learn as a reference point:
The information is accessible 24/7. Your entire knowledge base, with technical documentation, success cases, reviews, and other relevant information, is available at all times. Your employees can learn at their convenience and return to the material if they have questions or want to refresh their knowledge.
iSpring Learn automates many time-consuming routines. By using an LMS, you can forget about many repetitive administrative tasks by putting them on autopilot. It will enroll learners in necessary courses or training programs, send out reminders for assignments and deadlines, and generate reports with the necessary data on demand – and all automatically. You can set the platform to routinely assign product training to all new employees or reassign a basic product course after a year's time.
Measure training progress and results. By launching product training, you'll always be aware of your learners' progress. An LMS will provide all the necessary statistics on completed courses and assessment scores. You'll be able to quickly see who knows the product well and is ready for client communication, and who needs help.
Automate corporate training and improve employee performance.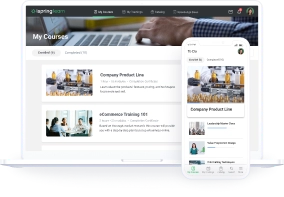 Using the iSpring Learn LMS, you'll get all this and even more. For example, you can easily schedule face-to-face meetings on the calendar, conduct online training sessions right in the LMS, or use the 360-degree appraisal module to spot employee strengths and weaknesses that can impact successful customer interactions.
The platform is extremely user-friendly, so you can focus on what's really important. Just look how intuitive it is: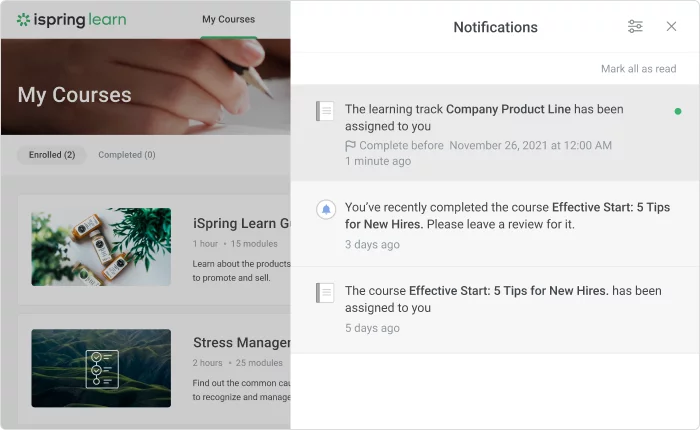 Tip 2. Opt for microlearning and mobile-responsive courses
Long courses are less effective for both sides. They increase expenditures and reduce learners' motivation to study. This has a negative impact on customer experience levels and conversion rates.
That's why progressive training experts and instructional designers are shifting away from hours-long courses and boring presentations that will put learners to sleep within the first fifteen minutes and are now leaning toward the microlearning format. The sense of microlearning is in delivering bite-sized lessons on one or two topics with an overall length of under 10 minutes. Employees can take micro-courses at their convenience without long distractions from the primary tasks. This approach with tiny chunks of useful information gives learners "small wins" on the way to a larger goal, thus increasing their level of engagement.
Microlearning goes hand in hand with mobile learning. Not all learners have enough time to learn at a desk. They get used to consuming information on the go through mobile phones. So, to make your product training faster and more efficient, create mobile-friendly courses and choose an LMS that comes with a mobile app.
For example, with the iSpring Learn LMS, your employees can study on the way to work or between meetings — training content will be available on their mobile devices anytime and anywhere, even when offline.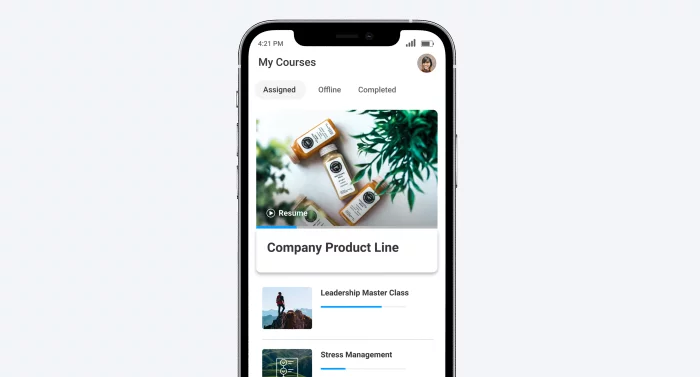 Tip 3. Make your learning content engaging
Product training should not only be accessible but also engaging. Otherwise, your employees will ignore it, and even the reminders in the LMS will not help you achieve high completion rates.
The best way to create training content quickly and with minimal effort is to use an authoring tool. If you want to build engaging learning content with different multimedia and interactivities, consider the iSpring Suite authoring toolkit. It will help you create slide-based courses with videos, screencasts, audio recordings, role-plays, and quizzes — all under one roof. You can start from scratch or use its content library with ready-made templates to create professional-looking courses in no time.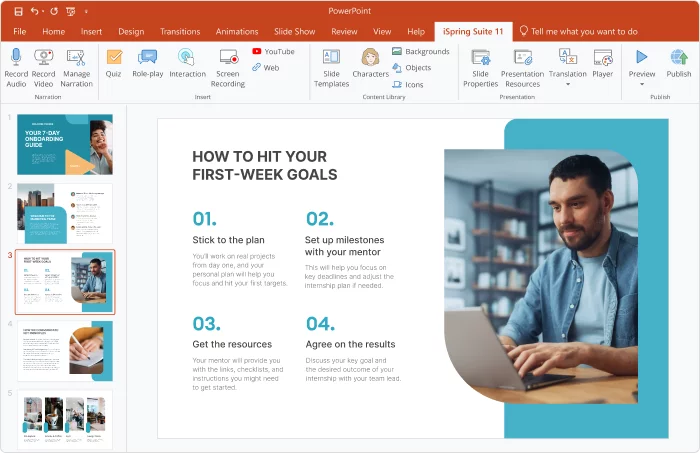 Test different formats to make your training engaging. Convert text files with technical documentation into interactive e-books, record video tutorials with screencasts to explain important procedures, or build slide-based courses to list the product's features. If you're pressed for time and can't record a voice-over for your course, you can even use the built-in text-to-speech tool to narrate prepared text and simply add it to your slides.
iSpring Suite comes with 14 interactivity templates for creating graphics, catalogs, and timelines so you can present your content in an appealing way in a snap. For example, you can demonstrate how to assemble a closet with the Step interaction, or quickly put together the information on models of jeans or available fabrics. Look how eye-catching this cheese selection guide that was created with the Catalog template can be for store assistants: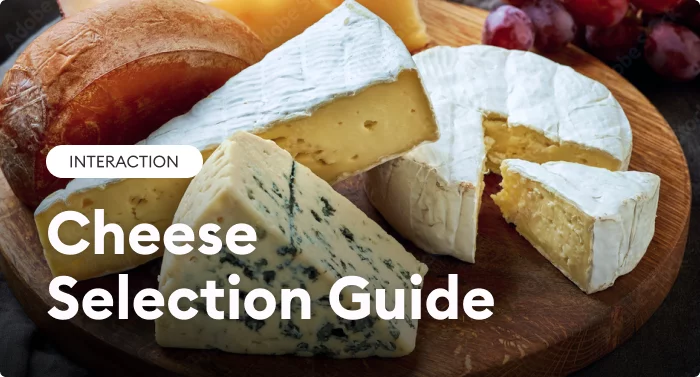 The easiest way to bolster the learners' knowledge and check the effectiveness of the training program is through quizzes. iSpring Suite has 14 ready-made quiz templates, including multiple-choice, matching, true or false, and hotspot. Use the Sequence template to ask about the stages of your product's evolution or the Drag the Words template to check if employees understand the difference between similar models: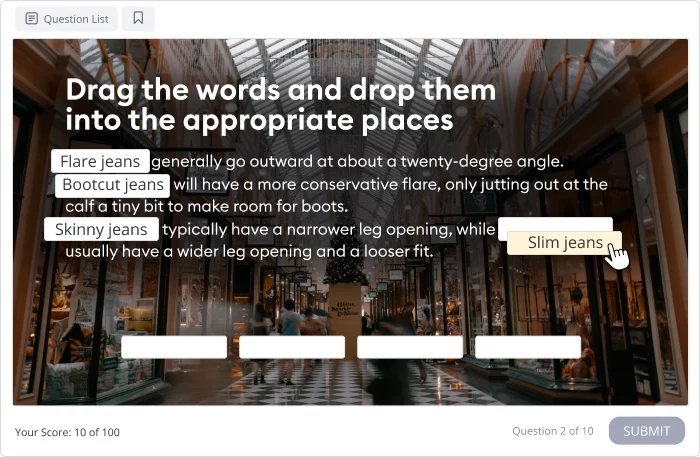 To help your employees apply what they've learned, consider techniques like role-playing. Role-plays will replace real client communication and prepare sales professionals for real-life situations like dealing with a difficult customer or handling common objections.
With iSpring Suite, you can easily make great role-play simulations that your learners really enjoy. Just create a list of the most common and difficult client conversations about the product, make up a scenario, choose a character with an appropriate background, and the role-play is ready. See how role-playing works in a salesperson-customer interaction at a car dealership: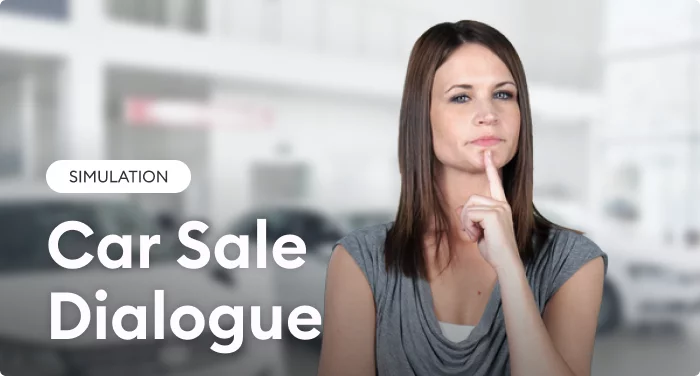 Healthy competition will help achieve training goals. Many LMSs have features that encourage learners to take courses. For instance, with the gamification functionality that's available in the iSpring Learn LMS, you can recognize learners' achievements by awarding points, badges, and certificates, and creating leaderboards to celebrate the best learners.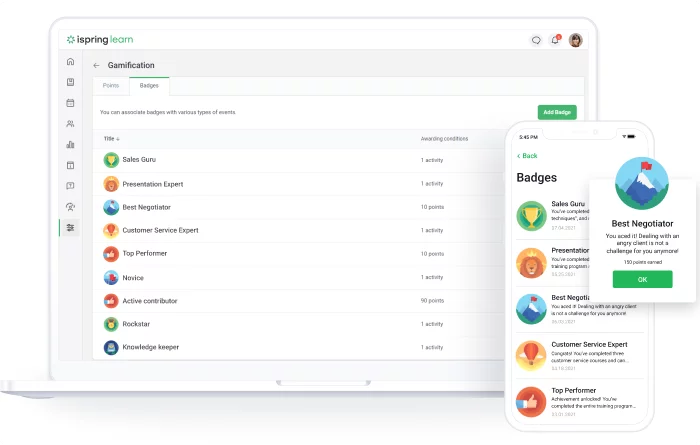 FAQ
Check out the most common questions on product knowledge.
1. How does product knowledge attract customers?
When customers come to your store, they want to be sure that they're making a deal with professionals. A big part of professionalism is competent consultation and complete answers to all questions that are asked. Deep product knowledge increases employees' expertise and results in a pleasant customer experience.
2. Why is product knowledge training important for business?
No matter how high-quality and sought after the product may be, incompetent retail associates and sales professionals discourage the purchase, and the customer can leave for a competitor with very little effort. There are now many companies that produce similar goods, so it becomes more difficult to compete. Customers pay attention to not only the product itself but also to other aspects, such as competent service and comprehensive advice. For businesses, product training pays off through high sales and increased brand loyalty.
Final Thoughts
Product knowledge is a deceptively simple concept. This is something that cannot be learned conclusively. The sooner you build a smooth-running system of product training, the sooner you'll boost your brand's credibility. So, to avoid wasting time, why not try it right now? Sign up for the iSpring Learn demo and explore its benefits for product training.