December 24, 2021
Suzuki Australia: "We trained 100% of our selling dealers technical and sales staff on a new model motorcycle throughout Australia, thanks to iSpring"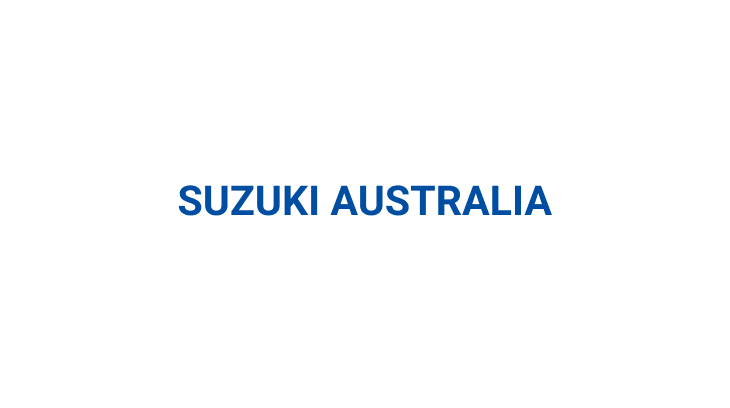 Suzuki Australia is a subsidiary of the Suzuki Motor Corporation, a Japan-based automotive firm. The company uses iSpring to create and deliver training programs for our dealerships' technical staff.
Russell Dixon, National Training Instructor at Suzuki Australia, shared how iSpring helped make training at Suzuki Australia easy to access 24/7 and accountable, while also cutting costs.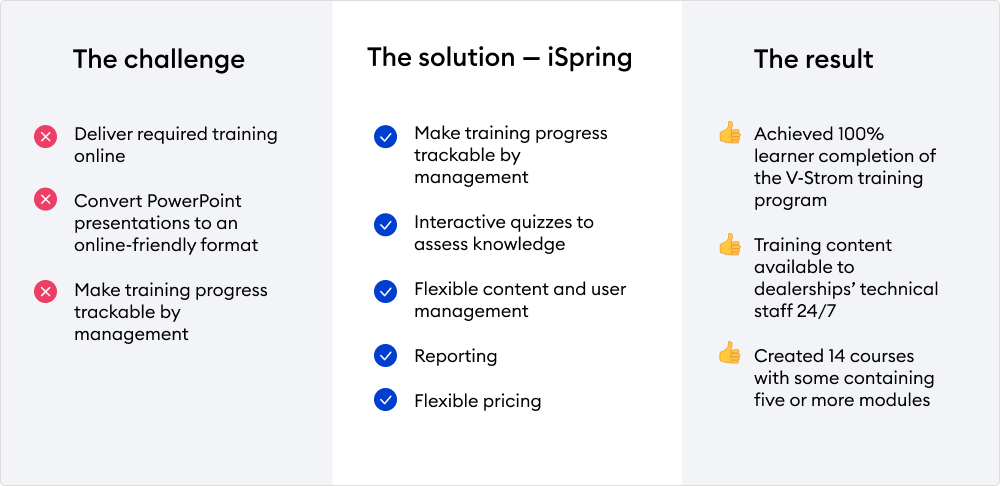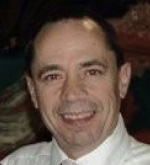 Suzuki Australia – Background
Our company imports and distributes Suzuki motor vehicles, motorcycles, marine engines, and associated spare parts. As a national training instructor for passenger cars and motorcycles, I train the dealerships' technical staff: service advisors, service managers, spare part managers, and other technical staff.
There are 115 motorcycle dealers and 96 automobile dealers in Australia, which represent approximately 260 technicians that need to be trained on new model technologies and service procedures.
Dealership technical and sales training for the new model is one strand of technician training. Prior to COVID, we mainly conducted face-to-face training. Whenever a new product was released, I would go to Japan for a training update. I would also be given PowerPoint presentations and other training materials.
These presentations were the reason we started with iSpring. At that time, we were looking for a tool to convert PowerPoint to an online-friendly format, and one of our Japanese colleagues mentioned that they were using iSpring Suite for PPT to Flash/HTML5 conversion. We immediately purchased that tool kit.
In addition to iSpring's conversion power, we really appreciated the advanced authoring capabilities it provided, like recording narrations, adding notes to slides, and building interactive quizzes.
The Challenge: Making Trainees Accountable to Management
As mentioned, we used to first upload our iSpring-converted presentations to our extranet platform. This presented drawbacks in terms of online training:
– No content structure
– No assessment functionality
– No reporting capabilities
As a result, I only received notification of training completion if the learner had bothered to send in the completed questionnaire. Time spent manually recording the training activity was required. If the learner completed the learning module and didn't send the questionnaire, I had no way of knowing.
With face-to-face training, this was easy, as training course attendance was used to report Dealership participation and competency. Dealer Online training needed a fast and efficient reporting function to ensure our Dealer network kept abreast with new technologies.
Obviously, we needed a learning management system. And because we were already using iSpring Suite — and were completely satisfied with that tool kit — we chose iSpring's LMS, iSpring Learn. It was a natural extension of what we already had.
The Solution: Using iSpring Learn LMS to Deliver Required Training
The technical training I provide is very different from a management or HR-style program. As new technologies emerge, the operation and function of the new system require learning together with how to diagnose the system if a fault appears.
To achieve this, technical training requires hands-on practice to remove their fears and gain confidence in the new technology. Technician training is generally 50% theory and 50% practice.
The reason I purchased iSpring Learn LMS in the first place was to perform prerequisite training. For example, the Introduction to Suzuki training course really lends itself to an LMS because it's information-based: it covers all their models, engines, safety features, etc. I can get the employees to go through the information online in one day, and when we meet face to face, we can have more time for practice.
That's how it worked before the COVID pandemic. Now that both international and domestic travel is limited, we have to use online training only. The company is obviously benefitting from the LMS because it is currently the only way to deliver training.
Here are several of iSpring Learn's capabilities that we find most beneficial:
Groups and assignments
With iSpring Learn LMS, I was able to recreate our organization structure online. I've created three main departments on the iSpring platform: Suzuki head office, car dealers, and motorcycle dealers. Each dealership is a sub-department.
I've also grouped employees by role, like passenger car technicians, motorcycle technicians, service managers, etc. Whenever I launch a course, say, about a new motorcycle model, I can quickly assign it to all motorcycle technicians at once.
Reporting
iSpring's reporting function was one of the most critical features for us when making a purchase decision. The best thing with iSpring is that I can run reports on employee groups. For example, I can target spare parts staff to see how they're performing.
The Catalog
The majority of technician training programs have been saved to the Catalog. Registered new Automobile or Motorcycle technicians can log in to the platform and access the majority of training programs 24/7. Plus, I'm using the knowledge base to enable the downloading of resource materials.
Customizable interface
We've customized our iSpring Learn interface using Suzuki's corporate style. There are lots of places on the platform you can put your banners and icons to make it look corporate and professional.
Flexible pricing
Before we made our final decision to purchase the iSpring LMS, we were considering partnering with an alternative LMS provider. As there their fee structure was based on a number of registered users, their quote was significantly higher than iSpring's.
iSpring, on the other hand, offers a much more flexible pricing model, charging us not for registrations but for active users who have logged into their account at least once in a specific month. The entire iSpring solution, including the authoring toolkit and the LMS, cost us around 5,000 – 6,000 Australian dollars a year.
Results Achieved: We've Trained 100% of our Dealerships' Technical Staff Throughout the Country with iSpring
In August 2020, Suzuki released a new adventure bike called the DL1050 V-Strom. It was the first time we used iSpring LMS to its full extent. We uploaded both technical and sales training to the platform and assigned the training to the appropriate registered Dealership motorcycle staff.
We ran weekly reports to determine which dealers had done the training — and if a dealership hadn't done the training, they wouldn't receive the shipment of the bike. This was the first time in our training history we could say that 100% of appropriate Suzuki Dealership employees, including sales and technicians, had completed the required training modules.
But since then, we've uploaded a lot more programs and launched the platform to the automobile sector. At the moment, there are 553 registered users and 14 courses on our iSpring Learn platform. Hopefully, when the COVID regulations are removed, we'll be able to return to our blended learning training model, delivering required training online with iSpring and providing hands-on practice for the technicians at the dealerships.