April 14, 2023
How to Create a Training Plan for Employees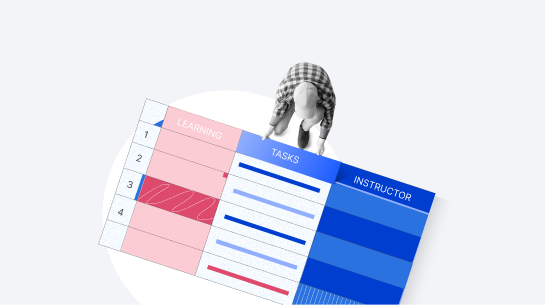 Benjamin Franklin once wrote: "By failing to prepare, you are preparing to fail". This is also true for employee training: if you implement it ad hoc, chances are that it won't be worthwhile, bringing no value to your business.
It's wise to come up with a training plan that will lay out the foundation for your forthcoming training initiative and secure its success. When prepared carefully, it can actually bring your company closer to its most ambitious goals.
This article will provide you with step-by-step guidance on how to create a great training plan and offer a ready-made template to get your training process started off on the right foot. Here's what we'll cover:
What is an employee training plan?
What should an employee training plan include?
How to create an employee training plan
Ready-to-use training plan templates
What Is an Employee Training Plan?
An employee training plan lays out the steps, schedule, resources, responsible parties, and curriculum needed for sufficient staff training in a company. It's a blueprint for a training program that puts its key elements on paper and aims to standardize training in order to link it to expected business outcomes. It can be said that an employee training plan is an arrangement that prepares you as an employer to invest effort into a training program.
Creating a training plan usually requires collaboration between an HR department and a team of supervisors, and involves senior management. This makes it a strategically important document.
What Should an Employee Training Plan Include?
The contents of a plan are up to you, but these are the basics it should include:
A tentative schedule
Objectives that you set for a learner
Tasks they need to accomplish within a certain timeframe
Responsible parties (a trainer, instructor, mentor, etc.)
Methods or activities that will be utilized during the training
The most convenient way to organize a plan is by using a spreadsheet, like the one below: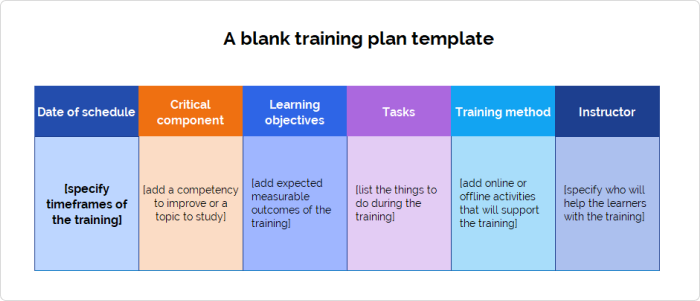 However, there is no established plan template that everyone has to stick to. So, training plans can be quite different and also include a curriculum, critical skills to acquire, desired outcomes, assessment methods, responsible team members, props, and resources, among many other items.
In each case, the contents of a plan still depend on the supervisor's decision and require management approval.
How to Create an Employee Training Plan
Before rushing to make decisions regarding who does what and when, you need to reflect on the prerequisites of training and devote some effort to careful preparation. Below are the 7 steps to create an employee training plan, with half of them appearing to be theoretical. However, we would recommend you not to skip these preparation steps as they form the basis of any successful training initiative.
1. Check in with your business goals
When mapping out a new training plan, it's critical to bear in mind the goals that your company pursues and the issues it aims to solve with training. These can be the following:
Speed up the onboarding process for faster employee productivity
Combat high turnover for a better reputation and reduced costs
Improve employee compliance for operational stability
You can lengthen this list, but the point here is to ensure that your future training plan is purpose driven and works for one of these goals. It's helpful to articulate fairly precise, measurable goals behind the training, like:
Shorten customer service agents' time to productivity from 10 weeks to 6 weeks
Reduce the turnover rate to 10%
Create a fully safe workplace and avoid OSHA fines during the next inspection
If you struggle to come up with detailed performance objectives or think it's worth a more thorough exploration, feel free to start your path with iSpring's exhaustive guidance on training needs and assessment. It will carry you through the process, and help you prepare for step 2.
2. Define your audience and their needs
You can have as many training plans as there are job positions. Moreover, training plans can vary depending on the stage of an employee's life cycle in a company. For example, fresh graduates who just enter your organization clearly have different learning needs compared to mid-level specialists.
So, it's important to have a clear idea of who you're going to train, what their prior knowledge and background are, how busy their schedules are, if they work at the headquarters or remotely, and of course, what they need to learn in order to perform better. If you interview employees and managers about what their training is lacking and what they would love to change about it, that will aid your plan greatly.
There can also be individual training plans that build up a personal trajectory of professional growth and surely need to be reconciled with the employee. Ideally, the future plan should match both managers' and employees' expectations, while also serving the larger goal you defined in step 1.
3. Decide on your training scenario
As a matter of course, training plans will vary depending on the types of employee training you prepare them for. There are at least three typical training scenarios that companies roll out:
Induction: company culture and history, mission and values, product line, rules of conduct, etc.
Safety and compliance: fire safety, sanitary rules, cybersecurity, industry regulations, anti-money laundering, etc.
Role-specific training: product manufacturing, equipment maintenance, direct sales, supply management, etc.
Each of these scenarios has its own tasks and stages but can be a part of a larger onboarding program. Following the professional growth of an employee within a company, there can be recurring upskilling programs, as well as leadership training that targets your talent pool.
The number of learners, periodicity, duration, the complexity of the material, and expenses, such as instructor/trainer fees will vary significantly in each case. So you absolutely need to set the learning objectives for your employees – and the next step will be to define them.
4. Set clear learning objectives
Prior to putting the plan into action, it's important to articulate your expectations of the training outcomes. This will help you stick to the purpose of the training, achieve consistency, and direct your learners' efforts toward the expected performance.
You can try to break it down into specific, measurable learning objectives, two for each training session or course. For example, for induction training, the objectives can look like this:
Objective 1. Get introduced to the company culture
Objective 2. Learn about the company's major products and their competitive advantages
When the training starts, it will be helpful to state objectives in advance and guide your learners through them. That way, it will be easier for learners to focus and pass from one small milestone to another when taking your training program.
5. Formulate tasks to accomplish
After you set the objectives, it's time to break them down into the practical steps that employees will need to take to master a certain topic or acquire a particular skill set. These are the training tasks with increasing levels of complexity that will impact employee productivity over time.
You need to figure out what actions, exercises or experiences will help an employee achieve the learning goals. For example, we can take the learning objectives from step 4 and break them down into tasks like these:
Objective 1. Get introduced to the company culture

Tasks: Learn about the company's history

Study the organizational chart

Learn about local offices

Meet team members

Objective 2. Learn about the company's major products and their competitive advantages

Tasks: Study a course on product line

Take a product knowledge quiz

Prepare slides about one product
Remember that a training plan should deliver new knowledge when employees are ready for the next step. But at the same time, you need to establish deadlines to see whether they are keeping pace and actually making progress.
6. Choose an optimal training format
After you decide which topic or skill you need to teach your learners, it's time to finally decide how you will do it and opt for the appropriate delivery method. There are plenty of learning delivery methods to choose from: instructor-led training, virtual classroom, eLearning, mobile learning, coaching, etc.
Based on the training content you have at hand, the hardware/equipment available at the workplace, and the classroom space suitable for face-to-face training sessions, you can choose various training activities in different formats.
Offline training activities
Online training activities

Workshops

Lectures

Industry conferences

Role-plays

Mentorship

Hands-on training

Job shadowing

Observation

Webinars

Online courses

Video courses

Screencasts and video demos

Branching scenarios

Online quizzes

Serious games

E-books and training manuals
When deciding on the best delivery method for your training plan, consider the number of learners, the frequency of training, the capacity of available training venues, and your budget. The more exclusive the training is, the more it will require a personalized, face-to-face approach. That will be true for leadership programs, and that's why companies primarily conduct them through coaching sessions.
But for large-scale induction training, for example, online courses or training manuals will be better. By means of online courses and quizzes, you'll be able to cover the bases of a given topic and check how your learners retained the new knowledge. Plus, you can always reuse existing materials, memos, manuals, and slides by converting them into online courses with the proper online training tools.
One of them is iSpring Suite, which enables anyone to turn regular slides into full-fledged online courses in a snap. If you develop online training courses in PowerPoint, you don't have to master any new technology. iSpring Suite is PowerPoint-based, so you can keep working in that familiar interface.
Plus, for slide-based courses built in iSpring Suite, you can create a wide range of eLearning content for any training plan: courses, quizzes, interactions, video tutorials, e-books, and branching scenarios with compelling backgrounds and characters.
Here's what a course made in iSpring Suite can look like: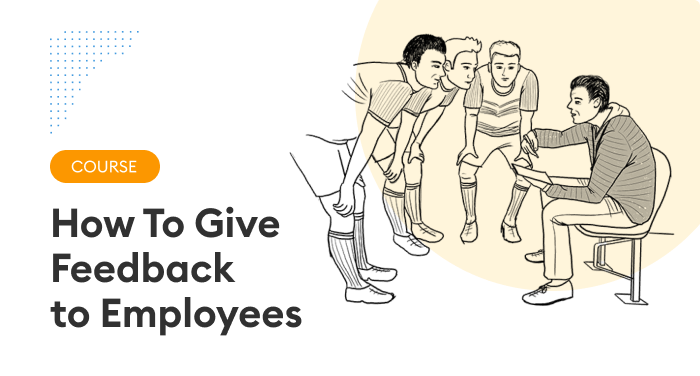 The tool expands the functionalities of PowerPoint greatly and is super handy for those creators who want to invest less time and effort in creating training materials, but still have their learners engaged. You can check it out during a free 14-day trial.
7. Put your plan into action
This is a long-awaited stage of implementing an actual training plan and reaping its initial results. After getting final approval from management, make sure that employees, their mentors/trainers/instructors, team supervisors, and department heads can access the training plans easily.
You can get your employees on board with the plan instantly, thanks to a learning management system. This is an online platform where learners can take courses and quizzes, access the corporate knowledge base, and enroll in specific training programs on any device. Plus, an LMS like iSpring Learn enables employees to stay informed of all scheduled activities and get notified of upcoming deadlines without missing anything important.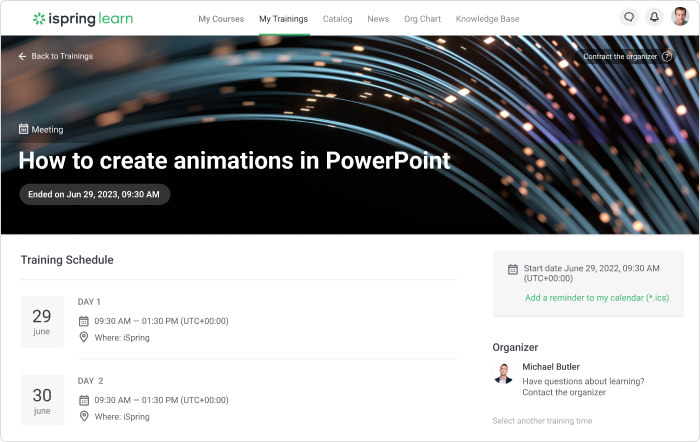 Employees can access training courses, check when the next appointment with a mentor is planned, and join a scheduled Zoom training session – all in the same place – making the implementation of a plan so much easier.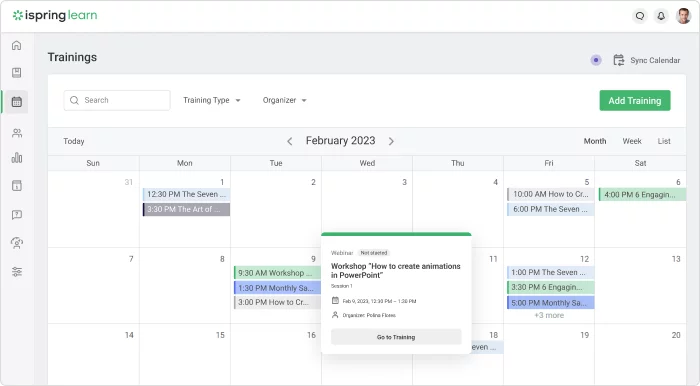 As we said earlier, an effective employee training plan aims to deliver an amount of knowledge when employees need it. iSpring Learn can automatically assign required courses to new hires or any other groups of employees, as well as roll out training courses, videos, manuals, and other content in a specific order.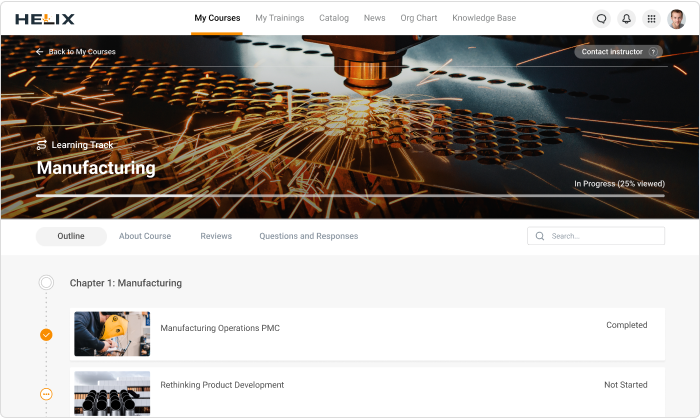 Every subsequent material will be available only after the previous one has been completed, thus implementing your training plan just the way you designed it.
These and other helpful functionalities of iSpring Learn can drastically improve your L&D workflows and reduce the amount of time and money that need to be invested in training initiatives.
Automate corporate training and improve employee performance.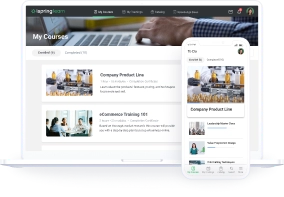 8. Gauge the effectiveness of your training plan
Based on the objectives you set in Step 3, you can now assess your learners' progress. Did they complete all tasks that you assigned them? How did they perform in the assessments, if there were any? Did they have enough time, or did it take them longer than a day, a week, or the entire probation period to finish training?
At this point, it's important to ask your learners, fellow instructors, and mentors for feedback to adjust the training plan. Depending on the training scenario, you can ask your learners what they learned, if they can tell the difference between product A and product B, how they understand the company's mission, etc.
To gain more authentic feedback and avoid having a hard time processing answers, you can put together an online survey that includes the following questions: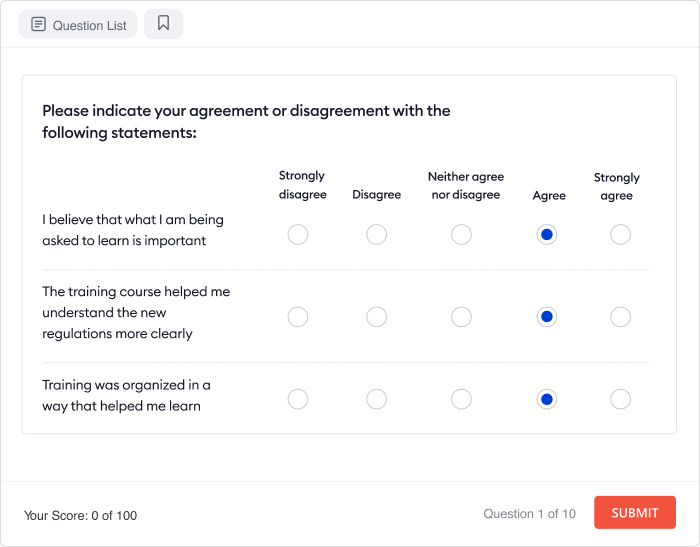 Ready-to-use Training Plan Templates
Preparing a training plan gets much easier if you know where to start. A pre-made, carefully crafted template will enable you to act within the right framework and lay out information clearly. And here it is: employee training plan templates in Excel, available for free.
The package includes two general templates that you can customize to fit your training scenario and goals. You can grab it and put the tailored templates to use in your company right away.
Download a package of free training plan templates now →
FAQ about Training Plans
Let's recap what we've learned about training plans and their implementation.
What is the goal of a training plan?
In a nutshell, a training plan outlines the future training process for a specific position to make it consistent, standardized, and replicable within the company.
What are the basic components of a training plan?
The basic components of a training plan are a scheduled training timeline, responsible parties, learning objectives, training tasks, and educational resources.
How do you deliver a training plan?
The most effective way to deliver an employee training plan is to roll out training through an LMS. An LMS like iSpring Learn helps automate training implementation greatly and track how employees are progressing in any kind of training program.
Conclusion
Creating a training plan for employees isn't rocket science. However, it does take some consideration and balancing between your employees' needs, your business goals, and available resources. The rest is a matter of technique – or the proper online training technology.
Do you want to streamline training processes and ensure the seamless launch of any training plan? Take advantage of the iSpring Learn LMS. Feel free to book a demo and see it in action.