April 28, 2020
iSpring Market vs Learndash vs Teachable vs Thinkific vs Kajabi vs Podia vs Ruzuku vs Udemy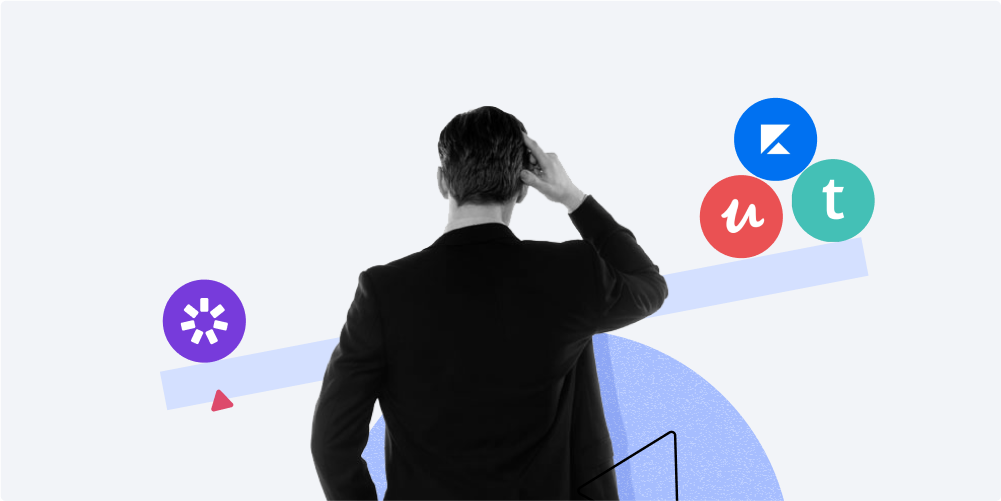 Online course platforms comparison: where to sell your knowledge.
The online course market is booming. Global Market Insights projects a compound annual growth rate (CAGR) of 5%, meaning an eLearning market that will top $200 billion by 2024.
Whether you are an established training business or an individual entrepreneur with the knowledge you want to share, you'll need an online course platform that will suit your needs and business model. The options can be overwhelming and it can be difficult to decide which platform is right for you.
For example, some people may just want to build a simple course using text, images, and PDF files and then concentrate the majority of their efforts on marketing the course. Others may need to build complex multi-module courses that include SCORM content and different learning pathways.
In this article, we will make an in-depth comparison of 7 of the best online course platforms to create and deliver your courses in 2020.
Online course platforms comparison chart
The table below shows a quick side-by-side view of all the platforms we reviewed. Continue reading for a detailed analysis of each platform.
iSpring Market
Podia
Teachable
Kajabi
Ruzuku
Thinkific
LearnDash
Udemy
Pricing
$37
PM start
$39
PM start
$29
PM start
$129
PM start
$99
PM start
$49
PM start
$159
PM start
Revenue
split 50%
Zero
transaction fee
+
+
–
+
+
–
+
+
Free plan
–
–
+
–
–
+
–
–
Free
migration
–
+
–
–
–
–
–
–
Payout
hold
Instant
Instant
30-45 days
Instant
Instant
Check
Instant
30 days
Video hosting
+
+
+
–
+
+
–
–
Sell membership
–
+
–
+
–
–
+
–
Sell downloads
–
+
–
+
–
–
–
–
Sell courses
+
+
+
+
+
+
+
+
Live chat support
+
+
+
+
+
–
–
–
SCORM content support
+
–
–
–
–
–
+
–
Unlimited courses
+
+
+
–
–
+
+
+
Unlimited students
–
+
+
–
+
+
+
+
Unlimited storage
+
+
+
+
+
+
–
–
Paypal
+
–
+
+
+
+
+
–
Stripe
+
+
+
+
+
+
+
–
Other payment options
+
–
+
+
–
+
+
–
Multi
language
+
–
+
–
–
+
+
+
Multi
currency
+
–
+
+
+
+
–
+
1. iSpring Market Review
iSpring Market is a new platform specifically designed for managing and selling training courses online. It has everything needed to quickly build, host, and sell your courses online.
iSpring Market lets you quickly build impressive courses, set up a store, add courses with a single click and immediately get yourself ready to start selling to clients. iSpring Market stores are designed with a digital storefront model, so all your courses are presented on the marketplace, and can be customized to suit your clients and business. Your storefront is indexed by search engines, like Google or Bing, meaning you have the chance to bring organic traffic to your courses.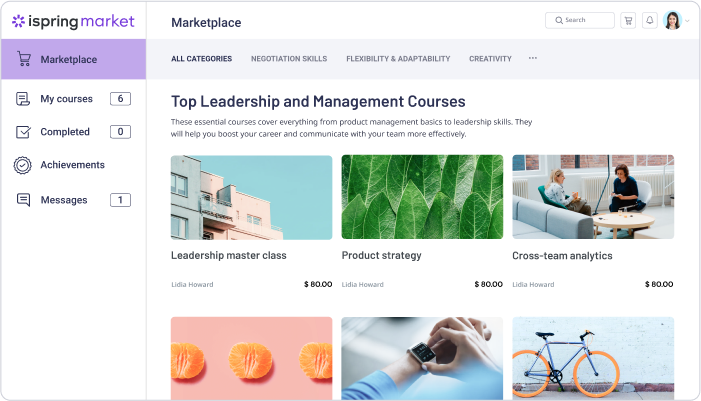 Ease of use
There are no technical headaches with iSpring Market. Its intuitive user experience makes the platform super easy for both course sellers and learners.
E-commerce & course marketplace
On the storefront, you can promote a featured course or divide all the courses into categories, making it easier for your customers to find relevant content.
There are a variety of payment options available beyond the standard Paypal. You can use Stripe or Authorize.net to accept payments in just about any currency worldwide.
You can also offer your prospective learners various types of discount coupons.
Learner management
Learner management is easy to use in iSpring Market. All your users are auto-assigned a status based on where they are in the sales funnel process, so it's easy to keep track of prospects and turn them into paying customers:
Lead: A user who has registered but is yet to enroll in a course
Active: A user who is actively engaged in a course
Deactivated: A user who has been manually deactivated either by an administrator or by themselves.
Beyond this, there's also the flexibility to assign roles to users, such as Administrator or Account Owner. Users can also be assigned to Organizations and Groups, which makes setting up an offering for corporate sales such as a package of courses simple.
You can run reports with iSpring Market's built-in analytics and get in-depth information on who takes courses, which of your content items are the most popular, and how much income you've received.
Course management
Course management in iSpring Market is made up of learning paths that consist of chapters and courses. Courses are made up of the content you add. Just upload your videos, presentations, quizzes, SCORM packages, and other content items to iSpring Market and quickly put together a step-by-step course.
You can adjust completion settings for each chapter of a learning path. The following parameters are available:
Course Completion Order
Time Limit
Completion Condition
Course Completion
This makes for a very flexible and simple course management workflow.
You can enable automated notifications to instantly update you on important course data like learning paths, views and content.
Supported content types
Presentations .ppt, .pptx
Audio.mp3
Video .mp4, .flv
Flash clips.swf
SCORM packages (1.2 or 2004).zip
Reference documents.doc, .xls, .pdf
Content created with eLearning authoring tools: slide courses, quizzes, interactions, dialogs, flipbooks
iSpring Market Pros&Cons
Learner portal: All your learners get access to their own portal so they can learn when and where they liker
Use existing content: You can leverage existing presentations, texts, and SCORM content to build courses
Sell anywhere (multi currency): You can accept payments in any currency, and your users will see their own currency when they visit your storefront
Certifications included: Add value to your proposition by offering certificates
Detailed analytics: You can track what your learners are doing and when
Coupon system: Offer discounts to get your courses moving
Gamification: Award learners achievements and points to keep them coming back
Basic marketing options: There are not many marketing-focused features like building landing pages, creating funnels.
iSpring Market: Unique selling points
SCORM content is supported out of the box
Support for iSpring file types
Full LMS functionality that allows you to establish the learning process
iSpring Market: Pricing
Starts at $444 per year for 500 users.
Final verdict
iSpring Market is a great platform for individuals or training businesses to get their courses online quickly and easily sell them to learners or organizations. The simplicity of use hides a very rich feature set and the inclusion of certification makes this a great choice for those wanting to offer certification programs as part of their online course business.
2. LearnDash Review​
LearnDash LMS is one of the most well-known and well-regarded online course builder plugins for WordPress. It is aimed at anyone who wants to publish courses online, whether that means adding a few educational resources to an existing WordPress website or creating your own eLearning platform or anything in between.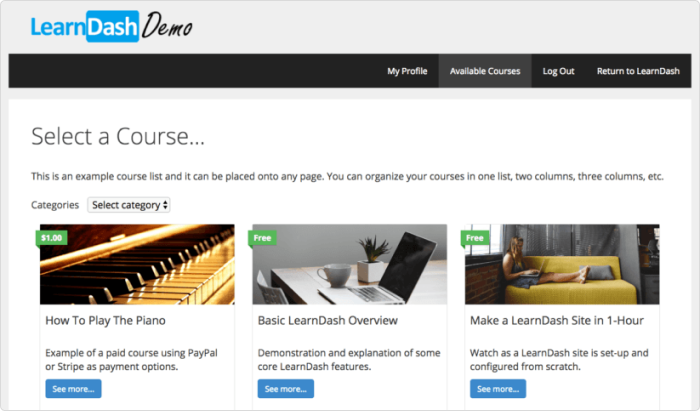 Ease of use
LearnDash does a great job of simplifying the user experience as much as possible, while still ensuring users can create the courses they need. The drag and drop course builder is simple enough for most people to get the hang of, and adding content and quizzes is also fairly intuitive.
However, with a feature and options list so long, there's a chance that using this plugin could become overwhelming. This is especially true if you're a complete WordPress novice or you have no experience designing courses.
E-commerce & course marketplace
If you're planning to monetize your courses, LearnDash includes simple native payment integration with PayPal. For anything beyond that, you can connect to third-party e-commerce plugins like WooCommerce for more flexibility for things like subscriptions, discounts, coupons, etc.
Other extensions allow you to use Stripe as your payment processor instead of PayPal and integrate LearnDash with membership plugins to give you more control over user access to your courses.
Learner management
LearnDash has all the basic features needed for a course administrator to manage their learners.
Logged in users can view their profiles on the front end of your website. They can view how many courses are available to them, how many they've taken and other details about their progress, through one access portal.
The reporting tools also allow administrators to view the activities of individual users, including how long they've spent on a course, their performance on quizzes, and their overall progress through the available content.
Course management
Using its drag-and-drop course builder, LearnDash lets you create complex courses complete with separate lessons, topics, videos (including optional auto-playing videos that skip straight to the next topic), quizzes, assignments, lesson timers, prerequisites, drip-fed content, certificates and badges, and course forums.
On the course management side, you can view detailed reports in the back-end, create user groups complete with special users assigned to manage each group, and send email notifications, including automatic triggers based on user activity.
Supported content types
Text
Audio.mp3, WAV
Video .mp4
PDF
HTML
LearnDash Pros&Cons
Visual course builder: It's easy to create courses – even for beginners
Drip-fed content and prerequisites: You can create custom learning paths
Lots of official and third-party add-ons: There is a huge WordPress plugin marketplace with many plugins specifically developed for LearnDash.
Email notifications: You can set up and trigger around 20 different automatic emails to send to learners.
Badges: Use badges in your courses
No onboarding: After installation, you are pretty much left to work out the functionality yourself.
Plugins are almost a necessity: You will need a third-party plugin if you're serious about accepting payments or membership functionality.
You are responsible for site performance, maintenance, and SEO: This is a big deal if you don't have any experience in these areas, as you may end up with a poorly performing site that has no chance of ranking well in Google.
LearnDash: Unique selling points
It's a fully-functional LMS
You own the platform and your customers
Unlimited customization and integration options
LearnDash: Pricing
Starts at $159 annually for a single-site license.
Final verdict
LearnDash offers deep functionality that lets you build truly customized courses for your students. That deep functionality does come at a price, though. Casual users will have to go through a learning curve to get the most out of the plugin, if you're not a power user, you have an uphill battle figuring out LearnDash.
It's not that a casual user couldn't eventually build a working course with LearnDash. But there are so many settings and quirks that need to be learned both within the WordPress platform and in LearnDash itself.
3. Teachable Review​
Teachable is one of the original online course platforms, so it has been around for quite some time and has a loyal following of course authors. It was built specifically to serve the online course market and to be a platform that is easy to use, but focuses on the 'course' first and foremost rather than marketing and other add-ons. This has made it a popular choice for education professionals. It offers several hosting options to suit most levels of individual or business.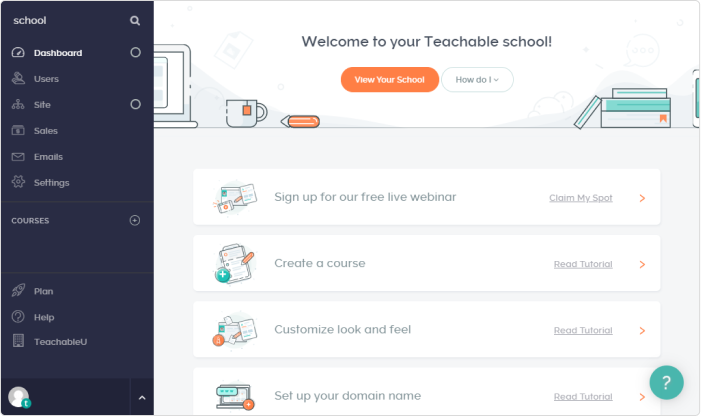 Ease of use
Teachable uses a drag and drop builder for course creation which allows you to get started easily and quickly. Some of the more in-depth features around website customization and marketing integrations are more complex and may leave a first-time user feeling a bit lost.
E-commerce & course marketplace
Your courses can be hosted under your own domain, subdomain, or using a free Teachable domain. The marketplace supports multiple languages and currencies, so your courses can be sold to an international audience via template-based customizable sales pages and landing pages. Coupons and promotions plus an affiliate program make for a robust marketing toolset.
There are also flexible payment options to choose from such as charge a one-time fee, sell a subscription, or set up a payment plan, and offer individual or bundled courses. All of your courses can be offered on affiliate programs to boost sales.
Learner management
Learner management is fairly basic in Teachable and is mostly taken care of automatically. There are options to manually enroll, unenroll, refund, or delete students if required. Users within your 'school' can be assigned different roles such as Administrator.
Segmentation options for enrolled students focus more on marketing features such as sending targeted emails based on enrollment, completion, code redemption, and other filters with the aim of getting repeat business and selling more courses.
Course management
Course content in Teachable is divided into sections and lectures. Sections contain groupings of lectures while lectures are structured informational units made up of text, files, video, images, and/or quizzes. It's possible to load lecture content from cloud platforms such as Dropbox, Onedrive and Google.
Both sections and lectures sit under 'curriculum' in the Teachable world.
Supported content types
Video .mp4, .mov, or .avi
Images.png or .jpg
Audio: .mp3
PDF: .pdf (non-fillable)
Teachable Pros&Cons
Good-looking course interface: Your students will appreciate the clean and professional look.
Easy course creation: You can build a course quickly with the drag & drop page builder
Blog enabled: You can target SEO by building a blog on the platform
Embedded forms and content: You can embed forms and other content into lectures such as Google forms and YouTube videos
Tax collection: Collects your VAT automatically
High transaction commission: The fee is 10% + $1 on each transaction if the Free Account option is used.
May take a long time to get a payout: When using the Monthly Payment gateway, holds funds for 30-45 days.
Teachable: Unique selling points
Modify the language used in any part of your site to support an international audience
Use tracking pixels like Facebook Pixel
Add live video and webinar streams
Automatic VAT collection
Teachable: Pricing
The basic plan starts at $39.00 per month.
If you go the free route, which is an option, you must pay the site a $1.00 fee for every transaction and give away at least 10% of what you earn for each program sold.
Final verdict
Teachable is a robust and well-established platform for creating and selling online courses. The course creation options are fairly standard and easy to get to grips with. If you want to create custom email campaigns and sales funnels, the marketing integrations support the most popular tools. However, a long payout period and high transaction commission may cause a bit of inconvenience to Teachable's users.
4. Thinkific Review
Thinkific is a platform pitched at course creators who have no prior experience with coding or even course management. Thinkific allows course creators to create unique courses and then sell them to a targeted audience.
It has several aesthetic customization options such as themes, providing just enough to make their courses stand out from others without the author needing to know any coding or programming languages. For larger training organizations, there's a full feature set to support multiple users and selling to businesses.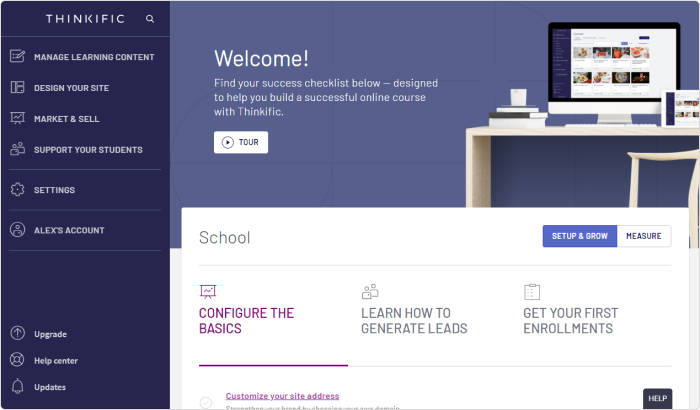 Ease of use
Thinikific offers a drag and drop builder for course creation, so you can get a course using text and PPT slides up pretty quickly. There are also several different types of 'blocks' you can use to present text and image content to stop the learner from getting bored. When you want to go further, you embed different content types including eLearning modules.
The marketing aspect is less well implemented, for example, customizing a landing page requires some trial and error and may be difficult for those with no experience of visual design.
E-commerce & course marketplace
Thinikific offers a fully customizable course website that's designed specifically to sell education. You can update available themes to match your style or connect your courses to an existing site for a seamless brand experience.
There's a thorough set of marketing tools, integrations, and payment options to promote your business, sell courses, and build a learner base.
Learner management
Learner management is basic in Thinkific and is mostly taken care of automatically. Some basic admin options exist that allow you to manually or bulk create new users, enroll or unenroll users on a course, or delete users.
Thinkific has some impressive monitoring and reporting features, including group and cohort reporting, detailed segmentation, and data exports.
Course management
The course build experience is straightforward and it's easy to upload videos, build quizzes, and organize all your learning content with the drag and drop builder and block editor. You can set pricing, schedule lessons, and automate your content to create a curated learning experience.
Beyond course creation, there are powerful course configuration options available including private and hidden courses, prerequisite lessons, support for multiple instructors, dripping scheduled content, cohorts, evergreen and expiring content and membership sites.
Supported content types
Videos: MP4, hosted on Wistia
Multimedia: Any content that can be added as an iFrame
PDF: PDF
Audio: MP3, WAV
HTML5
Thinkific Pros&Cons
Instant payouts: Your money is paid immediately with no holds
Membership/Subscription options: You can offer different options for users to access your courses
LinkedIn connection: Market your course on LinkedIn with built-in integration
Student focussed: You can add goal setting, dedicated tracking, customized learning environments, and course landing pages specifically for different types of students.
Requires Stripe: Thinkific requires a Stripe account or you're stuck with the PayPal option only
Thinkific: Unique selling points
Highly-flexible content integrations
Wistia video hosting for high speed and secure video
Thinkific: Pricing
Starts at $49.00 per month with access to the basic options and some advanced ones.
Thinkific allows you to use the program for free through the Forever Free plan, but will charge you 10% of your earnings for each course that you sell.
Final verdict
Thinkific is a solid platform made especially for selling courses and nothing more. The course creation options are very flexible and the marketing integration options and deeper customization features available will appeal to creators, entrepreneurs, speakers, authors, trainers, and companies that are serious about building a business around online courses. The higher-priced plans offer great flexibility to larger organizations with multiple course creators.
5. Kajabi Review​
Kajabi is a complete online platform intended to build online products, launch marketing campaigns, create landing pages, and design a fully functional website. Although Kajabi is an online course platform with functionality similar to the others reviewed in this article, it is very much pitched as an 'online business platform' and prefers to refer to its content as 'digital products' rather than the more familiar 'courses'.
That being said, you can create and sell courses in Kajabi with relative ease, but the more marketing focussed features like membership sites, landing pages, funnels, events, and email automation make it feel like more of a platform aimed at 'digital marketers'.
Ease of use
Kajabi has a drag and drop builder to create almost all aspects of a course-based online business. This includes building a stylish website with landing pages in addition to creating course content. The workflow takes some practice, though, and it's not the easiest interface compared to other platforms reviewed here.
E-commerce & course marketplace
Marketing is where Kajabi places its emphasis in terms of features. There are a lot of marketing software integrations available, and most elements can be customized, including landing pages, funnels, and the whole checkout experience. There's also a focus on creating an online brand that can showcase all of your courses and products.
Learner management
Learner and member management options are extensive, offering segmented member lists and a member dashboard view that shows a complete history, including how many times they have logged in. There are also options to bulk import users.
Course management
Content building in Kajabi is pretty easy, offering the usual formats like video, text, and quizzes. These are added to product 'Blueprints' that include short- and long-form online courses.
More powerful features become apparent when you delve into course scheduling and management as you can schedule lessons and automate your content to curate a guided learning experience.
There are also other course management options that offer flexibility that you perhaps wouldn't expect to find in a more 'online business' focussed platform, such as private and hidden courses, prerequisite lessons, support for multiple instructors, cohorts, evergreen and expiring content, and membership sites
Supported content types
Video lesson
Text lesson
3rd-party integrations
Kajabi Pros&Cons
Landing pages: You can build code-free drag and drop landing pages.
Funnels: Create a funnel in a couple of clicks.
Events: Host live and automated webinars.
No transaction fees: Set your own prices and receive 100% of the revenue.
Completely customizable checkout: You can build an entire custom checkout process
Static pages: You can create as many pages as you want for your website, to include information such as an 'About Us' page, 'Contact Us' page, Privacy Policy or legal disclaimers.
Built-in blog: You can build an integrated blog for SEO
Video hosting: Upload your video content and it is encoded and delivered by Wistia for speed and security
Basic course builder: You are limited to standard text, PDF and video content
High price: Very high entry price for those just looking to dip their toe in the water
DIY 'SEO': If you are not a digital marketer, you may have problems finding an audience for your course
Kajabi: Unique selling points
Marketing automation
Live and pre-recorded event scheduling
Kajabi: Pricing
The basic plan starts at $149 per month.
Final verdict
Kajabi is a powerful online business platform that offers a great way for individuals or businesses with an established course catalog to host their products and build a seamless brand experience for users.
Kajabi was designed more for individual pieces of content rather than structured courses and focuses on providing a broad set of marketing tools for sales success.
It doesn't come cheap, however, being by far the most expensive platform reviewed here, so for those just starting out or making only modest revenue from online courses, it may not be worth the investment.
6. Podia Review​
Podia positions itself as an all-in-one platform that lets you create and sell online courses, memberships, and digital downloads. Their key selling points are no technical headaches, zero transaction fees, and unlimited everything.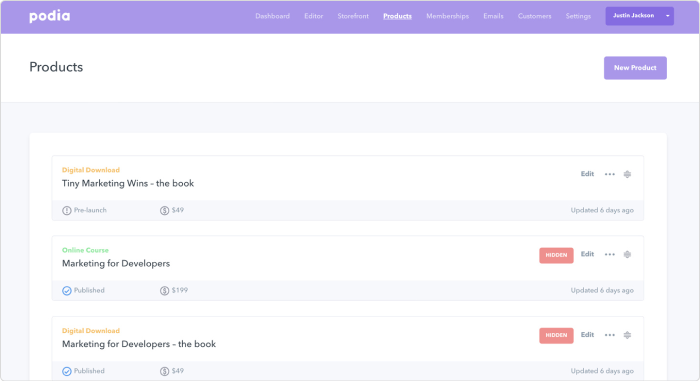 Ease of use
All the elements of Podia are user-friendly and aimed at novice course sellers.
E-commerce & course marketing
Podia offers a full set of e-Commerce and marketing features, including social media integration, coupons, discounts, multiple membership plans for learners, upsales, and the option to purchase courses or products as gifts. Email marketing is well covered with drip campaigns, newsletters and cross-sell options available. If you prefer to use your own email marketing tool, integrations with MailChimp, ActiveCampaign, Drip or Convert Kit, or Zapier are provided.
There is also built-in support for affiliate marketing to help you sell more courses.
Learner management
Users are referred to as customers in Podia, and they can only be created by self-registration to one of your membership programs or courses. Once created, there are some bare-bones management options such as delete, and more detailed things you can do with marketing.
Course management
The Podia course builder is extremely simplistic, you just create sections and add text, links or quizzes or upload file-based content. That's about it – there's only a single level of detail in the course structure of Sections and Content vs. the two-tier structure used by most other platforms, so this is a bit limiting if you wanted to create a more complex course structure.
The builder is fast and simple, and the preview works well. It's also mobile-friendly, so you can see exactly what your mobile learners will be getting.
You can add basic tests to your courses and the learner will see their results after taking them.
Supported content types
Video: MOV, MP4
Audio: MP3.
Images: PNG, JPG, GIF
Documents: PDF, EPUB and MOBI
Podia Pros&Cons
Unlimited courses and students: There are no restrictions on the number of courses or learners you can have on the basic plan
Bundle products: You can create course bundles to offer more value to your learners
Sell it or gift it: There is a gifting option to allow people to buy and send your courses to others as gifts
Unlimited everything: There are no restrictions on bandwidth or content storage
Affiliate marketing: You can begin offering your courses to affiliate marketers in a couple of clicks and customize your affiliate offering
Most useful features only available with the higher price plans
Basic content type support: You will be limited to building your courses with text, video, audio and documents
Simplistic course structure: If you want to build well-thought-out courses, the two-tier structure may be limiting
Basic quizzing: You can only use multiple choice or yes/no question types
Podia: Unique selling points
Payment plans for users.
Free migration assistance from other platforms.
Podia: Pricing
Starts at $39 per month
Final verdict
Podia is a very simple to use platform for selling courses, and it has some nice marketing options. It is firmly aimed at individual course creators and there's no option to add other team members to an account, meaning it will be of little interest to training centers or larger training businesses.
7. Ruzuku Review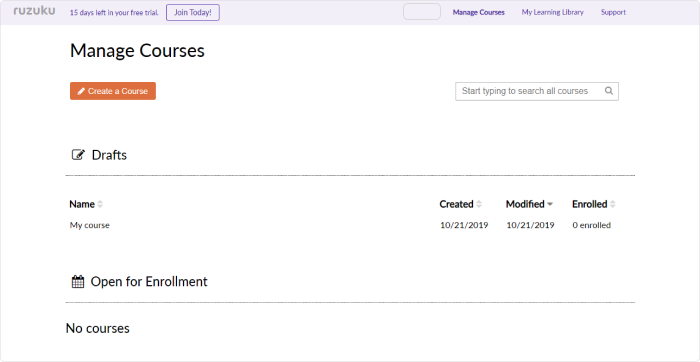 Ruzuku offers similar features to iSpring Market, Thinkific and Podia. That is, everything you need to create, sell, and teach courses from a single dashboard.
Its main point of difference is in its marketing, which is squarely focused on non-technical course authors in the soft skills and wellness spaces. The whole front end experience seeks to 'de jargonify' the course-building experience.
Ease of use
Ruzuku is easy to navigate and its features help guide you through the process of just about any action you need to perform on the site.
E-commerce & course marketing
Pricing and marketing options are very solid in Ruzuku, and all the basics are covered as you would expect, such as mailing lists and subscriptions. There are also a few interesting features such as customized coupons per payment type and multiple price points for courses, allowing you to sell the same course at different price points to accommodate, for example, an 'early bird' and a 'last-minute' price.
Learner management
There is basic learner management allowing you to view signups, send invitations, review payments, and check student progress within courses.
Course management
Ruzuku's course is composed of lessons, activities, and messages. Lessons include activities, where you place your content (videos, audios, images, text, and html). Messages are email lessons that you can schedule to send to your students. The most interesting thing about Ruzuku's course builder is the ability to import pictures from Facebook and Instagram for use in courses.
Supported content types
Video: MP4
Audio: MP3
Document: PDF
Embedded: HTML
Ruzuku Pros&Cons
Global Content Delivery Network (CDN): Your courses and media are delivered via CDN for a faster learner experience
Learner community: Your students have social profiles, bios, and photos in the course community
Student feedback: Students can post images, PDFs, and videos in their responses
Student dashboard: Shows students' activity completion and comment rates, with data for the whole course or by lesson
Host video & teleconferences: Create online sessions with slides, group chat, and automatic recording
Course builder misses the mark: Unless you think you will use the 'messages' course block, there are many better course builders on other platforms
High price: The starting price does not offer anything over cheaper alternatives
Ruzuku: Unique selling points
Hosted video and audio
Customized coupons per payment type
Multiple price points for each course
Ruzuku: Price
Starts at $ 74.75 per month (billed annually).
Final verdict
Ruzuku offers a similar feature set to others mentioned in the article and has a few interesting features. The course builder is fairly average but the marketing options go some way to making up for that, but given the high entry price point for the basic account type, you may wish to look elsewhere.
8. Udemy Review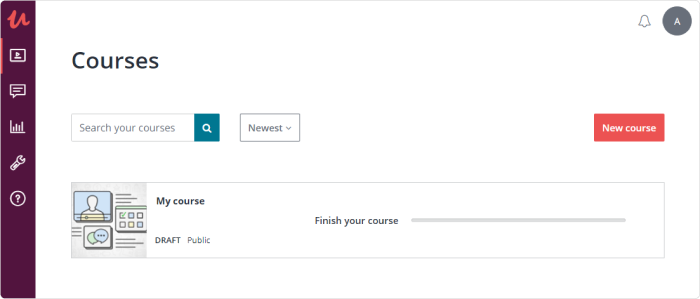 Udemy is perhaps one of the most popular online course platforms to date. Udemy offers a robust set of tools, options, themes, and other features that can help you create a unique course that reflects what you want your potential students to learn.
For instructors, Udemy is 100% free, but bear in mind that it keeps almost 50% of what you earn for each course. Instructors are also required to price their programs in increments of $5.00, which means that courses sell for as low as $5.00 and as much as $200.00.
Prices get even lower when your course is added to a Udemy promotion.
The upside of this is that Udemy does all the marketing, whether your potential course is viable or not, and you can still host it on Udemy free.
Ease of use
Udemy gives guidance at every step of the course creation process, so most people should be able to put a course together. That being said, the requirements for courses are quite strict and you will need to go through an initial process to verify that your video and audio quality matches Udemy standards. You will also need to submit each part of your course for approval along with some learning objectives and a basic curriculum, which is no bad thing for novice course creators.
E-commerce and course marketing
The main draw of Udemy is its large existing user base. This means that your courses will gain exposure without you really having to do anything in the way of marketing. The downside of this is that 'your' learners are not really yours at all, their data, email addresses and everything else is owned by Udemy.
Udemy does offer some integration channels to allow you to market your courses but, by and large, this is the weakest platform in terms of all e-commerce and marketing points.
Learner management
As your learners are Udemy subscribers who have purchased access to your course, there isn't really any learner management as such in Udemy. Interaction and administration are limited to providing feedback to students on assessments and fielding questions that they raise, plus a once-monthly update email.
Course management
Course management in Udemy is very restrictive. Initially, you must select a specific category and subcategory to list your course in. When creating the course, you are bound by the section and lecture structure that Udemy prescribes. When it comes to adding content, you are once again limited to Udemy's preferred content types, which are video – either with an instructor-to-camera voiceover, video/slide mashup with narrated voiceover, or basic text. This gives you some options to craft a course but not many. It's also worth noting that narration is mandatory, which will not suit some people.
Supported content types:
Video: MP4
Udemy Pros&Cons
No marketing necessary: Marketing your course is all done by Udemy.
You'll likely make some money with no marketing: With the sheer volume of users, if you make a decent quality course and do some other things right, you are likely to make some money.
You don't "own" your students: It's hard to build your own community of students outside of the platform.
Fierce competition: Even though the number of students enrolled in Udemy courses continues to grow rapidly, so does the number of instructors and courses. It is becoming difficult to compete.
Udemy: Pricing
Free for all instructors. The general rule is that Udemy splits the money earned on courses 50/50 with the course creators, although there are various factors that determine the exact percentage
Final verdict
Udemy is a huge platform and is a good starting point for those completely new to selling courses online, as it's free to dip your toe in and see if a particular niche or course has potential. Ultimately, most course creators who achieve some success end up moving away from the Udemy platform, as it is incredibly restrictive and commissions are extremely high. Udemy is only intended for individual course creators, there are no user roles to facilitate multiple course creators or business/agency accounts.
Online Course Platforms Comparison: Final Thoughts
The market for online course platforms is becoming saturated, with multiple options available to individuals and businesses that often have very similar functionality.
Depending on your priorities, you may select a platform based on its course building or marketing features, or simply because the front end looks more appealing for the types of courses you will be selling.