December 11, 2022
The 30 Best eLearning Examples for Inspiration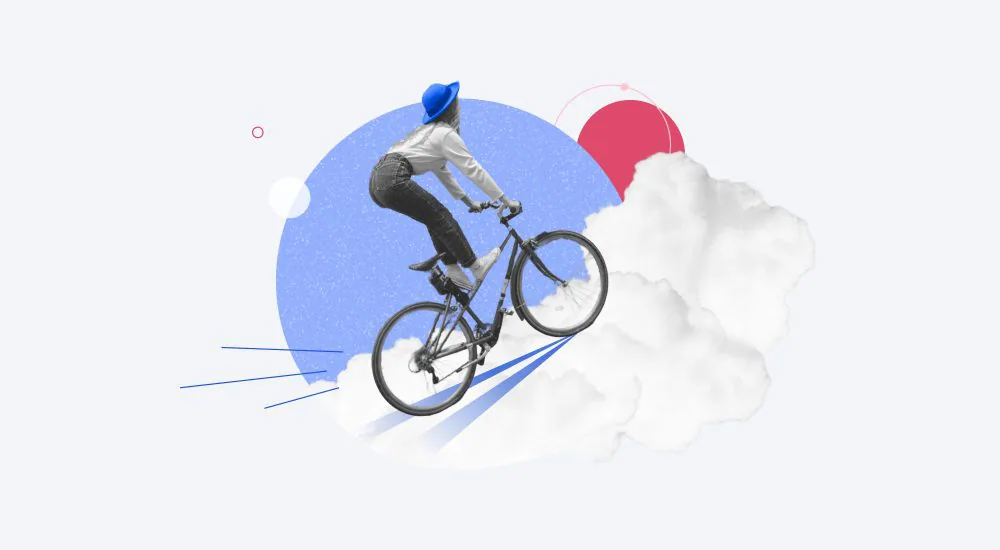 eLearning is not a one-size-fits-all approach. The content and how it is represented may vary depending on your training needs, audience, and many other factors. Here, we've rounded up 30 eLearning course samples that demonstrate how versatile this medium can be. From onboarding courses to a fire safety quiz and a cyberattack simulation, we hope these samples will inspire you to create fresh eLearning courses of your own.
All the course samples showcased in this article are created with the iSpring Suite authoring tool.
Onboarding eLearning Examples
Onboarding new employees online can help them become productive fast, thus freeing up managers and supervisors. Just create a welcome course once and assign it to all your new hires. Simple as that.
Online courses
This is an onboarding course created by HealthHelp, a leader in the field of healthcare utilization management. It delivers the essentials of the company, like its history, mission, and current executive team, and provides details to new hires about the Consult Program.
And here's an example of an induction course created by PSI, a full-service clinical research organization, that they built to make training less labor intensive and more interactive. The course includes engaging quizzes and interactions, so it looks professional and is fun at the same time.
If you have help docs and manuals your new employees should explore or want to provide them with useful tips on how to be effective from their first day at work (like in the eLearning example below), turn all this into courses. Your employees will be able to look through them during an idle moment and immediately put the new knowledge into practice.
eLearning interactions
An interaction is an eLearning activity that the learner interacts with, either by using their mouse or by swiping on a device. It can be a separate short lesson or a component of a longer course as with PSI's interactive eLearning example above. Interactions can be difficult and time-consuming to create manually, but iSpring Suite makes this quick and easy with the help of ready-made templates.
This interaction gives new employees a tour of the office:
This one shows how the company was developing over the years:
And this interaction provides new employees with answers to many frequently asked questions:
Compliance Training Examples
If you're in an industry that is regulated to one degree or another, compliance training is the defense for your business and employees against all kinds of risks. By moving it online you can make it even less of a headache.
Online course
In this fire safety course, employees appear in the middle of an office scenario where they learn how to identify fire hazards, perform a fire risk assessment, and act if a fire breaks out. Through the use of various interactive elements, the compliance training feels more like a "choose your own adventure" game and boosts employees' engagement.
Simulation
This interactive eLearning example showcases a cyberattack simulation with drill and practice activities. It includes quizzes and detailed feedback to help employees understand and retain how to protect personal data. The learner sees a range of email, website, and mobile app samples and needs to decide which are safe and which are malicious.
Product Training Examples
As the name implies, product training provides product or service information that employees and partners need to know to perform their work effectively and customers need in order to use goods properly. Depending on your goals, you can create comprehensive courses about each product, build microcourses about products' latest updates, or even make interactive product catalogs.
Online courses
Here's an example of an online course created by Kcell, the official distributor of Samsung and Lenovo smartphones and iPhones. To train salespeople across the country, they built product courses with audio narrations, videos, and a final quiz to assess how well they know the goods.
The format of eLearning courses also works for complex products like technical software. This is a module of a tutorial series developed by iPerformance ApS, a Danish software application provider. The series is designed to help customers understand how to use the software on their own, without contacting the company's tech support team.
eLearning interactions
This is an interactive catalog including various kinds of cheese. It is aimed at helping sales assistants learn more about the cheeses available in their store. Each card contains a name and a picture of the cheese and a detailed description. The interaction has a quick search function, so sales reps can find the right product fast and inform customers about it in detail.
And this eLearning interaction is a sort of a brief technical manual for sales professionals that teaches them about the parts of the vacuum cleaners they sell. With this interactive guide, sales reps will have the answers to all possible customer questions.
Sales and Customer Service Training Examples
Product training can be a part of more holistic sales and customer service training that also can include educating employees about the best sales and customer care practices and mastering communication skills in a safe-to-fail environment. Here are some e-learning modules examples created with iSpring Suite specifically for training salespeople and customer service agents.
Online course
This is a refreshing fragment of a slide-based interactive course about reframing in negotiation. It covers the theory of frames of mind and explains how to use reframing in communication with clients.
Role-plays
Scenario-based learning is a good way to practice communication skills in a controlled environment. These role-plays imitate a real conversation with a customer and teach employees how to behave and speak with clients without any risk of damaging relations.
For example, Villa St. Vincent, a senior living community that provides holistic senior care and services, uses role-plays scenarios to let its employees practice communication techniques in a variety of clinical situations.
This role-play is designed specifically for training car salespeople. It challenges car sales staff to use tact, know-how, and just a bit of aggressiveness to seal the deal.
And this is another great example of a role-play that shows how fun and effective this eLearning content type can be. It trains sales and customer service agents on how to deal with an angry customer.
Online quizzes
A quiz is a surefire way to encourage learners to pay attention to the content and remember details. iSpring Suite comes with 14 ready-made test question templates to make the quiz development process a cinch.
This interactive quiz is a perfect tool to remind employees about how to build trust with a customer. Multiple-choice, hotspot, sequencing – it includes various types of questions to provide a learner with a more engaging way of learning.
This sales training module on merchandising uses visual aids to help trainees get ahead. An employee has to rearrange a shop floor, put items in their correct places on the shelves, and match specific merchandising terms with their definitions. The drag-and-drop experience gets learners fully immersed in the training, making them think, react, and engage at every turn.
eLearning interactions
This interaction is an engaging visual way to explain a process. It shows the main tiers of the sales funnel — how a client progresses from their first visit to the website to making a purchase, step by step.
And this one is a great example of a six-point presentation, a sales technique that enables an employee to demonstrate all of the car's features from six different positions. It helps salespeople explore the method and learn what information they should provide at each point easily.
Soft Skills Training Examples
Competencies like communication, problem solving, and conflict resolution are crucial for gaining new clients, improving customer service, and building a strong team. Meanwhile, time management skills can help employees be as effective and productive as possible. Depending on which soft skills you want your employees to work on, you can design a variety of courses.
Also read: → Soft skills training 101
Online courses
This course provides helpful time management techniques – explaining what employees should do to be more productive and efficient with their time. It uses the power of storytelling to immerse learners in a natural context.
This training module covers communication-related issues and is a great helper for those who are doing their first project. Like a previous eLearning sample, it has a real-life story at its core.
And here's a сourse for department managers and mentors. It shares useful ideas on how to give feedback to employees, explains what mistakes should be avoided, and spells out how to prepare for a difficult conversation.
Academic eLearning Examples
eLearning is becoming more and more popular not only in the business sector, but in the academic industry as well. Many schools, colleges, and universities use online courses for at least part of their curriculum. Here are a few e-learning samples created with iSpring Suite.
Online courses
Ontario Virtual School creates eLearning courses to give students across the globe the ability to learn in their home country and still get a Canadian diploma. For example, this course covers the specificities of different political ideologies. The text on the slides is accompanied by a talking-head video recorded by a lecturer.
This course answers a range of questions about the solar system. How many planets are there? How did they appear? What are the planets made of? At the end of the course, there's a quiz that lets a science teacher check how well the students remembered the material.
Online quiz
This interactive quiz is aimed at testing one's knowledge of the highest mountain in the world. It includes various question types and detailed feedback on each slide to help students review their mistakes and improve performance.
Even More Great eLearning Examples
Here are a few more innovative e learning examples on different topics – each perfect for different goals and audiences. Get inspired!
In this short course, you'll get useful tips on how to rearrange your office mindset and adapt everyday routines and habits to make working from home a success. You'll also learn great techniques for beating procrastination and staying focused on your tasks.
This beautiful course is a workshop on making a delicious omelet provided by chief Alex. He guides you through the course, helps you learn the recipe's nuances, and shares lots of amazing facts. It's made in the format of a game and includes a small theory section, interactive tasks, a quiz, and a role-play.
And this course will teach you to brew great coffee. The professional barista Julia will provide you with basic knowledge on coffee, special tips, and a step-by-step guide on the brewing process.
This colorful course is devoted to proper nutrition. Check it out to explore the different types of macronutrients and their functions in the body, the recommended amounts of macronutrients in meals during the day, and the necessity of fiber for the body's functioning. The course is not only beautiful and helpful, but also extremely engaging. You'll find there a lot of interactions and quizzes.
And this is a visual design skills simulator created to let novice designers enhance their visual capacity. The user needs to choose between various options for formatting PowerPoint slides and identify which one looks better.
Conclusion
We hope our roundup of eLearning examples serves as inspiration for creating awesome learning content. The best thing is that you can make courses like these on your own. Download the iSpring Suite free trial and see how extremely easy it is to work with, even if you have no tech or design experience.