September 15, 2023
The Ultimate eLearning Content Development Guide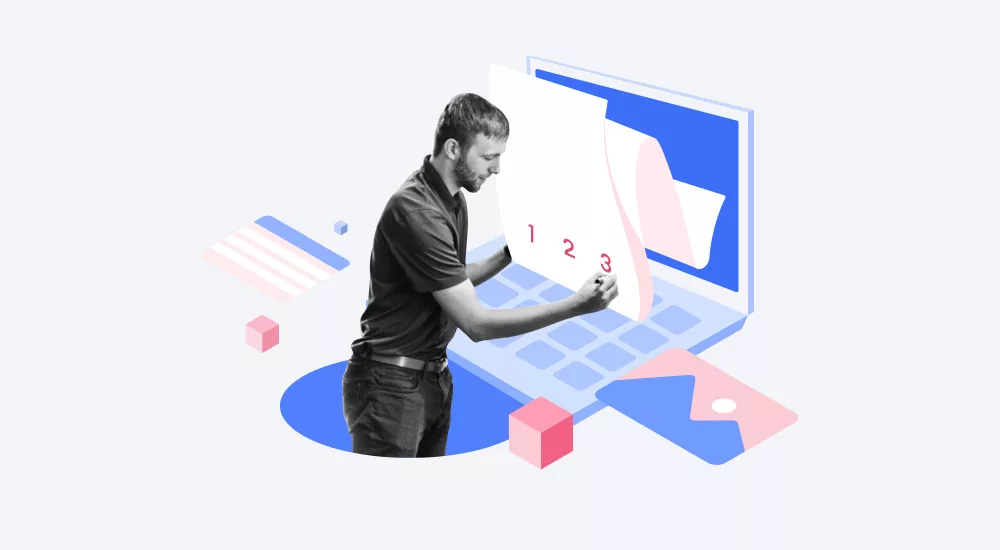 Quality control, time, budget, tracking, measuring ROI… L&D professionals face many challenges when it comes to eLearning content development. Fortunately, there are ways to overcome these obstacles and develop online courses.
This comprehensive guide covers everything you need to know to elevate training content development and build impactful learning experiences. As a result, organizations can enjoy better outcomes from their employee education initiatives, such as a higher training ROI and enhanced business growth.
The Importance of the eLearning Content Development Process
Creating eLearning content without a framework is like completing a jigsaw puzzle without a reference picture. You may have all the individual pieces (content, multimedia resources, etc.), but it's almost impossible to put them together in a way that makes sense. This leads to a disjointed and confusing learning experience for the students.
The 5C Framework: A Step-By-Step Guide
The 5C framework is a popular content development approach because it guides the creation process, resulting in a logical, cohesive, and engaging user experience. This section breaks down each step in the 5C framework in order to allow you to streamline the eLearning content development process.
An important caveat: communication is critical throughout each step of this framework. For best results, there must be a clear feedback loop among instructional designers, subject matter experts (SMEs), tech teams, and other stakeholders. Everyone involved should have a clear understanding of the complete training content creation process, the eLearning tools, and the learning goals.
Step 1. Set clear goals (Capture)
The first step in the 5C framework is to define the purpose of the eLearning course or module and set clear objectives. To define goals, you must first identify your target audience and their learning needs.
Once you clearly understand your audience's needs, you can determine the desired learning outcomes from the training. In other words, what do you expect learners to get from the eLearning course? And how will this impact on-the-job performance and business results? Capturing this information from the beginning will ensure that you stay on track during the creation process and that every piece of content aligns with the learning goals. As a result, you end up with a more effective learning experience and reduced eLearning development time.
We recommend establishing goals according to SMART criteria, where SMART stands for specific, measurable, achievable, relevant, and time-bound. Using the SMART framework helps ensure that your goals are realistic and obtainable.
Step 2. Develop a design vision (Conceptualize)
The second step in education content development is conceptualizing your eLearning courses. Essentially, you're creating a bird's-eye view of how the overall training will look. First, you need to create a storyboard that visually outlines the course's structure, modules, and lessons. You don't need to go into details for each activity at this stage. It's enough to have a rough storyboard of how the training content will be laid out.
Once you create it, you need to decide on an instructional approach. Some common examples of these include storytelling, scenarios, and dialogue simulations. Choosing the right format is critical because it ensures that the training content resonates with your learning audience and that you present the knowledge in the most engaging and accessible manner.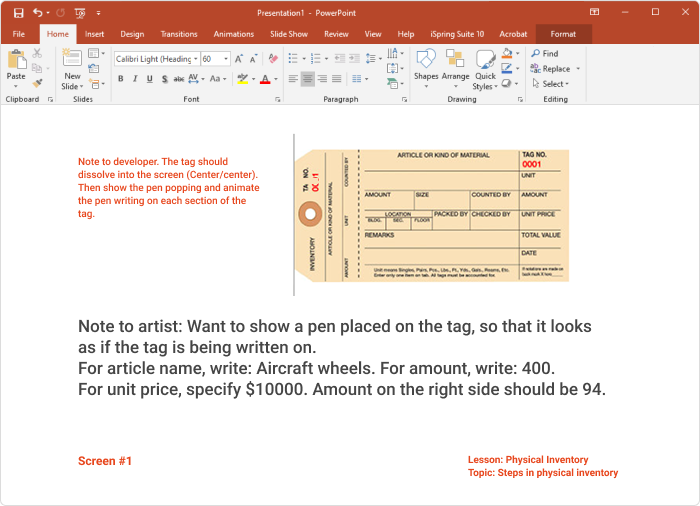 New to storyboarding? Download our free eLearning storyboard PPT template.
Next, it's time to plan the user interface (UI) and user experience (UX) designs. Having a clean and sleek design will optimize navigation and the overall user experience. Don't worry, though. You don't have to be a professional designer to create professional-grade training courses. Most leading content authoring tools have built-in features to help you choose a visual style and color scheme that align with your brand, the content, and the audience and appeals to diverse learning styles.
For example, iSpring Suite provides sleek, customizable course templates that follow UX best practices and guidelines. All you have to do is choose the template that best suits your training topic, tailor it to your brand, and add your content. As such, you can build custom eLearning content within minutes.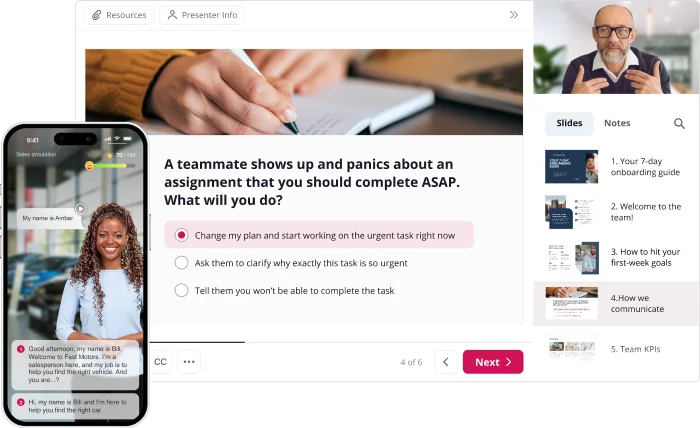 For more details on the creation process, check out our guide on how to create an online course.
Step 3. Create your content (Create)
Now that you have a clear idea of how your finished training course will look, it's time for the fun part – creating the content. At this point, it's time to zoom in and look at what elements you need to build for each lesson. That includes text, images, videos, and interactive activities. This is where an authoring tool like iSpring Suite will shine. With iSpring, you can make your online course interactive by populating it with versatile, engaging content.
Training videos. Talking head videos, screencasts, and video lectures can tell a story, break down complex topics, and grab learners' attention.
Role-plays. Interactive dialogue simulations replicate real-life scenarios and allow learners to practice their communication skills in a safe, controlled environment.
Interactions. Clickable images, drag-and-drop activities, and interactive timelines encourage learners to actively participate in training content, thus boosting knowledge retention and engagement.
Quizzes. Dynamic quizzes and assessments help to test learners' knowledge by offering a range of question types and immediate feedback after each question.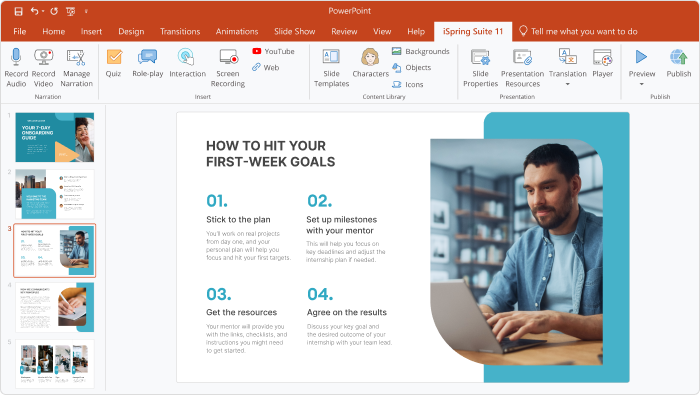 With so many features available, you can really get creative. However, your top priority is to ensure that the training content is structured logically and flows smoothly from one topic to the next. Remember, interactive elements should never distract learners from the subject matter.
You can ask yourself if an elaborate exercise is needed or if a simple infographic would be more effective. Being selective about when and how you use multimedia elements will create more impact and save you time during the creation process.
Step 4. Analyze and iterate (Cultivate)
Congratulations! You've created your first digital learning course. But the hard work isn't over yet. The next step is cultivating your course, which means thoroughly reviewing the learning content. In particular, you should analyze the material to ensure it's accurate and aligned with the learning objectives.
The most effective way to review your content is to gather feedback from a range of stakeholders and learners. For instance, create a testing group with subject matter experts (SMEs), managers, and potential learners. By selecting a diverse testing group, you can hear from colleagues with distinct perspectives, knowledge levels, and technical skills. Each person will approach the material from a slightly different mindset, giving you a broad picture of how the training performs.
Of course, gathering feedback is just half the battle. The next step is to utilize an iterative process to collate the feedback and refine the content accordingly. It's equally important to test it on different devices and browsers. Doing this helps you catch any potential compatibility issues early on.
It's a good idea to pilot your training course directly on the corporate learning management system (LMS). That way, you can gain insight into the overall user experience when interacting with the course and the system. Based on this, you can decide whether your learners need further training on how to navigate the LMS.
We recommend opting for an LMS with a user-friendly app for mobile learning like iSpring Learn to guarantee compatibility and a seamless user experience for your learners. Plus, its intuitive interface and simple setup allow employees to access training right away.
Step 5. Measure ROI and Optimize (Commercialize)
ROI… That little acronym can fill even the most seasoned L&D professional with dread. Traditionally, measuring training ROI can be tricky, especially for in-person employee education programs. Fortunately, housing employee training on an LMS has made it easier to track ROI.
Besides reducing L&D teams' workloads, an LMS facilitates tracking and reporting on learners' progress. For example, iSpring Learn offers a range of custom reports to help you measure the impact of training initiatives at a macro or micro level.
Here's an example of a report that shows progress and achievements. This report lets you easily see who has been certified and who needs to be assigned retraining.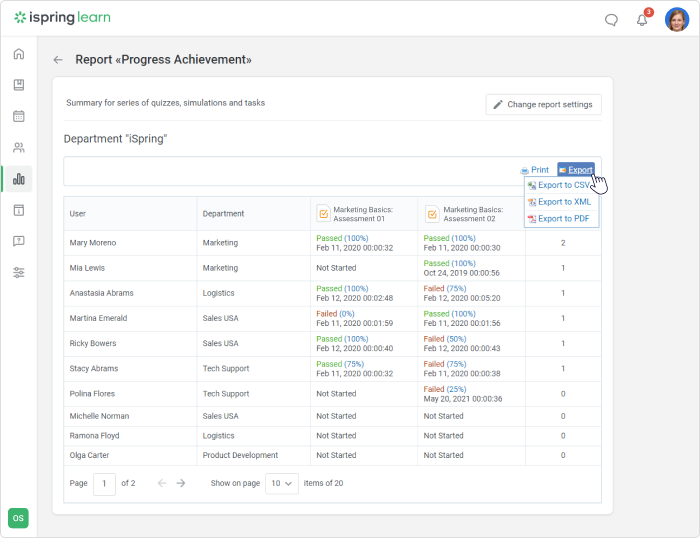 It's perfect for monitoring employees' performance on online quizzes, especially for mandatory training like compliance. With this and other reports, you can get a clear idea of the state of training in your organization.
As such, teams can collect real-time data on employee performance, completion rates, and assessment results and easily monitor learner engagement. All of this makes it easier than ever to measure the return on investment of a specific training course or program.
Moreover, having immediate access to this data allows instructional design specialists to make timely improvements to the course content and design.
FAQ
This section covers the most common questions about the content development process.
What are eLearning authoring tools?
eLearning authoring tools are used to create eLearning content, such as eLearning courses, quizzes, interactive PowerPoint presentations, simulations, and video content.
What should training content include?
Training content should provide learners with the key information they need to master a topic. As a result, the specific content will depend on the learning objectives, your audience, and the format of the training (e.g., in-person workshop, online course, on-the-job training, video-based learning). That said, engaging training content typically includes interactive elements, opportunities for practice, real-life scenarios, multimedia elements, and assessments.
What tools and software are commonly used for eLearning content development?
Your required tools depend on your specific training needs, budget, and technical expertise. Typically, you only need a couple of high-quality tools to build an eLearning course. These include content authoring tools, a high-powered LMS, and a video conferencing tool if you plan to incorporate webinars or virtual classrooms.
How can organizations ensure that eLearning content is accessible to learners with disabilities?
Providing an inclusive, accessible learning experience for all is a top priority. As such, organizations should conduct regular reviews to monitor and update eLearning content, making sure it complies with the latest accessibility guidelines and best practices. We also recommend the following strategies to enhance accessibility:
Follow web content accessibility guidelines (WCAG)
Test content on assistive technologies
Use proper HTML elements (headings, lists, tables)
Add clear alt text to images and infographics
Include closed captions and transcripts for all video and audio materials
Prioritize readability by using legible fonts
Incorporate text-to-speech options
Useful resources
New standards, best practices, and tools are constantly emerging as the industry continues to evolve. So, whether you're a novice or have years of experience in the world of eLearning content development, continuous learning is vital.
In this section, we have rounded up some of the most valuable free resources to help you hone your content creation skills.
Industry standards:
eLearning Communities:
Graphic design and content development:
Canva: This user-friendly graphic design tool is perfect for content creators who want to create professional images but have no experience doing so. It offers a comprehensive blog and a design school ideal for content development training.
ELB Learning: Access an array of customizable eLearning templates and assets, a handy blog, and accessibility resources.
A Final Word on eLearning Content Development
Designing and developing engaging eLearning content is both an art and a science. With so many elements to juggle, L&D professionals can feel overwhelmed. Fortunately, with the proper framework, it's easy to simplify the development workflow and create high-quality content at scale.
Following the best practices in this guide will help your team reduce creation time and enhance current workflows. In addition, implementing the right tools will further optimize your organization's development and maintenance processes.
With iSpring, you can build engaging online courses in minutes. Our award-winning authoring tool integrates seamlessly with our LMS to reduce your L&D team's workload, boost training ROI, and provide a consistently exceptional learner experience.
Sign up for a live demo of iSpring Learn today to see how we can streamline training management in your organization. Ready to develop impactful eLearning content in-house? Grab a 14-day free trial of iSpring Suite now!