January 21, 2023
Instructional Designer Salary: 5 Proven Ways to Earn More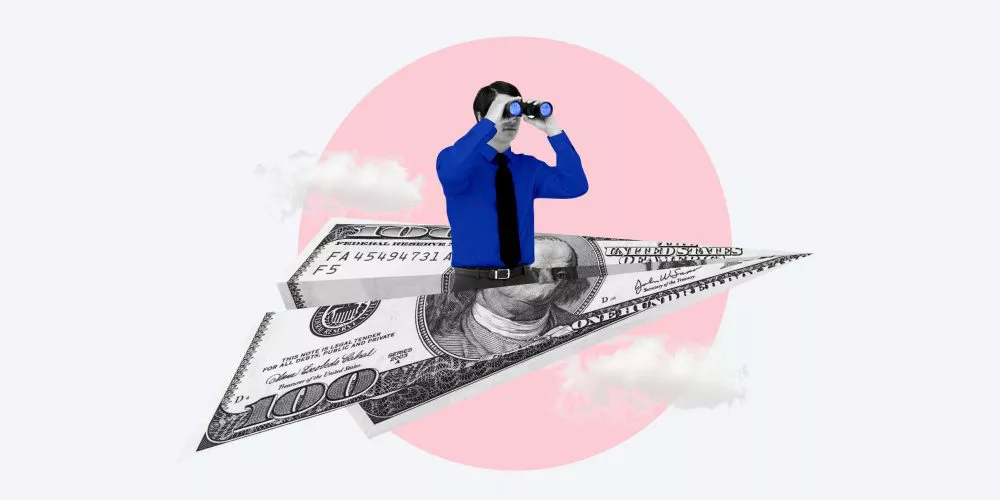 If you are an instructional designer, or you're thinking about becoming one, it's important to be aware of the salary ranges you should look for.
In this article, we'll take an in-depth look at what the average instructional designer salary in the United States is, what factors influence the salary you get, what the key skills are, and things you can do to increase your salary or freelance earnings.
The Average Instructional Designer Salary
According to Glassdoor.com, the national average salary for an Instructional Designer in the continental United States is $60,934.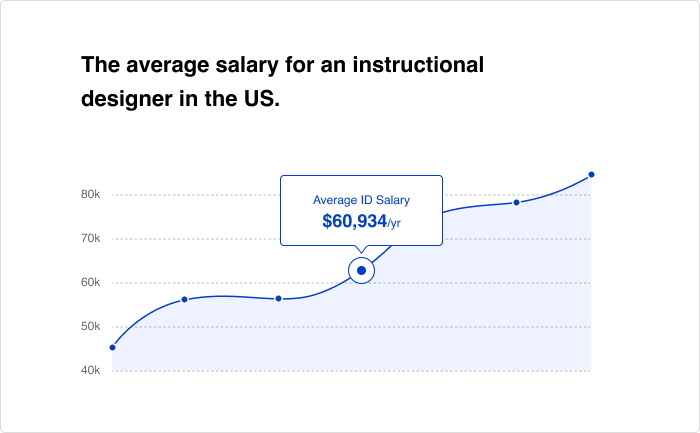 This average is based on a low of $45k and a high of $82k. But what influences the low and high end of the scale, and how can you score a salary closer to the top end?
Factors that Influence an Instructional Designers Salary
From where you live, to the size of the organization you work for, we break down some key influencers on an instructional designer's salary.
1. Level of education
Earning a degree in instructional design requires an investment of time, money, and effort, but it may very well pay off. Instructional designers and ed-tech professionals with a higher education degree typically earn more than those who do not.
According to a 2015 Global eLearning Salary & Compensation Report released by The eLearning Guild, which used the responses of 5,127 of their members, people holding an instructional design doctorate degree have a salary that is around 24% higher than the United States average. There are also some positions – typically those in the higher education sector – where professionals are required to hold an instructional design Masters or Doctorate degree to get a position.
2. Geography
As with most job roles, if you are working in a major metropolitan area, your salary is likely to be higher than if you worked in a comparable role in a small town or rural area. This is not specific to instructional design per se, but medium to large-sized organizations tend to have a need for a dedicated specialist, and these larger companies are most often concentrated in major cities.
This can be seen in Glassdoor's salary statistics, with our $60k US average rising to a $69,631 average in the New York metro area and $66,573 a year in the Los Angeles metro area. A smaller city like Portland offers instructional designers $60,784 a year and, in Montgomery, Alabama, the salary is around $51,591, which is significantly less than the average in other metropolitan areas.
While picking up and moving to another city is not a feasible way for most people to increase their salary, relocating could make a significant difference.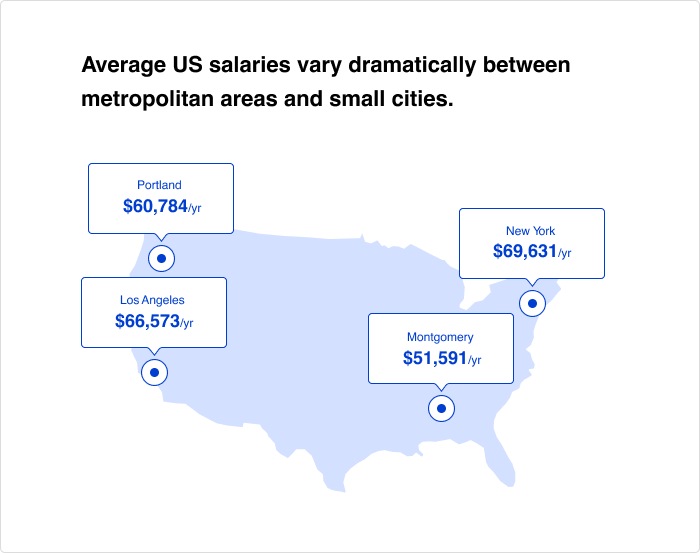 3. Size of the organization
Regardless of geographical location, larger organizations tend to pay a higher average salary to instructional designers. For example, Microsoft pays their instructional designers an average of $119,677/year, Verizon – $88,477, American Express – $74,076, and Nielsen – $58,211/year.
In part, that may be due to variables such as working hours and workload, but that is not necessarily the case. So, it may be that the size of an organization has a big influence on salary.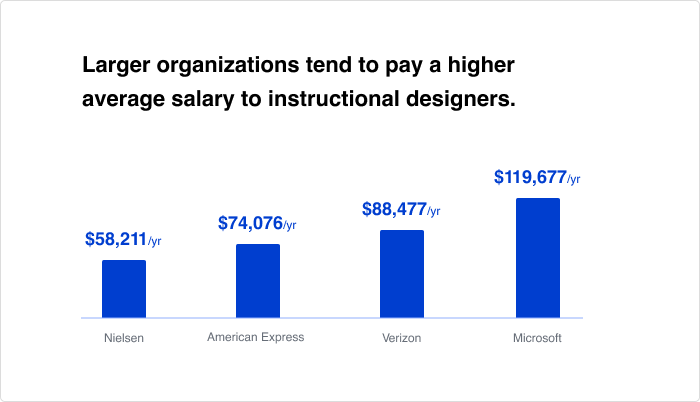 4. Business vs. education
A common assumption is that instructional designers in the business sector have the highest-paying positions. And that sounds about right. instructional design professionals at universities and colleges usually earn less. For example, the typical NYU (New York University) instructional designer salary is $68,932/year, IDs working in Southern New Hampshire University get $50,389 for the same period and Sterling College employees receive as little as $41,372.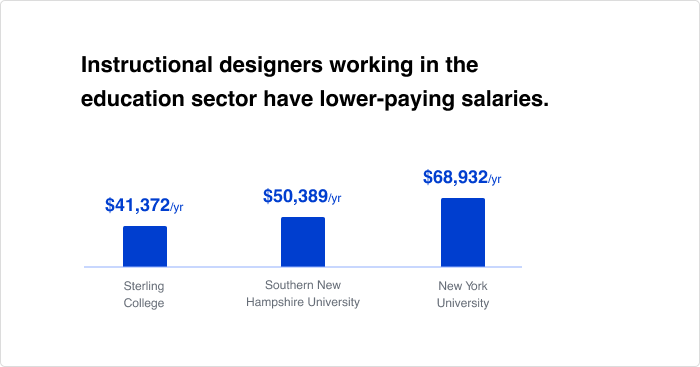 5. Going remote
Organizations are increasingly offering ID roles as 100% remote positions. In contrast to what might seem the obvious conclusion, the average salary for a remote instructional designer is actually the same at around $61k.
6. Seniority
Naturally, the more senior your role and the more responsibility you have, and the higher your salary will trend. A typical progression in the instructional design industry is from Instructional Designer to Senior Instructional Designer. The latter role often comes with a lot more responsibility for successfully delivering work projects and programs, and often sees the senior ID having a team of IDs, training designers, developers, ed-tech consultants, and others reporting to them. A senior ID in the USA can expect an average salary of $81,086.
Skills that Affect Instructional Design Salary
The factors we just discussed do have an impact on the salary of the average instructional design role, but another major influencer is the individual's skill set.
Advanced management skills
We already mentioned seniority, but to progress up the ID career path to Senior ID onward will likely require that you have, or are willing to learn, advanced management skills. As senior IDs typically lead small to medium teams and take on multiple rather than single projects, you will need to upskill in both people management and project management,
Industry expertise
Some industries pay more than others because ID skills and experience in that field are in demand.
For example, an ID who specializes in aerospace industry training could earn an average salary of $64,577. Professionals specializing in energy and utilities get $63,335, and those employed in the financial sector earn $61,742. In contrast, an ID who works in the arts and entertainment industry is likely to earn an average salary of $52,674 which is far below the national average.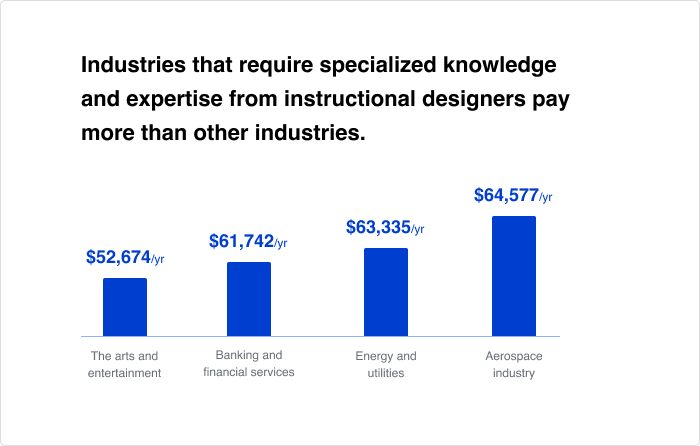 Why is this? It is probably a simple matter of supply and demand. Aerospace and energy require highly specialized technical skills to succeed, the arts and entertainment is a popular 'cool' industry that everyone wants to work in but requires no real specialized skills.
Technical/software skills
Although technically the definition of the Instructional Design position does not focus on actual eLearning and training authoring, in the real world this is definitely not the case. Outside of academia, most IDs are expected to develop eLearning courses. That means at least being competent in a major authoring tool, and likely also having some graphic design, audio editing, and other software skills.
Aside from getting a degree, this is the main factor that often determines salary and even offers of employment more than any other.
Learn more about which instructional design skills to obtain and improve →
How Do You Earn More as an Instructional Designer?
As we have covered both the average salary range and the factors and skills that can influence it, now it's time to answer the important question: "How can I earn more as an instructional designer?" Here are some tips:
1. Choose a specialty
Many ID's believe that being a jack-of-all-trades equates with a higher salary, but this is usually not the case. But why is this?
While it's always a good idea to learn as much as possible about different ways to create learning content, being an expert and having advanced skills in a single style or tool is much more useful and can often lead to a higher salary.
Here are a few examples of specializations to consider:
Become a video pro
Video is currently the most popular format on the Internet, and it's something people now expect as part of training. Instructional videos have proven to be a great way to engage learners and deliver content easily, so it makes sense to master this in-demand skill.
Here are some useful resources that can help you become a video training professional:
Get on board with mobile and microlearning
Mobile learning and microlearning are also extremely popular eLearning formats today – they are great at engaging learners and delivering training content at any time and on any device.
Here are some useful resources that can help you brush up your mobile and microlearning knowledge:
Polish up your slide-based course authoring
Traditional slide-based eLearning is still the default format in most industries, so being able to create awesome, engaging courses with slide-based tools is a skill that never goes out of fashion.
Here are some useful resources that can help you become a course authoring expert:
2. Upgrade your authoring software
If you're an instructional designer that designs, authors and creates courses and content, then your work output is dictated somewhat by how fast you can build a course in your authoring software. Streamlining your content developing process and choosing an authoring tool that can get great results fast can help you increase your earnings both as a permanent employee or as a contractor, consultant or freelancer.
For permanent instructional designers you can simply get your work done faster and do more of it, while at the same time improving the look, interactivity and engagement levels of your courses. This can work to your advantage when it comes time for your annual salary review or when discussing your achievements during a job interview.
For consultants, freelancers, and contractors, the number of courses you can build for clients will increase, so you take on more projects and earn more money.
Some authoring tools are most suitable for rapid eLearning. For example, iSpring Suite is specially designed to make online courses faster. This full-featured authoring solution allows you to build slide-based courses, quizzes, dialog simulations, and more in a matter of hours, not days.
3. Become a manager or supervisor
For those who work within an organization, this is an obvious way to increase your permanent instructional designer salary, but it's still worth mentioning here. If you can prove that you are an effective team manager, your salary will reflect your worth to your organization. This usually means that you will do less day-to-day instructional design, but you can still apply your knowledge and skills to your reviews, feedback, and reports.
Of course, this is a long-term goal that will not happen overnight, but you can think about positioning yourself for greater responsibility over time.
4. Use your industry expertise
As an instructional designer you are already an expert at mapping out and creating content that engages people and tells a story, so why not make good use of your skills and expertise by presenting yourself as an industry expert? If you want to share your knowledge and opinions on the instructional design and training industry, start your own blog or channel and begin building your own following on social media. This is a long-term strategy, but it's a great way to build yourself up as a go-to expert, improve your credibility with potential clients, and raise your income.
5. Sell your own courses
Creating and selling your own content is a great way to increase your ID-related earnings, and the good thing is that it's something that even permanent employees can do as a 'side hustle.' The online course market is booming and there has never been a better time to experiment with adding this income stream to your arsenal. Whether you leverage something you are already an expert in, or just do some market research and build courses that you think will sell, it's a great way to earn extra money.
There are lots of platforms where you can host your courses, including Flora LMS which integrates well with the iSpring Suite authoring toolkit and makes getting courses to market a super-fast process.
Wrap-up
That concludes this look at instructional designers' salaries, we hope you found it informative. Do you have any tips, tricks, or advice on how to maximize your salary or earnings as an instructional designer? If so, we'd love to hear about them in the comments.