November 27, 2022
How Much Does It Cost to Develop an Online Course in 2023?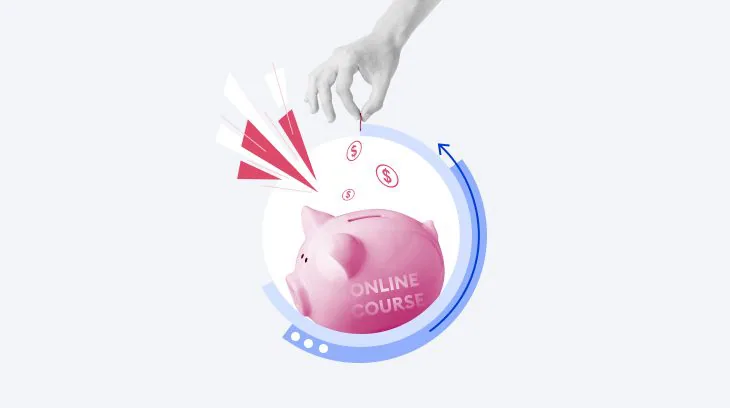 How much does it cost to develop an online course? Well, it all hinges on… That question seems to be a necessary evil. But the fact is that the response is dependent upon many factors that come into play. Its complexity, length, and who will actually develop the course (you or an outsourced company), will affect the total cost significantly.
The precise budget needed to develop an online course can't be calculated on the fly. So, in this article, we'll try to provide you with ballpark figures to give you a clearer idea of possible expenses. We aren't suggesting belt-tightening, but the efficient use of any budget – be it $5,000 or $150,000.
To find out if the cost to develop your project is closer to the lower or upper value, you first need to break the task down into its constituent parts.
Understanding the Task
There are four key things to consider at the very beginning before you jump into your e-Learning project:
Who are the learners?
Why should they be interested in taking the course?
What is the goal and the desired effect of the course?
How will you know you've achieved the goal?
When you answer these questions, it will be easier to determine the necessary resources and the type of your future online course.
Three Levels of eLearning Courses
There are three types of e-courses, depending on the goal and the number of interactive elements. The higher the level, the more expensive the course will be.
Level 1: Basic — Works for informational courses
Most classic slide-based courses with the main goal of informing employees fall into this category. They can contain text, pictures, "Next" buttons, and simple quizzes with True/False or multiple-choice questions, and this is sufficient for courses on a new product or a policy update.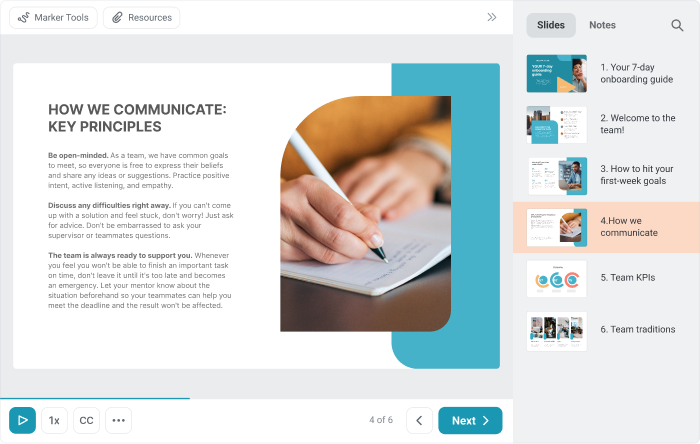 Level 2: Interactive — Good for motivational courses
A level-two online course includes audio narration, video, games, quizzes, and dialogues, and combines theory with practice. It's a perfect fit for motivational courses that encourage employees to change their approach toward something, like taking appropriate action in the event of a fire, as in the following example.
Also read: How to Create a Moodle Quiz: Step-by-Step Guide
Level 3: Advanced — Great for practical training courses
This level presupposes exquisite custom interactions, serious games, and branching scenarios that provide students with a custom learning experience and different levels of feedback.
A level-three online course is mostly used for teaching new practical skills – thus demanding highly interactive elements and complex scenarios. It's more expensive and takes more time to produce, so take this into account when planning your project.
When you make up your mind on the type of online course you need, the scope of the project will start to become clear.
The Cost of Creating Your Online Course
The next thing to consider is who will build the online course for you. If you plan to create the online course in house, calculate the budget using this formula:
Also, don't forget to add the cost of authoring tools. For example, a yearly licence for the iSpring Suite toolkit costs $970.This investment, however, will pay off quickly if you're going to use the tool more than once.
But if the project is complex or the deadline is close, you may have to hire a third-party developer. Furthermore, you'll know what to include in the budget when ordering an online course, and approximate prices for such services. As a guide on the rates, we'll mostly use data from Upwork, one of the most popular platforms for freelancers, and Glassdoor, a credible source of information on salaries in different industries.
Scenario — from $600
You don't need "a scenario" in a literal sense if, for example, your task is to tell sales reps about a new product that the company is launching. Take a look at this course on Marshall headphones: its scenario only contains information about the functional features of each model – nothing extra.
In eLearning, scenarios for courses are usually created by instructional designers.They leverage andragogical principles and the psychology of how people learn to make an online course that truly educates.
An example of a good scenario can be seen in How to Make the Perfect Omelette, an online course for a cafe chain, shown below. It contains all the elements of a good story: plot, conflict, and the main character.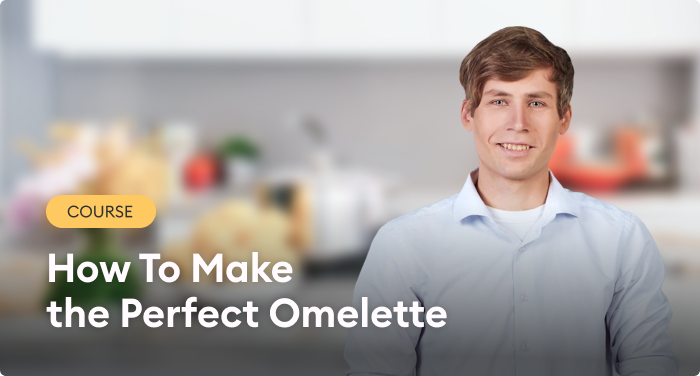 Estimated prices
According to Upwork, the hourly rate of an instructional designer starts at about $50. A simple scenario with the main character and a linear plot can be written in 20 hours, so the work will cost at least $1,000. The harder the task, the higher the price. But make sure to add a few extra hours for editing and proofreading the text.
How to save on constructing a scenario
Write it yourself, or at least collect the necessary materials on the topic. All content that you can include immediately is useful. These can be presentations, articles, and video clips. The less the instructional designer spends time on research, interviews with SMEs, and the script itself, the more you save.
Design — from $200
It would be a mistake to think of design as a bunch of pictures. Even if your online course mainly consists of text, designers can make it easier to read, highlight things to remember, and even manipulate the learners' attention.
Check out this intro module for new employees, which contains the history of the company, information on its structure, published books, a detailed guide for the office, and a FAQ section — everything is beautifully designed and interactive.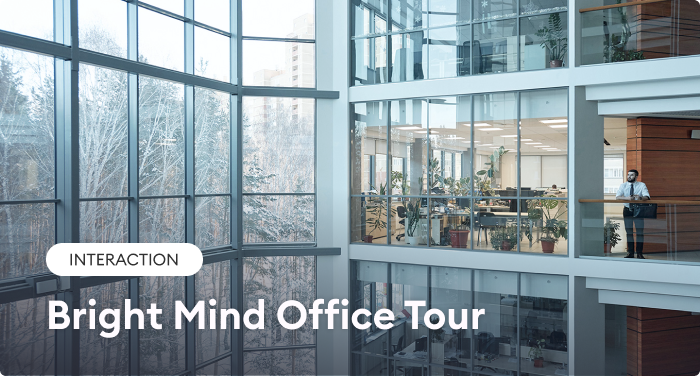 Estimated prices
The hourly rate of a freelance designer starts at about $40. A design for a simple slide-based course on the basis of the company's brand book with text, images, and infographics may take about five hours, which adds up to $200.
Сreating illustrations and drawing locations and characters will be more expensive and may take from three to five days, or even more. The price tag for this type of work starts at about $1,000.
How to save on design
On the web, there are many templates that can be used in your projects free of charge – you can absolutely find them on Dribbble and Behance. But you won't need to buy any stock library or design subscription services anymore if you use iSpring Suite to build courses.
The tool provides slide templates, themes, characters, images, photos, icons, and buttons created by professional designers – over 89,000 items in total. With these, you only need to add text to the polished slides.
Slide templates from Content Library will help you save on the services of a designer and maintain a consistent brand feel throughout your training materials.
Course development — from $300
At this stage, course developers need to build a course with navigation and practical tasks: quizzes, training games, and interactive simulations.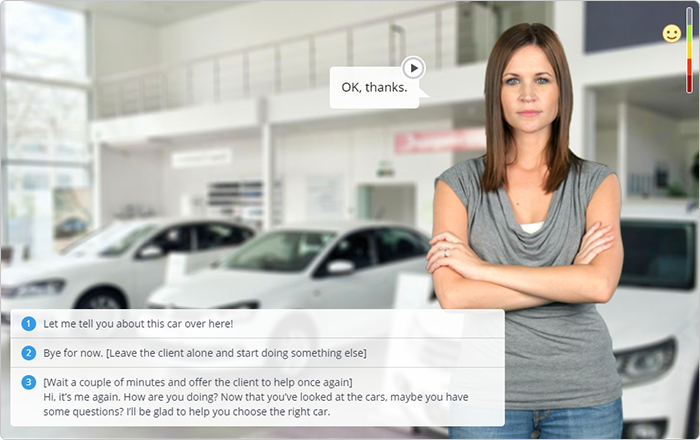 Estimated prices
The hourly rate of a freelance ID starts at about $60. A simple course on your company's product line with a test containing 20-25 questions at the end can be completed within five hours.
If you need a complex business simulation that imitates working with computer software, or a serious game with different levels of difficulty, the development process is longer and demands programming or advanced ID skills. A person with such a skill set may charge approximately $80 per hour.
How to save on course development
You can try iSpring Suite for free to find out if you're able to prepare an online course yourself. Frankly, many interactive things that look awesome, such as dialogue simulations, are super easy to create with this tool, and you don't have to be a developer or have programming skills to make professional-looking courses with your branding.
Quality assurance — from $500
A pilot of an online course is the final rehearsal before the big launch. Instead of starting to train right away, you can test a course on a small group of employees who will provide feedback, find errors, and help improve the course. For that purpose, the participants fill out a questionnaire that consists of five criteria:
Recommendations for improvement. Is the course easy to take? Is all the information clear? What needs to be added? Are there any mistakes or typos?
Relevance of the course. What did the employees learn from the course? Are the course materials helpful for their daily work?
Illustrations and photos. Do illustrations and photos help them understand the subject more quickly?
Structure. Is the information provided in a manner that is both consistent and logical? Are there errors and/or inaccuracies?
Practical tasks. Are the tasks realistic? Does the feedback work in the simulations? Are there any tasks that are too difficult?
Estimated prices
Although you don't have to hire additional people to do the testing, you do need to include costs associated with processing the QA results and fixing any bugs in your budget.
How to save on QA
Think of QA as an insurance policy: you might not use it, but it's important to have. Plus, any issues detected and improved early on will cost you much less in comparison to the same things found after the big release.
Additional Expenses
These are expenses that might arise if you decide to add more interactivity to your online course.
Voice-over — from $100
According to Voices.com, a professional freelance marketplace, the minimum budget for a 5-minute audio is $100. An hour of audio will cost $1000 or more. You can save money with the text-to-speech feature in iSpring Suite that quickly transforms any text into a compelling voice-over narration in any of 52 languages.
Video — from $150
In the US, the rate of a professional freelance videographer starts at $50 per hour. As a result, you get raw files of footage in full HD or 4K. The video then needs to be edited. In the US, an hour of video editing costs $40 and up.
Motion design — from $1000
Motion design is often used in product and introduction training. One minute of motion design costs $1,000 and up. The additional costs can also include the work of a photographer or a translator. The main thing is to make sure that every idea on how to make the course look better helps to achieve the learning goal.
​
Determining the Online Course or Training Program's Cost
To summarize, let's list the three employment types you can choose from: a permanent in-house team, an outsourced instructional design team, or freelancers. We highly recommend examining this table with the pros and cons of each option to find out which approach fits your situation best.
An outsourced project-based team
A permanent in-house team
Freelancers
Best for

Small businesses with a reduced capacity to deploy training programs in house.

Medium-sized enterprises that consider themselves ready to establish an online learning department.
Businesses that need ID services periodically.
Pros

Efficient turnkey production.

Will understand your industry.

Quicker reaction to training demands.

Skill proficiency in instructional design or narrating, programming, graphic design, etc.
Cons
Much higher cost.
You need to build up this team at the grassroots and purchase software for them.
You need to supervise their work.
FAQ
Check out the answers to these questions to get useful insight or simply satisfy your curiosity.
How long does it take to develop 1 hour of eLearning?
We estimate it to take an average of 200 work hours.
What does it take to create an online course?
Practically speaking, only proper instructional design software tools and your determination. No programming skills or tech proficiency is actually required.