June 3, 2022
How to Add a Voice-over to a Video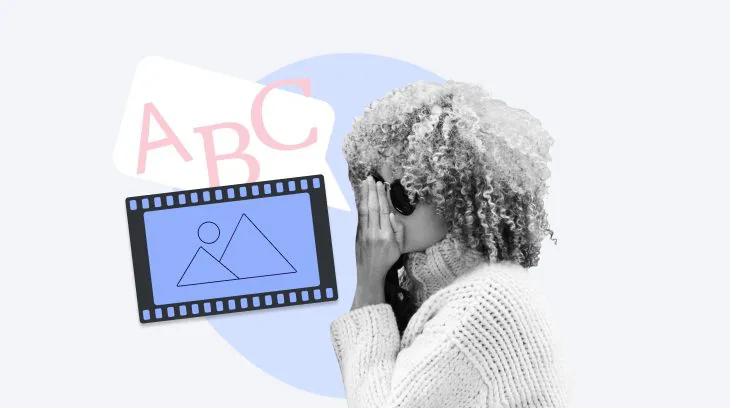 In the world where radio and podcasts are gaining popularity (again), you might need to take care of the sound quality of your instructional videos. Want to give them a cool voice? Learn how to create a decent voice-over for education and training!
Contents:
Why Use Voice-overs in eLearning?
3 Ways to Create Voice-overs with a Minimum of Effort
Tips on How to Prepare for a Voice-over Recording
What Is a Voice-over?
According to Wikipedia, a voice-over is a production technique and a usually pre-recorded sound of a voice that is added to a film or video, commonly used in documentaries or news reports to explain information.
But nowadays, with eLearning being so popular, voice-overs have become a crucial tool for instructors. It is important for them to know how to add audio narrations to online courses and presentations and record voice-overs for instructional videos.
Why Should You Use Voice-Overs in eLearning?
There are at least four reasons making a voice-over for your next course is definitely worth a try:
Enhanced comprehension
If you use images accompanied by a voice-over, the auditory and visual channels can reinforce each other and communicate the message more effectively. Texts and imagery alone may not be sufficient for an effective learning experience. By combining them with audio, you can bring more context, provide needed explanations, and add a human touch to your course or instructional video.
Let's perform a brief experiment. At iSpring, we record voice-overs for every type of video tutorial. Take a look at this video, for example, and try to turn the sound off. It really makes a video hard to follow, doesn't it?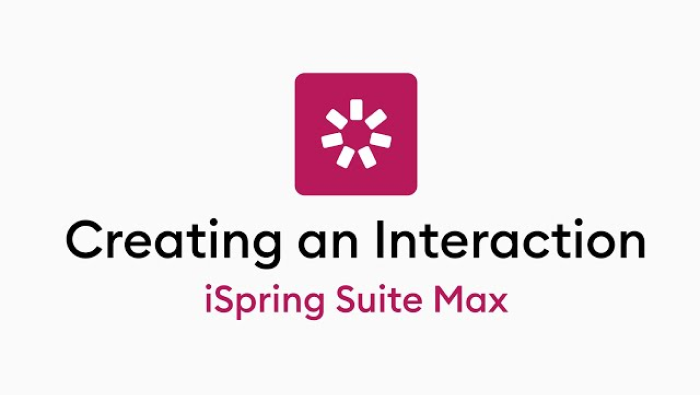 Assistance for auditory learners
Another point is how to address various learning styles well. It's hard to overestimate the importance of voice-overs for auditory learners. For this category in particular, your voice and intonation can really help the viewer comprehend new information.
"Voice-overs can be a great add, especially for auditory learners."
Below is a good example of an explainer video that appeals to different sensory styles. However, if you imagine it without this beautiful voice-over, subtitles alone won't be enough to get the message right, and the video might lose its charm.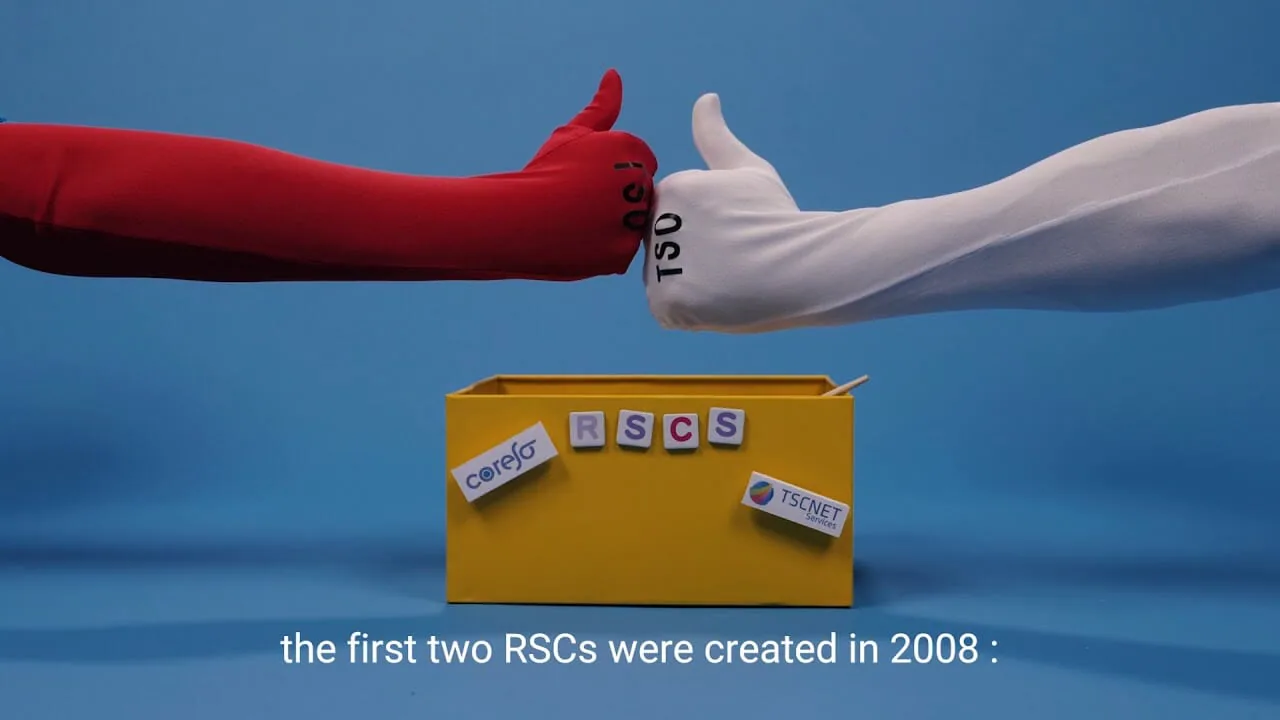 Accessible learning content
Voice-overs are critical if you want to make your eLearning content truly accessible for people with visual impairments. Plus, it's becoming increasingly common to use eLearning when providing support to people with intellectual and developmental disabilities. Here, a familiar voice that uses the right intonation and speaks at an accessible pace comforts learners and guides them through the new learning practice seamlessly.
Less effort from instructors
Voice-overs can also be extremely helpful from the instructor's perspective. Consider it as an option if you are used to delivering lectures to your learners but now need to turn your lecture material into an online course quickly. Instead of writing the text all over again, you can narrate the material like you always have and supplement your course with more visuals.
3 Ways to Create Voice-overs with a Minimum of Effort
Video and audio production may seem rather complicated, but in fact, there are easy-to-use voice-over software solutions that allow hassle free video creation and make it accessible for non-techies. One of them is iSpring Suite.
"iSpring is a pleasure to use! The ease of recording is unparalleled. Instead of editing, it's quicker to just re-record it properly!"
iSpring Suite is a user-friendly authoring tool with an intuitive interface for making online courses, quizzes, role-plays, and other eLearning content, including instructional videos (e.g., screencasts and explainer videos).
If you need practical guidance on how to create any needed type of instructional video or choose the right software for this, check out some of these articles, if you haven't already:
Now let's see how to record a voice-over easily with iSpring Suite. First, you'll need to download the free trial that will let you create unlimited online training content for 14 days. You'll find several ways to make voice-overs with the tool below. Choose the one that's more relevant to your situation:
How to record a voice-over from scratch
Install iSpring Suite on your computer and click on its icon on your desktop.
In the Quick Start

menu, select Screencasts and click on the

Create Project tab.
In the new window, click on the Video tab to upload a video to which you need to add a voice-over.
Select Record Mic to start recording your voice-over.
The Sound Recorder menu will open. Click Start Record whenever you're ready to talk or read a script. The recording will start from the point where you place the cursor on your video.
Click Pause to stop recording for a while or Done to finish recording.
You have recorded your voice-over! If you need to enhance the sound quality, click on the Remove Noise tab.You can change the playback speed of your voice-over. Left-click on the voice-over and select Change Speed.Speed the recording up or slow it down by dragging the left or right green slider in the corresponding direction.
How to add a ready-made voice-over to your video
If you have a pre-recorded audio file on your computer, you can add it to a video easily.
Follow the first three steps from the previous instructions and then proceed with the following actions:
Click on the Audio tab
Select the desired audio track. Well done! You've added a pre-recorded voice-over to your video.You can change the playback speed of your premade voice-over as well. Left-click on the voice-over and select Change Speed.Speed up or slow down the recording by dragging the left or the right green slider in the corresponding direction.


How to convert a text to a voice-over for a video

There are situations in which you need to make a voice-over but may feel unprepared. You either lack time, feel unsure about your oratorical skills or accent, or simply don't have a microphone at hand. In such cases, you can convert texts into narrations with a few clicks, thanks to the text-to-speech feature.

The iSpring text-to-speech feature utilizes the power of AI to make generated voice-overs sound more natural and imitate the way a professional narrator would read your text.
"If you need to review the eLearning content frequently, this is where AI voices come into their own – very easy to update."
This is how you can make such voice-overs in iSpring Suite with any video:
Click on the Audio tab and select Text to Speech (Beta)
Paste in the text that you want to convert into a voice-over.
Select the language and accent you prefer from the dropdown list.
Select a vocal profile from the dropdown list of narrators. Note: you can click on Preview voice to hear the vocal style.
Click Insert
You've generated a lifelike voice-over with the text-to-speech feature. Well done!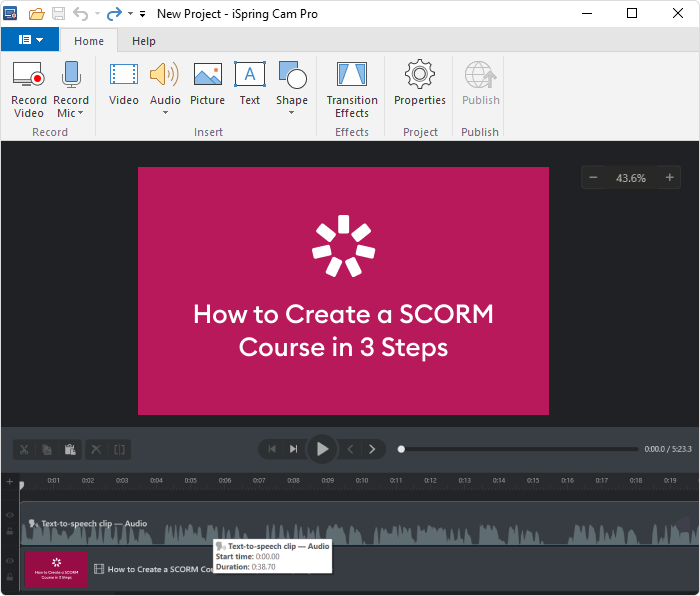 Note: You can move your text-to-speech clip on the timeline to match it with the appropriate time frame in your video. To do so, drag the slider to the left or the right to achieve the correct time mark.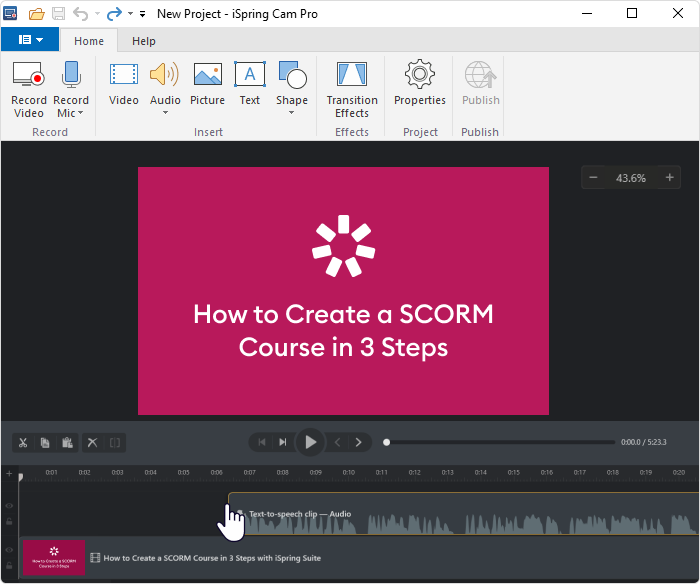 That's how easy it is to add narration to your video with iSpring Suite. Get a free 14-day trial and the way you make voice-overs will be hassle-free!
Tips on How to Prepare for a Voice-over Recording
Now that you have technical instructions on how to record your voice for eLearning courses and videos, here are a few tips that will help you improve the quality of the recording.
Find a quiet place to work
The last thing you want is to have echoes and mumbling voices on your recording. So, finding a small, quiet place to record is a must. There should be no open windows, ticking clock, or beeping devices. Also, sound absorbing materials and objects (special panels, velvet curtains, blanketed walls, and soft furniture) are highly advisable. One more note: ensure that nobody enters the room while you're recording – that's the reason behind using the ON AIR sign on radio and television studio doors.
Get your mind and body ready
Before recording, you need to make sure that your voice is in a good shape. A few days before the recording session, protect yourself from getting cold, refrain from smoking/drinking, and don't yell. During the day of the recording, try not to talk too much, stay hydrated, and be mindful of what you eat and drink: chocolate, carbonated beverages, and dairy products can dry out the vocal cords and cause hoarseness. Finally, do some warm-up exercises and tongue twisters to reduce strain on the vocal cords.
Have a back-up while recording
It will be better if you wear headphones while recording, so you can pay attention to the sound of your voice and monitor your pronunciation. Have a glass of water at hand and, if it's going to be a long run, hydrate your lips with lip balm during pauses between sessions. Quick breaks before sessions are very important: they allow you to take a moment to relax and restore breathing.
Make it easier to comprehend
And last but not least, speak clearly and concisely. There is a huge difference between written and spoken language, so try to avoid long complex structures and vague formulations. It's best to stick to the point and tell about one idea at a time, so learners can comprehend the information better.
Frequently Asked Questions
Here are the answers to a few frequently asked questions about making voice-overs.
Do I need a professional recording setup to do voice-overs?
It's a fact that most trainers and instructors make their voice-overs at home or right in the workplace. So, the answer is no; you don't need expensive professional recording equipment. An authoring tool with proper video and audio capabilities will be sufficient. But it's best to choose the right room where you will set up your 'studio' and prepare it for the recording session.
Will my laptop microphone be OK for recording voice-overs?
Yes, it will, provided that you prepare for the pre-production and don't expect an extraordinary outcome. To ensure decent recording quality, avoid echoing, ambient noises, and large spaces. But for enhanced sound quality, you'll definitely need a more sophisticated mic. Check out this guide on microphones.
What audio editing options are available in iSpring Suite?
With iSpring software, you can trim clips, remove noise, apply fade effects, silence parts, and merge clips together without any other third-party software.
To Wrap up
Now you can see that you can narrate a video without professional audio recorders or sound mixing. iSpring Suite makes it possible to create high-quality voice-overs with ease. Get a 14-day free trial and harness the full power of voice-overs for training and educational purposes!