March 19, 2023
What Is Instructional Design?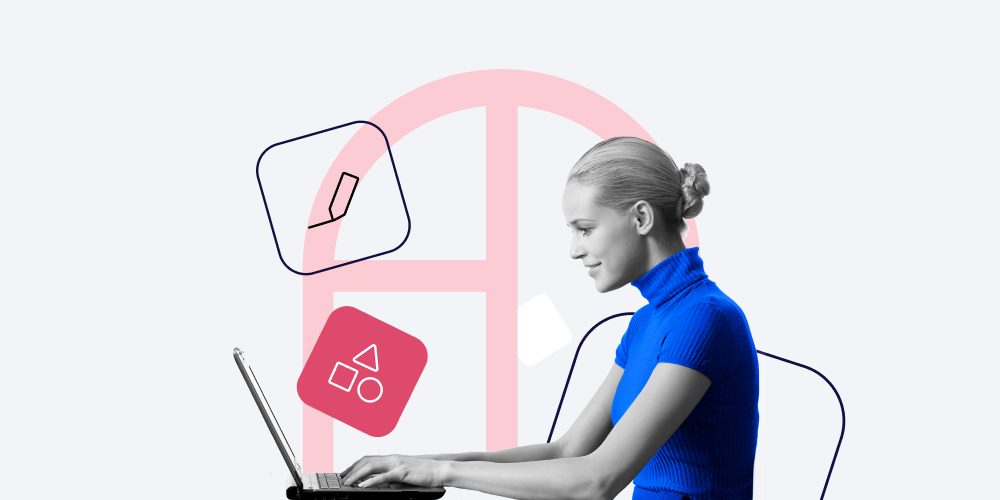 When creating a training program, you can either cross your fingers and hope that your learners will absorb the new information and be able to apply it in practice or you can put your instructional design hat on and make learning really work!
Whether you're exploring career paths, developing a training program, or simply interested in the concept of instructional design, read on. In this article, we'll explain in simple terms exactly what instructional design entails. 
What Is Instructional Design?
Instructional design is the process of "architecting" learning experiences and is not to be confused with teaching. Although there is considerable overlap, instructional design occurs several steps before any actual teaching takes place. 
The aim of instructional design is to determine the most palatable and digestible way to serve educational content. It is the science of creating effective and engaging learning experiences – the science of how people learn. 
Consequently, the ability to assess the target audience's attitudes, knowledge gaps, and learning objectives is core to this field. In order to achieve these goals, instructional designers encompass a vast repertoire of roles and responsibilities including, but far from being limited to:
Working alongside subject matter experts (SMEs) to assess and define the target audience's training needs.
Defining clear and actionable learning objectives and producing compelling content that aligns with them.
Conceptualizing instructional graphics, multimedia, the user interface, and the final product.
Analyzing and applying principles, trends, and best practices associated with instructional design and learning technologies.
Developing exercises, assignments, and assessments to maximize students' learning potential.
Developing supporting materials and resources that incorporate multimedia in various formats (e.g., audio, video, screencasts, gamification, scenarios, role-playing).
Devising different assessment methods, including quizzes, tests, and polls, to evaluate the effectiveness of the course.
Instructional Design and the Psychology of Learning Behavior 
The world of instructional design is closely tied to the psychology of learning behavior. ID provides conceptual frameworks to determine not only what to teach, but how to teach it to a specific audience. Human beings are incredibly complex and diverse. So, when it comes to learning, there is no one-size-fits-all solution. This creates a most fascinating challenge for instructional design. How can you create a course, curriculum, or training program that effectively caters to the unique learning styles within a particular audience? 
To do this, ID leverages the psychology behind how people retain and absorb information. Those who are well-established in the field are experts at determining what knowledge and skills your audience needs, what knowledge and skills they currently have, and finding the most persuasive method to close these knowledge gaps. Once you've mastered that arena, then you can apply and tailor these psychological principles to different audiences.
For example, instructional designers often ask themselves questions like:
Is this block of text better conveyed as an interactive graphic? 
Is my audience likely to take this course on the go while on their mobile devices?
How can I divide this raw material into microlearning modules for quicker, easier digestion?
To answer these questions, we'll look at what the instructional design model is over the next couple of sections and provide some examples.
The ADDIE Model: A Framework for the ID Process 
You can think of instructional design models and theories as applied psychology – that is, they make the abstract and theoretical principles of behavioral psychology concrete by putting them into practice. Many instructional design models, theories, and strategies exist, but essentially all of them employ the ADDIE model, an acronym that stands for Analysis, Design, Development, Implementation, and Evaluation. The ADDIE model is a core ID methodology that walks you from the very beginning to the very end of the instructional design process. 
The chart below details what each element of the ADDIE model entails. 
ADDIE Model

| | |
| --- | --- |
| Analysis | During the analysis stage, you'll be working with SMEs to determine what the objective or purpose of your course/program is and gather information about your target audience's learning environment and demographics, such as their age, gender, primary language, formal education, profession, and culture. |
| Design | The next step involves designing the general structure of your course. You'll need to write specific, actionable learning objectives while developing a general outline and instructional methods for your course. This stage might include storyboarding. |
| Development | Once you've designed or planned your course, then it is simply a matter of producing or developing the materials. You begin writing content, sourcing graphics and multimedia, creating videos, and building assessments with the help of an industry-standard eLearning authoring tool like iSpring Suite.  |
| Implementation | Then you simply deliver or implement the course right to the learning management system (LMS) or to the instructor. You might even need to train the instructors how best to work with the materials. |
| Evaluation | But you're not finished there: after the course is completed by learners, you need to evaluate its efficacy. Here, you need to find out if the training goals have been met and to define what should be improved in a program.  |
Other Need-to-Know Learning Theories in Learning Design
As with psychology, there are many schools of thought within the ID world, and you'll have to study and experiment with different methodologies to see what works best in your situation. In this section, we'll introduce you to three of the most prevalent instructional design models: 
Adult Learning Theory
Bloom's Taxonomy
Gagné's Nine Events of Instruction
Adult Learning Theory proposes that personal characteristics, context, and practical application lie at the core of adult learning abilities. Unlike younger audiences, adult learners not only have a breadth of experience from which they can draw upon while training, but their intellectual capabilities are greater. That being said, as adult learners age, their sensory-motor abilities diminish. Adult Learning Theory takes all of these factors into account when creating effective instructional learning designs or online courses. It mainly emphasizes leveraging the power of learners' past experiences to breed a sense of personal control and applicability.
6 Adult Learning Theories and How to Put Them into Practice →
Bloom's Taxonomy constitutes a framework for the development of learning objectives. As mentioned, you'll need to create learning goals that are actionable. For example, a well-defined learning objective is "Learners will be able to make cold calls the correct way," and not "Learners will know cold calling tips and techniques." However, in order to design a course based on specific learning objectives, you'll need to understand the different levels of cognitive learning. Starting from the most basic of processes, Bloom's Taxonomy states that you need to remember, understand, apply, analyze, evaluate, and create in order for learning objectives to be effectively instilled.
Gagné's Nine Events of Instruction focuses on the information processing that occurs when adults are presented with instructional stimuli. It fixates on learning objectives and how to effectively develop a training program in a way that efficiently confirms those objectives. The nine events are:
Gain attention
Provide learning objectives
Stimulate recall of prior knowledge
Present the material
Provide guidance for learning
Elicit performance
Provide feedback
Assess performance
Enhance retention and transfer
Instructional Design Principles: Keys to Authoring eLearning Content →
Challenges that Instructional Designers Face
While instructional design is a well-established field, the learning and development realm is constantly and rapidly evolving. In this section, we'll describe some of these challenges and propose methods for addressing them.
1. Wearing too many hats
The role of the instructional designer can be hard to define as it often pulls them in many directions. Think back to the ADDIE model. The analysis phase requires extensive research in order to identify your learners' knowledge gaps. Then, during the design phase, you'll have to be well-versed in learning theories to determine the overall structure and method of delivering your course. The development stage involves a lot of research, writing, proficiency with eLearning authoring tools, and project management skills to ensure timely completion of your projects. Moreover, while developing the course, you might need to have graphic design, video production, and sometimes even coding skills. 
Overcoming this challenge
Very rarely will one instructional designer have all of these abilities developed at the same high level. The best way to work around these issues is to know your strengths and weaknesses. That way, you can source external help for anything beyond your scope of expertise. For example, Jane Bozarth, director of research for The eLearning Guild, believes that now is the time for an instructional designer to think about choosing an area of specialization.
The line between, say, designer and developer, and maybe even a multimedia producer, has always been kind of blurry, but now there are really specific, real detailed things they might need to learn more about. It's not just a hat, it's really deciding, are you a video person, are you an audio person, are you a multimedia person? I think you may need to start looking at where you might wanna think about specializing.

However, in some cases, choosing the right eLearning authoring tool can facilitate an ID's work so they don't need to look for another expert's help. For example, iSpring Suite can help overcome the technological hurdles by doing much of the heavy lifting when creating eLearning courses, training videos, interactions, or dialog simulations. 
2. Rapidly evolving changes in the industry
As mentioned, eLearning, and therefore instructional design, is one of the fastest growing industries in the world. New educational technologies are flooding the market at unparalleled speeds. So, to stay on top of ever-emerging technologies, instructional designers have to learn continuously. It has never been more challenging to stay ahead of the curve.
Overcoming this challenge
According to Joe Ganci, president of eLearningJoe, a consulting and training eLearning company, to keep pace with the "next big thing", IDs have to regularly research new trends and products within the industry and go about familiarizing themselves with them.
Instructional designers, like doctors and lawyers, always have to do researching and understanding and being able to practice all new things. They also need to see what's happening in other fields, because very often what we do in the learning field eventually is adopted from other fields. Virtual reality and augmented reality, all these things are happening in many, many fields, right?

3. Creating learner-centered experiences
Instructional design principles dictate that to maximize a student's learning potential, instruction should be learner-centered. That is, the method of instructional delivery should focus on the learner's style of learning, prior knowledge, and personal experiences. Thus, the challenge is that there is no all-encompassing solution for providing instruction. So, how does one effectively create courses that cater to the inherent differences and experiences of all learners?
Overcoming this challenge
The answer involves gaining an intimate familiarity with your audience, particularly during the "A" phase of the ADDIE model, where you define your audience during the training needs assessment (TNA). JD Dillon, Chief Learning Architect at Axonify, confirms this theory:
Instructional Designers have to gain a better understanding of the people they support and the context in which they work every day in order to provide right-fit solutions.

For example, assessing your audience's age, level of technological literacy, and whether or not they're apt to take these courses on the go (i.e., mobile learning) is paramount for creating learner-centered experiences. 
The Future of Instructional Design
The evolution of instructional design has come a long way, borrowing from separate but related fields like neuroscience, cybernetics, learning science, and experience design. At first, the main goal of instructional design was to create effective learning experiences. But now that we've mastered that science, the focus has shifted to creating engaging learning experiences. 
Here are some directions instructional design will be taking in the future:    
Division of labor
As mentioned, instructional designers often wear many hats. However, this lowers the quality of each and every "hat." Because we all have our inherent strengths and weaknesses, it is hard to master everything across the board. 
According to Steve Foreman, head of management consulting firm InfoMedia Designs, to maximize the level of engagement and quality of your learning experiences, the field of instructional design must be divided into instructional (research, course planning, and learning theory) and technological (coding, eLearning authoring tools, and video production) skills.  
People with the technology role and people with the instruction role need to work together, rather than one person having all those skills. So I think that's a big change.

Creating immersive experiences
This involves amplifying the "experience" aspect of learning experiences. Let's say an e-commerce company wants to train its customer service employees on how to deal with irate/late-delivery customers. Instead of having trainees memorize a script, they create role-play scenarios/dialog simulations in which a person needs to respond to the best of their abilities. 
David Patterson, eLearning consultant and expert in training technologies and best practices, makes a prediction regarding training videos being more immersive:
Interactive video will become more and more popular with learners moving video on from short passive bursts of presentation led learning to much more immersive learning experiences, often with the help of 360 camera-based VR.

Barbara Davis Robinson, Director of Organizational Development and Learning at WellDyneRx, also foresees the development of game-based learning:
Gaming is the biggest entertainment industry in the world, and training will continue to expand usage of the same technologies to create deeper immersion for learners. Some universities and schools have already incorporated 3D and 4D into their learning methods.

A new vision of microlearning
Microlearning is a course delivery method that enables learners to digest information in bite-sized chunks. In other words, it involves a course structure where you hone in on a specific skill with a very focused yet short lesson with a duration of about 3 to 6 minutes. These short bursts of information keep the learner engaged because the lessons are very narrow in scope, high in applicability, and thus easily sustain attention.
Karl Kapp, professor of instructional technology at Bloomsburg University in Bloomsburg, PA, proposes that the microlearning craze is going to become more "intelligent."
People are going to start to identify different types of microlearning and apply them to different needs within the organization. In our book 'Microlearning: Short and Sweet,' Robyn (refers to Robyn A. Defelice) and I identified six different types of microlearning and I've noticed people are starting to incorporate those terms in their learning business cases.
You can refer to these microlearning types as the "6 Ps":  
Pensive microlearning aims to inspire reflection and critical thinking through pointed questions. 
Performance-based microlearning provides a just-in-time or immediate solution that can be applied in a hands-on manner to a relevant context. In other words, it provides prompts that allow the learner to reflect on relevant experience. 
Persuasive microlearning aims to alter behavior, and therefore, is highly goal-oriented.
Post-instruction microlearning is augmentative and reinforcing by nature. It aims to supplement a larger training program by providing a "refresher" of sorts on a very specific concept (bite-sized chunks). 
Practice is a microlearning technique that involves honing skills via reminders for practice, feedback, and a mode of monitoring progress.
Preparatory microlearning entails bite-sized lessons to prepare for a larger learning event. This might include refresher, brand new, or general content. 
To Sum Up
The world of instructional design entails creating effective and engaging learning experiences. It is a scientific method of approaching face-to-face learning or online course creation. Moreover, it is engendered from many highly regarded theories and frameworks, such as the ADDIE model, Bloom's Taxonomy, or Gagné's Nine Events of Instruction. 
While instructional design is an established field, it is in a constant state of development and faces many challenges including, but not limited to, the designer wearing too many hats, creating learner-centered experiences, and keeping pace with ever-evolving technologies. Nonetheless, the field is constantly improving itself. Rather than merely focusing on how to create effective eLearning courses, many adjustments and innovations are being made to help learning become a more engaging and effective process.