July 9, 2022
How to Write a Course Description that Converts: 13 Tips and Best Practices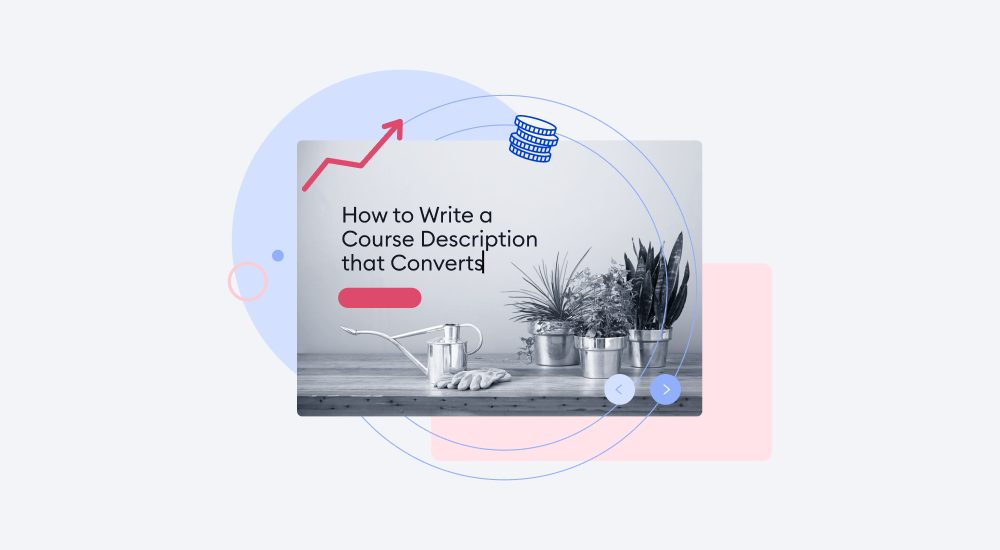 Whether you're creating an online courses for a corporate library or to sell online, it's critical to provide an accurate course outline and description. It's all too easy to fall into the trap of writing dry course descriptions that 'tick all the boxes.' But if you want to captivate, create excitement and curiosity, and ultimately make students want to take or purchase your courses, you'll need to write a course description that leaves your prospects eager to sign up.
Read on or watch the video below to discover how that's done.
What Is a Course Description? 
A course description can be defined succinctly as 'all the relevant details of your course.'
This is a simplistic description and rather open-ended, but there is a reason for that. There are many types of online courses that target a variety of levels of competence and types of customers/employees. 
For example, a general interest course on 'how to knit a jumper' will probably not have the same course description format, tone, and writing style as an online degree program from a recognized institution of higher education, but they will have similar types of information. 
So, it will be helpful to break down the course description into specific areas of content – some of these would be considered 'mandatory,' while others can be included or left out as needed. 
For example, if you're going to place your course on a course selling platform like iSpring Market to sell it online, you will be asked to add a course topic, course format, an author's bio, and some other information to 'build out' your course description. As a result, your marketplace with a course might look something like this:
We'll dig further into how to format your course description and what to include later in the article.
Why Do You Need to Write a Good Course Description? 
A great course description can be the decisive factor of whether a student signs up, or clicks away from your online course and never returns. A well-written description is one of the most important aspects of any e-commerce offering. 
Research has shown that people will simply not buy products online unless they know exactly what they are getting. One e-commerce study found that 20% of purchase failures are potentially a result of missing or unclear product information.
Imagine shopping online for an item of clothing and being unable to find the exact sizing measurements and the material it is made of – would you buy that item? It's exactly the same for online courses, but sadly this is often overlooked and we are left with lackluster and unclear course descriptions that leave so many of the learners' questions unanswered.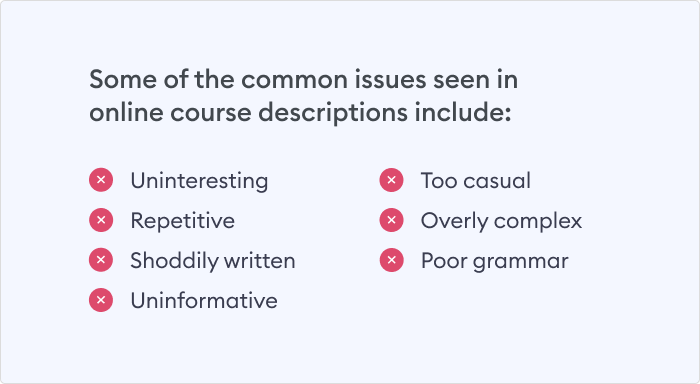 Here are some examples of poor course description sentences.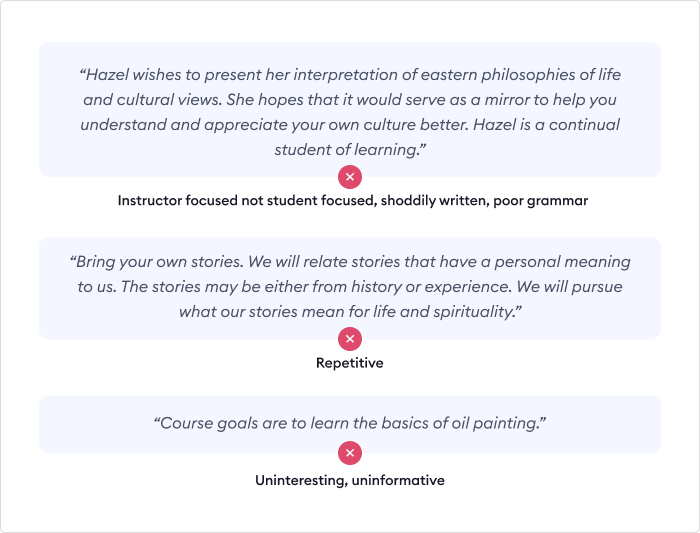 If your course offering will be publicized through an online course management platform with a catalog or brochure, a course description will be required and it should be well written.
Tips on Writing a Compelling Course Description
Let's look at some tips that will help you write a good course description.
Your course description should be:
Enticing and interesting
Factually complete and accurate
Provides solid course information
The key questions that we are looking to answer in our course description are:
WHY?  The purpose or rationale for the course/subject area covered. Why would a student take it?
WHAT?  The key content/principles/topics to be learned.
HOW?  The types of major learning activities and student experiences featured in the course.
These 3 key question areas are optimally broken down into the following sections, but feel free to rename, combine, and add to this list to arrive at something that's perfect for your audience.
Best Practices for Writing a Catchy Course Description
Now let's take a deep dive into how to write a course description that really works: 
1. Add a course tagline
Every online course should have a great one to two-sentence tagline. If you can't describe your course in two sentences, it might be time to rethink your content and what your course focuses on.
Without getting into the weeds of digital marketing, just remember that first impressions count – the majority of your prospects will never get past the homepage or course landing page – so make sure you give yourself the best chance of a conversion by capturing their interest and laying out your offering clearly.
Use active tense.
Keep it simple and pointed.
Showcase the benefits.
Address needs and offer solutions.
Use a quote.
Don't describe what your goals and ambitions as a teacher are – at this point no one cares.
2. Define a course goal
This should be a high-level summary of the goals of your course and should also state what is to be gained from taking the course. You can include this part in the course tagline, as in the example above. 
Encompass what they will achieve by completing the course.
State clearly defined, reachable goals.
Address the problem the course will help them overcome.
Don't use vague language that leaves room for doubt.
3. Set learning objectives
The learning objectives should describe in detail the knowledge, skills, behaviors, and competencies that the learner is expected to possess upon completion of the course. They are typically presented from the learner's perspective, so they show both what the learner is required to learn and the level at which that learning should occur. Clearly written learning objectives ensure that students know what to expect and feel more prepared for the workload.
Use a similar format for every learning objective.
Clearly state what they will be able to do after completing each objective.
Don't misrepresent what can be achieved.
Don't use vague language.
Don't use poorly defined goals that cannot be quantified objectively.
4. Specify a course format
In this section, you should describe how your course is delivered. Try to focus here on anything that makes your course different – are you embedding videos? If so, what kind? Do they feature an instructor or expert, or are they slide-style presentations? Are they interactive? Professionally produced?
If your course is eLearning based, what makes it stand out? Perhaps you feature meaningful dialogue simulations or branching scenarios that help the student learn a specific skill, or have professionally recorded voice overs from an industry expert.
If you are still in the early stages of designing your course, then be sure to include engaging, interactive content such as dialogue simulations, matching activities, interactive hotspot images, and quizzes. 
To create great looking courses simply and easily, you can look at an eLearning authoring tool such as iSpring Suite. For some inspiration, take a look at this course created with iSpring.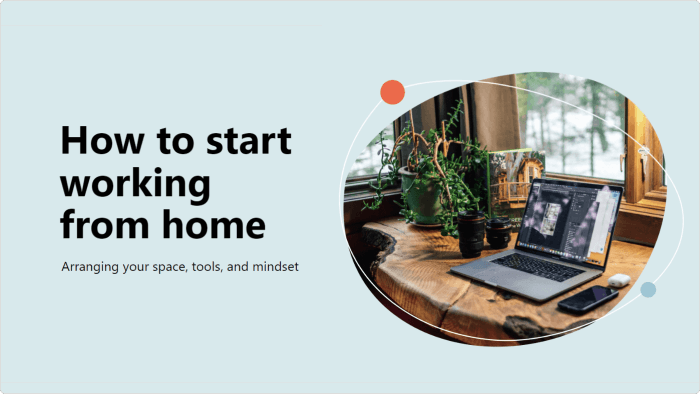 iSpring Suite allows you to build online courses based on PowerPoint slides with engaging quizzes, instructional videos and screencasts, role-plays, and interactive activities.
Provide a detailed overview of content types included in the course.
Identify points of difference and unique selling points of your delivery format.
Outline on what devices they can access the course – this is important.
Don't say too little – simply stating 'eLearning course' doesn't provide enough information for the student to make an informed decision.
5. State a course credit and level
In this section, you should clearly state both the level of the course – for example, beginner, intermediate, or advanced – and any academic credit or industry certifications that can be obtained by completing the course.
Adhere to the format of your organization if applicable – for example, you may have a coding system for certifications.
Don't make claims that are untrue, overstated, or cannot be verified.
6. State the workload
This part should include the seat time of the online course, any virtual contact hours, and any independent work required.
Clearly detail the time required and optionally allocate the time needed for each module of the course.
Don't underestimate how long your course takes to complete – this mistake is easy to make because when you run through it, you are familiar with all the content and assessment questions.
7. Mark curriculum/contents
The choice of content is based on the intended learning objectives and should map back to those objectives. The amount of detail you provide in the contents should be tailored to the type of course you are writing the description for. For example, you might list the bullet points covered in each module or lesson, or give a more in-depth breakdown.
Course contents can be further chunked down and tagged if desired:
Essential knowledge: essential theories, concepts, models, and principles
Medial knowledge: complements and expands the essential knowledge 
Optional knowledge: additional and special knowledge
Break down the content and present it by module/lesson/topic.
Make it interactive – an accordion or tabbed section, for example.
Don't replicate the learning objectives or course outline one for one – you want to provide the next level of detail here.
8. Specify assessment methods and criteria
The online study methods used should help the student achieve the learning objectives. The purpose of assessments is to measure how well students have achieved the learning outcomes.
Outline any evaluation methods used in your online course, and the weighting that each method counts for in the final assessment. The key takeaway here is to set the expectation of what is required of the student in order to pass your course, so they are prepared and know what to expect.
Inform the learner if there is a passing grade. If so, what is it? How many tries do they get with the quizzes, or are there unlimited retakes? Do you employ a feedback mechanism for questions that are incorrectly answered?
Don't use intimidating language like 'You must then pass a 20-question assessment in order to complete the course.' Instead, consider something like 'At the end of each module, there is a short interactive quiz. If you get any questions wrong, you can go back to revise the content. You have an unlimited number of tries.'
9. List additional materials
Here, you can optionally list the research, literature, other reference materials used in the course, and any additional related information. Alternatively, you may choose to simply embed additional study materials within the course. Supplementary study materials can also be outlined in the course description, as needed.
Include how additional materials are easily available, for example, as PDF downloads in a 'course materials' tab.
Don't make heavy demands on students to acquire outside materials at their own expense – it's your job to include everything relevant needed to pass the quiz.
10. Provide course enrollment instructions
Clearly outline how students can register for your course. This will probably be via a one-time payment, or some type of subscription package. Either way, make sure you include exactly what it costs, what the student will get in return, and the different methods available to pay for it. This will likely be determined by your course hosting platform, if you are using one.
Include buttons, links, and calls to action.
Outline the step-by-step process from sign up to starting the course.
Don't force students to enter more details than necessary to register – a name and email should be sufficient, unless you are offering academic course credits.
11. Add instructor bio
The instructor's bio should be around 15 to 50 words in a separate section underneath the main course description fields, or in a sidebar – many hosted course platforms have a dedicated spot for you to include this information.
The biography has two seemingly contradictory goals:
To establish your qualifications.
To project your image as an equal, not too far above the potential learners. Learners want to know you are qualified, but they also want someone they can relate to.
State your qualifications in terms of experience. 
Use credentials or degrees only if you have to. 
Include your interest or motivation in teaching the course (by this point you have some buy-in from your prospect so they will care).
Don't waffle endlessly about your qualifications.
12. Add further information (Optional)
Here you can include other information relating to the course that doesn't fit into any of the main categories. For example, if you are selling online certification courses for a particular sector, you could include the governing body standards that your course adheres to. 
Be relevant – if you don't have anything to say here, just skip the section.
Don't revisit information you have already provided in a more relevant section.
13. Include related courses 
If you have more than one online course in a subject area, you may wish to include relevant, related courses that complement the current course.
List relevant courses that complement the current course or make up a larger learning pathway.
Don't list every unrelated course that you sell – this is shooting yourself in the foot.
Consider Keywords
After you have drafted your course description, it's worth taking the time to do some keyword research. Ultimately, your course description is a text that's intended to sell your product. And to make sure it has the best chance of doing just that, you need to consider which keywords are popular in searches for courses in your subject area.
There are a number of ways to do this, and it is beyond the scope of this article to go into SEO and in-depth keyword analysis, but here's a simple way to get started.
Use the Google Keyword Planner (you'll need a free Google Ads account to do this), and Google Trends to identify what your prospective audience is searching for and the monthly search volume of each of the terms you identify. 
Google keywords will also suggest related keywords that people are searching for – the term "online basket weaving course," for example. And these won't necessarily be direct search terms, they may be searches related to a pain point that your course solves. To follow on from that example, would people searching for "how to fix a wicker basket" be ideal learners for your course? If so, then adding that keyword somewhere in your course description could gain you some customers.
Once you have your list of keywords, pick the ones that you want to target and take another read through your course description. Can it be optimized to include some of those keywords so it will appear more often in searches, either directly in search engines or in the search results of your course hosting platform?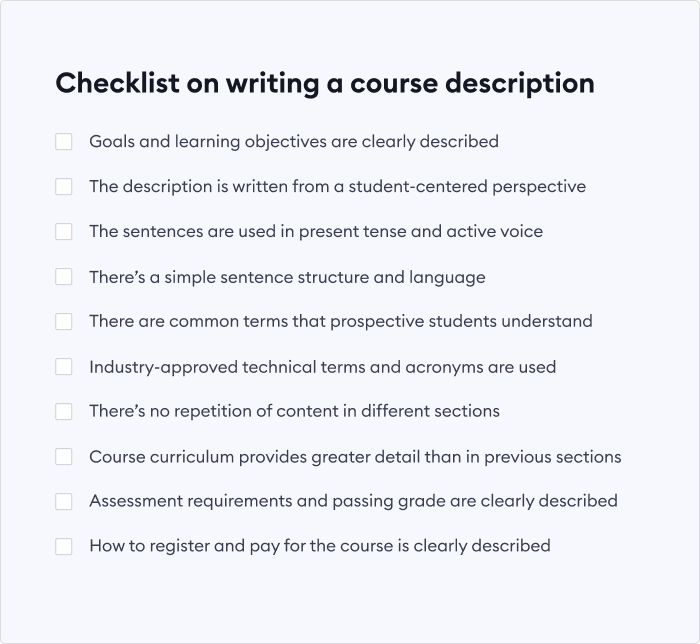 To Sum Up
This article should have prepared you for writing your own course description that sells. Once you find a format that you like, you will find it much easier to write new course descriptions based on your own template.
Have we missed anything or have you recently written your own online course description? If so, we would love to hear about it in the comment section below.
iSpring Market
Build, market, and sell your courses online, without any coding or design skills.