December 14, 2022
Skills Gap Analysis: The Secret to Future-proofing Your Business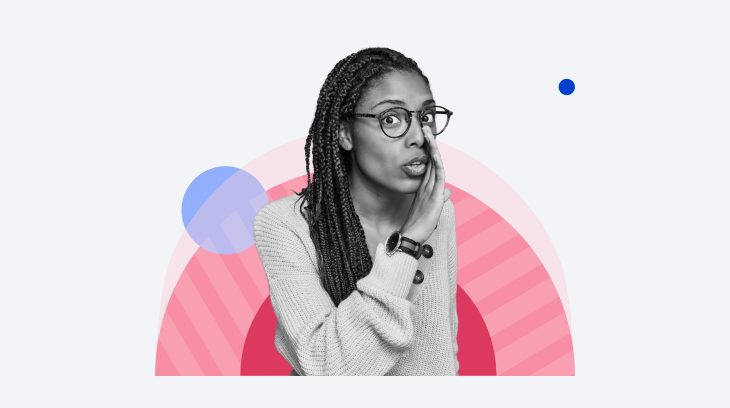 Skill shortages were on the rise even before the pandemic. In fact, a 2020 McKinsey report revealed that 87% of executives were experiencing skill gaps in the workforce or expected them within the following few years. The global pandemic has only exacerbated the issue. According to the Future of Jobs Report 2020, it was estimated that 40% of workers would need to reskill to close talent gaps. This is where a skills gap analysis comes in.
Before you make decisions on training, recruitment, and workforce planning, it's important to take stock of the competencies your workforce currently has and what skills your organization needs to build in order to weather future storms.
This guide breaks down everything you need to know on how to conduct a skills gap analysis.
What Is a Skills Gap Analysis?
The skills gap analysis is a tool for assessing the gap between current employee skills and those they need to perform their job effectively. It's a tool used by HR, L&D, and leadership teams to measure the skills employees have to develop to meet future organizational goals against their current skill set.
Once their skills gaps have been identified, they can begin to fill them through hiring, upskilling, reskilling, and other training initiatives. In a nutshell, the skills gaps analysis is a tool that can be used to equip your business with the competencies needed to thrive.
A skill gap analysis can be performed at several levels:
Individual
Team or project
Departmental
Organizational
Industry
How to Conduct a Skills Gap Analysis
There are two common roadblocks organizations face when conducting a skills gap analysis:
Employees don't understand the process
It's difficult to analyze the results
Fortunately, with plenty of preparation and the right tools, it's easy to avoid these issues. Follow our step-by-step guide to set your skill gap analysis up for success.
Step 1. Devise a skills gap analysis plan
Planning and preparation are key. Therefore, the first step is to come up with a detailed plan. This plan should address the following questions:
Which stakeholders will be involved in the training gap analysis? For example, business managers, HR teams, and leaders.
What is the project timeline for the skills gap analysis?
How will you collect data? Do you need competency-tracking software or will you do this manually?
How will you communicate the process to employees?
At what level will the skills gap analysis be conducted? Individual, team, department, company?
What area of the business is most urgent? Is there a high turnover in certain roles? Are certain KPIs not being met?
Step 2. Determine the best way to assess employees
Now that you've answered all the basic questions about a skills gap analysis, it's time to decide how to assess those competencies.
You can use the following methods:
Self-assessments. An employee evaluates their own level of competency.
Manager assessments. The manager evaluates the employee's competency.
360-degree assessments. The employee is evaluated by managers, peers, and subordinates.
360-degree evaluations are a particularly effective way to assess competencies, offering a comprehensive overview of skills at every level of the business, so we'll focus on that in our guide.
Step 3. Identify the skills needed to meet future organizational goals
You'd probably check the weather forecast before you set off on a camping trip, right? Well, you may want to do the same at this stage of a skills gap analysis.
To identify what competencies the organization will need going forward, you should consider the business goals for the next three to five years. What skills will the company need to achieve those goals? This includes studying the market to forecast potential trends, disruptions, or pivots. Is there any new technology being developed in your industry? How will that impact certain job roles? Take into consideration that these factors will help you assess whether your employees have the skill sets to adapt to these changes.
Finally, consider trends in your workplace. What technology is used more commonly in your organization? Are specific competencies becoming more essential in the business?
Once you have determined the desired skills, assign the required skill level for each competency – low, basic, proficient, or expert, for example like here:
Step 4. Assess current competency levels
Now it's time to take stock of current competency levels in the business. As mentioned, the most effective way to do this is by performing 360-degree evaluations. This can be done either manually or digitally.
Performing 360-degree employee appraisals manually can be labor intensive, although you can streamline the process using a skills gap analysis template like the one below.
The easiest way to carry out 360-degree employee appraisals is by using specific software. There are some standalone tools for employee performance assessment, as well as solutions that come as a part of a talent management system (TMS) or learning management system (LMS).
An LMS is a learning platform often used in corporate training. You can leverage it to build, deliver, and track online training activities in your organization.
Do you remember the two roadblocks we mentioned at the start of this section? An LMS can resolve both issues. It allows you to communicate with employees directly through the platform, sending reminders and leaving instructions on how to complete the assessments, thus involving them in the process. Plus, you can pull comprehensive reports on employees at an individual, team, or company level to track and easily organize results.
A good example of an LMS that comes with a tool for performing a skills gap analysis is iSpring Learn. Using this single platform, you can identify skills gaps and conduct training to fill them. This makes iSpring Learn a great (and cost-effective) multi-purpose tool.
Automate corporate training and improve employee performance.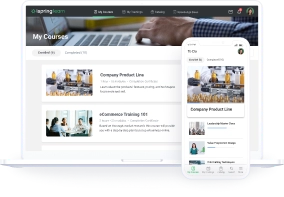 iSpring's 360-Degree Performance Appraisal module enables you to create a questionnaire and send it to the people who work with your employee – from subordinates to management. The LMS will analyze the results and generate a report highlighting the employee's strengths and weaknesses. You can use this data to assess their competencies and determine whether they fit their job role well.
The platform will present this data in several ways. – by creating a competency summary that shows employees' strengths and areas of improvement, for instance.
You can also run a comparative analysis to compare the survey results with your desired competencies. This quickly spotlights employees who match your criteria for internal promotions and those that need more training.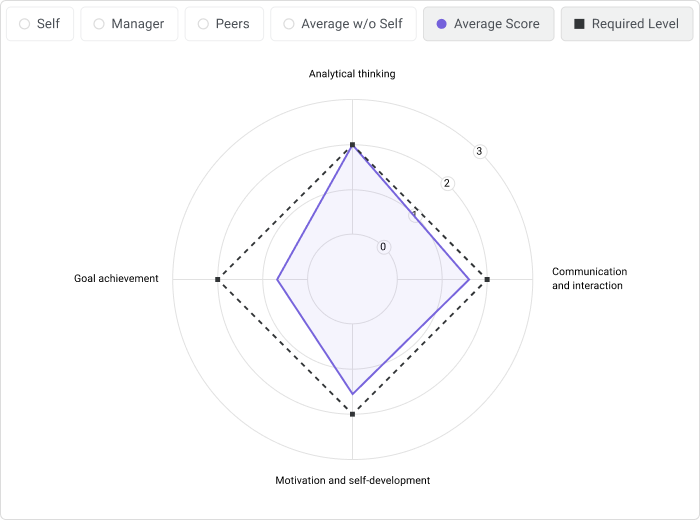 The competency radar report breaks results down by employee profile, showing evaluations from peers, subordinates, managers, and customers.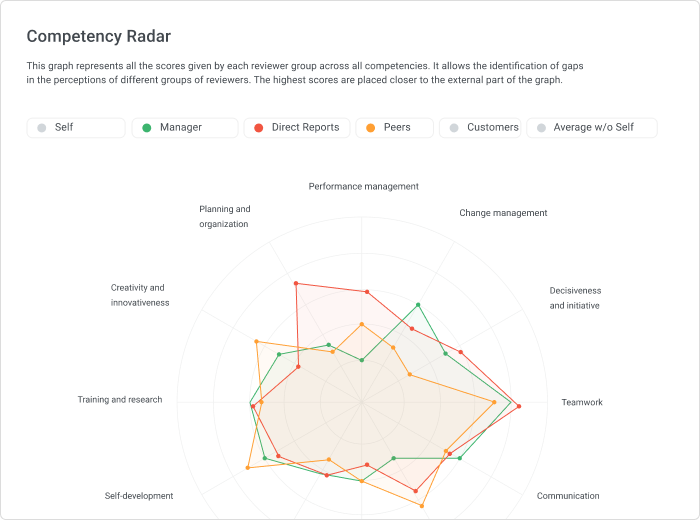 Using these reports, you can easily visualize where your skills gaps lie.
Step 5. Close skills gaps
Once you have identified your organization's skills gaps, it's time to fill them. While it may be tempting to try to close all skills gaps at the same time, that's not possible. Just like packing for a camping trip, it's important to consider the storms you foresee in your company's future. This will allow you to prioritize and choose the best method for closing the gaps.
There are several ways to fill skills shortages:
Hiring
Training
Outsourcing
How you choose to close a gap depends on how urgently you need that competency, your training budget, and the time needed to upskill existing employees.
Training is often the best way to address competency shortages. It's a cost-effective way to build employees' skills while keeping them engaged and motivated. Check out this Employee Training Starter Pack to learn how to launch corporate training.
6. Measure results
There's more to filling skills gaps than running a training gap analysis. It's important to measure how successful your training efforts have been in closing the gaps in competencies. There are several ways to analyze the effectiveness of your training:
Gather employee feedback on how beneficial training has been.
Collect feedback from management on how training has impacted job performance.
Conduct regular reassessments to continue to track skills in the business.
Use LMS reports to compare results with previous 360-degree evaluations to gauge progress and where more training is needed.
Skills Gap Analysis Template and Checklist (XLS)
If you're planning to run a manual training gap analysis, why not download our free skills gap analysis template and checklist? It's fully customizable, so you can get the most comprehensive review of employees' performances.
FAQ
Here are the most frequently asked questions on how to conduct a skills gap analysis.
Why is a skills gap analysis useful?
A skills gap analysis offers valuable insights into the current state of skills in your workforce. This data will drive decision-making in your organization and facilitate building high-performing teams. For example:
Planning a long-term recruitment strategy
Working out learning and development initiatives that improve the person-job fit
Aligning training programs with business goals
Workforce planning
The result is a more productive workforce that's equipped to meet the organization's future business objectives. This, in turn, will boost employee engagement.
When should an organization deploy a skills gap analysis?
A skills gap analysis is typically carried out annually. That said, it's always wise to carry out a training gap analysis if:
There is going to be a change to your business strategy, model, or organizational structure
You've noticed a decline in business performance
There's likely to be a change in the market that may impact your business
You are implementing a new workflow, process, or technology
In Closing…
Conducting a skills gap analysis on a regular basis will ensure that your business has the competencies needed to reach future goals. While it's certainly possible to conduct the analysis manually (we even provide a ready-made customizable template), it's much easier to automate the process.
iSpring Learn comes with a 360-degree performance appraisal tool to take the headache out of training gap analysis. Request your free 14-day trial today and start preparing your business for the future.