The iSpring team has a long-cherished tradition of pushing the envelope in e-Learning technology, and it is now our pleasure to announce that we're continuing in that tradition with the release of iSpring Version 7.1, now in the final stages of production. Don't be fooled by that little "point one" in the version number, though — this release contains a couple of revolutionary new features, including PPT-to-Video/YouTube and integrated publishing to our brand-new content-sharing platform, iSpring Cloud.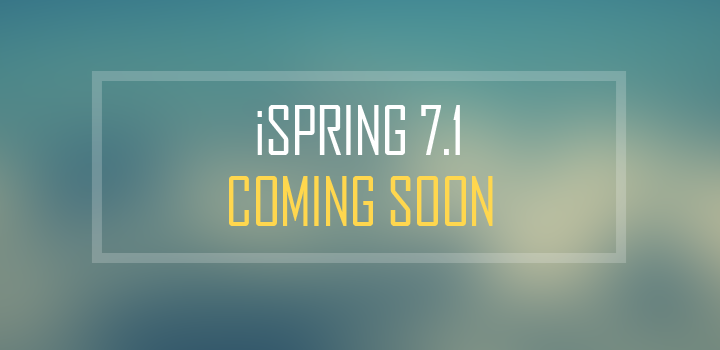 Features
Direct publishing to iSpring Cloud
PowerPoint-to-Video and direct publishing to YouTube (iSpring Suite only)
Improvements and bugfixes in general functionality
iSpring Cloud
What is iSpring Cloud? Well, that's a big announcement. This is the solution for the folks out there who want to share interactive, media-rich PowerPoint content and track views without all the extra bells and whistles of a full-fledged Learning Management System.
That's right: now you can share your presentations from your own personalized, secure content library without having to manage a separate website or LMS. Simply publish to the Cloud from PowerPoint, then share via direct link, email, or social media. Also, if you do have a blog or website, you can place iSpring-generated content in the perfect eye-catching location on your site by embedding it directly. As always, all your content will display beautifully on any device, whether stationary or mobile.
PPT-to-Video/YouTube
This is a feature which has been steadily growing in demand, so we're more than happy to offer the finished product, the result of long hours of careful development by our first-class team. Many of you are already aware that we offer this functionality as a standalone PowerPoint add-in called iSpring River, but now it's been enhanced even further by being included in our first-class e-Learning authoring tool, iSpring Suite.
Consequently, all your audio narrations which you've added with the ultra-convenient Narration Editor will be preserved when you convert your .PPT(X) to .MP4. Not only that, you can enter your YouTube login details directly in the PowerPoint interface and make your presentation available to the whole world with just one click.
So, in summation, buckle up and get ready for launch, because the Cloud is waiting…
We hope you enjoy these new advances we have to share. We're already putting the finishing touches on 7.1, so stay tuned!