An interesting and captivating video can attract the attention of thousands of Internet users. So, how can you create a video presentation? What knowledge and skills are needed to make your video presentation effective? How can this video presentation foster engagement and ultimately create conversion?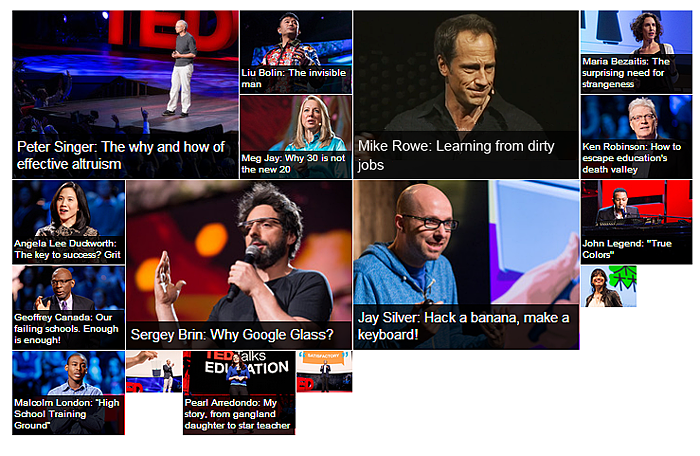 First of all, let's not forget – creating a successful video presentation is easy. You just need to know how. We have a number of tools and devices that will help you make great video presentations in no time. One such tool is iSpring Suite – a powerful converter of PowerPoint slides to video-presentations.
With iSpring Suite, you create presentations in PowerPoint, record or import video narrations and publish your presentations into mobile-friendly formats.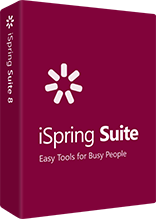 Creating video lectures is easy as one-two-three.
Now let us take a deeper dier into creation of video presentations.
What Type of Video Presentations Should I Choose?
Before you start creating your video presentation, decide what it is going to be like. There are several types of video presentations and each of them has its pros and cons:
Record a Live Video Presentation:
The easiest way to create a video presentation is to record a live speech or performance. Such presentations are usually given by leading experts from different areas. You can find examples of such speeches at Ted.com.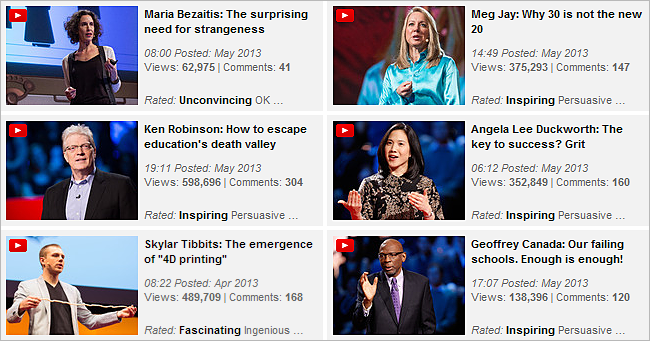 Pros
Quick and easy to create:
To capture live streaming video, you just need a camera. As soon as you record the presentation, you can upload it to your website or blog right away.
High quality of content:
When the presenter prepares his speech, he usually does a lot of research on the information he prepares. That's why video lectures often contain the most relevant content.
Cons
Somewhat costly to create:
If you need to make a professional-quality video presentation on a given subject, you have to obtain the services of a specialized company or handle all the production yourself. In any case, a high-quality live presentation implies a correspondingly high cost.
Limited rights to recording:
If you make a recording during a presenter's speech, you must obtain the rights to your recording from him. Otherwise, you won't be able to publish the recording on your website.
Make a Webinar
A webinar (or Web conference) is an interactive, real-time online lecture that usually includes a video of a presenter, a presentation and a feedback channel. Web conferences are very popular in the sphere of marketing and e-Learning.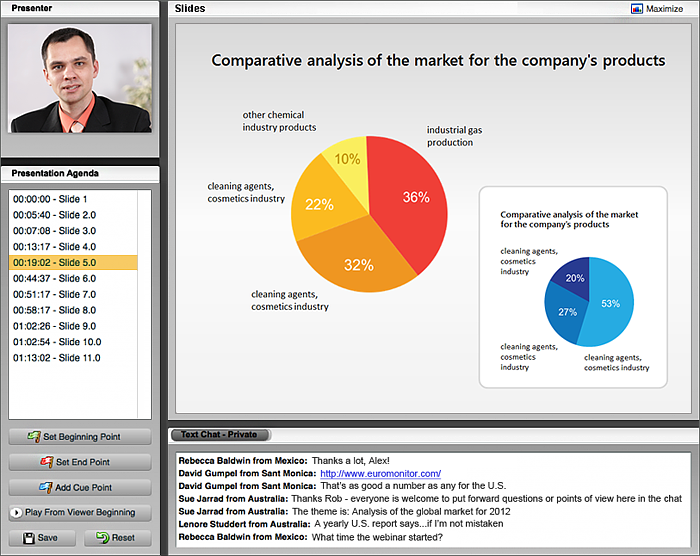 Pros
Informative:
A live webinar provides several channels of information at once. A presentation gives the required information on the subject matter, a presenter gives valuable comments and with the help of the chat, users can ask questions and give feedback.
Interactive:
Because a web conference is a real-time communication, it provides flexibility and interactivity with the presentation.
Cons
Fixed time:
To take advantage of a presentation's interactivity, users have to be online during the webinar runtime, which may not be convenient for everyone. People from other time zones will have to view the recording of the webinar, which won't allow them to ask a question or express an opinion in real-time.
Possible issues during live broadcast:
Any issue that takes place during the live broadcast of the webinar has to be handled immediately. Any technical difficulties or presenter hesitations will lead to the webinar losing its audience.
Create Interactive Video Presentations
An interactive video presentation is the most flexible way to present information. This kind of presentation combines the advantages of live lectures and webinars. Let's take a look at its main pros: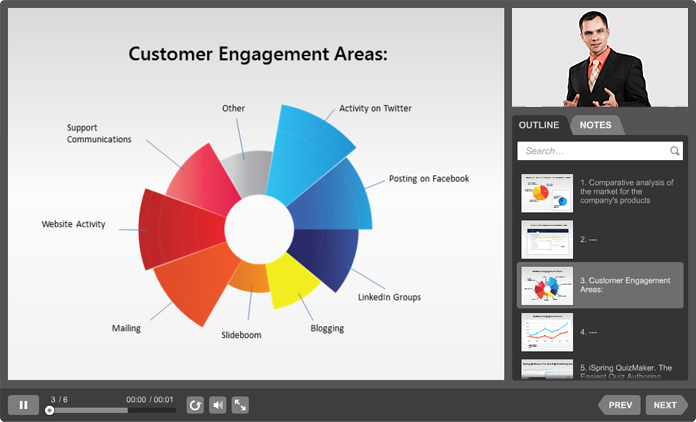 Pros
Quick and easy to create:
To create an interactive video presentation, you just need to have PowerPoint and a web camera.
Inserting additional multimedia:
You can supplement your interactive presentation with a recording of a live presentation, plus links to a webinar and/or other multimedia.
Informative:
A presentation created with iSpring Suite can include not only slides, but also video and audio narrations and a functional player.
Interactive:
With the help of iSpring's player and interactive buttons and hyperlinks, you can give the user full control over your presentation's playback, or limit the available controls to your exact specifications.
How to Make a Successful Presentation
Once you have chosen your specific type of presentation, you can now start creating and adding content. To ensure your content is effective and relevant, follow a few simple rules:
Keep it short. Statistics show that even the most interesting videos can lose the audience's attention in the second minute of playback. Place value on your user's time: keep it short.
Demonstrate your key message first. Don't make your audience wait for your key idea. Clearly demonstrate it upfront and then in sequence demonstrate all relevant supporting details. As soon as you are done wrap up the presentation. Be brief, be bold, and be gone.
Summarize your argument. Help users memorize key information by repeating it several times. Start out with your key idea, explain it throughout the presentation and then summarize it again at the end.
Create a relevant script. It's very important that your presentation is brief. Keep it relevant and pithy and accentuate the main points. Ensure your presentation is understandable by using natural flowing language laced with inviting humor.
Invest in quality. Because video is the central part of your presentation, it must be high quality. Use a high-resolution camera and make the recording in a professional studio.
Create a rich, dynamic feel. To attract the attention of the audience, make your presentation dynamic: use animation and transitions and freshen up your presentations by changing the layout of your slides.
A video presentation is a great way to attract the attention of clients and answer their questions in an interesting and convenient form. Creating a successful video presentation is easier than you think. You just need to follow a few simple rules and then learn to use simple tools like PowerPoint and iSpring Suite.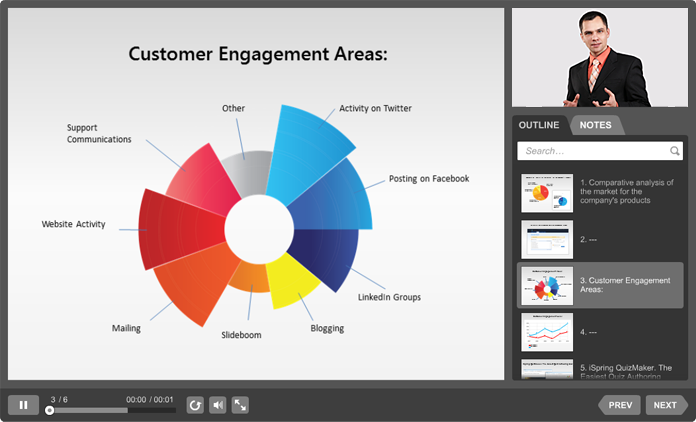 Creating a presentation in PowerPoint is the easiest part. Enriching your presentation with video, narration and a functional player is clearly more complicated, but with iSpring Suite it just takes a few short clicks of your mouse. Plus, iSpring converts PowerPoint to Flash and HTML5, making it quickly ready for the Web.
iSpring's video presentations can be viewed on all devices, including laptops, desktops, tablets and smartphones.