With the emerging trends in social media and the explosion of video available, e-Learning developers compete with a variety of creative media. Instructional designers can hold audiences' attention by using video in their modules. Video is a necessity for developers and adds dimension and interest, as well as educates learners.
Here are several reasons to use video in your e-Learning courses:
Video creates an emotional connection with users through story. A video that motivates and has a story is powerful in engaging learners, especially if a behavioral change is needed. Learners relate to a human character and are more likely to remember the educational concept through the use of a story.
Video is a valuable method for demonstrations. Designers who are tasked with teaching a procedure with specific steps will find video is an effective tool. Video is useful for processes that are more easily learned through a visual demonstration rather than a narrative explanation.
Video helps model soft skills. Video is especially useful for teaching behaviors and modeling responses. Courses for professional development, human resources, interviewing, and communications are good examples where actors in the video model appropriate behaviors through language, gestures, responses, body language, and voice inflections.
Video breaks up content and adds interest. Using short segments of video helps break up content and hold the learners' interest. Too much of any one type of media is monotonous for learners. A small piece of video can be used to break up text, introduce sections, and provide instruction. Developers may also use video for reviews or coaching.
Will a video break your budget? Some designers worry that a video has to be a high-end production, and it will cost them too much. Depending on the needs and objectives of the e-Learning course, video may be a more cost-effective solution than custom animation. Many learners are used to the self-produced videos on social media sites and do not expect a polished video with a corporate feel. Consider using communications or film students from a local college or university to provide assistance for small projects. They are often looking to gain experience or complete a course requirement.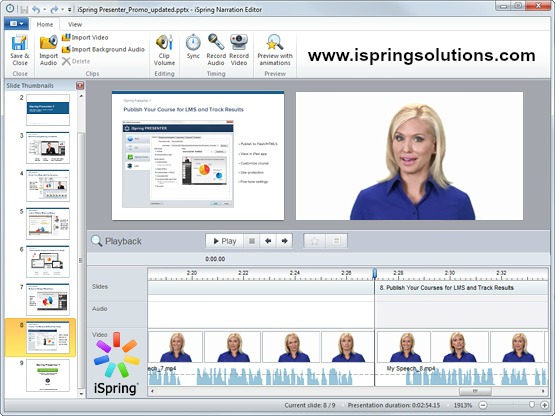 Video has become an important tool for engaging learners, and is an effective method to help learners retain and apply concepts. With iSpring's Presenter 7, your learning content and topics will spring to life with our video explanations feature. Record or import your video, sync it with slides and animations, and presto: effective and engaging video lectures.
What are your thoughts on using video to engage users?
For more information about trends in creating e-Learning programs for corporate training or academia, please contact us today via our website or any of our social media sites: Facebook, Twitter, LinkedIn.