June 9, 2023
Upskilling Employees: Definition, Examples, and Best Practices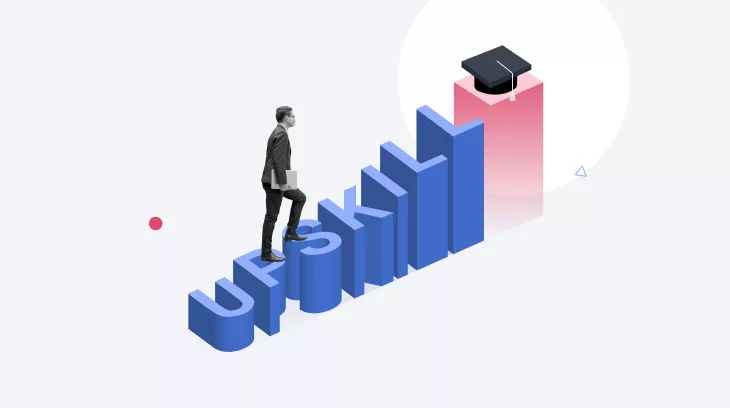 Staying ahead of the curve and equipping your workforce with the necessary skills to thrive are two of the biggest challenges that businesses face. Fortunately, upskilling provides a powerful solution to both issues. Investing in continuous staff development enables organizations to harness employees' untapped potential, foster a culture of learning, and drive business results. First, however, you'll need the tools and know-how to implement an effective upskilling strategy.
This guide sheds light on the main aspects of upskilling, including:
What Is Upskilling?
Upskilling is the development of new skills or the honing of existing knowledge to keep up with the ever-evolving workplace. Successful employee upskilling typically involves continuous learning and development initiatives that arm staff with the technical skills and soft skills to adapt to changing industry needs.
Reskilling vs. Upskilling: What's the Difference?
It's a common misconception that upskilling and reskilling are interchangeable. However, there is a notable distinction between the two terms.
Reskilling means learning new skills to transition into a different role or field. This prepares employees for a different career path.
In contrast, upskilling enhances employees' current skills or develops new ones relevant to the same role or field. Therefore, upskilling expands and deepens employees' knowledge to keep up with evolving job requirements within their current career path.
Here are some common examples of upskilling and reskilling:
Examples of upskilling
A software developer taking cloud computing training to enhance their design skills and build better applications
A graphic designer taking UX/UI design training to expand their expertise and ability to create user-friendly interfaces
A customer service representative undergoing communication training to improve interpersonal skills and collaboration abilities
A civil engineer training in Building Information Modeling (BIM) software to enhance their project coordination abilities and efficiency
A registered nurse obtaining an advanced cardiac life support (ACLS) certification to build their skills in emergency care
Examples of reskilling
An accountant undertaking data analytics training to retrain as a data analyst
A sales manager taking PMI training to take on a new role as a project manager
A chef taking courses in food science to transition to become a nutritionist
A journalist acquiring knowledge of SEO optimization and best practices to retrain as an SEO writer
A teacher undergoing training in learning technology, design, and methodologies to become an instructional designer.
Why Are Upskilling and Reskilling Essential?
For several reasons, upskilling and reskilling the workforce have become the cornerstones of successful businesses. This section outlines five of the biggest benefits.
Adaptability: Upskilling and reskilling equip employees with the competencies to adapt to change, whether it's related to new technologies, market trends, or job requirements.
Career progression: Acquiring new skills and enhancing current ones can make employees more competent. This unlocks new opportunities for career advancement and promotion.
Higher employee engagement: Upskilling and reskilling programs reflect your company's commitment to employee professional development. In turn, this leads to better engagement and higher retention rates.
Improved performance: Enhancing the workforce's skills improves productivity and efficiency, driving overall workplace performance, and offers companies a competitive advantage within a rapidly changing business world.
Future proofing: Continuous upskilling and reskilling ensure that all staff members have the relevant knowledge to stay competitive and up to date in fast-moving industries.
Higher customer satisfaction: If you're a customer-centric business, training your employees on social skills is a must. Developing their communication skills will help you promote customer satisfaction and your business outcomes.
Cost-saving: In many cases, upskilling the current workforce is more cost-effective than hiring new staff.
How to Upskill Employees Effectively
Whether you want improved business results, employee engagement, or retention rates – the benefits of training in the workplace are clear. Now let's explore key best practices that will ensure that your upskilling program is a roaring success.
1. Identify skills gaps
The key to successful upskilling is making it relevant. So, start by conducting a comprehensive skills gap analysis.
What is it? Skills gap assessment pinpoints areas where employees lack the necessary skills or knowledge to perform efficiently. This analysis helps you prioritize the skills and knowledge needed to bridge the gap between employees' current and desired levels of competency.
Why is it beneficial? It gives clear insight into the specific competencies your upskilling initiatives should target.
How can you implement it? Conducting surveys, employee interviews, and competency assessments are a few ways to identify organizational knowledge gaps. Moreover, analyzing performance evaluations, job descriptions, and future business needs will help you align and prioritize upskilling initiatives.
Check out our detailed skills gap analysis guide for more information and a downloadable template and checklist.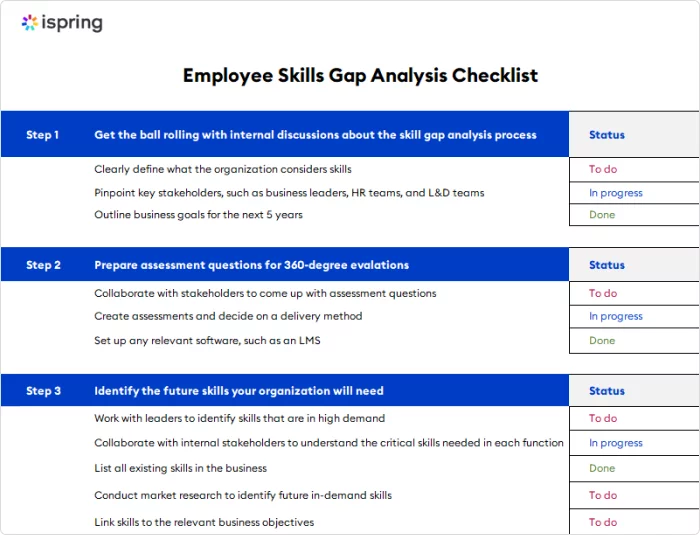 2. Create training materials in-house
The best way to ensure your upskilling training programs are relevant, engaging, and effective is to create them in-house. That way, every piece of information in the training is tailored to the company and its real-world tasks.
What is it? Creating bespoke training materials (as opposed to buying off-the-shelf products) means collaborating with SMEs to build them from scratch. This can include physical handouts but most commonly refers to eLearning materials like online courses, videos, quizzes, and interactive job aids.
Why is it beneficial? Creating your training materials in-house ensures the content is specific to your business. Moreover, updating materials in line with organizational or industry changes is easier. Despite an initial investment, it is often a more cost-effective way to deliver ongoing training.
How can you implement it? You'll need a content authoring tool to create eLearning content. This will allow you to build a range of learning materials and upload them as a SCORM file to your corporate LMS. It's always best to opt for an authoring tool that supports a wide range of training scenarios.
iSpring Suite is a good example. It's a full-featured authoring toolkit with a straightforward PowerPoint design, so experts all across the company can build professional-grade training courses. You can create slide courses, role-play simulations, instructional videos, quizzes, and interactions. In addition, the character builder and a template library make it easy to customize your content and engage your target audience.
Here's a fragment of an online course created using iSpring Suite:
3. Employ a learning management system (LMS)
Employees are busy, meaning the upskilling process needs to be as streamlined and convenient as possible. An LMS can help you achieve this.
What is it? An LMS is a centralized platform for delivering, tracking, and managing all training activities. In addition, most top LMSs offer gamification, social learning features, and a mobile app to further engage learners and make training flexible.
Why is it beneficial? For employees, it offers a convenient central training hub that delivers all learning materials in one place. For L&D teams, it automates training management tasks for smoother workflows and reduced admin time.
How can you implement it? Should you sift through the hundreds of options for an LMS that aligns with your company's needs, budget, and level of expertise? Download our complete LMS buyer's guide to get step-by-step instructions on the selection process and a collection of checklists and templates that will help you in this often overwhelming endeavor.
Once you've chosen an LMS, the next step is to launch it. This will vary in complexity, depending on the LMS you choose. If you and your employees have no experience working with an LMS, opt for a cloud-based solution with an intuitive interface.
For example, iSpring Learn LMS is extremely easy to use both for learners and admins and runs by itself after the initial setup. Still, the platform comes with all the necessary features that an LMS should have, including powerful user and content management, robust reporting, and training automation.
Automate corporate training and improve employee performance.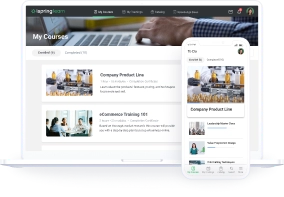 4. Develop personalized learning plans
Personalized learning plans ensure your upskilling efforts are targeted and efficient.
What is it? A personalized learning plan tailors training to employees based on their individual skill gaps, learning preferences, job roles, and career development goals.
Why is it beneficial? It boosts learner engagement and employee satisfaction by making training relevant to each staff member. As a result, employees get more out of upskilling and reskilling programs.
How can you implement it? Work with employees to determine their skill gaps, learning goals, job role requirements, and the knowledge needed for their professional growth. Then, build training recommendations around these factors. If you're using an LMS, you can organize different training materials (online courses, PDFs, quizzes, etc.) into a personalized learning path. Then, structure the content and set prerequisites to ensure the employee works through the material in the correct order. This means employees have a clean and straightforward path to follow.
Here's what a learning track looks like in the iSpring Learn LMS:
5. Incorporate blended learning
Not everyone learns in the same way. So, providing blended learning methods is a great way to ensure that your upskilling initiatives are inclusive for a diverse workforce.
What is it? Blending learning combines traditional classroom-style training with online courses, microlearning modules, on-the-job training, and mentorship programs. Mixing different learning approaches allows you to cater to a diverse range of learning styles and preferences.
Why is it beneficial? Incorporating a blend of learning methods maximizes learner engagement and knowledge retention rates. As a result, your upskilling programs will be more effective and garner better ROI.
How can you implement it? Design a training plan that incorporates a variety of learning methods. Most importantly, consider the training method and content type that work best for different training points. This will help you create engaging upskilling experiences.
Here's an example of a blended training program that combines digital and in-person instruction to fit employees' needs and schedules.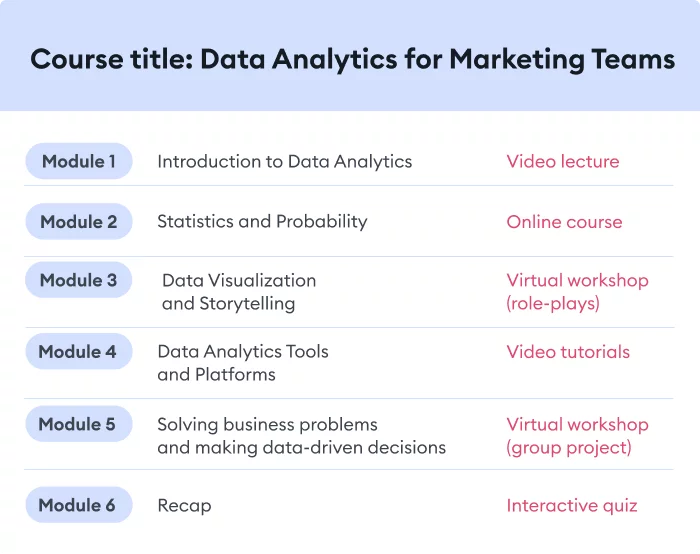 Need help? Check out our article on creating a training plan and download our free training plan template.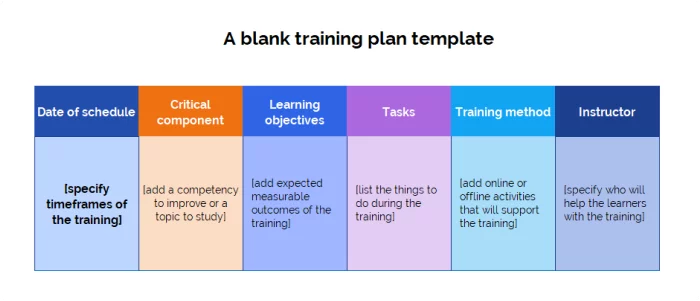 6. Measure results
Measuring the impact of your upskilling initiatives will give you essential insights into what's working and where improvements are needed.
What is it? Measuring and evaluating the success of upskilling programs means assessing their impact on individual and organizational performance. This is usually accomplished by collecting feedback from surveys, performance reviews, and LMS data.
Why is it beneficial? It highlights areas for improvement and provides a realistic ROI for upskilling initiatives.
How can you implement it? While feedback surveys and performance reviews can take time, you can start tracking training results immediately via an LMS. For example, iSpring's powerful analytics and reporting capabilities allow you to visualize data on key metrics like completion rates, overall training activities, and individual learner progress. As such, you can start measuring the impact of upskilling programs from day one.
Here's an example of iSpring's Learner Progress report, which provides a comprehensive picture of training progress in the company: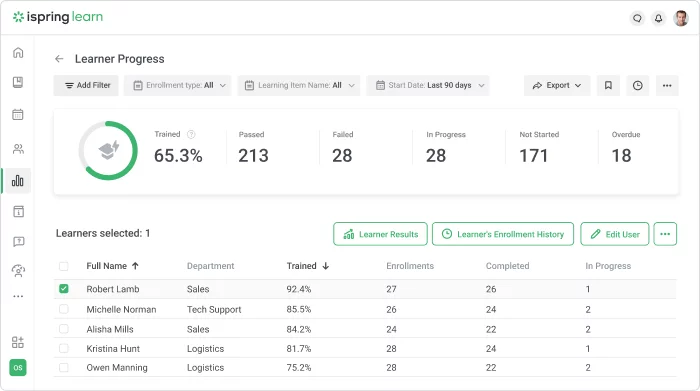 FAQ
This section explores the most commonly asked questions about upskilling in the workplace.
How can organizations ensure the long-term effectiveness of upskilling initiatives?
Establishing a learning culture in your organization will ensure that upskilling initiatives are sustainable and effective. You can achieve this by providing continuous access to self-directed learning resources and implementing knowledge-sharing and mentorship initiatives. Furthermore, organizations should regularly track the impact of upskilling programs and update the content to keep it relevant.
What metrics should organizations track to measure the ROI of upskilling programs?
Start by tracking relevant metrics, such as employee performance, productivity, and satisfaction. Then, carry out pre-and post-training assessments to understand what knowledge employees have gained through the programs. Finally, monitor KPIs related to business goals (sales, customer satisfaction, etc.) to gauge the broader impact of the initiative and compare the costs verse the benefits. This will show the ROI.
Final Thoughts
Upskilling staff is a critical pillar in organizational success. From plugging skills gaps to boosting retention rates, it propels performance and futureproofs your business for tomorrow's challenges. Despite the benefits, many organizations struggle to find time for upskilling. Moving programs online is a great solution. An LMS offers a cost-effective, flexible, and engaging way to upskill busy employees on the go. They can access critical training content from anywhere and build their professional skills at their own pace.
Request a demo today to see how the iSpring Learn LMS can support and optimize your upskilling initiatives.