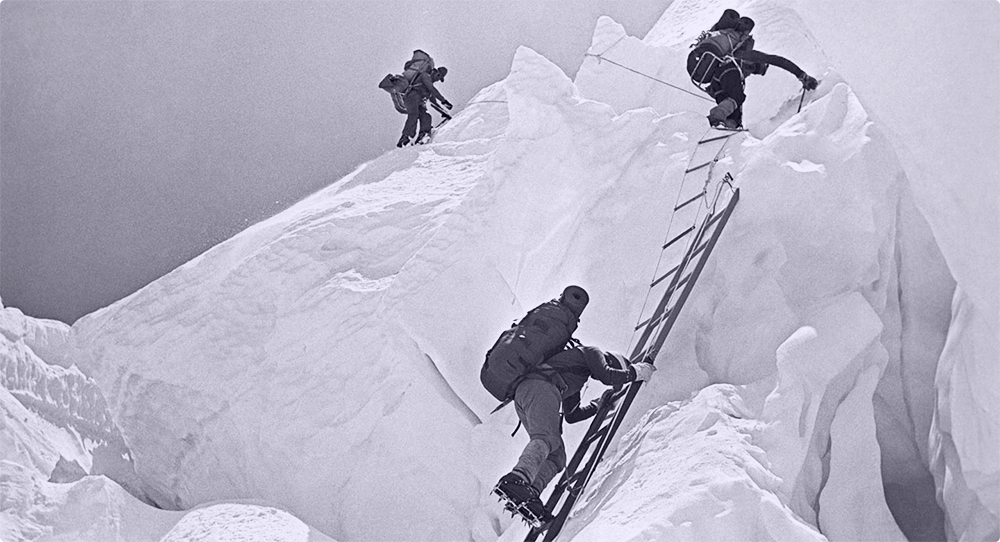 In today's business, the only constant is change. To keep up with the status quo, companies need to continually upgrade their systems, help their human capital improve, and implement new technologies. One of the most effective tools for sustaining growth in this fast-developing world is providing continuous employee learning. So if you want to maximize human resources you have, see how you can introduce continuous learning into your corporate culture.
What is Continuous Learning?
Continuous learning is the concept of constant skill and knowledge development in response to changes in the workplace.
High-functioning employees need to continually absorb new knowledge, expand their skill sets, and use these assets to support the organization's goals. The company's function is to create an environment that will help the staff constantly learn and grow.
Continuous learning is a win-win for employees and companies. It allows teams to become more productive and valuable to the organization and helps the company build a highly skilled and engaged workforce.
Why It Can Keep Your Business Growing
Continuous employee training can yield a number of potential benefits to the company:
Enhanced performance and productivity. Training gives employees a better understanding of their responsibilities within their role, and how to achieve positive outcomes. This helps them work more productively on a day-to-day basis, respond more quickly to customer needs, and meet future demands in the marketplace more effectively.
A competitive edge in the market. By constantly gaining new knowledge and developing skills, staff members stay current with industry changes. Employees who are competent and on top of changing industry standards will help your company stay ahead of the competition.
Higher return on investment. Employee training requires some investment, but if it is aimed at the company's business goals, there can be a fast payback. The initial investment can be recouped through improved employee performance and an increase in revenue.
Reduced employee turnover. Corporate training can boost employee retention. People who see the company investing in their learning are 30-50% more likely to keep on working at the same organization. Training is a great way to retain valuable staff members, especially for companies that are constantly searching for new talent. Many millennials won't come to work for companies that don't offer learning and development options.
Greater customer loyalty. Well-trained and engaged employees interacting with customers can create your biggest brand advocates. They know how to present a product and are enthusiastic in dealing with the audience. This improves customer experience and increases customer loyalty.
How Successful Businesses Use Continuous Learning
Many understand that continuous employee development is important to business success, but some organizations are still unwilling to invest in human capital. Let's have a look at some companies that went for it and succeeded.
Pixar
Pixar Animation Studios has a school called Pixar University, where its employees can attend free classes. The company allows its employees to skip work and take group lessons in different subjects. The regular training program hosts about 14 social and interactive sessions per week, including drawing, painting, acting, improvisation, animation, ballet, and live-action filmmaking.
IBM
IBM provides employees with continuous video-based learning. There's an entire YouTube channel where the training department shares video tutorials, interviews, messages from executive leadership, and other relevant learning materials. The content varies from live-action videos to animated and screen-recorded lectures.
PayPal
PayPal supports social learning. They have a private group on Facebook where mentors upload learning content and host short classes. For more in-depth learning, the company uses Udemy for Business. Employees browse its library of over 2,500 courses and study the content on their own schedule.
MOXA
MOXA delivers continuous learning to digital marketers around the world with the help of a learning management system (LMS). They create courses about content marketing and social media marketing with the iSpring Suite, eLearning authoring toolkit, upload them to iSpring Learn LMS, and assign them to marketers from different affiliates. This approach to learning allows the company to provide higher-quality training with consistency when they roll out new materials. Read the full case study →
As you can see from these cases, there's a variety of employee training methods. But with all of the options available, defining the best training method can be difficult. So, we've put together a detailed guide on how to implement continuous learning that fits most businesses.
How to Launch Continuous Learning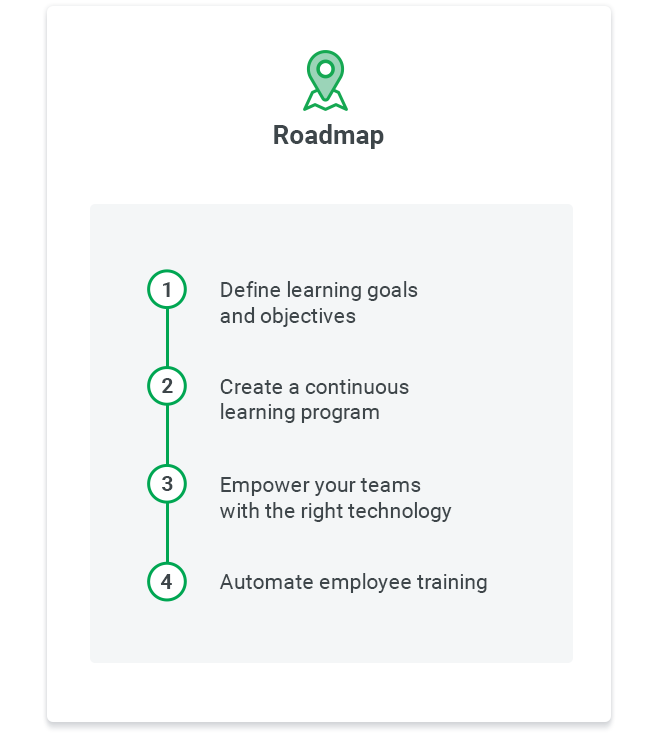 Step 1. Define learning goals and objectives
To create a strategy that works, be clear about what you want to achieve from learning. Take the time to define the directions your team members will progress in, and consider how to tie initiatives to your business needs.
First, determine your goals:
What exactly do you want your employees to know or be able to do?
How are you hoping learning will benefit your teams and your business?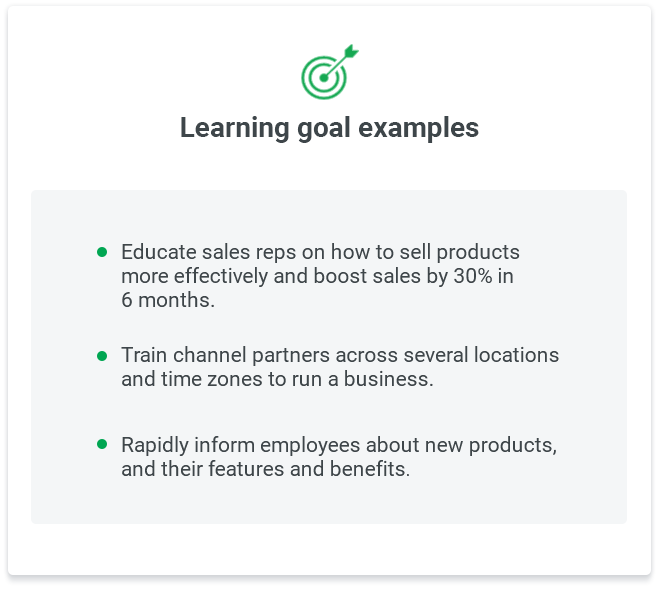 Step 2. Create a continuous learning program
With your goals defined, you can build a program that will support your strategy. Of course, the content of the training program is tailored to the company's specifics, its business needs, and strategic goals. Here are a few common content focus areas:

1. Onboarding
This is a "boot camp" for new employees that helps them integrate into the new work environment faster. Through onboarding, they acquire the skills, knowledge, and behaviors needed to become productive ASAP. The program is usually prepared by an HR manager on big-picture topics such as the company's history and its corporate culture, basic policies, health and safety regulations, and other information which should be known by each employee. This kind of training is relevant to all roles and departments throughout the company.
2. Professional training
Such a program may occur often, but not necessarily regularly, depending on the particular job position or department. This is what is required to be up to date and proficient on an ongoing basis. The program can include products and services training, and skills and motivational training.
For example, let's say the сompany is constantly expanding its product line, and as a result, sales reps have to update their knowledge after each release. Or, tax laws change often, so an accountant must receive yearly training on new tax codes.
3. Managerial training
This kind of training can help a company build its human resource base. The most successful employees are usually identified as candidates for promotion, and can be assigned to managerial training. Topics might include anything from product knowledge to leadership skills, such as how to motivate and delegate, give feedback, and manage teams.
Step 3. Empower teams with the right technology
Continuous learning can significantly boost your employee productivity and performance if you choose the right tools to enable the process with.
Live classes, seminars, and workshops are still popular training techniques, but delivering online learning can become a better fit for employees as it paves the way for just-in-time learning. Access to content "anytime, anywhere" is exactly what a modern learner needs, especially if it's not a one-time event.
Let's have a look at what the statistics say. Is corporate digital learning really worth the investment?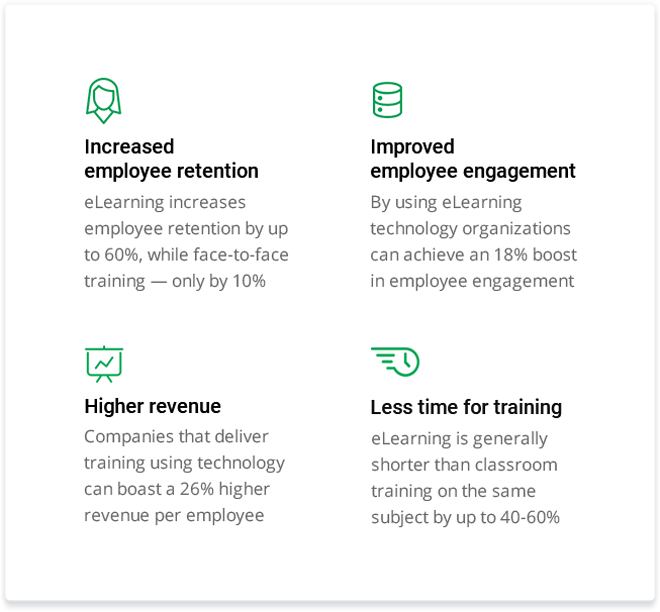 All these facts prove that online learning will surely bring you a great return on investment and will help you drive your company's success.
Step 4. Automate employee training
To launch a continuous learning program, you need the right tools. Aт LMS (Learning Management System) will help you automate your training processes, from content development and assigning courses to tracking and reporting.
The LMS market is full of options. To learn more about selection criteria for your business, see this full guide on how to choose an LMS.
Want to experience the benefits of an LMS for your employees' continuous learning? Subscribe for our free 14-day trial and explore all the LMS features right now.