February 4, 2022
On-The-Job Training 101: Building a Workforce that Really Works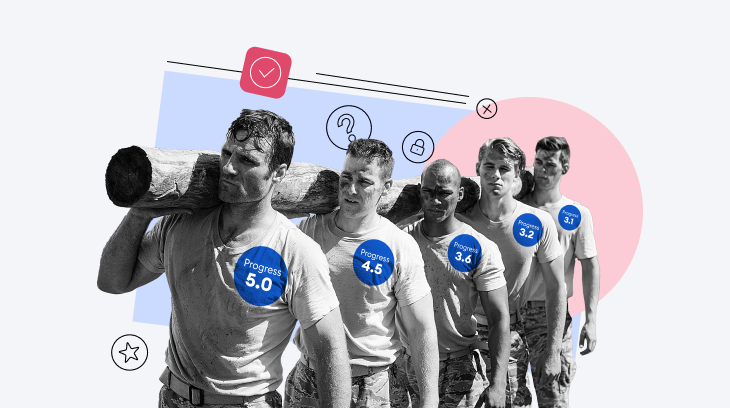 Did you know that there is a "secret weapon" for turning staff potential into performance and bringing trainees up to speed quickly? The secret is not a new technology; it's an established practice known as on-the-job training or OJT.
On-the-job training is called many things: hands-on learning, learning by doing, or job mentoring. It's the kind of training and skill development solution that's so simple it's often overlooked. This article will provide you with a comprehensive explanation of OJT, including:
What Is On-The-Job Training?
On-the-job training is a way for employees to learn work-related processes by observing and performing job tasks. OJT focuses on integrating employees into their everyday working environment. Most participants are new hires in a job role; however, this method can also be used as part of internal job rotation or a professional internship program.
During OJT, a newcomer to a job role is paired with an experienced team member or leader. The trainee typically accompanies their coworker or mentor to observe the tasks accomplished during a typical workday. After a period of observation and explanation, the trainee is allowed to perform a specific job or task they have observed.
Often, the need for on-the-job training comes from within the company. But there are also American Job Centers in the United States which offer OJT opportunities to people involved in job searches. Established under the Workforce Investment Act, and reauthorized in the Workforce Innovation and Opportunities Act (WIOA) of 2014, they work with different companies and help them when recruiting new candidates. Under certain circumstances, employers may even receive a wage reimbursement of up to 50% of the costs of providing additional on-the-job training for individuals who were hired through the public workforce system.
Types of On-The-Job Training
On-the-job training is used in various industries and can be either structured or unstructured.
Unstructured OJT
It usually has no set training agenda. The new hire observes or works alongside an experienced coworker. The coworker, acting as a trainer, selects the job tasks and activities they want the trainee to learn. It works best for limited job positions in a company that requires trainees to perform well-defined tasks in a consistent manner. For example, if you hire a receptionist for your medical clinic, you need to teach them how to fill in the contract form, count cash, and work with scheduling software. Or, if you hire a machinery maintenance worker, you need to explain how to perform basic diagnostic tests, check the machine's performance, and test damaged machine parts to determine whether major repairs are necessary.
Structured OJT
This is designed and delivered in a well-defined, methodical manner. It usually includes a clear training agenda with tasks, instructions, and a timeline for completion. Each coworker completes the same training agenda and activities for a given job role. For example, you can create a separate learning program for the entire call center staff, a sales team, or all highway construction workers.
5 Benefits of On-The-Job Training
Let's look at how a well-designed OJT program benefits organizations.
Provide a custom learning experience. New employees learn how to perform tasks in exactly the right way for your organization. This can help your new employees eliminate their weaknesses, acquire necessary skills, understand the company's values, and become productive more quickly.
Cost-efficiency. Training is usually conducted by experienced colleagues in the workplace, not in the classroom. Since it eliminates the need to hire expensive external trainers for hosting seminars and other training sessions, or to travel offsite, it requires the bare minimum of expenses.
Increase worker engagement and job satisfaction. A recent study by LinkedIn found that 94% of respondents would stay with an organization longer if it invested in their careers. Another study found employees who were offered OJT to be 30% happier with their careers than those who received no training.
Develop an internal talent pipeline. This kind of training gives your experienced workers the chance to mentor new coworkers within a structured framework. This can help you prepare high-performing team members for future advancement.
Reduce turnover. Employees are the most important asset of any business. Attracting, hiring, and retaining top talent can be difficult in many job markets today. Training can show both new and current employees that you are serious about creating long-term job opportunities.
How to Launch On-The-Job Training
Once you've decided to create an on-the-job training program, it's time to design the solution that works best for you. A systematic, six-step approach, such as the one described here, is a great template for any type of training.
Step 1: Assess needs
When designing any type of learning program, always start with the end in mind. Ask:
What are our company goals for the program overall?
Which job roles would benefit most from OJT?
What are the qualifications, knowledge, hard and soft skills for these job roles?
What competencies or knowledge do new hires usually already have?
What new skills or knowledge do we usually have to teach our new hires?
Do they require any additional skills that we need to teach them?
Once you've identified your most pressing training needs, you can start to define the specific knowledge or competencies your OJT should include. Here are a few examples:
Examples of OJT tasks
Appliance repair technician
Customer service agent
Printshop operator

Go on service calls
Observe customer interactions
Perform repairs under the guidance of an experienced tech
Review and explain workplace safety guidelines

Practice using database software
Listen in as an experienced agent takes customer calls
Follow a script to make a sample customer call

Help set up the machine for a large print run
Select the correct paper stock, size, and type based on the job
Monitor and replace consumables during a run
Step 2: Select the appropriate method of training
Your next step is to match the training tasks with the appropriate training method. Here are some of the most common training techniques:
Coaching/mentorship. Trainees work directly under the supervision of a manager or team leader. The coach or mentor provides a constructive feedback loop to the trainee.
Internships. Internships often focus on theoretical and practical aspects of a job role and can be mainly present for observation purposes.
The buddy system. A buddy system pairs the trainee with a team member at the same level, as opposed to a leader. This method gives the trainee a unique opportunity to observe how job tasks are executed in a real-world setting.
Job shadowing or observation. Shadowing is when a new hire accompanies an experienced coworker during the training period to see how the coworker structures their day and performs regular job functions. The trainee typically does not participate in work duties; instead, their goal is to listen and learn.
Job rotation/stretch assignments. They place individuals from the previous position and one area of an organization into a different job role for a set period of time. Job rotation participants might be assigned a buddy or mentor to guide them.
eLearning. Today's learning technologies make it possible for organizations to train their employees online. The key elements of eLearning are concise, focused training modules that can be integrated into an OJT program and accessed as part of a daily training routine.
Some tasks require active participation, while others focus on building knowledge. To support the different types of tasks, you'll need to design a blended learning curriculum.
Here's what an on-the-job training plan for an appliance repair technician might look like:
Example of an OJT plan for an appliance repair technician

| | | |
| --- | --- | --- |
| Task description | Type of task | Training method |
| Go on service calls | Observation/participation | Buddy system/coaching |
| Observe customer interactions | Observation | Job shadowing |
| Perform repairs under guidance | Active participation | Buddy system |
| Review safety guidelines | Knowledge-based | eLearning |
Once you have your blended learning plan mapped out, it's time to select the tools and resources to develop your program.
Step 3: Select tools and resources
A blended OJT will require an array of resources, such as people, software, documents, tools, etc. Take the time to identify the resources you need to implement your job training strategy! If you overlook this part of the process, you won't have the detail to create the right learning materials.
The chart below suggests the types of tools and resources needed for the appliance repair technician training tasks.
Tools and resources needed for appliance repair technician training tasks
Training method
Training tools & resources needed
Coaching

Leaders/experienced co-workers
Schedule/timeline
Demonstrations
Work tools
Documentation such as SOPs, repair manuals, etc.
LMS (to launch, schedule and record results)

Buddy system

Experienced co-workers
Guidelines for buddy system tasks
Overview/demo
Documentation on work tasks, SOPs, etc.
LMS

eLearning

Online modules, activities, and assessments
LMS
Links or downloadable resource documents
Authoring tool (if you're going to create courses in-house)
Did you notice one training tool common to each training method? The most critical support tool for training success is a learning management system or LMS. It is your "one-stop shop" for managing and tracking learning results.
A robust LMS allows you to quickly upload just about any type of learning material, including presentations, documents, videos, and SCORM courses. Once the content is uploaded, you can invite employees to the LMS, and assign courses. For example, iSpring Learn also has a calendar to facilitate scheduling offline events and Zoom integration for hosting online meetings.
If you're going to provide online training and create eLearning materials in-house (we'll address this in more detail in the next section), you'll need a course authoring tool. For instance, you can use iSpring Suite to build robust eLearning modules, video lectures, screen recordings, role-plays, and interactive assessments on any training topic. All the content you create with iSpring Suite will deploy perfectly in the iSpring Learn LMS.
Step 4: Design materials
You likely already have manuals, SOPs, and other documentation, or at least know how to assemble them. So we'll focus on designing interactive eLearning courses that are several levels higher.They are a powerful learning tool that can help you significantly increase your learners' engagement, motivation, and knowledge retention.
When it comes to course development, you have three basic choices:
You can outsource content creation to a third-party vendor. The biggest advantage of outsourcing is that it can help you "jump-start" your project work quickly. Vendors typically have a pool of instructional design, graphic, and multimedia developers who can create any type of learning content. If you go the outsourcing route, be sure to invest time and money in it! Outsourcing is the most expensive way to develop content, and you can expect your vendor's rates to change, based on the type of design skills you need.
You can buy existing courseware off-the-shelf. Buying existing content will definitely let you set up a curriculum in less time than if you decided to create it in-house, and is significantly less expensive than outsourcing. Reputable courseware may contain accurate and up-to-date information; however, you should expect it to offer a fairly generic user experience. Off-the-shelf content will not include any custom touches or personal branding unless you pay extra for these services. Plus, you can hardly find ready-made courses for a specialized job area.
You can create the content in-house. Building your learning content in-house may be a better option for you because it's the most cost-effective (read here about the cost estimates) and practical solution. Creating your curriculum allows you to leverage the expertise of your most experienced leaders and employees who have a deep understanding of the company's culture, so you can customize the best learning solutions. It also gives you total ownership of the materials, so edits and updates will not require any further hard-dollar expenditures.
When developing content in-house, remember that iSpring Suite can also turn documents such as SOPs and user manuals in PDF format or PowerPoint presentations into a virtual library of resources for your learners. The toolkit also allows you to create Section 508 and WCAG-compliant content for those with disabilities.
Visit the demo page for more ideas on how you can use iSpring Suite to develop your learning materials.
Step 5: Identify and prepare your people
Be sure to line up your team of coaches, mentors, and experienced knowledgeable employees while your program is in the planning stages. Make your trainers aware that OJT will be a thoughtful and systematic process, not a "fly by the seat of your pants" effort.
Your support team should have the necessary expertise to quality check your training materials for accuracy. When the content is complete, hold a series of train-the-trainer sessions (also known as "T3 sessions") to make sure everyone understands how each task or activity should be conducted. Once your team is ready, it's time to upload the content, conduct a pilot, and launch your training program.
Step 6: Assess results and improve
After an initial launch period, you'll want to review the results of your training program. Learning professionals typically monitor learning and performance-based outcomes for trainees at 30, 60, and 90-day intervals. Longer-term evaluations at 6 months and 1 year after training completion can give a true indication of how well your trainees retain and use their training on a day-to-day basis.
If you use an LMS, you can monitor learning progress at both the individual and team level with the help of LMS reports.
Final Thoughts
The benefits of OJT go beyond new hire training. A well-designed program signals your organization's commitment to learning, which can help you attract and retain the best new employees. Training also gives high-performing employees the chance to mentor and guide their newest co-workers. Together with your existing new hire curriculum, OJT can ensure that your trainees feel valued and motivated to succeed throughout their career with your organization.
If you have any questions or suggestions for what makes great on-the-job training, we'd love to hear your comments below.