May 19, 2023
LMS vs. LCMS: Which Is Right for Your Business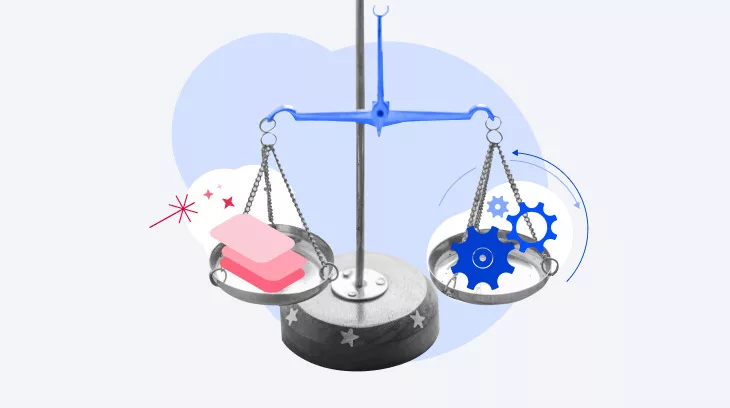 Modern technology has drastically reshaped corporate training by providing easy access to learning materials, offering tools for conducting virtual training sessions, and enabling remote self-paced learning. 
A learning management system (LMS) and a learning content management system (LCMS) are popular digital tools used by both large and small companies to cover the training needs of their staff. Although these platforms share some similarities, they have distinct differences that set them apart. In this article, we'll examine these to help you pick the best solution for your needs.  
What Is an LMS?
A learning management system is a web-based platform for delivering training materials to learners and monitoring their results. You just need to upload content to the platform, assign it to your learners, and keep track of their progress and outcomes with out-of-the-box reports. 
An LMS is designed to facilitate training management. It allows you to streamline the training process by providing a centralized location for all training materials, smart content, user management, and training automation at different levels – from course enrollment to performance analytics. 
From the learner's point of view, a learning management system is a learning portal they can access 24/7.
Also read: What Is an LMS? Definition, Features, and Use Cases
Key LMS features
According to Training Magazine, 84% of organizations that utilize online learning use LMSs. Such popularity is generated by the great opportunities it provides for employee training. This is achieved with the help of robust LMS features that include: 
Content storage and management. You can store various types of content, such as online courses, training videos, assessments, and reference documents, all under one roof, and manage content easily. 
Learning tracks. Instead of assigning a bunch of separate courses that are difficult for your learners to navigate, you can combine them in a structured training program (learning track).
User management. You can divide all employees into appropriate departments and teams, as well as creating groups and adding users to them. This makes it much easier to assign, manage, and track training.
Reporting and analytics. A learning management system collects data on various aspects of the learners' activities. For example, you can see who completed a course, how long it took them to complete it, and how many mistakes they made on a quiz. 
Event calendar. With the calendar, you can schedule all training activities – live trainings, virtual sessions, and web meetings – in a single tab.
Training automation. Most advanced learning management systems take care of all those tedious, yet extremely important, routines. They can enroll and reenroll employees in courses, remind them of deadlines and reenrollment dates, send out invitations to upcoming events, and more.
Social learning. Some LMSs have collaborative tools such as discussion forums and chat rooms that help learners connect, share knowledge, and work on projects together. 
Mobile learning. Many training platforms come with native mobile apps that let learners take courses on their smartphones and tablets, even when offline. 
Integrations. Most learning management systems integrate with other software, like videoconferencing tools, content creation software, HRIS, CRM, and e-commerce platforms. They allow L&D and HR teams to simplify their workflows and deliver a better learning experience.
An LMS may have basic content creation capabilities, so if you'd like to create advanced training courses, you'll need a separate authoring tool.
Also read: How to Choose an LMS: A 5-Step Guide
Who needs an LMS?
Large corporations are not the only ones that can benefit from a learning management system. An LMS is essential for small businesses, non-profit organizations, educational institutions, and even regulatory authorities. 
In general, an LMS fits the requirements of just about any organization that needs to:
Deliver training programs to their employees and partners
Offer certification of any kind
Arrange compliance and other mandatory training activities
Create a large knowledge base for the staff
Implement blended learning in an organization
Teach learners globally online
Also read: The 15 Best LMS Platforms — A Comparison and Review for 2023
What Is an LCMS?
An LCMS is software designed for creating digital learning content that can be reused across different courses and training programs. It also provides a centralized platform for collaboration among instructional designers, subject-matter experts, and trainers. 
Though most modern learning content management systems offer basic LMS functionalities like content delivery and learner performance analytics, they are aimed more at content creators than at training managers. 
Key LCMS features
At first glance, an LCMS may seem like an advanced authoring tool, but it's not. A good LCMS covers the entire content life cycle. 
The features that make them stand out are the following:
Robust built-in authoring tools. A learning content management system offers a wide range of tools (and often a number of templates and assets) for creating advanced courses with interactive elements and complicated visuals. 
Advanced collaboration options. An LCMS is typically a cloud-based platform that lets multiple authors create content together and review each other's work in real time. 
Content storage and distribution. You can store all eLearning content, and its revisions, in a single platform and conveniently organize learning materials by course, project, topic, etc. 
Reusing and repurposing content. You can access and reuse content from previous courses and training programs easily.
Analytics. Content creators have access to a fully functional reporting suite to track the usage and effectiveness of their content. 
Who needs an LCMS?
A learning content management system can be beneficial for companies and big teams that create large volumes of custom eLearning materials. 
In general, LCMSs would be a good fit for those who need to:
Design unique customized courses based on external customers' requirements
Maintain the consistency and quality of learning content in the long term
Update existing courses regularly
Implement high-level security
LMS vs. LCMS: Similarities and Differences
The main difference between an LMS and an LCMS is the primary focus. An LMS is mostly intended for learners and training managers, while the LCMS is geared toward course creators. This, in turn, defines their functional differences, as shown below. 
Comparison of LMS and LCMS

| | |
| --- | --- |
| LMS | LCMS |
| Basic or even no content authoring capabilities |  Advanced content creation tools |
| One content creator working on a course |  Multiple content creators working on a course |
| Multi-format content import |  Multi-format content creation and export |
| Content storage and categorization |  Content storage and categorization |
| Structured learning tracks |  – |
| Advanced user management |  Basic or even no user management |
| Training session scheduling |  – |
| Powerful reporting and analytics |  Basic analytics |
| Training automation |  – |
| Social learning features |  – |
| Gamification |  – |
Which Solution to Choose — an LMS or an LCMS? 
The answer entirely depends on your needs. If you're looking for a platform to streamline your training management, an LMS will become your indispensable helper. If you need a powerful authoring tool with some basic delivery and reporting features, you should consider an LCMS. 
Do you need both a robust LMS and a fully stacked authoring tool, but don't want to overpay? Then opt for iSpring Learn.
Also read: 
The 11 Best HR Tools for Streamlining Your Workflow in 2023
17 Key Recruiting Metrics and How to Improve Them with Online Training
iSpring Learn is a powerful LMS that has a full set of features for training management and built-in tools for creating simple page-like courses and quizzes that you can create together with your team. It also comes bundled with an advanced authoring toolkit, iSpring Suite, that allows you to create professional looking courses with quizzes, interactive assessments like drag-and-drops and hotpots, training videos, and role-play simulations. 
Would you like to see first-hand how iSpring Learn can facilitate and improve training in your company? Then request a free LMS demo today. And if you want to see the iSpring Suite authoring toolkit in action, take it for a spin now with a full-featured 14-day free trial.