Everywhere we look these days, we can see the impact that mobile technology continues to have on society and the culture. According to Cisco Visual Networking Index, by the end of 2014 the number of mobile-connected devices will exceed the number of people on earth, and by 2018 there will be nearly 1.4 mobile devices for every person on the planet.
The impact that mobile technology has had on social engagement and the conduct of business is obvious. Mobile enabled websites, mobile apps, and social media are just the beginning of this evolution. And the fact that you're reading this indicates that you're a part of it.
Engagement – The Overarching Theme
As this technological phenomenon continues to evolve, the overarching theme will be engagement (aka. Human Communication). But this is really not a new concept. Engagement was also an overarching theme in prehistoric times as languages were being developed and images were being painted on cave walls. In those days, the technology was paint, brush, and stone. Today the technology consists of bits, bytes, radio waves, and all those other mysterious (too many) things that make today's mobile communications possible.
It's important to understand that it's not the technology that makes engagement meaningful. It's what can be accomplished through that engagement that's important. A great example of this is the TV commercial that used to run for GoToMeeting.com showing a group of individuals in different parts of the world using mobile technology to collaborate on a project to bring water to a village in Africa. This same quality of engagement can be applied to learning.
Mobile Learning – An Obvious Application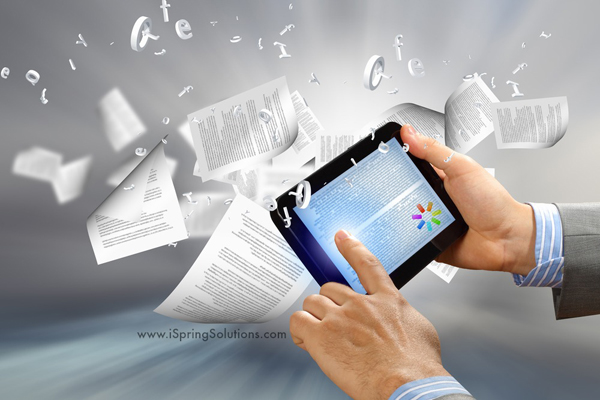 Imagine how exciting it would be to collaborate on some project with people from across the globe. It's that excitement over the possibilities that gives life to mobile engagement. It's that same excitement over the possibilities that makes mobile learning so popular, and effective.
Children of all ages seem to learn how to use mobile devices very quickly and easily. App developers have seized upon this and created thousands of mobile apps that are designed to, in some way, educate even the youngest of users.
Moving beyond formal education into the workforce, more and more companies are changing their training and development programs to incorporate the benefits that mobile technology offers. The Business Focus 2014 report compiled by Brandon Hall Group shows that mobile learning remains a top 10 priority of the business leaders they surveyed.
In the end, it's not enough to just provide mobile learning systems because they're mobile, and hope the learner will stay engaged because the technology is "cool". That will only keep them engaged for a while. Remember, it's not the technology that makes engagement meaningful. It's what can be accomplished through that engagement that's important. So close attention must be paid to the course content, and helping the student understand what he can accomplish by learning it.
We'd love to hear your thoughts on this. Check out all of the iSpring Solutions products that can help you create great courses for any mobile device. You can contact us via email online,
and of course on any of our social media sites – Facebook , Twitter, LinkedIn.