December 22, 2022
eLearning Statistics: All There Is To Know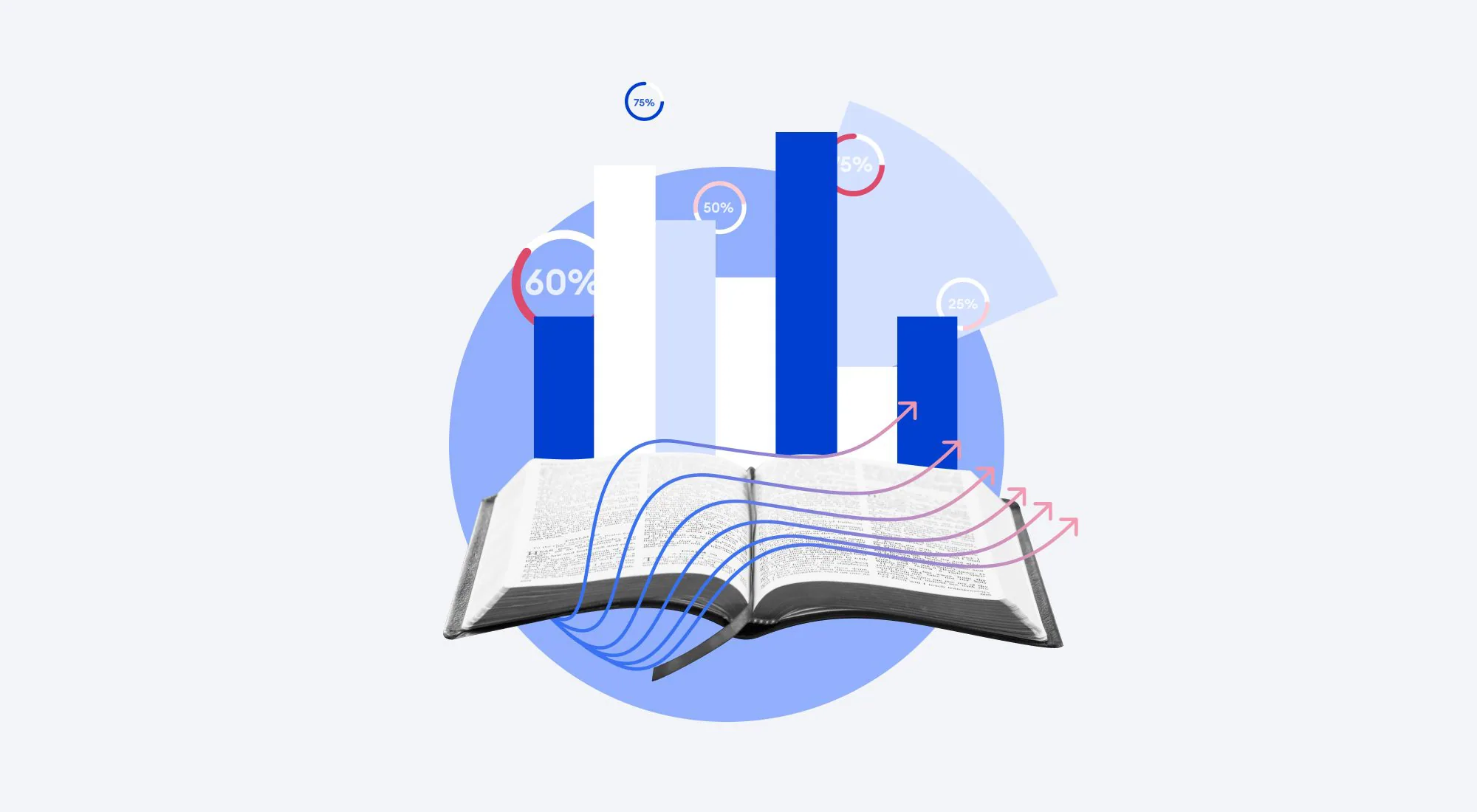 People love statistics, and, luckily, the eLearning sphere offers an abundance of data to curb our curiosity. The continuously expanding market of online learning quickly responds to sociodemographic changes, making it necessary to watch trends closely. On the downside, this makes eLearning statistics a sea of information in which it is very easy to get lost.
Under these circumstances, it is all the more imperative to refer to credible sources when searching for facts about online learning. This article offers eLearning statistics that we trust to accurately demonstrate current trends. It may come in handy if you're looking for industry insights backed by facts and figures, but want to avoid drowning in data.
Here you can find statistics about online learning per sphere of application, which will hopefully make it easier for you to sort through the data. But let's start off by taking an overall look at the eLearning market.
The State of the eLearning Market
A general overview
The eLearning market has been growing at high rates since the 1990s, from its very beginning. However, the field reached unprecedented heights during the pandemic in 2020 and keeps advancing at a record pace. Here are a few examples of its prolific growth.
To know what makes eLearning so special and how it benefits the worlds of education and training, read this exhaustive guide:
What Is eLearning? Definition, Examples, and QuickStart Guide
eLearning software and tools
Authoring tools and learning management systems are the two most popular types of software used to create and deliver eLearning. Their continuing proliferation sometimes makes the buyer's choice more confusing, but there is still a solution for every taste and budget. Let's take a brief look at what eLearning statistics show in this regard.
In the quest for robust and easy-to-implement eLearning software, try an integrated solution from iSpring. The iSpring Suite authoring tool and iSpring Learn LMS is the perfect bundle to streamline learning and training in organizations of any size. From schools to enterprises, iSpring software helps to create professional-looking courses in minutes and deliver them to learners in a smart, cost-efficient manner.
eLearning Statistics by Application
Online education statistics
eLearning became a tremendous opportunity for millions of individuals during the Covid-19 outbreaks and related large-scale lockdowns. Some online learning initiatives started out as Zoom sessions and later expanded to full-fledged online courses, building a bridge between the traditional classroom and digital culture.
It was not without certain challenges, like a lack of tech-savvy skills, or poor technical infrastructure, but the outcome that we can observe now is fascinating:
Still, to serve everyone who needs it, eLearning initiatives have a lot of challenges to overcome in terms of affordability. Purchasing hardware and devices, or having reliable access to the Internet with sufficient bandwidth, remains unavailable for many. This makes it particularly important to launch eLearning on an organizational level to deliver it to a larger pool of students wherever they are.
Feel free to take a look at the success story of an online school that operates in 15 different countries around the world:
Ontario Virtual School: "With iSpring, we create engaging online courses for over 4,000 students"
Corporate eLearning
Many companies were pushed to revamp their workplace training, and make it partly or entirely self-paced by moving it online. As COVID-19 restrictions began to be lifted, organizations started to reinvent post-covid training practices and make their way to the most suitable solution.
To delve deeper into the current situation with corporate training, you can check out iSpring's latest study "Employee Resistance to Training: How to Get Buy-In and Motivate to Learn." Here you can find out what companies tend to overlook in training and what should be done to gain (back) employee buy-in and motivation. Don't hesitate to download it, it's free.
Content types and training formats
The great variety of content is what differentiates eLearning from traditional classroom training and makes it a great aid to the teaching process. Teachers, instructors, and training specialists can leverage the interactivity and flexibility that eLearning offers for many different training goals and improved learner experience devoid of physical limits. This is a snapshot of preferences in this regard:
Practice shows that the more diverse your training content, the better your chances to captivate learners. Make sure you've supplemented your informational course with interactive quizzes, mini-games, role-plays, and videos. To know about the best ways to use them, read the following article:
9 eLearning Content Types and When to Design Them
eLearning job statistics
Finally, let's take a brief look at the labor market in the context of eLearning. This field is promising. So, if you want to pursue a career as an instructional designer (ID) or a corporate learning and development (L&D) specialist, it's definitely worth a shot. See for yourself:
You may find another study by iSpring called "The Field of Freelance Instructional Design in Figures" to be useful. It sheds light on the state of affairs in the industry and shows the ways that freelance IDs can earn more by working smart. Here are just a few highlights:
How Effective Is Online Learning?
Among the myriad facts and figures about the eLearning field, there is extensive proof of its effectiveness in learning performance and business results. These are a few examples:
Need more evidence? With eLearning, you can deliver a compelling learning experience to audiences of any size imaginable, let's say 74,000 students around the world. This can help to save up to 25% on training costs, or reduce onboarding time by 50%. Thus, eLearning can contribute to the achievement of any kind of strategic goal by facilitating efficient training processes.
But what shapes the future of eLearning, and what's next? Let's think about it for a moment.
The Future of Online Learning
In 2015, Kevin Carey, an American writer and policymaker, predicted the demise of offline education. But this appears to be an overexaggeration. According to various surveys and iSpring's research in the field, organizations prefer to combine offline and online learning together and have the best of both worlds. The lively nature of instructor-led learning is not going away. The same can be said for eLearning, which is here to stay.
So, the future of education and training is closely intertwined with blended learning. As for the use of new technologies, virtual and augmented reality is expected to become the new normal of eLearning. According to Statista, the forecasted expenditure on AR and VR in education alone will reach $12.6B in 2025. Indeed, companies are steadily boosting their deployment of VR and AR (up 1-2% a year).
However, the deployment of 'traditional' eLearning software like LMSs is still far more common. At this point, VR and AR technologies are not affordable for many organizations, which opt for more practical and tried-and-true solutions, like LMSs with mobile learning capabilities. In this situation, the most likely scenario is the continued use of mobile learning and the rise of AI-powered systems. The latter offer more personalized learning experiences, like AI-driven content recommendations, following general trends in the industry.
FAQ on Online Learning Statistics
A few more facts on eLearning for the most curious.
How big is the eL-learning market?
According to Global Market Insights, e-learning market was valued at $315 billion in 2021.
Why is e-learning important to education?
e-Learning broadens horizons beyond the classroom setting by making education more scalable, flexible, and available for people, no matter where they're located.
What is the percentage of students taking online classes?
In the US alone, 2,642,158 students (12.5% of all college students) take online classes exclusively.