March 30, 2021
3 Ways to Set Up Blended Learning With iSpring Learn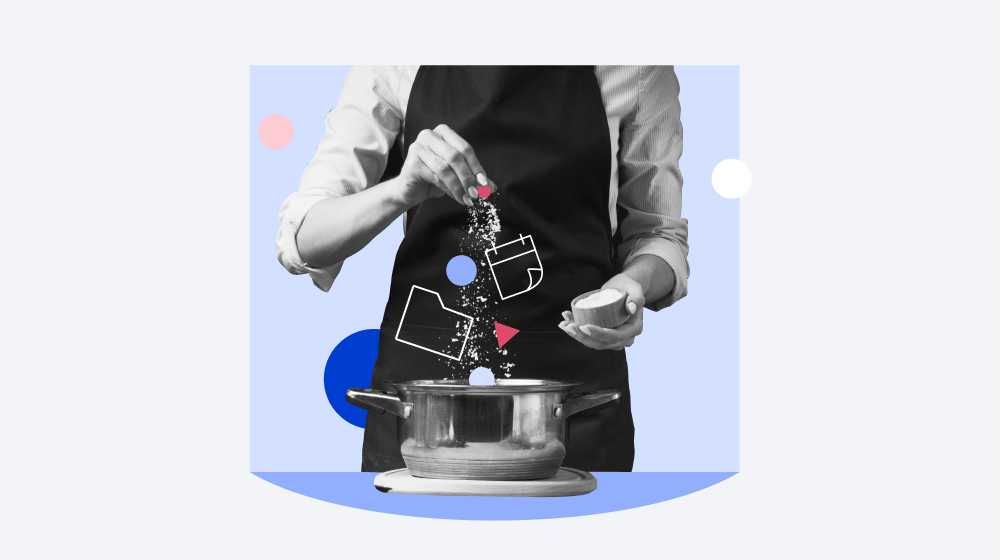 Blended learning is an approach that combines traditional face-to-face training with online learning activities. For example, employees first take a course on the learning platform on their own, then watch a live video, and in the final stage, reinforce their knowledge in a workshop or a group session with an instructor.
Now you can easily set up a blended learning program with iSpring Learn by combining online courses with webinars, group training, mentoring, and more. Let's see where it comes in handy and how to organize blended learning with iSpring Learn.
Mixed-Format Training
A single training can be attended by people with different levels of knowledge. While you are explaining key concepts to beginners, experienced members might get bored.
With iSpring, you can immerse learners in a topic and set a learning vector beforehand. Assign all the pre-training materials like presentations, videos, or online training modules to your employees in the LMS before the class. That way, you'll be able to devote in-class time to applying the newly learned skills and discussing the questions that are raised.
Before the training starts, it may be useful to conduct a survey to find out about your learners' training goals and expectations and then tailor the sessions to accommodate employees' needs. You can also carry out a survey after the training to get feedback from learners and understand what they liked and what could be improved.
Assigning a survey via an LMS will prevent you from dealing with a ton of paper and emailing questionnaires to all the participants. iSpring Learn stores all the answers in one place.
New Employee Onboarding
When new hires join a company, they have to learn a lot of new information. Mentors help new employees integrate into working processes, while HR professionals familiarize them with the mission and values ​​of the company and educate on relevant laws, regulations, and company policies. A poorly organized onboarding process can be disastrous – a new hire can become gradually immersed in work, make mistakes, and distract other employees with questions.
With iSpring, you can automate the onboarding process entirely. For example, you can set up the system so that each time you add an employee into a "new hires" group, the LMS auto-enrolls them into orientation training.
The onboarding program can include several courses and various learning materials, as well as face-to-face training sessions and meetings with a mentor or a manager. A trainee sees when they have a meeting and can prepare accordingly. To ensure that the newbie doesn't miss anything, you don't even have to manually send a reminder – the platform will do it for you. This is especially convenient when you have a lot of new employees in multiple locations.
This is how the onboarding program for new iSpring employees looks. The course includes online courses and face-to-face meetings with a mentor and a manager.
Training With Compulsory Hands-On Practice
To teach people how to work on specific equipment – making coffee or operating machinery, for example – training centers typically include hands-on practice in a training program. Employees study the theory repeatedly and master the relevant skills on the simulator. An easy way to conduct such training is to use a blended learning approach.
You can build a blended learning program in iSpring Learn. Pack all the information that can be studied remotely into eLearning courses and let your employees take them at their own pace. Send your colleagues to the training center only for practical classes. This will help you reduce training costs while preserving training quality. If your employees previously needed to spend a week at the training center, they can now go there for only 1-2 days.
To make sure your employees are prepared for the hands-on practice, you can set up a sequenced learning track in iSpring Learn. They won't be able to sign up for the course at the training center until they complete studying the theory.
That way, you'll be able to control employee training and be sure that they learn everything they need to. A learner will go through each stage of the course step by step to complete the training and pass the exam by the appointed date.
How to Launch Blended Learning with iSpring Learn
You can create a mixed-format course with iSpring Learn that might include online activities, presentations, video lectures, and instructor-led training sessions like workshops, one-on-one, or group meetings. In iSpring, all face-to-face sessions are called "trainings."
Schedule an event in the calendar
Click on the Add Training button on the Trainings tab and fill in the fields.
If you hold the same event several times for different groups of learners, add additional sessions of the same training.
Create a course
On the Courses tab, click Create → Course, and then fill your course with materials.
To create a blended learning program, add a training event to your course.
Now that the course is ready, assign it to your employees. Go to the Enrollments tab, click Enroll Users, and select learners.
If the event has several sessions, you can enroll employees for a specific date all at once.
Your employees will get a notification about the new course enrollment and start learning right away.
---
Try the new iSpring Learn features and share your experience with us. We'd love to hear your feedback and suggestions. If you don't have a valid subscription, sign up for a free 30-day LMS trial.