February 8, 2023
Top 30 Online Learning Software that Make Remote Life Easier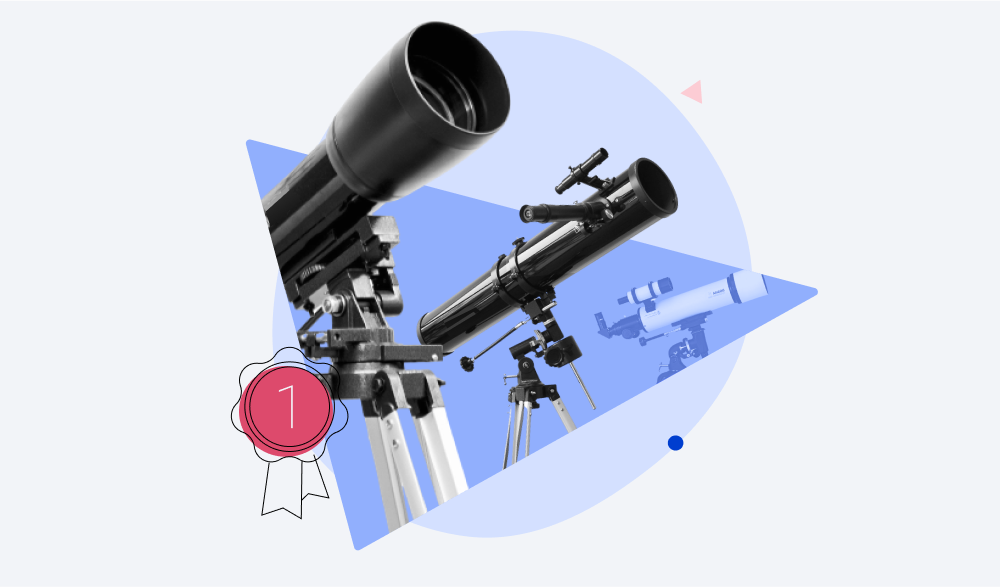 With the COVID-19 pandemic going on, a lot of organizations and educational institutions have turned to distance learning. In these challenging times, it's the safest and most effective way for people to continue education. And it's crucial to have the right tools in place so employees and training managers, and students and teachers, are always connected and have the necessary learning material at hand.
In this article, we'll cover five types of distance learning software you might want to consider to provide the best possible learning experience to your learners. Share them on social media or bookmark this article to come back later.
Learning Management Systems (LMSs)
How are you going to share course material with your learners? Emails and chats are probably not the best ways to do this. A learning management system (LMS) is what will save the day. An LMS makes it easy to manage and distribute educational content and automates the most tedious work, such as grading, processing statistics, and preparing reports. There's a huge number of eLearning platforms in the market and which one to choose is up to you. Here, we can offer you a brief overview of 7 LMSs that are well-suited for distance learning.
1. iSpring Learn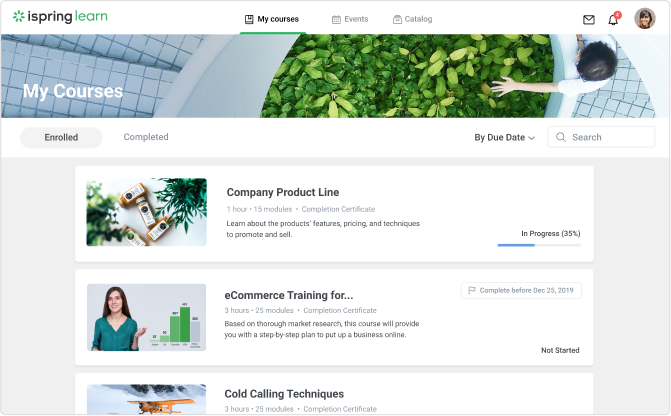 iSpring Learn is a straightforward cloud-based LMS that features advanced user and content management, great authoring capabilities, and a strong reporting engine. You can upload an unlimited number of training materials,
including SCORM courses, assign the content to your learners, and keep track of their results. The platform also allows you to create simple courses right in a browser with a built-in tool and build engaging interactive courses, dialogue
simulations, quizzes, and video tutorials with the iSpring Suite authoring tool that comes with the LMS free of charge. iSpring Learn is also a good fit for blended learning. You can host virtual training sessions via the Zoom integration and schedule both online events and classroom training in the calendar.
Pricing: iSpring offers two types of subscription – Business and Enterprise – with Enterprise providing more advanced features. The price depends on the subscription that is chosen and the number of learners that enter the platform during a given month. For example, the plan for 100 learners/month (Business subscription) costs $2.87 per learner.
2. Adobe Captivate Prime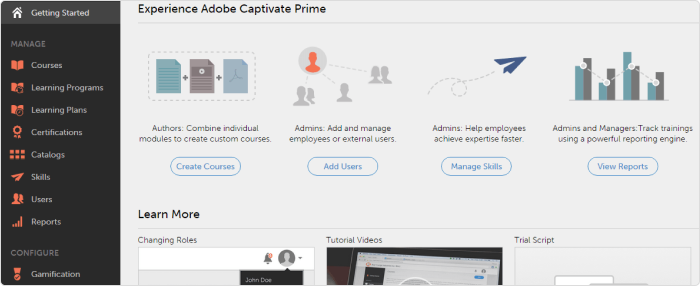 Adobe Captivate Prime is an LMS that is appreciated for its skill management and in-depth reporting. Unlike many platforms, it enables you to create and manage external groups – for training business partners, for example. The LMS also stands out for its extensive social learning capabilities. It allows learners to not only discuss the content in course-specific discussion boards, but also record video and audio content right on the platform and share it with
their peers.
Pricing: The price depends on the maximum number of learners that can sign in with the LMS each month and starts at $4/learner/month. However, you'll need to contact the vendor to learn the exact price.
3. SAP Litmos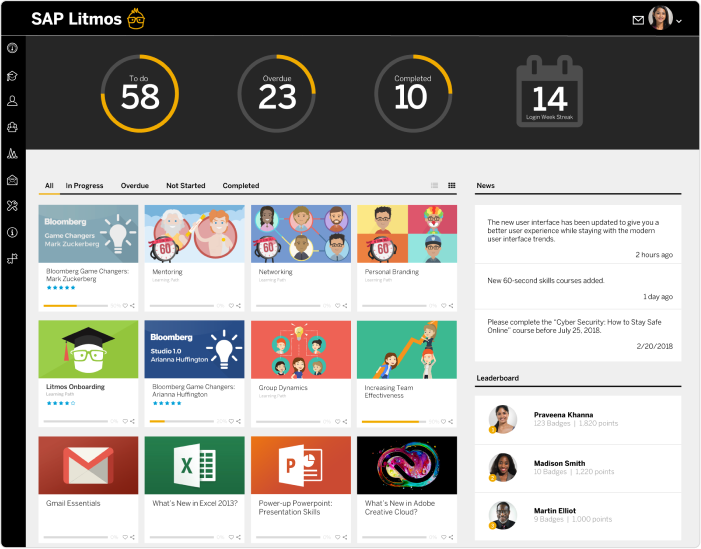 SAP Litmos is a training platform that includes a learning management
system and a course catalog offering a collection of video-based courses on various topics, including compliance, project management, and personal
development. It's also quite interesting in terms of content authoring – you can build quizzes and surveys, create text pages with information, embed content from other websites, make video assessments, and assemble courses from existing files.
Pricing: The annual cost depends on the number of learners that study on your portal each month – starting from $5.5/user/month for up to 150 users.
4. TalentLMS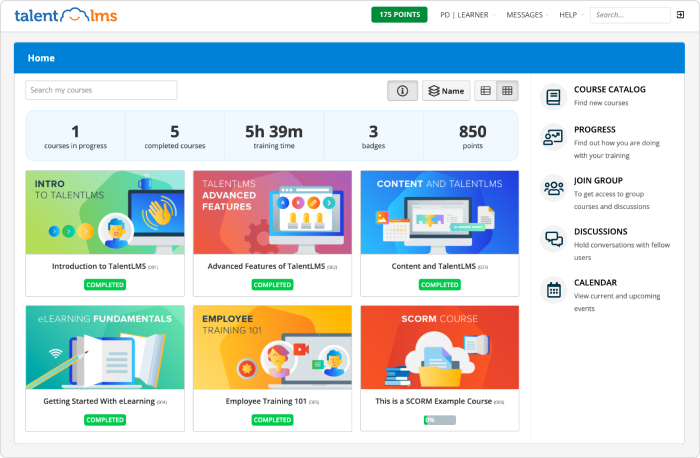 TalentLMS is an intuitive platform, complete with e-commerce, xAPI, cmi5, Aiken & Gift, Watershed LRS support, and Zapier integration. You can build simple courses by assembling different content types like videos, PPT slides, and SCORM packages, and including quizzes and assign them to your learners or sell them online right from the LMS. To enhance the system's functionality, you can enable integrations with hundreds of third-party services like Zoom, Slack, and Google calendar.
Pricing: The initial tier begins from $59/user/month for up to 40 users. There's also a free plan limited to 5 users and 10 courses.
5. LearnUpon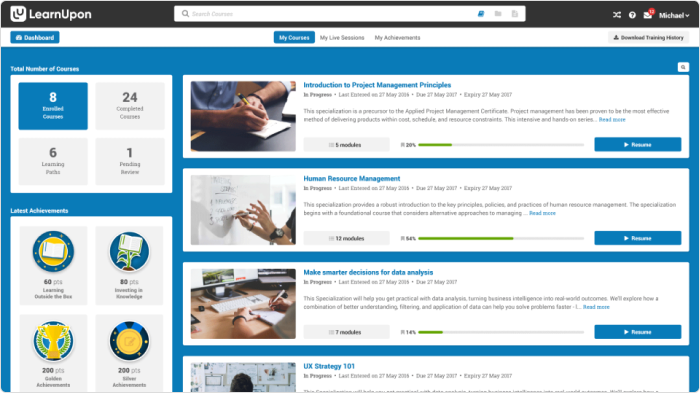 LearnUpon is a visually appealing LMS that is equally convenient for training employees, partners, and customers. Unlike its many competitors, it lets you create multiple learning portals with different designs for educating various groups of learners in separate environments. It also integrates with Salesforce, so if your organization uses this CRM, you can easily connect the two systems and embed LearnUpon into your Salesforce user dashboard to provide training in a familiar setting.
Pricing: The price depends on the number of users who sign in during a calendar month – starting at $699 per month for 50 users.
6. Moodle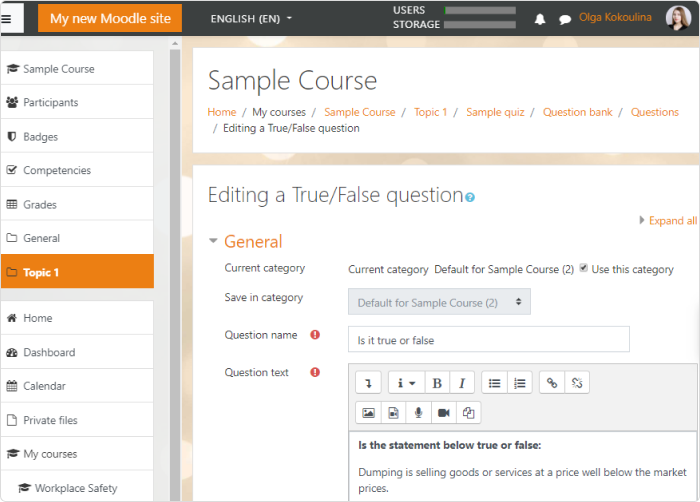 Moodle is a free and open-source LMS that is most widely used by K-12
schools and institutions of higher education. It allows you to create online courses by combining various kinds of learning materials, manage virtual classrooms, and track grades, course completions, learner activity, and competencies. To enhance the capacity of the LMS, you can use Moodle plugins covering various aspects of learning, from course authoring to better user experience and engagement.
Pricing: Moodle is free to download, but you'll need hosting, which comes with additional costs. You can find a provider on your own or purchase one of the Premium plans that give access to the MoodleCloud server. The Starter plan fits for a single class and costs $55/year.
Also read: How to Create a Moodle Quiz: Step-by-Step Guide
7. Sakai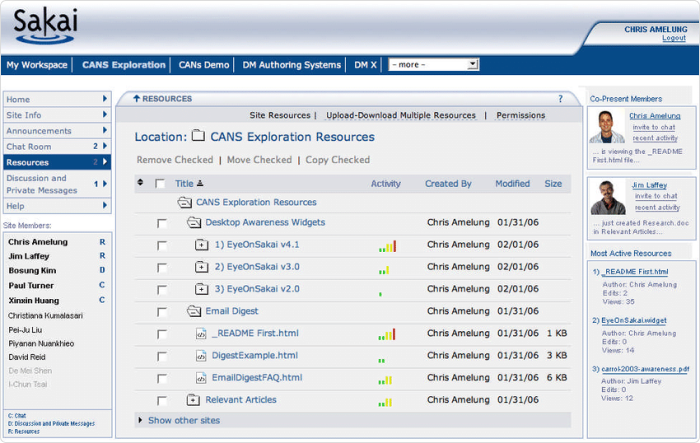 Sakai is a free LMS that is designed mainly for institutions of higher education. It includes all the standard eLearning, teaching, and collaboration tools available in learning platforms nowadays. The system also has an extensive list of LTI and API integrations with third-party apps like BigBlueButton, Office 365, SCORMCloud, and WordPress and has a wide range of Sakai-specific tools created by community members and then contributed as add-on components.
Pricing: Sakai is free, but you need to consider hosting expenses.
Course Authoring Tools
What kind of learning materials are you going to use during your distance-learning period? Word documents and PDF files are outdated modalities that won't let you know whether a learner studied them or not. With modern authoring tools, you can create courses, quizzes, and simulations that will engage learners and (coupled with an LMS) let you see how well they're studying. By the way, some corporate LMSs we mentioned above come with built-in authoring tools, but they are typically very basic. Here are a few standalone authoring software solely designed for the production of digital learning.
8. iSpring Suite Max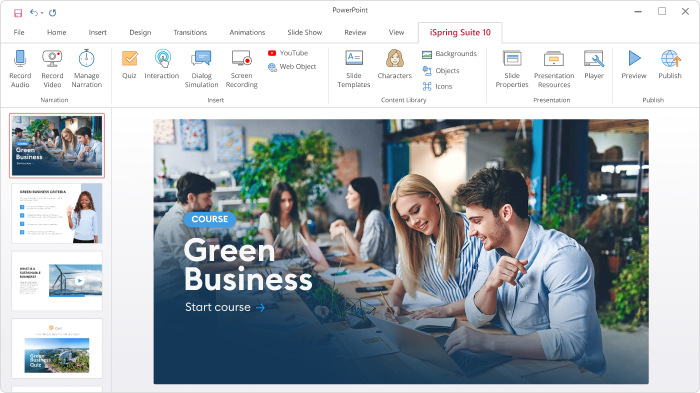 iSpring Suite Max is designed for fast course creation and collaborative projects. It allows you to build advanced eLearning courses, quizzes, video tutorials, and dialogue simulations on your desktop without any special training. To make course authoring even faster, there's Content Library with 68,000+ eLearning assets, including course templates, characters, backgrounds, icons, and buttons. You can also create simple adaptive courses right in your browser and cowork with your team on all the contents you author right in the cloud.
Pricing: $970/year (1-year subscription to iSpring Suite, Content Library, iSpring Space, and Tech Support included).
9. Articulate 360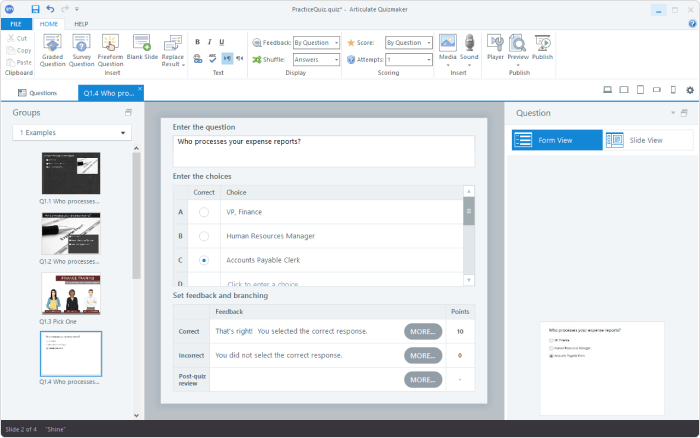 Articulate 360 is a large software complex that consists of nine tools, two of which are award-winning authoring apps. With Storyline 360, you can develop slide-based courses with audio/video narration, animations, quizzes, and screen recordings. With Rise 360, you can build fully responsive courses with interactions and quizzes in a web browser. Articulate 360 also includes a library of visual assets that you can insert into your courses: people cutouts, backgrounds, stock photos, and videos.
Pricing: The Teams plan costs $1,299/year (1-year subscription to course authoring apps, stock content, Review app, and online training included).
10. Adobe Captivate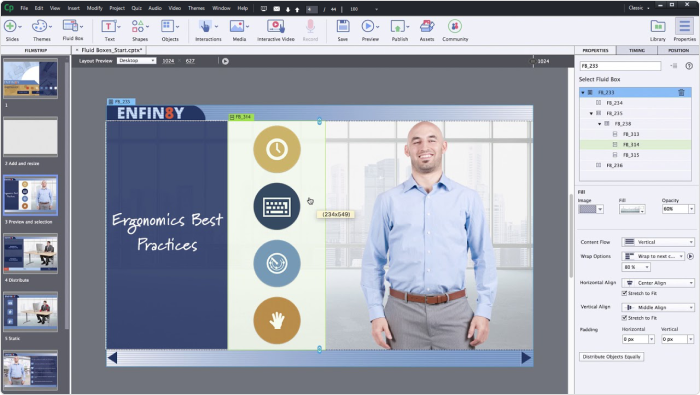 Adobe Captivate is a feature-rich course authoring software that provides great customization options and is perfectly suited for building complex interactive courses. It also boasts some unique advanced features like a VR-content builder, a software simulation maker, and the Adobe PhoneGap tool that can export your course to a mobile app for iOS/Android. However, Captivate has a traditional linear style design that can seem quite clunky to many users.
Pricing: $33.99/month (annual subscription) or $1,299 (lifetime license).
Also read: Adobe Captivate vs Articulate Storyline 3 vs iSpring Suite: A Feature Comparison
11. Elucidat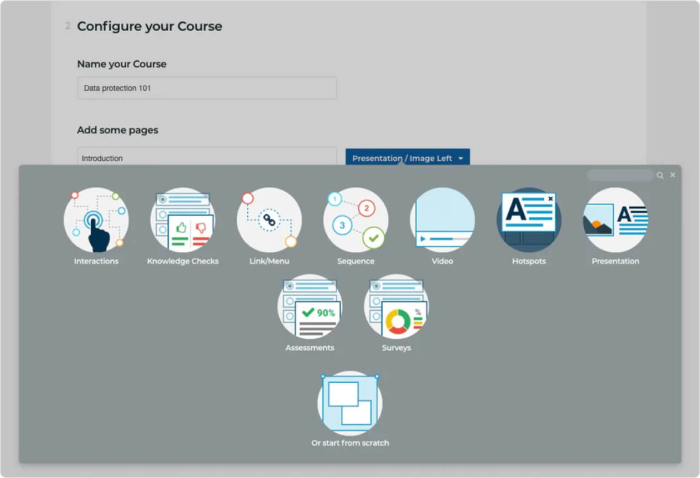 Elucidat is a cloud-based course authoring tool that enables you to create courses online. You can build courses from multiple templates and control brand elements such as logos, web fonts, and colors across various projects from just one dashboard. In addition to course creation and brand control, Elucidat also features content management with an integrated media library, localization of content into any languages, and data analytic dashboards and reporting.
Pricing: To get prices, you'll need to contact the vendor.
12. Lectora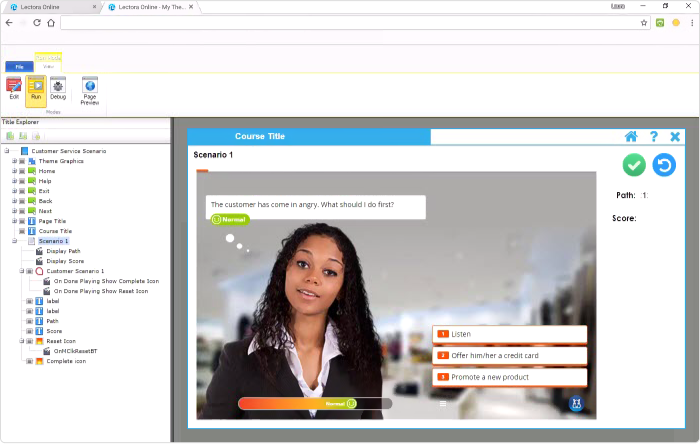 Lectora is an old Statesman that has been used for eLearning course authoring for a long time. It is a suite of tools designed to address the different needs of course developers, from building simple slide-based courses to creating complex custom projects. There's also a cloud-based version called Lectora Online, which allows you to create fully responsive eLearning content. The tool comes with the eLearning Brothers Asset Library that lets you quickly search over 120 million creative assets.
Pricing: $1,299/year (Lectora Online, the desktop version, ReviewLinkTM, and AssetLibrary included).
13. Camtasia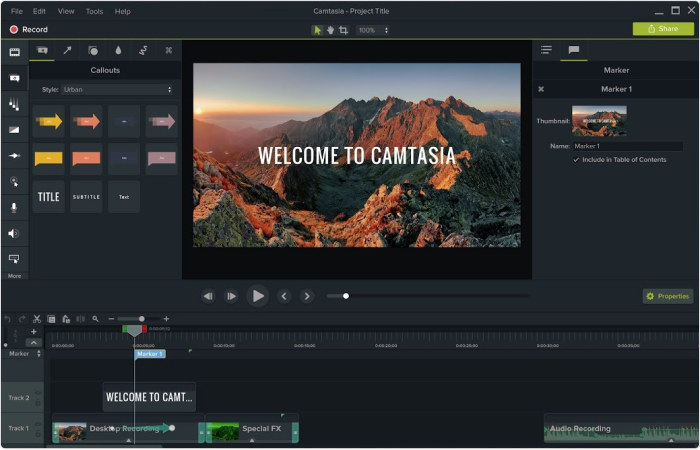 Camtasia is a powerful software for creating video-based learning content. It lets you capture your screen and include webcam input. You can also record audio clips or choose ready-made tracks from the library of royalty-free music and sound effects for your video. Camtasia offers a full suite of editing tools, as well as animations and video effects. To engage your learners and evaluate their learning results, you can add interactive quizzes to your video tutorials.
Pricing: $299 per user.
14. Adapt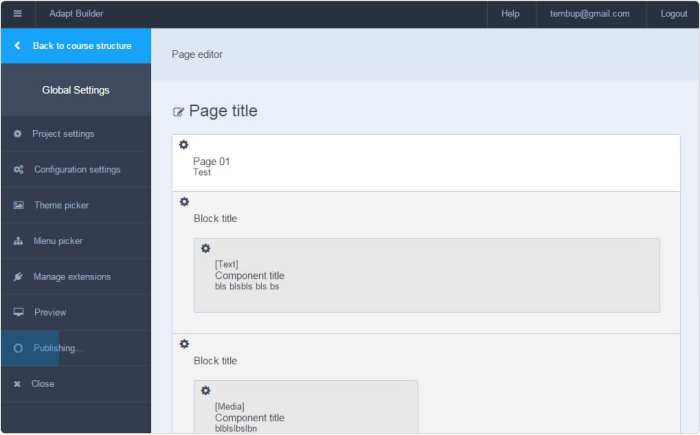 Adapt is an open-source authoring tool that creates fully responsive, multi-device HTML5 courses with a scrolling design. The tool is built on a modular structure and you can extend its functionality through plug-ins. There are four types of plug-ins available – components, extensions, menus, and themes. For example, you can set up the appropriate extensions for conducting quizzes and tracking learner results. However, you need to have a tech background to make some plug-ins work. Besides, it's quite difficult for a non-technical person to even install Adapt.
Pricing: Free
15. dominKnow | ONE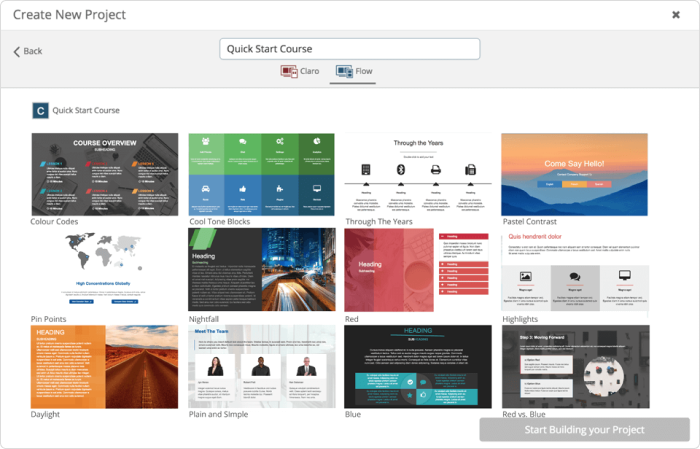 dominKnow | ONE is a powerful cloud-based authoring system that allows you to build different types of training content: eLearning courses, games, infographics, a knowledge base, and software simulations. The software makes the content authoring process easier with ready-to-go templates, stock assets, a central library for sharing and reusing content across projects, and real-time collaboration and review.
Pricing: The Team plan costs $1,497/year/author.
Virtual Classroom Software
This kind of distance learning software is particularly necessary for schools, colleges, and universities. It replicates the experience of a physical classroom and provides great potential for interactivity. In a virtual environment, educators can hold live lectures by utilizing video conferencing, online whiteboards, and screen sharing. Learners, in turn, can raise their hand to ask and answer questions, just like in the real classroom. Here are five of the most commonly used virtual classroom solutions.
16. WizIQ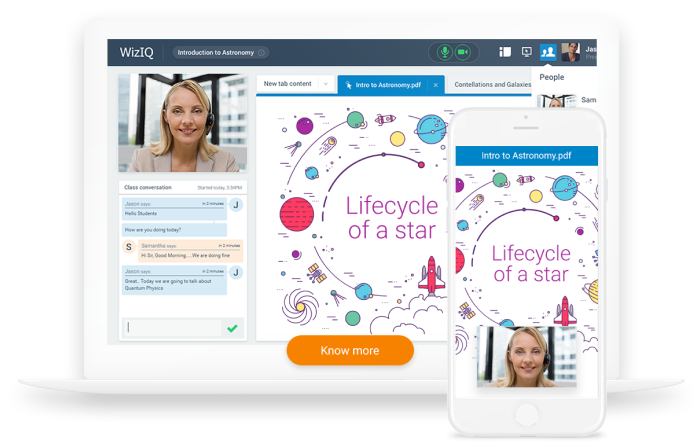 WizIQ is an end-to-end online learning delivery solution that features a virtual classroom, a cloud-based course builder with unlimited course authoring and content upload capacity, and a mobile app for learners. WizIQ's virtual classroom allows you to educate your learners online with high-resolution transmission, echo-free audio, and tools like online whiteboard, polling, and live chat. You can also build courses by uploading and combining various kinds of learning materials and creating tests.
Pricing: The vendor states that the pricing starts from $25/month (billed annually), but to get accurate costs, you need to contact its sales department. The LMS price is not included in the price of the virtual classroom.
17. VEDAMO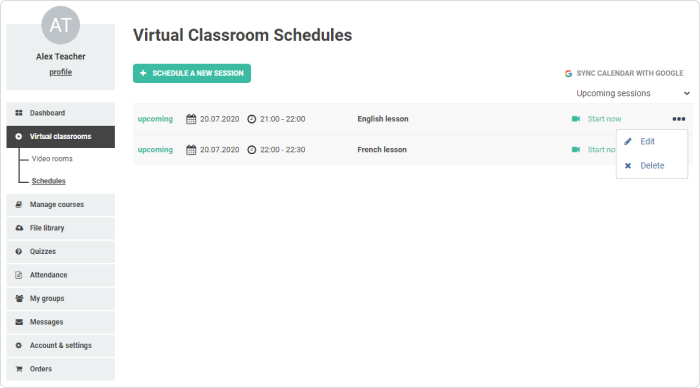 VEDAMO is a collaborative tool with an online whiteboard, breakout rooms, and screen sharing capabilities for conducting live online teaching/training sessions, regardless of your location. You can also share different multimedia materials and YouTube videos, and create and reuse content templates. VEDAMO also offers an LMS solution for creating and managing online and blended learning activities.
Pricing: The Virtual Classroom Plan (an LMS is not included) costs from $25/month. The LMS Plan includes unlimited virtual classroom sessions and costs $43/month for 25 users.
18. Newrow Smart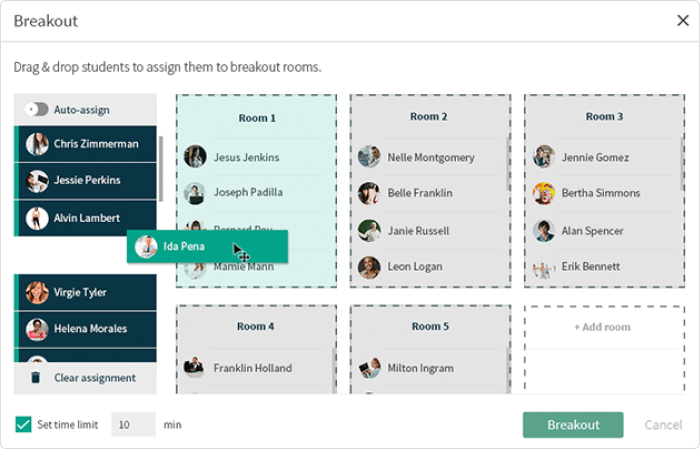 Newrow Smart is another virtual classroom software that is designed for online instruction. It enables you to keep learners focused and engaged with high-quality, real-time video and audio, an intuitive interface, and a suite of collaborative tools. The latter includes a digital whiteboard, cloud recording, screen sharing, breakout rooms, real-time notes, live quizzes, and cloud storage.
Pricing: It is free to use – for organizing meetings of up to 5 participants. The paid plans start with $14/month or $168 billed yearly for up to 100 participants and a limited set of options.
19. LearnCube
LearnCube is a virtual classroom tool created specifically for the needs of teachers to teach online effectively. It has a wide range of classroom features like an interactive whiteboard, real-time annotations, file sharing, native screen sharing, class scheduling, and tutor controls. Plus, it offers a set of subject-specific tools: math tools, chemistry tools, physics tools, rulers, an interactive compass, and language-specific tools.
Pricing: Starts from $14/month or $168 paid annually for 1 teacher account and up to 8 students per class. There's also a free plan for 1 teacher account and unlimited 1:1 classes.
20. Blackboard Collaborate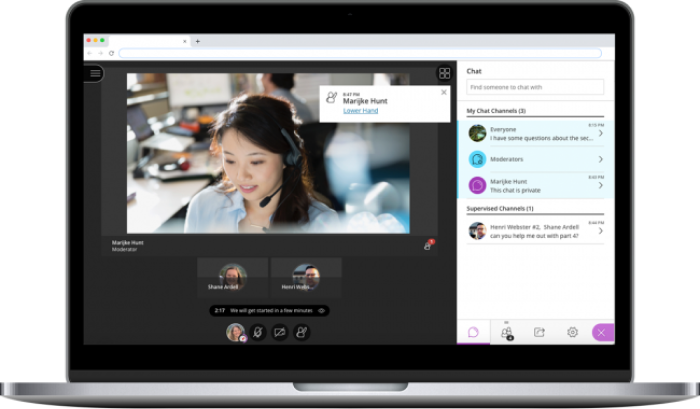 Blackboard Collaborate is a virtual classroom solution that is designed to power your online teaching and web conferencing needs and lets you connect with one learner or an entire class. It provides browser-based web conferencing, real-time annotations and text, instant, convenient chat, an interactive whiteboard, simple and fast file sharing, and integration with Blackboard Learn LMS.
Pricing: Not available on Blackboard Collaborate's website.
Web Conferencing and Webinar Tools
In terms of corporate training, virtual classroom software may not be a vital option. Video conferencing and webinar tools may be sufficient for promoting a learning environment. Of course, they lack some interactivity features, but they let educators and learners stay connected and collaborate in a real-time online setting and allow for accommodating hundreds of attendees at a time, which is impossible with virtual classroom software. Check out the three most popular solutions.
21. Zoom Meetings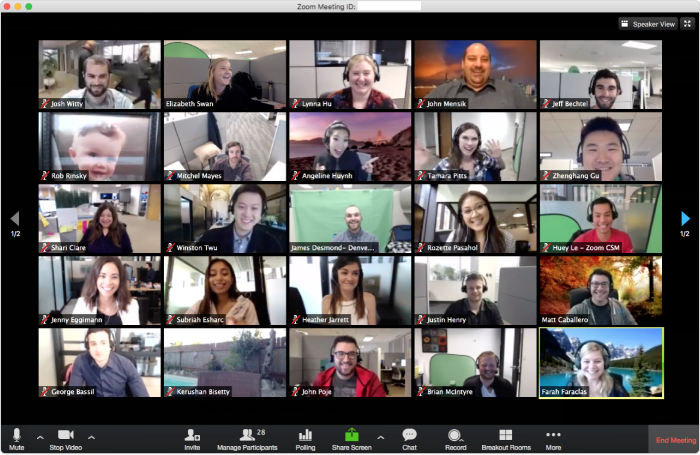 Zoom Meetings is software that simplifies video conferencing and messaging across any device. It brings high-quality HD video and audio to your meetings with support for up to 1,000 video participants and 49 videos on screen. Participants can share their screens, co-annotate, and chat with each other. The software also provides such tools as filters, reactions, polls, and hand raising to make meetings more engaging.
Pricing: There's a free plan for personal meetings. The premium plans start at $149.90/year for group meetings and up to 100 participants.
22. Google Meet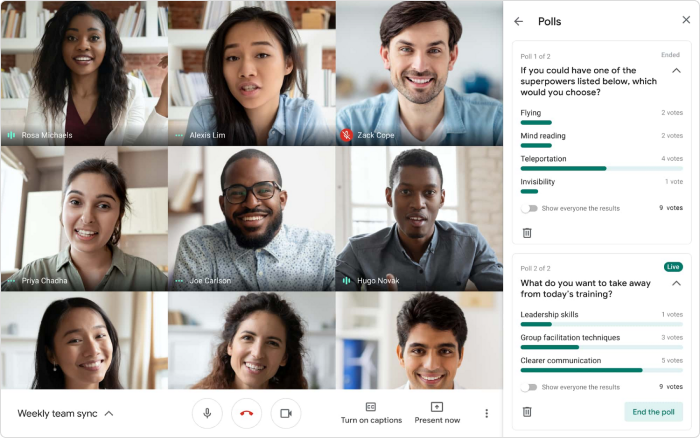 Google Meet is a meeting software that is included in Google Workplace. The number of attendees you can host for your video conference varies according to the pricing plan you've purchased. Users can join meetings from a Calendar event, an email invite, or directly from Gmail. Meetings organized by Google Workspace users also create a dial-in phone number, so every guest can also quickly dial in with a tap from their smartphone.
Pricing: Google Workspace plans start at $6/user/month for Business Starter (100-participant video meetings included).
23. WebinarNinja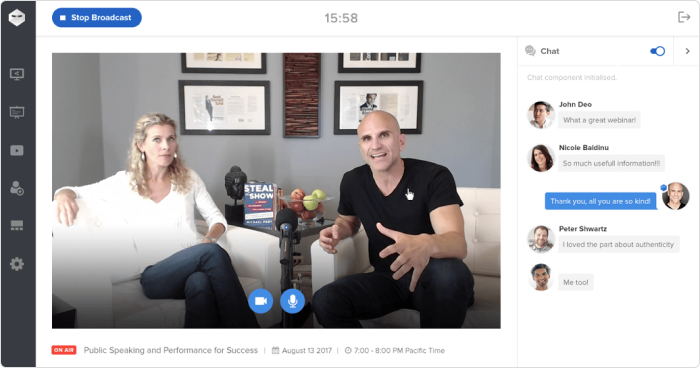 WebinarNinja is a complete webinar platform that allows you to run
live, automated, hybrid, and series webinars. Besides webinar-oriented features like presenting live and interacting with your audience, sharing your screen and slides, and conducting polls and Q&As during a session, it also lets you set up a schedule, send confirmation and reminder emails to your registrants, create registration and thank you pages by using ready-to-go templates and measure conversion and attendance rates.
Pricing: Starts from $79/month (billed annually) for 300 live webinar attendees and unlimited recorded attendees.
Mobile Learning Tools
These are distance learning software programs that make the educational process even more convenient and engaging. We've compiled a collection of tools that are designed for creating content that can be viewed on mobile devices. With such tools, learning is always at your fingertips – over a cup of coffee or in line at the bank. Here are seven solutions you might like.
24. iSpring Page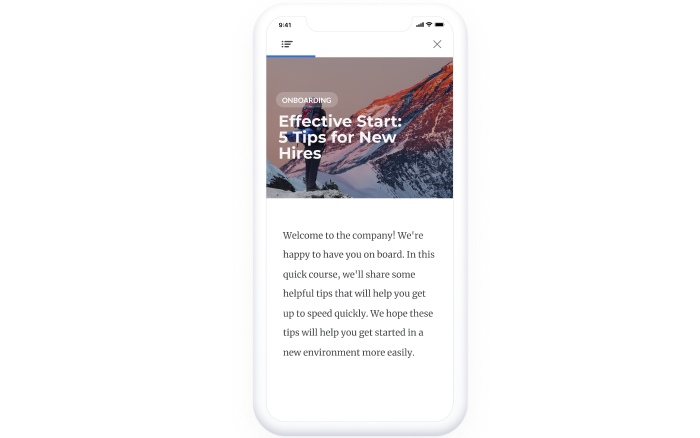 iSpring Page is a tool for building adaptive microlearning courses that play well on mobile devices. You can create microlearning modules right in your browser in a matter of minutes. You simply need to paste text in the editor and
insert pictures and videos. You can also add knowledge checks to let learners know how well they understand the material and improve their retention.
Pricing: $97/year for 1 author
25. EduMe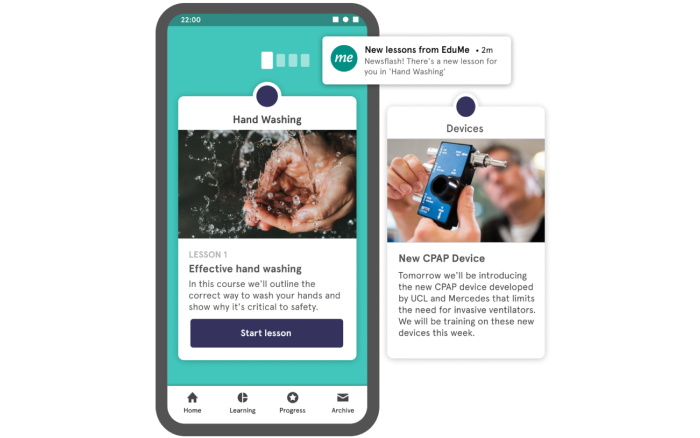 EduMe is a mobile workforce training and engagement platform that allows
you to create microlearning modules with images, videos, flashcards, and surveys, assign the content to learners and keep track of completion and
pass rates, as well as individual and team performance. EduMe integrates with various software – it can be connected with your HCM or CRM, for example.
Pricing: Not listed on the vendor's website.
26. Master-O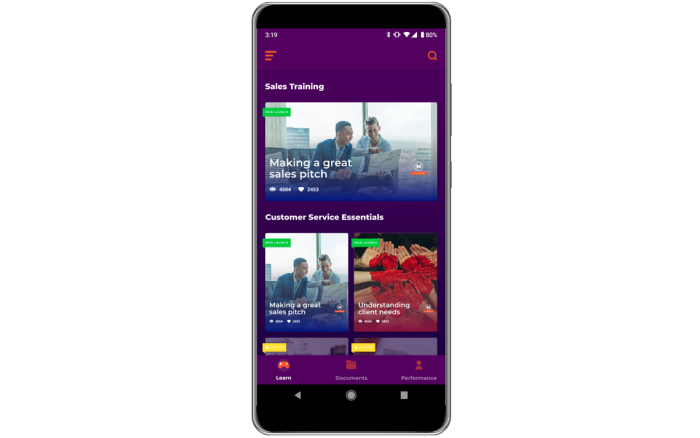 Master-O presents itself as a focused and formal skill enhancement solution. It enables you to create learning content in the form of Microskills. You can repackage your existing SCORM or xAPI learning content into Microskills, use game designs for effective learning, and engage learners using gamification. There's also a built-in library that contains Microskills on sales, product knowledge, customer service, and leadership development.
Pricing: Available only through a quote.
27. ShotClasses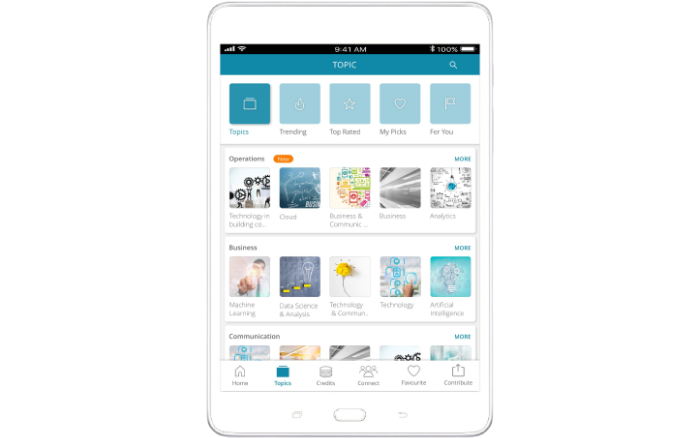 ShotClasses
is a mobile-first microlearning platform that lets you quickly create micro lessons from PPT slides, PDF files, SCORM packages, and YouTube videos, build quizzes, and collect employees' feedback on training. It also features Intelligent assignment – it can distribute classes using meta-tags based on employee roles, geography, product handled, etc., and generates intuitive reports for tracking learning progress.
Pricing: Available upon request.
28. TalentCards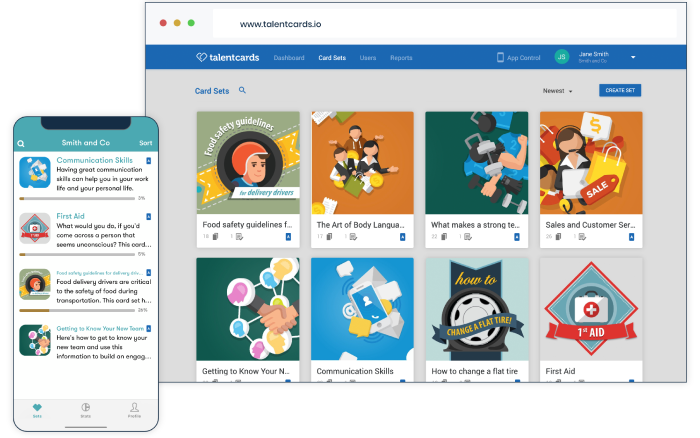 TalentCards is a mobile learning app that helps you deliver training in small chunks of information using a microlearning approach. You can create easy-to-follow learning cards that your learners can access from their smartphones, check how they have mastered their training with quizzes, and then track their activity, progress, and completion with simple reports.
Pricing: Starts at $49.00/month for up to 50 learners. There's also a free version for up to 5 users.
29. Kahoot!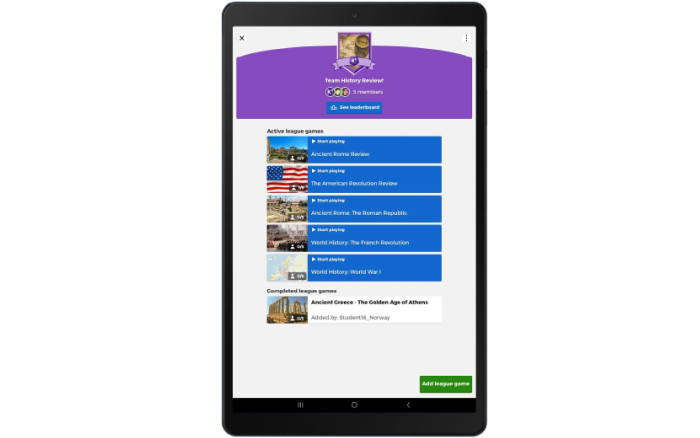 Kahoot! is a game-based learning platform designed for building "kahoots,"
which are gamified multiple-choice quizzes. You can create kahoots in minutes on your own or choose from 40+ million ready-to-play games, assign them as part of distance learning or for review and formative assessment in class, and track how well they are doing. Learners can play kahoots right in its native mobile app.
Pricing: Starts from $10 per host and up to 20 players per month ($120 if billed annually).
30. QuizGame
QuizGame claims to be a training tool that enables knowledge retrieval practice in a playful way. It provides a variety of game templates (Prison Break, Do or Die, The Big Escape, and more). You just need to upload your questions, assign games to learners, let them play, and then analyze their results with the help of reports.
Pricing: There's no pricing information on the QuizGame website.
Conclusion
All the tools covered in this article are great software for distance learning. Analyze your eLearning objectives and determine your requirements to pick the most suitable training tool(s). Test drive your preferred solutions before making a decision.