Software that easily converts PowerPoint presentations to videos is a useful tool for anyone wanting to share their files on social media, blogs, or on video sharing sites. Converting your PowerPoint presentation to video before posting will protect your presentation from modification and repackaging by someone else. It will also facilitate playback on portable and handheld devices, which is particularly important if you are a teacher or educator wanting to share your presentations with students by posting them on a learning management system (LMS) or in an eLearning course.
Here are ten of the top PowerPoint to video converters.
1. iSpring River
iSpring River integrates with PowerPoint as a tab right in the software, to help you convert your slideshows to MP4 format and upload directly to YouTube with a single click. The video file it creates is compatible with a variety of desktop and handheld devices (including Android devices) and both Windows and Mac operating systems.

The features include:
all multimedia, transitions, fonts, styles, and animations are preserved after the conversion
instantly upload to YouTube without having to save the video on your computer
adjustable video quality and size (you can choose HD video format)
works as a PowerPoint add-in
River is useful for teachers and trainers in the education and corporate sectors to convert even the most complex PowerPoint presentations to crystal-clear 1080p HD format for instant one-click publishing to YouTube right from the interface.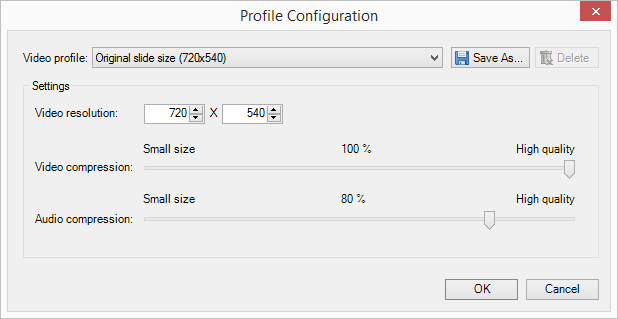 You can add narrations to your PowerPoint to turn it into a video lecture and use River to convert it with all effects preserved for playback on any device.
Start a free trial of iSpring River now
Watch this demo to see an example of what you can do with River:
2. Digital Office Pro
The Free PPT to DVD Converter by Digital Office Pro will convert your PowerPoint presentation file to DVD format, and a variety of other video file types. Video files are compatible with most portable devices, including Apple and Blackberry.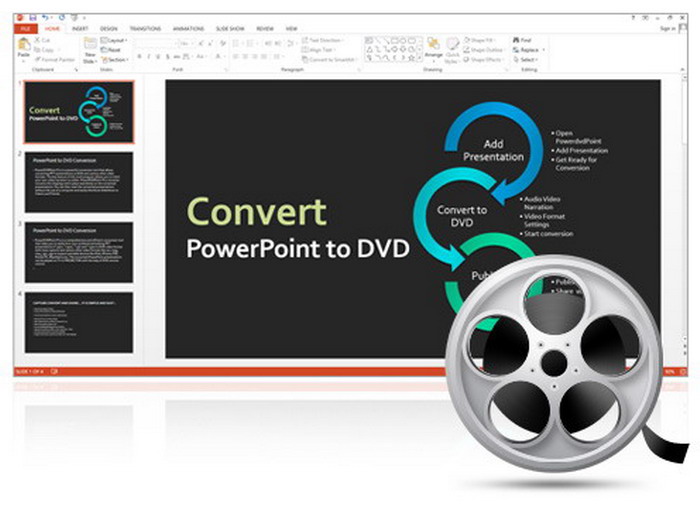 Pros:
converts PowerPoint presentation files to WMV, MOV, ASF, and M4V formats
video retains all effects (including transitions and animations) of the original
supports all types of PowerPoint files and all versions of PowerPoint
Cons:
sometimes the output files cannot be launched at all
the conversion is rather slow
no technical support is provided with the free version
audio and video narration is not supported
free software does not convert PowerPoint files to many popular video formats (such as MP4 and AVI)
3. RZ Soft
RZ Soft is a free to download PowerPoint to video converter that supports all versions of PowerPoint (going back to 2000), and all PowerPoint formats. The software converts the final output size and resolution to user specifications.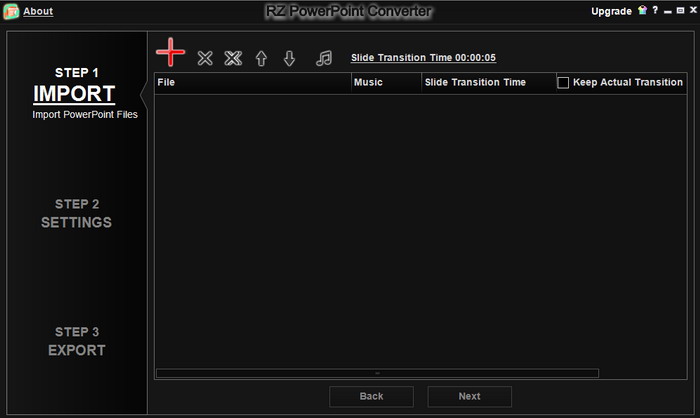 Pros:
no time limit for use of free version
includes DVD burner feature
video retains all of the original slide show features, such as animation, video clips, transitions and sounds
Cons:
free version only converts files to AVI
must buy paid version for HD
free version does not support external devices
the trial version adds a watermark on output files
4. Leawo PowerPoint Converter
Free to try, Leawo PowerPoint Converter will convert your PowerPoint slideshow to popular video formats. You can read reviews on this converter on CNET.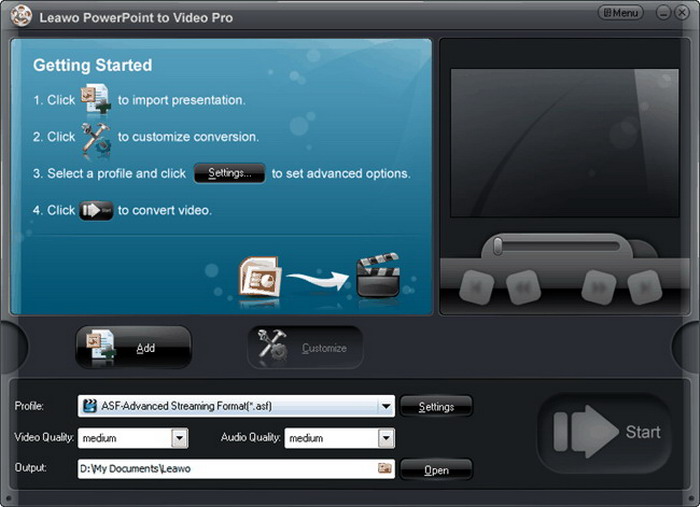 Pros:
able to convert slideshows to more than 23 video formats
has been updated to work with PowerPoint 2013
video retains all of the bells and whistles of the original PowerPoint presentation
Cons:
does not appear compatible with Windows 10
watermark on video output
does not work with Mac OS
5. Online Convert
Online Convert is a free online document converter that will convert your PowerPoint to multiple video formats and download it to your computer while you wait. The site also offers a number of other useful file converters, all free, and with no watermark in the final output file.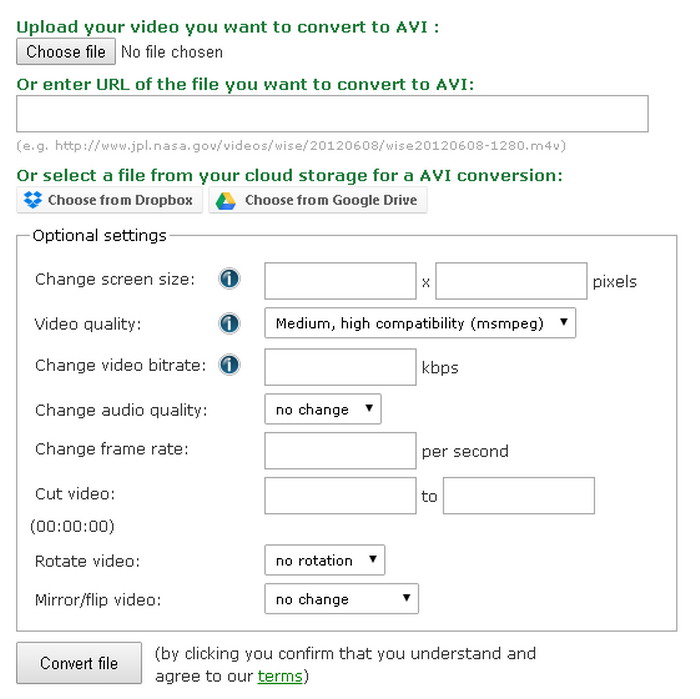 Pros:
easy to use interface
can convert files uploaded directly from your hard drive, from a URL, or from your Dropbox or Google drive accounts
provides a number of optional settings for output formatting
Cons:
direct download of final product might make some people wary of using the converter
presentations have to be uploaded to the Internet for the conversion to begin
6. ImTOO
The ImToo converter boasts the ability to convert your PowerPoint files to video without the need to have PowerPoint installed on your computer. This software also provides the ability to add commentary, watermarks, and music to your PowerPoint before converting it.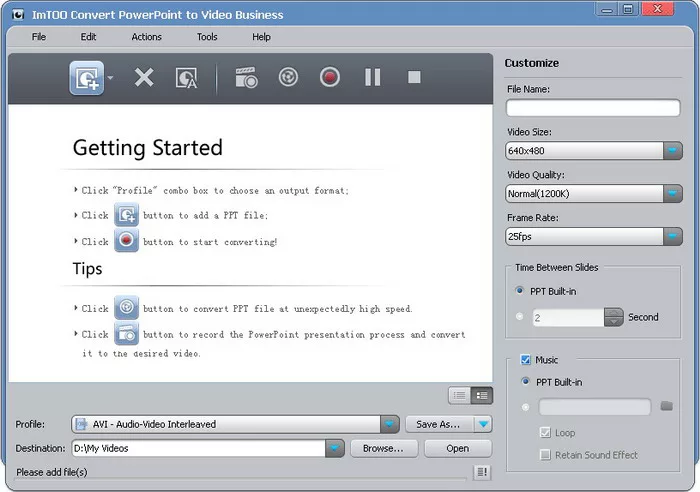 Pros:
converts files to most popular video formats
allows for rapid conversion of files
Cons:
free version is limited in features
no HD or external device conversion from free version
only converts up to 800 x 600 video resolution
7. Xilisoft
Xilisoft PowerPoint to MP4 Converter allows you to convert PowerPoint presentations to a number of popular video formats, including full high-definition (HD) quality. This software provides a number of tools to help you customize and tweak your presentation prior to conversion.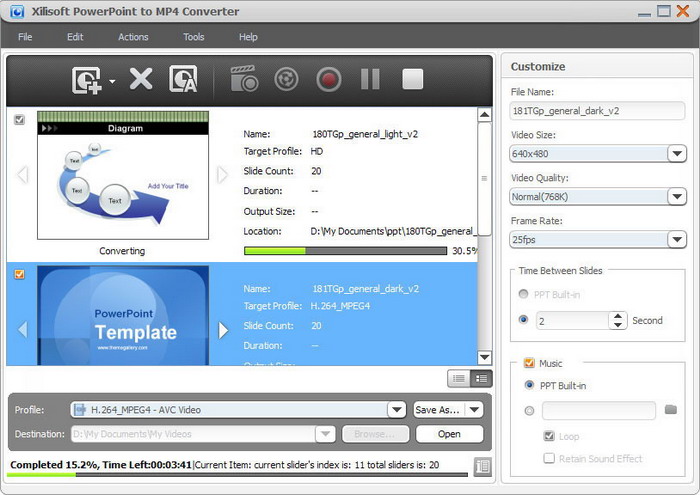 Premium features include:
videos may be viewed on a number of portable devices
software allows you to personalize your slideshow by adding a watermark, adding a soundtrack, and adjusting conversion parameters, such as playback interval
allows you to remove all animations and slide effects prior to conversion if you choose
Pros:
offers number of various outputs
includes basic editing options
converts presentations to HD videos
works with MAC
Cons:
very resource intensive
may crash with large files
some outputs don't work properly (for example, RM)
quite difficult to navigate
8. MoyeaSoft
MoyeaSoft PowerPoint to Video Converter will convert your PowerPoint slideshow to a variety of popular video formats, preserving all of the effects in the original file. Video files are compatible with most tablets, portable media players, video game Consoles, and mobile phones.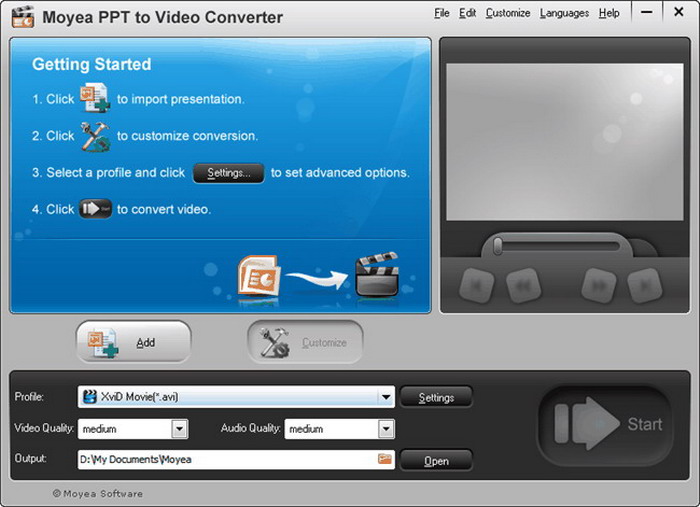 Premium features include:
will convert files from all versions of PowerPoint going back to Office 2000
a multilingual interface supporting 8 languages
an educational edition, to facilitate converting e-Learning lessons to video format for teachers and educators
Pros:
quick install
user-friendly interface
a good range of video outputs
Cons:
sometimes stops in the middle of conversion process and requires a reboot
big watermark is placed at the center of presentations
users complain at the support system
resource intensive
unable to convert PowerPoint to video if Microsoft PowerPoint isn't installed
9. ETinySoft
ETinySoft PowerPoint Video Converter for MAC claims to be an all-in-one PowerPoint to video converter, able to convert files to almost all popular video formats. The site provides a number of tutorial videos to help users get started.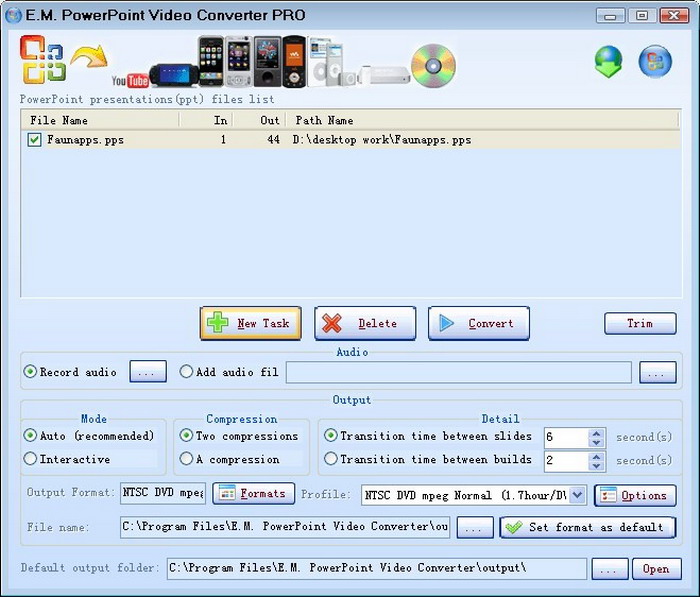 Pros:
users can choose between high-quality, simple and rapid conversion
offers a number of output formats
can also convert PowerPoint files to still image sequences in a variety of formats
Cons:
great consumer of computer resources
unstable work
runs on Mac OS X 10.6 + only
10. VeryPDF
The converter by VeryPDF will convert your PowerPoint presentation to a number of video formats, and is compatible with most versions of Windows, including Vista and XP.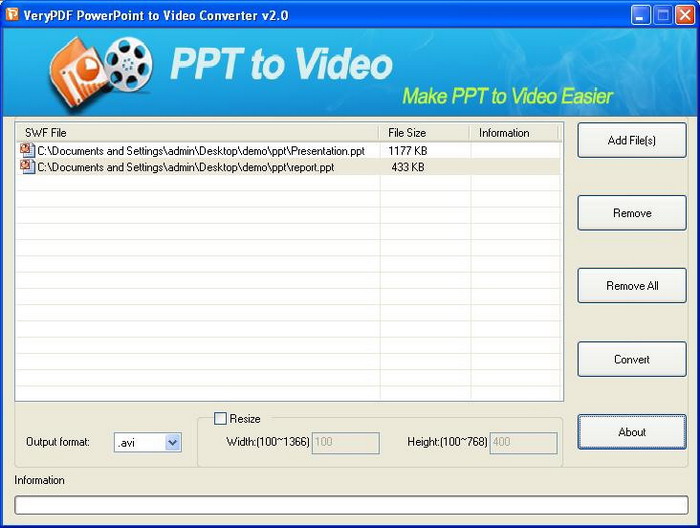 Pros:
easy conversion process that preserves original features, such as animations and slide transitions
can also be used to convert PowerPoint slideshows to Flash presentations
includes a video to GIF animation converter
Cons:
can't work simultaneously with other apps, almost all computer resources are used
no preview section
no adjusting settings
Conclusion
There are many features to compare when Cons:idering the right PowerPoint conversion software. Quality of output, support of PowerPoint effects, compatibility with modern devices, and one-click publishing are all important factors to Cons:ider. We hope you find the above list helpful in finding the perfect software for you!
Do you know of any great PowerPoint-to-video converters? Share your favorites in the comments below!