A flipbook is another option for content representation. It allows you to publish your materials online, while providing a great look and making it available on a variety of platforms.
In this article, we have prepared a list of five flipbook software solutions we had a chance to put through their paces recently.
1. iSpring Flip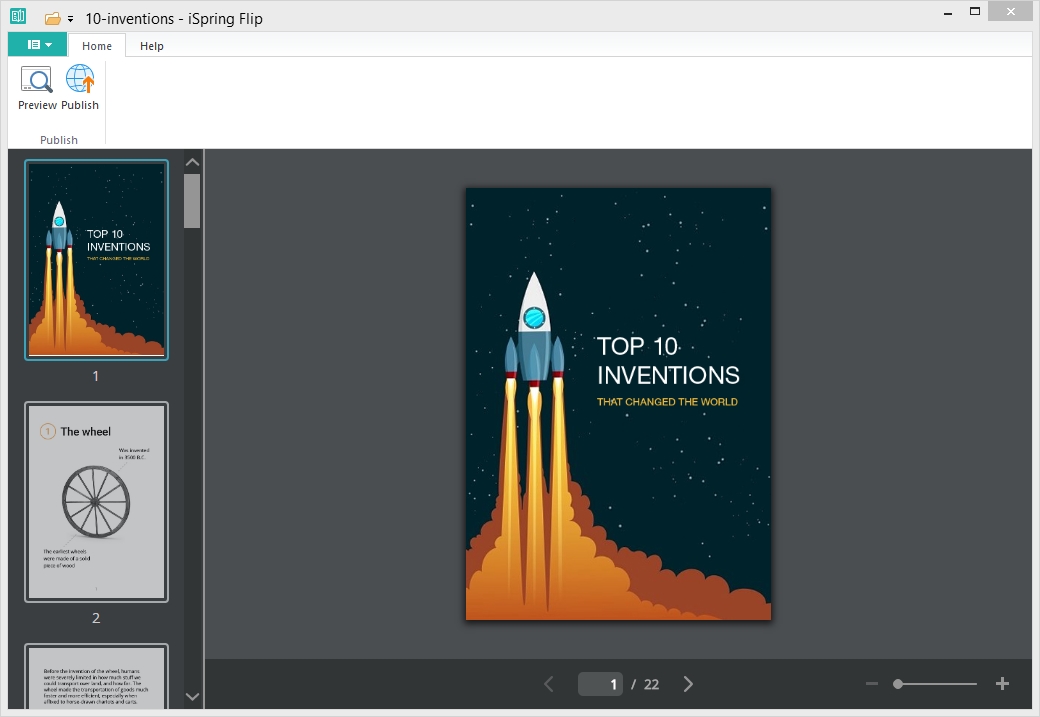 Website: /flipbook-maker
Type: desktop (Windows)
With iSpring Flip, you can quickly turn ordinary office documents into attractive e-books, coursebooks, and online magazines. You can create e-books based on existing PowerPoint, PDF, and Word documents, so you won't have to spend time on manual tweaking in the editor. This tool not only enables users to read beautifully designed material, it's also about easily sharing and keeping track of what they're reading page by page.
Pros:
Very intuitive, no special training required.
Supports all the most popular formats: .pdf, .doc, .docx, .ppt, .pptx, .pptm, .ppts.
E-books can be viewed on any mobile device with mobile-friendly HTML5 output.
Preserves the quality of the source file, keeping images and fonts clear and sharp.
Keeps the source file's navigation as it was intended: table of contents, footnotes, glossary, etc.
E-books can be easily shared via iSpring Cloud service with a short link or embed code.
E-Learning mode: Compatible with SCORM, AICC, cmi5, and xAPI (Tin Can).
E-Learning mode: Detailed statistics after uploading to LMS.
Cons:
There is a watermark when you use the trial version.
No built-in templates (however, there are plenty of well-designed free templates on the web).
No Mac version
Check out this sample book created with iSpring Flip. And here's a step-by-step guide on how to make a digital flipbook like the one you see below.
2. Yumpu
Website: http://www.yumpu.com/en
Type: web-based
The solution these guys promote most of all is an ad-free PDF to flipbook converter. It provides sufficient capabilities for pure PDF conversion and sharing, but you may have some difficulties when trying to add some extras with a book editor.
Pros
There is a free PDF to flipbook converter which is yours for free for life.
The so-called "bookshelf" solution looks pretty cool: it allows users to embed your whole ebook collection into a website in a great and customizable visual dressing.
There are no limitations on the number of magazines and pages, even in the free version.
A variety of permission levels and protection options.

Cons
Very abstruse flipbook editor. Takes much effort to understand what to do.
There is no preview option.
You cannot save the whole project at once; you have to save each element inserted separately.
Trial versions for more advanced plans are available only upon request.
There is no simulation of turning pages, they just alternate with each other with no visual effects as such.
The system requires your credit card data before starting a trial, which ends up with a half-authorized money withdrawal (1 euro).
Here's what you get out of the paid services
When purchasing a plan, you get the tool upgraded with Google Analytics, an ad-free interface, privacy settings, protection features and even further capabilities in more expensive, advanced versions.
The prices start from $10 per month. To use the most extensive plan, you will have to part with $339 every month. However, for this money you will get content selling features, user and subscription management, and other advanced features.
3. Flipping Book
Website: https://flippingbook.com/online-flipbook
Type: desktop (Windows, Mac)
Flipping Book is a slightly deceptive name, but in a good way: this tool allows you to create not only books, but also catalogues, well-structured and incredibly looking documents, and even photo albums. It's easy, thanks to a collection of templates for each project type.
Pros
Great visual representation of page turning – very realistic and beautiful.
The most customizable flipbook appearance.
When starting a new project, you can choose the type of content you would like to create. Depending on the type you choose, you are offered different pre-created templates for your content representation.
Links, embedded videos, popup images and more
When importing a PDF file, you can choose the conversion quality, thus managing the size of the output file.
Not even a tiny delay or distortion when turning pages.
Versatile Preview option, which allows you to see how your content will look on a variety of devices.
Cons
In the trial version, there is a 10-page limit for each publication.
Not as many publishing options as in other solutions (only HTML, FTP, and FlipBook Cloud).
Here's what you get out of the paid services
The prices start from $399 (one-time payment). For this sum, you get website embedding, web library, digital bookshelf, and other capabilities. You get even more in more advanced plans ($699 and $1,199): mobile apps, teamwork, protection features, advanced multimedia embedding, and more.
4. FlipSnack
Website: http://www.flipsnack.com/
Type: web-based
An online solution for fast and easy flipbook creation. It features an elegant interface which provides a great user experience.
Pros:
There is a free version which goes further than a basic converter and includes a great flipbook editor.
You can choose whether to upload a PDF file to convert or create your project from scratch.
There is a collection of pre-created templates and images you can insert into your flipbook, with no need to browse or google for captivating pictures.
Has a statistics counter.
Cons:
You are informed about the free version limitations before publishing: there is a 15-page limit and some advanced features are locked for free users.
Here's what you get out of the paid services
For your money, you get advanced statistics, a branded player, FlipSnack API, the option to password protect your flipbooks and full access to templates, videos, subscription forms and audio. Subscription prices start from $16 per month. There are three plans, which provide different sets of features; you can also choose between a monthly and an annual plan.
5. PubHTML5
Website: http://pubhtml5.com
Type: desktop (Windows, Mac) / web-based
This provider offers a pretty versatile solution, which provides a bunch of ways you can author, a variety of publishing formats, and flexible pricing options.
Pros:
The desktop version comes with a free trial, which is upgradable at any moment, so you can play around with the trial version before making the decision to pay or not to pay.
Even the free version allows access to a limited collection of basic templates and backgrounds.
There is a free online version. This version is a PDF converter, so it is rather simple to create a flipbook by simply uploading a PDF file and converting it right in the Web interface.
You can choose to author on a Windows computer, on your Mac, or right in the Web interface with no need to download anything to your computer.
The desktop version offers a versatility of publishing options. The list of supported output formats is really impressive:
Cons:
Page-turning is sometimes difficult: it takes several tries to finally turn the page.
The interface looks a bit outdated and the Publish button is not easily found (the Convert button on the top menu -> Publish).
Pre-inserted templates and backgrounds also look outdated to our taste.
Here's what you get out of the paid services
The prices start at $15 per month and go as high as $999 for a lifetime business plan.
By upgrading the trial version to the professional one, you get tracking capabilities, protection features, customizable appearance and language of the book interface, and much more.
Have some other flipbook tools in mind? Share your thoughts with us in the comments!