iSpring Solutions was one of the very first innovators to adopt the Tin Can API standard for saving course and quiz results to a Learning Record Store. We've written in detail about Tin Can API on our blog, if you'd like to get caught up on what it is and what it does. But what about the name?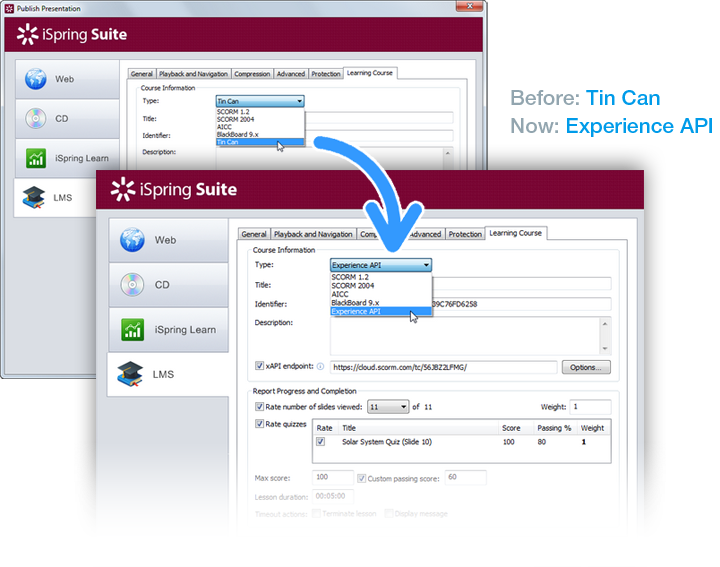 In 2010, Advanced Distributed Learning, the government organization responsible for SCORM, was beginning to have doubts about SCORM's ability to keep up with e-Learning technology. In response to their misgivings, ADL issued a Broad Agency Announcement in which the case was laid out. In short: SCORM needed an update. The development contract was awarded to Rustici Software, who launched the project in October 2010, dubbing the endeavor "Project Tin Can," and later adopting the name "Tin Can API" to refer to the results of their research — however, ADL's official name for the specification, first used in late July 2012 at an ADL event, was the Experience API (or xAPI for short).
We at iSpring have decided to go with the ADL on this one and call it xAPI. Now, when you go to
Publish → LMS → Learning Course, you will see
Experience API in the drop-down menu instead of
Tin Can. This is the same API, with the same publishing endpoint options, but simply under a different name.
Before: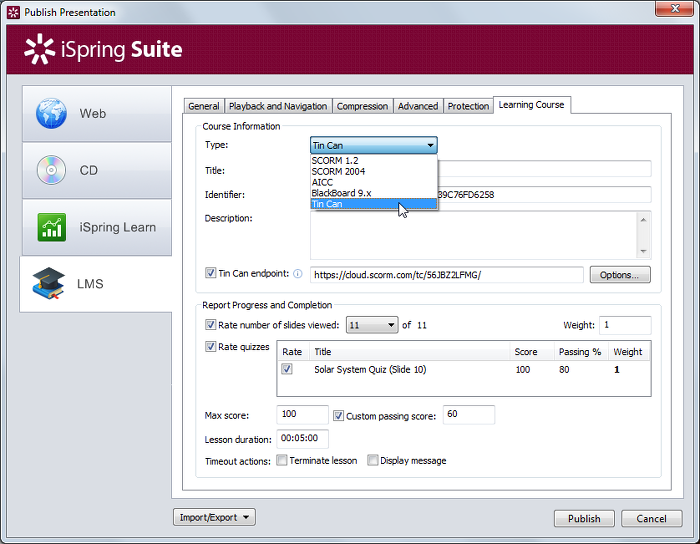 Now:
Interesting fact: In December 2010, in response to the confusion that was growing in the e-Learning community regarding the two names, Rustici Software published an article regarding the nomenclature. The message couldn't've been more clear:
We Call It "Tin Can".
Whatever name it bears, e-Learning content creators need an easy way to publish courses for this learning standard. iSpring has taken care of it: it's easy to publish a course for xAPI (aka Tin Can) using any of
iSpring's desktop tools.
Did you like the article? Share your thoughts with us!