The Tin Can API (Experience API) is generating a lot of buzz in the e-Learning industry and just like the children's game of playing telephone with a tin can and a string, the message can often get garbled and distorted about what Tin Can API really is.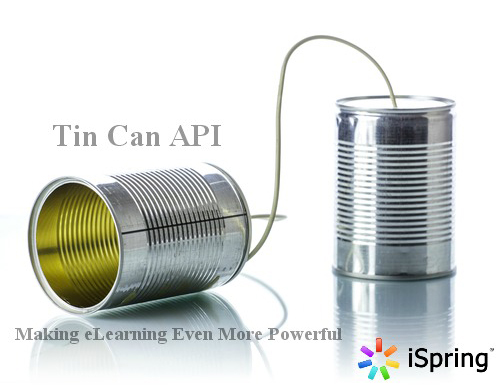 What is the Tin Can API?
An application programming interface (API) that allows software to share data about a person's experiences both on and offline.
A streamlined and more flexible option than previous incarnations of e-Learning technical standards, such as SCORM.
Capabilities include: tracking completion, time and pass/fail; reporting a single score or multiple scores; supplies detailed test results; provides solid security; allows complete control over content; does not require LMS or internet browser; synchronizes with mobile apps; transitions between platforms; tracks serious games, simulations, real-world performance, informal learning, offline learning, interactive learning, adaptive learning, blended learning, long-term learning and team-based learning; and has no cross-domain limitations.
How Does it Work?
Tin Can API takes all of a subject's learning experiences and translates them into statements using nouns, verbs and objects to generate a complete story of training and real-world performance. For example, take new bank teller Sarah's case:
Sarah attended Teller Training class with an attendance rate of 100%.
Sarah passed Teller Training written final with a score of 94%.
Sarah passed Teller Training simulation final with a score of 95%.
Sarah watched Welcome to Relationship Banking video.
Sarah completed Your New Branch scavenger hunt.
Sarah completed Customer Satisfaction Survey with a score of 82%.
Sarah completed Customer Satisfaction Survey with a score of 99%.
Sarah passed Individual Teller Audit with a score of 91%.
Once Sarah's first month as a teller is over, her performance and training results can be measured against others' results and trainers can make conclusions about their current employee education methods.
Why Should I Care?
According to elearn Magazine's article, "Should Instructional Designers Care About The Tin Can API?" while the Tin Can API is probably not something that will affect instructional designers and developers today, it is a valuable tool that should not be ignored. Authors David Kelly and Kevin Thorn assert that Tin Can API is part of a fundamental shift in the e-Learning industry towards collecting more meaningful data in order to tell complete stories and make even more informed decisions.

What are your thoughts on Tin Can API? How do you feel it will influence e-Learning in the future?

iSpring Solutions welcomes this change and believes that Tin Can API's numerous advantages include providing more detailed statistics and activity reports on each student's learning results. Providing Tin Can API support has become a part of our support center platform. For more information about whether Tin Can API is right for you, please contact us via our website or any of our social media sites: Facebook, Twitter, LinkedIn.