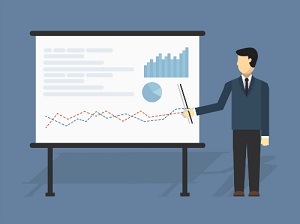 Have you ever heard the phrase "the Medium is the Message"? What Marshall McLuhan meant when he coined the phrase was that the message that you are trying to teach is influenced by the medium that contains it. Put another way, PowerPoint is the medium and the e-Learning is the message. The medium – its quality of presentation, mobility, responsiveness – all impact the effectiveness of e-Learning. If the medium – the PowerPoint presentation – isn't very good, it will impact the training that a self-directed learner will get. And not in a good way!
Any failure of the medium, however, is not the fault of PowerPoint: it's a tool, no more and no less. The e-Learning module designer is the key to keeping the medium and the message alive. So, before you set about authoring your mobile training modules, consider the following:
Less is more
Simple is better. Clean lines, clean images. Don't get fancy. What does that mean?
No bullet points that contain paragraphs of text. If you can, keep it under five words.
No clip art from 1982. In fact, it's best to avoid clip art altogether.
No fancy backgrounds on the slides.
No animation: that means no spinning, bouncing or other dizzying animation!
According to AJ Walter of IconLogic, "Nothing says 'High School Presentation Circa 1997' quite like a dancing animated image clumsily plopped on a rainbow gradient background with a big, garish WordArt title (complete with myriad animation effects)."
The slide transitions available in PowerPoint can be useful if used sparingly, but they can also be very distracting to the e-Learner. Always keep in mind that the e-Learner is probably using mobile technology to participate in the training, so you want to keep flashy distractions to an absolute minimum given screen size and possible location of the learner.
Images matter
As we said above, clip art is best left back in 1982. High quality stock images and illustrations can, however, make a presentation pop. The ideal for the author is to find images that have a clear space for text and will bleed to the edge of the slide without pixelation. This makes a far more compelling visual image than a small version of a photo inserted within a slide.
There are plenty of low-cost and free stock photo sites on the Internet today – take a look and be aware of any requirements to credit the photographer or site.
Color and style
Just like a wedding, a good presentation is best if it keeps to some sort of theme, both in terms of style (fonts/illustrations) and colors. Bright orange on one slide and fuchsia on the next will certainly grab the attention of your self-directed learner, but perhaps not in the way that you want.
Fonts should be used consistently throughout the presentation – maximum two – and any graphic designer worth their salt will tell you to avoid underlining text. The same maxims that hold true for design are valid for PowerPoint based e-Learning.
One more? You should probably avoid the PowerPoint templates that come with the application. Many people have seen them before and their use will give the presentation a dated (read: not relevant) feel. Relevance is essential to keeping the attention of the e-Learner, so make sure the building blocks that you use in your modules are fresh and new.
Conclusion
Remember, the medium is not as important as the message, but it definitely has an effect on how the information is perceived and processed by an e-Learner. Use authoring tools like PowerPoint effectively, and you are well on your way to creating self-directed learning opportunities that will shine.
Care to share any adventures (or misadventures) with your authoring process? Have any advice for content authors struggling to be original? Share it all in the comments below!