You have a PowerPoint presentation you need to share with colleagues — for example, your research findings or unique training materials. But how to save it from being copied or modified? Protecting your intellectual property in your PowerPoint slides is actually not that hard. In this post, we'll describe how to protect a powerpoint presentation from being copied.
1. Upload your slides to a secure cloud and share via link
If you need to distribute your presentation on the web and make it impossible to copy or edit, the easiest way is to use iSpring Cloud. This service will help you securely store your presentations in the cloud and share them online with your learners or colleagues. Thanks to iSpring's advanced HTML5 conversion technology, your presentations and other files are safe from copying, editing, and downloading.
To share your slides, you need to register an account and log in. Then you simply upload your file to the cloud and go to the protection settings. iSpring Cloud allows you to:
Set a password for your file
Restrict downloading (users can view your presentation but can't save it on their computers)
Restrict distribution (users can view presentations but can't share them with someone else)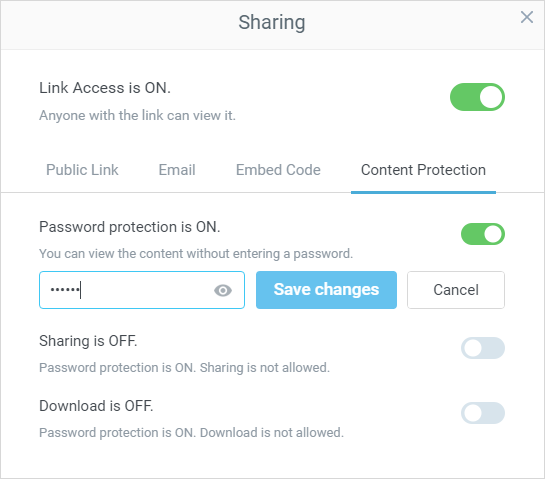 When you are all set with the protection settings, it's time to share your slides with your audience. There are two ways to do it:
use a short link to share your file by email or on social media;
get an embed code to insert the presentation into your site or blog.
Example
Here's a sample presentation uploaded to iSpring Cloud and protected from downloading. Password: ispring. Try to download it or embed it on your website :)
2. Protect your presentation and save it to a USB/CD
If you need to safeguard your PPT presentation and distribute it using a physical device, a good way to prevent your project from being stolen is to protect it using iSpring Suite. It's a PowerPoint add-in which offers a whole bunch of presentation protection settings.
a) Copyright your PowerPoint slides by adding a watermark
With iSpring Suite, you can watermark your presentation; for example, with your corporate logo. It's possible to set its transparency and position on the slides. You can also specify a webpage which will open when your viewers click on the watermark. It could be anything from service terms of use to just your profile page on a social network site.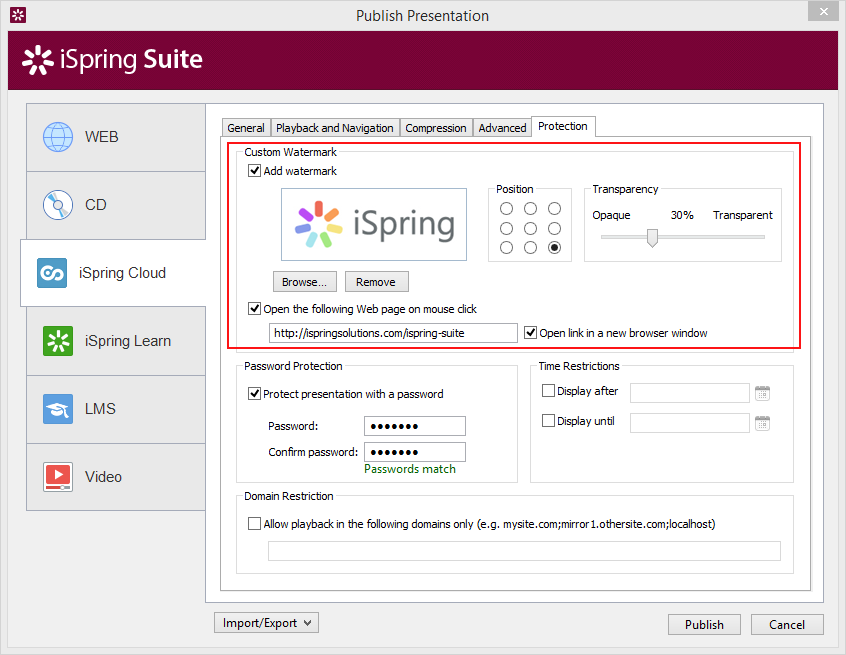 b) Set a password
This option is pretty straightforward. You create a password and no one can view your presentation without entering it first.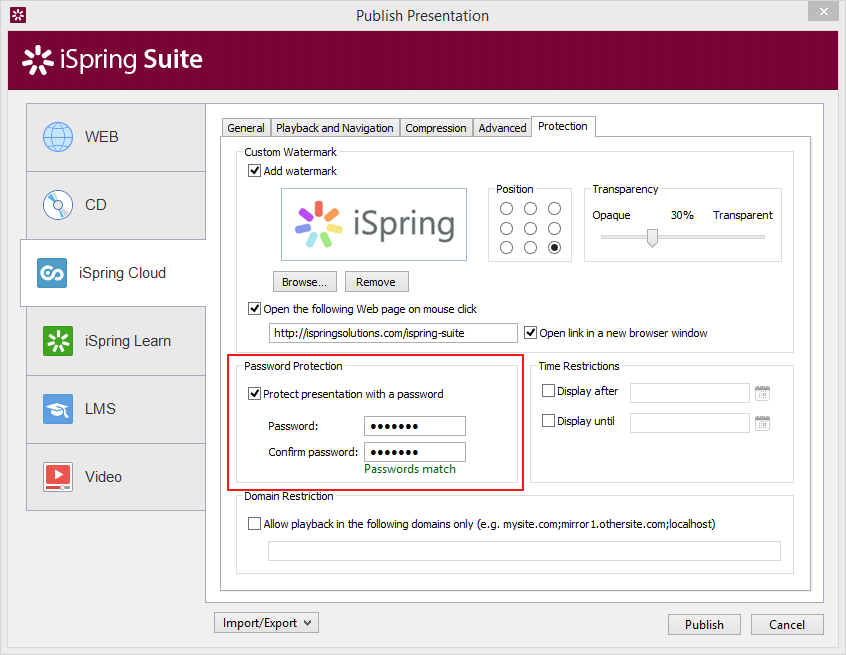 c) Restrict time
You can set a special time period when your audience will be able to view your presentation. For example, you can set up a 2-week interval when your slides will be available.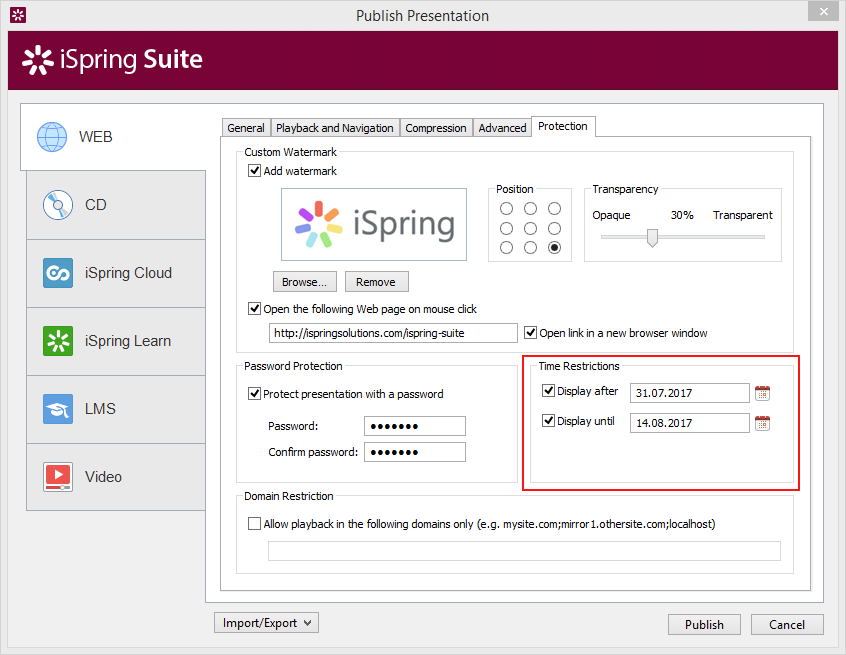 d) Convert your presentation into an .exe file
iSpring Suite can generate an .exe file with Flash output. Now all of the elements of your slides, including audio, video and inserted Flash files, are packed into a single, compact file that is easy to play, but impossible to dissect. Flash keeps your content locked and doesn't let others copy or modify your original presentation. The file can be displayed everywhere, even if you don't have Flash Player installed.
By default, the output presentation is saved on your PC. You can then save it to a USB flash drive or CD and distribute it to your learners or colleagues.
Example
Here is a sample presentation protected with iSpring Suite. Password to view: ispring. Go ahead and try to subvert it using your best hacker skills :) Try to open it without a password or get the source presentation.