November 11, 2023
8 Interactive Presentation Ideas to Engage Your Audience in 2024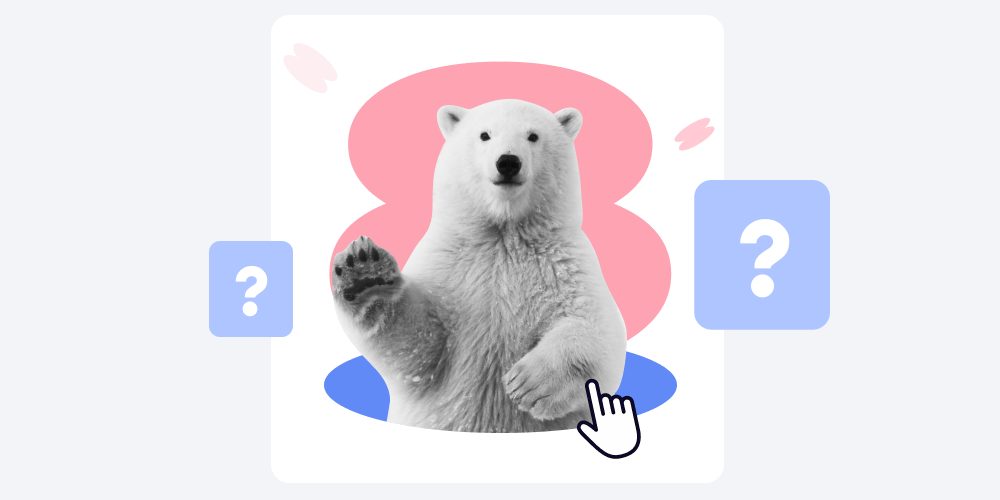 When you create presentations in PowerPoint, Google Slides, or another tool, a rule of thumb is to always think about your learners and their needs first. It's not enough to deliver the information you intended. You need to wrap it in an easily digestible and engaging format to promote effective knowledge retention.
Interactivity is one of the key presentation elements you can use to accomplish that. Interactive presentations are a fantastic asset in the learning process: they foster learner communication, encourage active participation, and create a more immersive educational experience.
In this article, you'll get the best interactive presentation ideas for PowerPoint and other tools through 8 actionable strategies and discover the best interactive features out there. Read on and get fully equipped with tools and techniques to boost interactivity and keep your learning audience engaged.
Overview
Best Interactive Presentation Tools
Best Practices for Creating Interactive Presentations
FAQ on Interactive Presentation Ideas
1. Use Multimedia Storytelling
Creating a quality presentation with multimedia elements is always a sure way to make your content more visually appealing and effective. You can use various visuals, such as video and images, or add audio to your presentations to create a captivating narrative and encourage the audience to interact with your material.
Also read → How to Create an Interactive PowerPoint Presentation
Depending on the content of your presentation, here are some types of multimedia elements you can benefit from:
Images and slideshows
A presentation with plain text is not just dull. It also makes it more difficult for your audience to follow your stream of thought because it lacks visual engagement and fails to convey information memorably. Images and slideshows solve this problem and help you make your PowerPoint presentation interactive by enabling you to:
Illustrate your ideas and points
Showcase products and features
Create storytelling sequences, etc.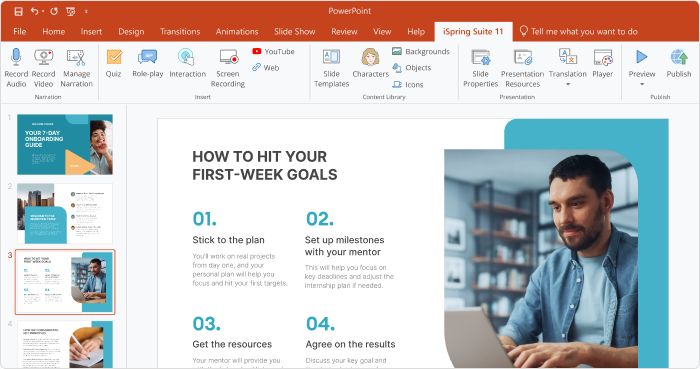 Animations and transitions
These elements further enhance your multimedia presentation and add a dynamic dimension to it. You can use animations and transitions to:
Create interactive text and pop-up elements to keep students engaged
Build a smooth flow to reveal information progressively
Emphasize key points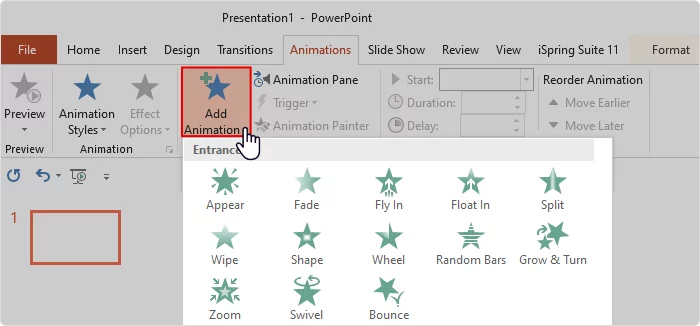 Audio and video narration
When you add voice overs and video commentary to your presentations, you provide learners with a multi-sensory experience, enriching your content in the following ways:
Provide detailed explanations for the presentation content
Boost learning accessibility for those who learn best through auditory or visual means
Establish a stronger connection with your audience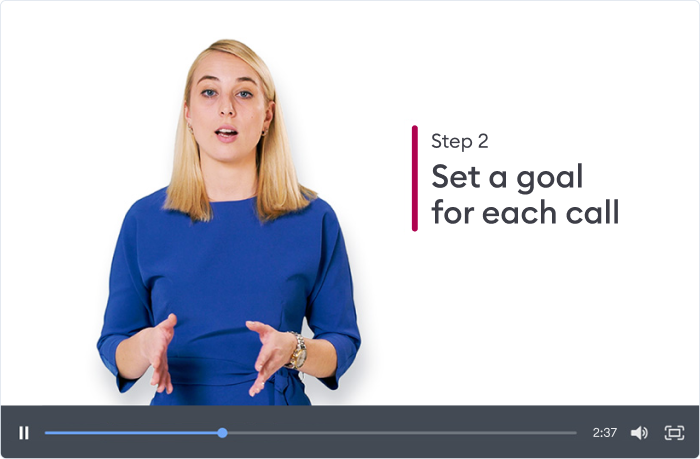 Graphs and charts
These elements are especially useful for data-driven learning and training presentations. They make it easier for you to:
Visualize key data related to the content of the presentation
Explain trends and compare variables
Foster decision-making by providing a visual representation of important information
All these multimedia components bring interactivity, clarity, and engagement to your presentations, transforming them into dynamic learning experiences. You can combine different media in one presentation to establish appropriate pacing and highlight relevant information for your learners.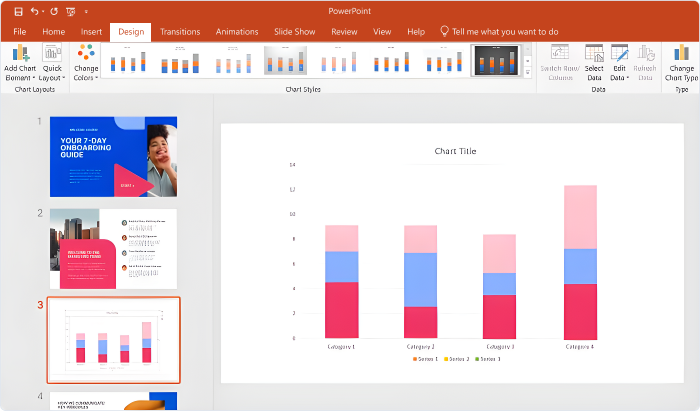 Also read → How to Structure a PowerPoint Presentation
2. Survey Your Audience
Learners want to know that their opinions and views matter. To leverage this and turn them from passive listeners into active participants in the learning process, add surveys to your interactive presentation. But don't just do it for the sake of interactivity. Create surveys that will generate valuable feedback from your audience.
For example, if you're creating a series of engaging presentations on workplace diversity, you can ask employees to share their insights into the diversity challenges they've faced in their roles and suggest potential solutions. By doing so, you empower your audience to actively contribute to the discussion and shape the direction of the learning experience.
Pro tip: Depending on the learning format, you can add surveys to your presentation in different forms. If you're presenting to a live audience in a classroom setting, it's a good idea to have surveys as handouts. You can collect them after the presentation and analyze the results.
In a digital setting, you can create online surveys with the help of an online platform such as Google Forms, SurveyMonkey, or Typeform. These platforms allow you to collect responses efficiently, analyze data, and adapt your content based on the feedback received.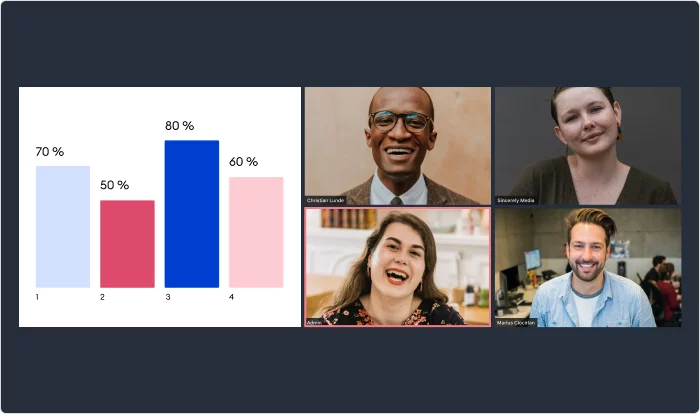 Also read → How to Run an Employee Engagement Survey
3. Play Interactive Games with Learners
Whether you create interactive presentations for educational, training, or other purposes, consider adding gamification elements to your content. Gamification is a powerful tool that makes presentations much more entertaining while fostering knowledge retention.
Depending on the objectives of your presentation and the presentation software you're using, you can choose from a wide selection of games. Let's look at some of the most popular games you can create and include in your presentations in PowerPoint and other presentation software.
Jeopardy
Jeopardy is probably the most well-known game that can be played in various settings. As for presentations, Jeopardy will work especially well for educational and training presentations.
The game divides content into categories and prompts participants to answer questions or solve problems related to the material provided. They can do this individually or in teams, earning points for correct answers.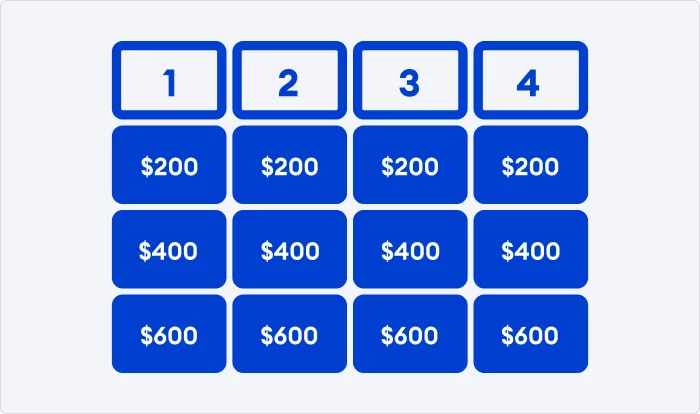 Jeopardy effectively reinforces learning and promotes healthy competition, making it a fantastic engagement tool for instructors, educators, and trainers during their presentations.
If you want to make Jeopardy part of your presentation, read our full guide on how to create a Jeopardy game in PowerPoint quickly and easily.
Elimination game
If you want to add interactivity to training and quiz-style presentations, the elimination game is a perfect choice. The name of the game is quite self-explanatory – it involves progressively eliminating options or contestants based on their responses and/or choices.
If your presentation includes complex topics or scenarios, the elimination game can break it down into manageable segments. You will also actively involve the audience in decision-making, thus boosting knowledge retention.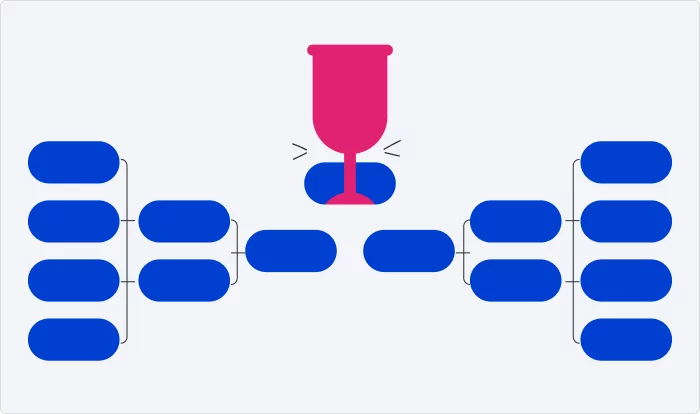 See an example of how to make a simple yet effective elimination game in PowerPoint in our step-by-step guide.
Matching game
The matching game is a top-notch tool to help your audience memorize new material. It involves presenting pairs of related terms, images, or concepts that the participants must match correctly.
Whether you're teaching new vocabulary, technical terms, historical dates, or any content that requires memorization, the matching game can come in handy. It keeps participants engaged, encourages repetition for better retention, and allows you to assess their progress effectively.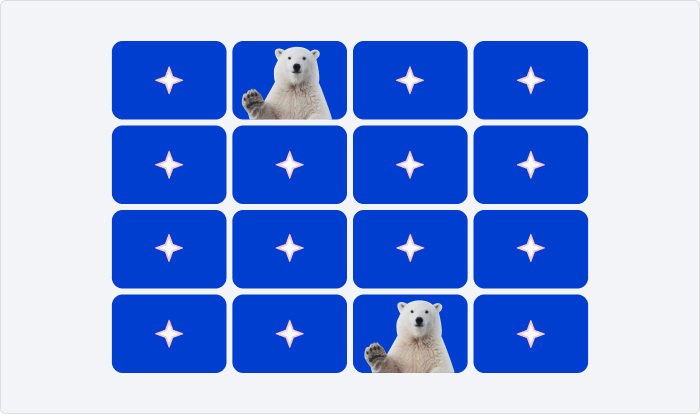 Hangman
This is a game many of us played during childhood. In Hangman, the presenter (the hangman) chooses a word or phrase relevant to the content and shows a series of blank spaces representing each letter. The participants take turns guessing letters, and with each incorrect guess, a part of a figure to be hung appears on the screen. The goal is to guess the word or phrase before the figure is completed.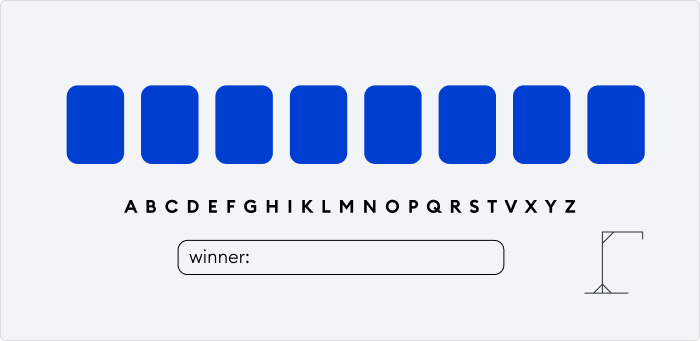 You can play Hangman in many different presentation settings, especially those focused on language learning, vocabulary building, or team building. It's an engaging way to test and reinforce participants' knowledge of terminology or key phrases.
The list of games you can incorporate into your presentations is endless. It's really up to you and your imagination. Choose games that correspond to your presentation goals, audience preferences, and the capabilities of your interactive presentation software.
4. Hold Q&A Sessions During Interactive Presentations
A Q&A session may seem similar to a survey, but it's a much more dynamic activity that you can integrate into your presentations. Q&As are excellent if you present in person, but they also work well in digital environments if you're giving a video presentation. You can arrange online Q&As in Google Meet, Zoom, Microsoft Teams, and other virtual meeting locations.
The interesting thing about Q&As is that the audience leads the way in this interactive activity. Participants can express their curiosity and steer the discussion toward the aspects of the presentation they find most relevant. This fosters engagement and provides a direct channel for real-time clarification, in-depth exploration of topics, and valuable interactions between the presenter and the audience.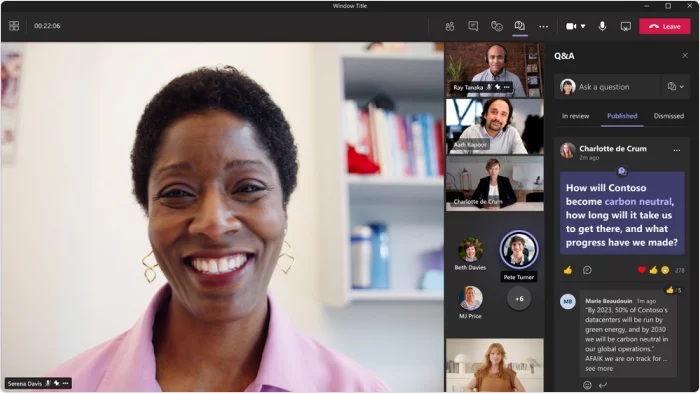 You can source the questions for the Q&A before the presentation or include the session without any preparation. This way, you let learners ask whatever questions they came up with during your presentation.
5. Include Collaborative Brainstorming Sessions
Similar to Q&As, collaborative brainstorming is an excellent way to ignite participant engagement and generate new insights based on your presentation content. Here, you're inviting the learners to contribute ideas, solutions, or views related to the topic you presented. Collaborative brainstorming taps into the collective wisdom of the group and helps you, as a presenter, see how your audience can put what they've just learned into action.
Collaborative brainstorming sessions are particularly effective in problem-solving presentations, workshops, or strategy sessions. They can be conducted in person or via digital platforms, like virtual whiteboards or other online collaboration tools.
Pro tip: You can combine brainstorming with surveys or polls to gather and analyze participant input quickly.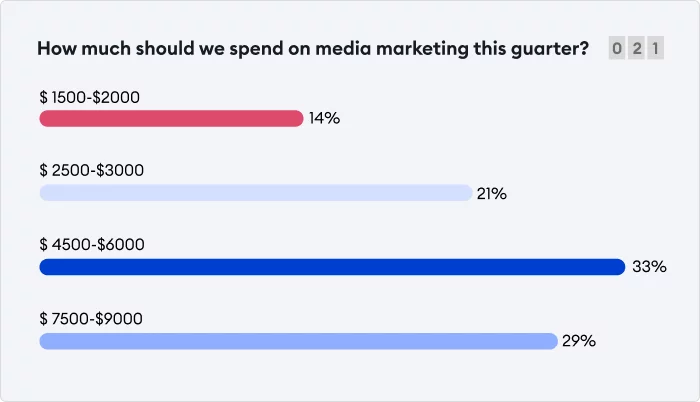 6. Check Your Audience's Understanding with a Quiz
A well-built quiz kills two proverbial birds with one stone: it diversifies the content of your presentation and helps you test your audience's knowledge of the material. Quizzes can be valuable in various presentation types, including training sessions, educational lectures, and business seminars.
You can create different types of quizzes based on your goals and preferences:
Multiple choice quizzes
Quizzes with open answers
True/false statements
Fill-in-the-blank quizzes, etc.
To build quiz activities for your presentation slides, you can use special quiz and survey authoring tools or presentation software with built-in quiz features. These tools often come with pre-designed templates, question banks, and scoring options, making it easier to create interactive quizzes in record time.
For example, see how you can create a quiz in PowerPoint and enhance it
with iSpring Suite.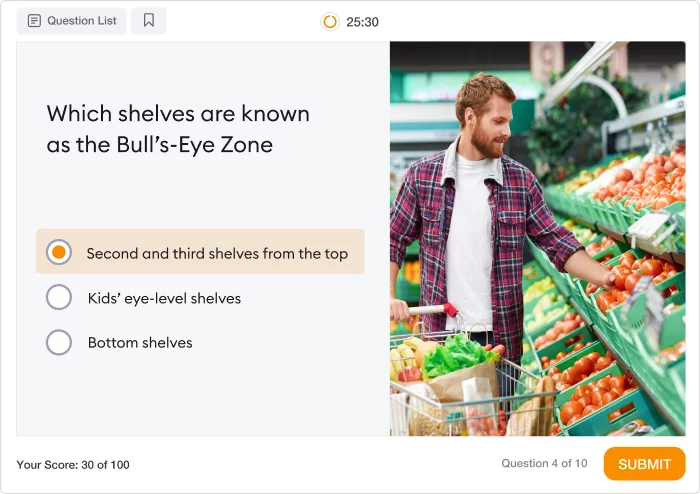 7. Incorporate Role-Play Scenarios
Scenario-based learning and training interactions are an excellent choice if you want your audience to practice newly acquired skills on the spot. You can recreate realistic challenges, decision-making scenarios, and workplace situations. Learners can take on various roles depending on their specialization and the objectives of the presentation. This allows them to apply knowledge that is directly relevant to their responsibilities.
This interactive approach promotes hands-on learning, analytical thinking, and agile problem-solving, which makes it highly effective for training and skill development presentations. Whether you're teaching customer service techniques, conflict resolution, or sales strategies, role-play scenarios bring the material to life and enhance the learning experience.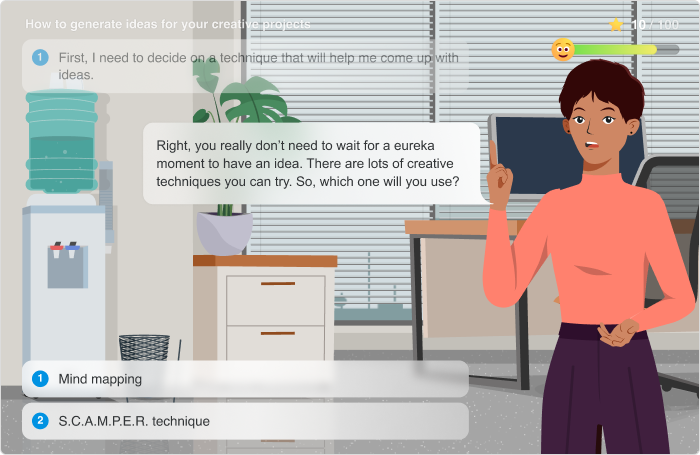 Pro tip: Immersive role-play presentations can be a great tool for compliance training. You can explore various scenarios to put employees in a realistic context and show them how to navigate ethical dilemmas, handle sensitive situations, and make compliance decisions in a controlled, safe-to-fail learning environment.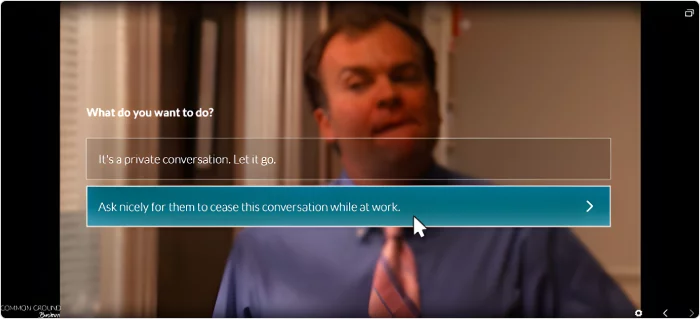 8. Engage Physical Space and Movement
Interactivity in presentations is not just about digital or virtual engagement. It can also involve physical space to create a more immersive experience if you're giving an offline, on-site presentation. This approach reduces the distance (literally and figuratively)between the presenter and the audience, fostering collaboration and active participation.
For instance, in a live seminar or workshop, you can arrange the seating to encourage group discussions or hands-on activities during your presentation. This is a simple yet effective way to boost learner engagement. You can also use interactive whiteboard activities and invite participants to express their ideas or solve problems in front of the live audience in real time.
Another way to enhance the presentation experience is by using different props or models that attendees can touch, examine, or manipulate to gain a deeper understanding of the subject matter. It's an especially cool touch if you present a new product – let the audience touch and interact with the prototype to give them a first-hand experience they will remember.
Pro tip: Even if you're giving a presentation digitally in the form of a webinar or screencast, there are still ways to engage the learners in physical space. Ask people to stand up, move, or use gestures to communicate if it fits your other presentation activities organically.
The Best Interactive Presentation Tools
To create a presentation with dynamic interaction features, you can choose between various interactive presentation apps, platforms, and websites, as well as other audience engagement software. While you can stick to a single presentation tool of choice, it's a good idea to explore other options to enhance the interactive element of your content and bring more value to your audiences.
The main types of interactive presentation tools include:
Presentation software. These are such well-known programs as PowerPoint and Apple Keynote. They allow you to build appealing slides with interactive features and multimedia elements.
Online presentation platforms. Online presentation tools like Prezi and Canva are cloud-based solutions that enable you to build interactive presentations and share them online conveniently.
eLearning authoring tools. Authoring software like iSpring Suite is a perfect choice for creating beautiful interactive PowerPoint-based presentations with minimal effort. You can leverage pre-built templates to create quizzes, drag-and-drop games, video presentations, and more. iSpring Suite is a great interactive presentation tool that makes your content visible and accessible on mobile devices.
Webinar platforms and video conferencing tools. Zoom, Microsoft Teams, and Google Meet allow you to gather your audience online, present your content through screen sharing, and discuss it in real time.
Digital whiteboards. Software like SMART Notebook or Miro are convenient collaborative tools for including brainstorming and teamwork as part of your presentation.
Poll and survey platforms. Use platforms such as Mentimeter and Poll Everywhere to gather participant feedback during and after your presentations.
Learn more about these and other useful tools in our guide to interactive presentation software. It will help you pick the best interactive presentation software for your projects and show you that creating presentations can be a process that's both easy and fun.
Best Practices for Creating Interactive Presentations
Now you have the ideas for your interactive presentation and the tools to create it quickly and easily. One more key aspect of presentation building is how you approach the process of authoring your content for an optimal learning experience.
Follow these four simple yet effective practices to improve the quality of your interactive presentations and boost learner satisfaction.
Tailor interactivity to your audience
Don't go for interactivity without a valid reason. Prioritize the needs and interests of your specific audience, and choose interactive elements and activities that your learners will find useful.
Before you start creating the presentation, ask yourself the following questions:
What is the goal of my presentation?
What do I want my audience to take away from the content?
How active and responsive is my audience?
What expectations do they have about my presentation?
What kind of interactivity will help them understand the material better?
What tools do my learners have at their disposal?
Answers to these questions will allow you to paint a clear picture of what interactive elements will work best for your audience.
For example, if you're creating a sales training presentation for your sales department, consider incorporating role-playing activities in person or via a video conferencing tool to simulate real-world sales scenarios. This interactivity aligns with your goal of improving sales skills and caters to a responsive audience seeking practical learning experiences.
Don't overdo it
Remember: simplicity and balance are key. Yes, interactive presentation elements are a great addition to your content, but too many of them can become overwhelming and interfere with the learners' ability to understand and process information.
Avoid overloading your presentation with interactivity and balance interactive components with more traditional informative content. Give your audience easily digestible information first. You can do this in the form of textual slides formatted as bullet points or lists. Then, introduce interactive elements strategically at key points in your presentation to reinforce the main ideas or illustrate your content and practice new skills.
That way, you'll make sure not to overwhelm your learners with too many stimuli and will keep them focused on the core message of your presentation.
Prioritize consistency
Maintain a consistent design and interaction style throughout the content. This is a must to avoid confusion and deliver a seamless, learner-friendly presentation.
Consistency means using the same color schemes, fonts, and layouts across your slides to create a cohesive look. Additionally, maintain a unified approach to interactive elements, such as using the same format for quizzes, buttons, or navigation tools. Try to stick to one or two types of interactivity that are most relevant to your content. This approach ensures a predictable and user-friendly experience for your audience.
Pro tip: Unity and coherence of presentation design are especially important for branded and corporate presentations. Adhere to the corporate style and delivery methods of your company and remember to reinforce brand identity by adding a company logo to your slides.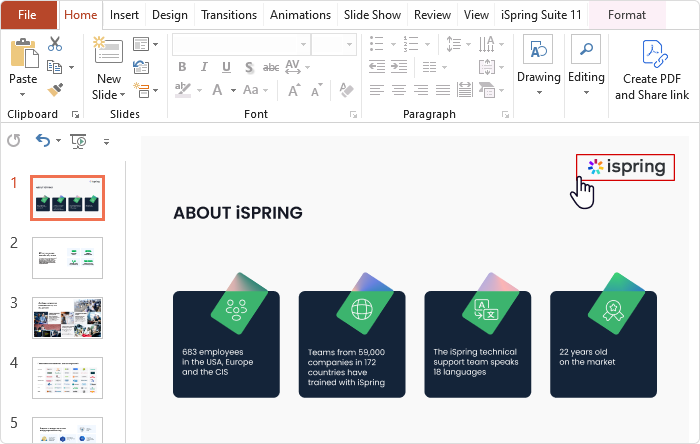 Plan for accessibility
Ensure your interactive content is accessible to all learners, including those with special needs. You can do this by providing:
Closed captions for your audio and video narration
Alternative text descriptions for images, graphs, and other visual content
Descriptive hyperlink text so screen readers can see the purpose of each link
Greater color contrast to make sure that text and graphics are legible for all users.
Leverage these practices to create immersive interactive presentations that hook your audience and provide effective learning experiences.
FAQ on Interactive Presentation Ideas
Find the answers to the most common questions people ask about interactive presentations below.
What is the difference between interactive and traditional presentations?
Interactive presentations are designed specifically to actively engage the audience through participation, feedback, and multimedia elements. They often require the use of interactive presentation software in the process of creation and delivery.
On the other hand, traditional presentations typically involve one-way communication with an audience of passive observers. The presenter delivers information via slides and other assets but doesn't involve the learners in active participation.
How can you choose the best interactive presentation software?
Quality interactive presentation tools should have basic and advanced features to help you create immersive experiences for your audience.
When choosing between different software, compare them based on such factors as:
Customization features. How well does each tool cater to your need to customize layouts, themes, and design elements to align with your branding and presentation style?
Interactivity features. What possibilities does the software provide in terms of interactive elements like quizzes, polls, surveys, and multimedia integration? How easy is it to implement them?
User interface. Choose software that doesn't have a long learning curve and offers an intuitive, user-friendly interface to make creating and delivering interactive presentations a smooth process.
Pro tip: Try out the software you're considering for your learning and training presentations. The majority of tools have free trials, so you can see how well their feature set satisfies your needs.
Can I use interactive presentations for employee training and development?
Yes. Interactive presentations are highly effective for employee training and development. They offer the ability to test and practice employee skills, enhance engagement, and foster employee retention.
Also read → The Best Training and Development Tools
What are the interactive elements of PowerPoint?
The main interactive features of PowerPoint include:
Hyperlinks
Action buttons
Triggers and animations
Interactive forms
Quizzes
Multimedia (audio, video, graphs, and charts)
Navigation menus
You can browse the PowerPoint menu ribbon to explore the interactive functionality of the tool.

Final Thoughts
Interactivity is a component that makes your presentations come alive and adds depth to the learning experience. Get creative and experiment with interactive presentation ideas to develop your own style. Combine different tools and elements, and see which approach works best for your learning and training goals.
If you want to enhance your interactive presentations and leverage even more eLearning possibilities for your current and future presentations, try iSpring Suite – a robust authoring tool that works as a PowerPoint add-in.
Get your 14-day free trial of iSpring Suite and start creating amazing eLearning content with the best interactive presentation software today.