October 12, 2023
How to Create a Storyboard in PowerPoint in Four Easy Steps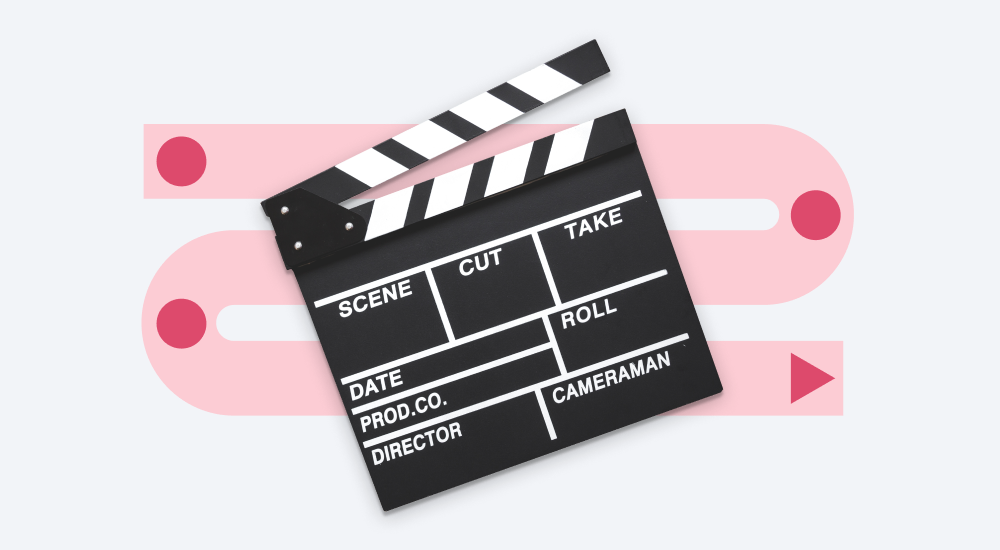 In this article, we will take a look at what a storyboard is, how to use a storyboard template in PowerPoint and adjust it to meet your goals and objectives. Let's get started.
How to Create a PowerPoint Storyboard Using a Template
Step 1
Open the PowerPoint application on your computer.
Step 2
Create a new document. In the left toolbar, select New and type storyboard in the search bar to see available templates, both horizontal and vertical. We'll select one that is easy to work with.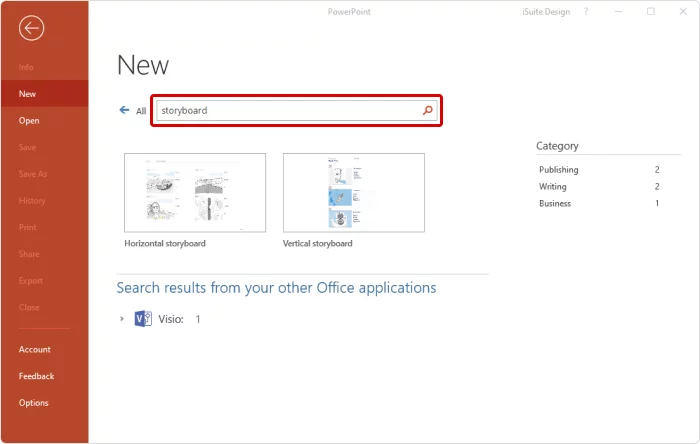 Step 3
Select the template and confirm your choice by pressing Create.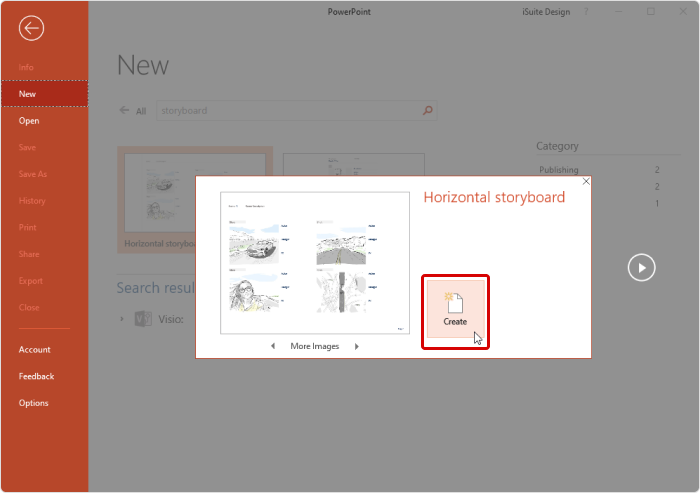 Step 4
Our template is downloaded and ready to use.
Note that it has predefined settings: the description and slide number, frame number, fields for describing action, dialogues, and special effects (FX).
This format is more conducive to storyboarding webinars or training videos. However, you can easily customize it to your goals and objectives.
How to Customize a PowerPoint StoryBoard template? 
Go to the View tab in the top toolbar and click on the Slide Master button.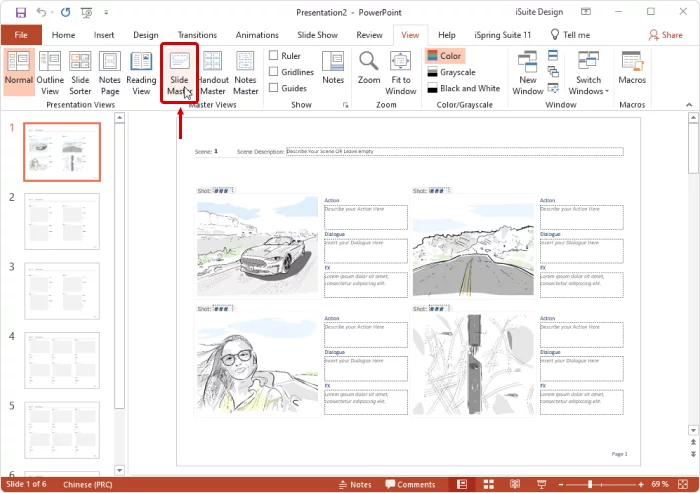 A template editing window will open, select the layout you would like to customize.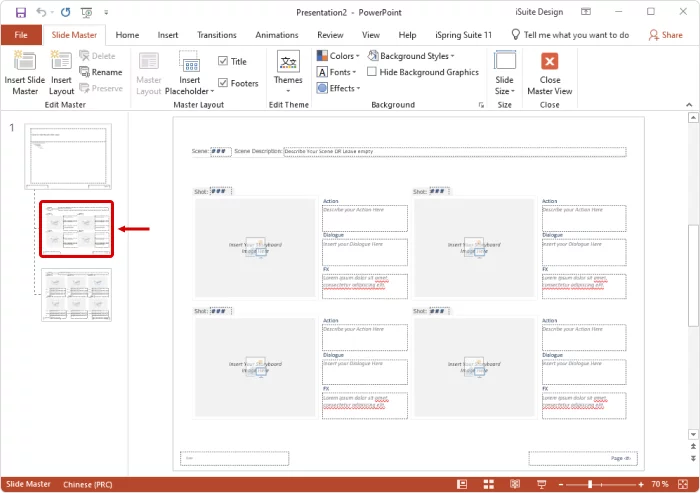 Now you can:
— Remove unnecessary elements and fields
— Rename elements and fields
— Add fields as needed
For practice, let's change the aspect ratio to 16:9, delete the date and FX description fields, expand the dialogue boxes, rename the Action box to Content, and make a few other adjustments.
Changing the Slide to Widescreen (16:9)
Click Slide Size.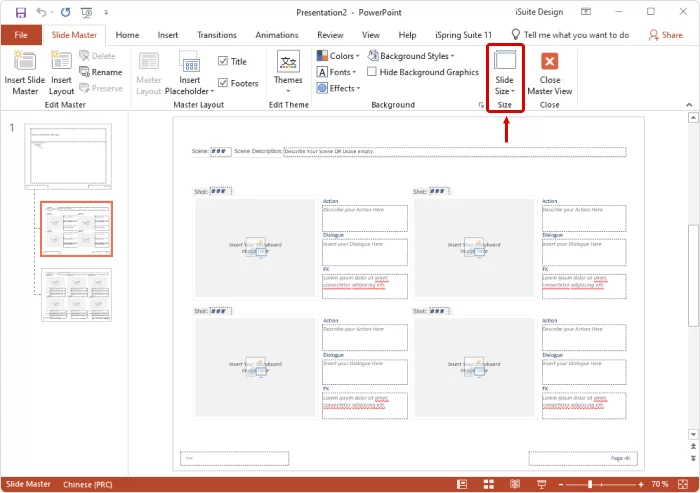 Select Widescreen 16:9.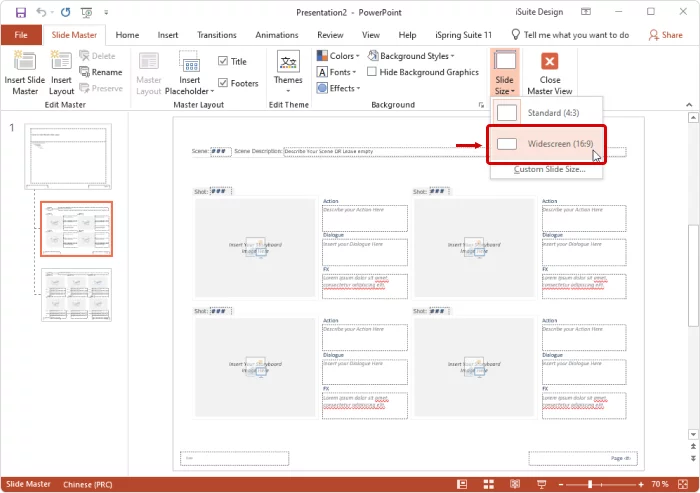 Delete the unwanted fields: Date, FX. To do this, select these elements on the slide and press Delete.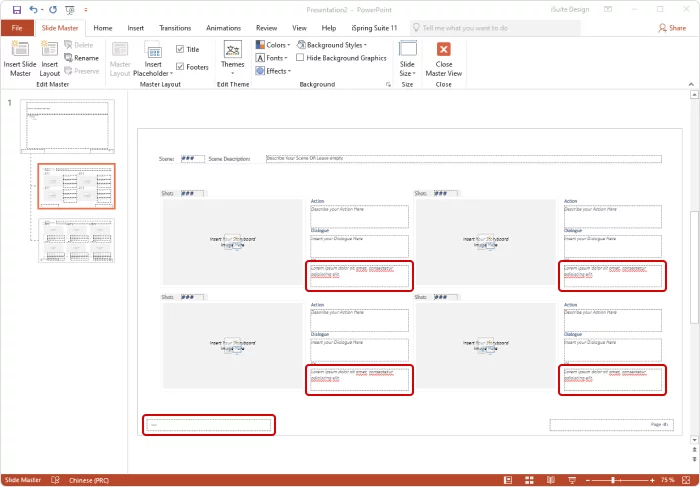 Rename element titles, change Action to Content, Shot to Slide, and expand the Content and Dialogue boxes.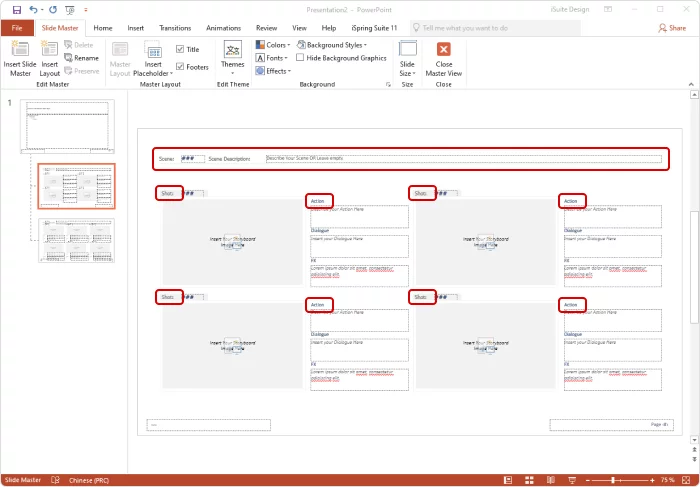 Add a logo in the left hand corner. To do this, go to the Insert tab => Pictures.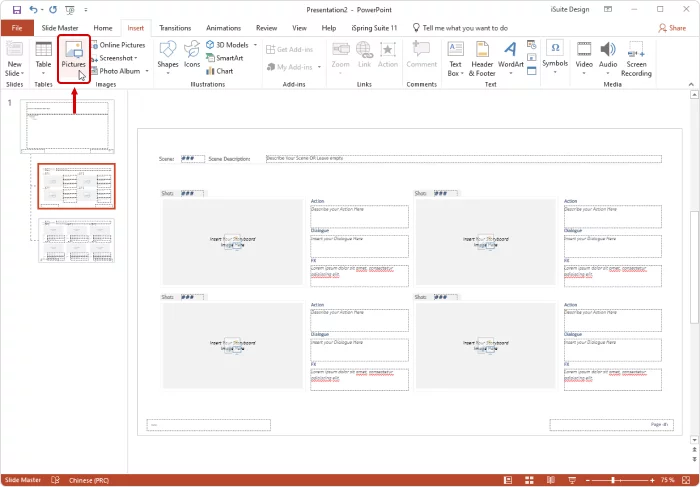 Select the logo from files saved on your computer and click Insert to place the image.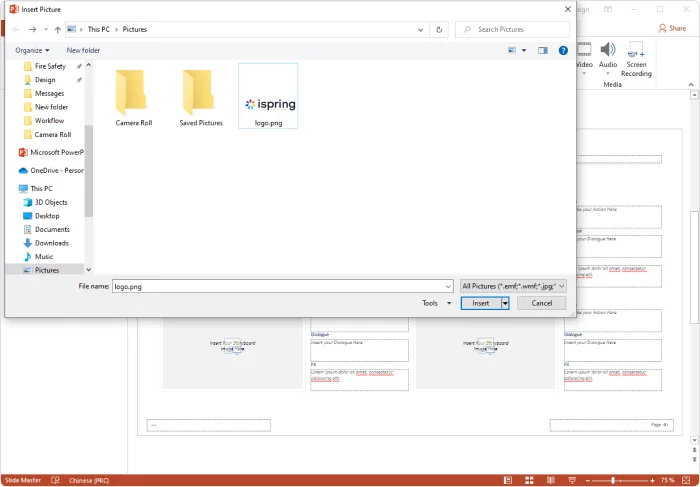 Let's look at our final version.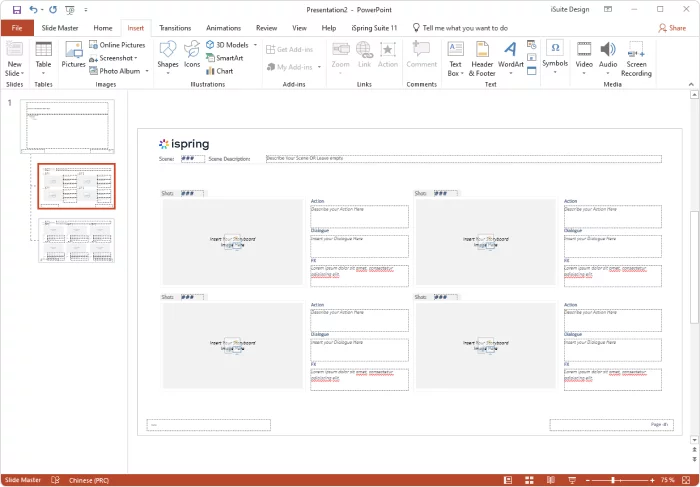 After editing, click the Close Master View button to save your changes.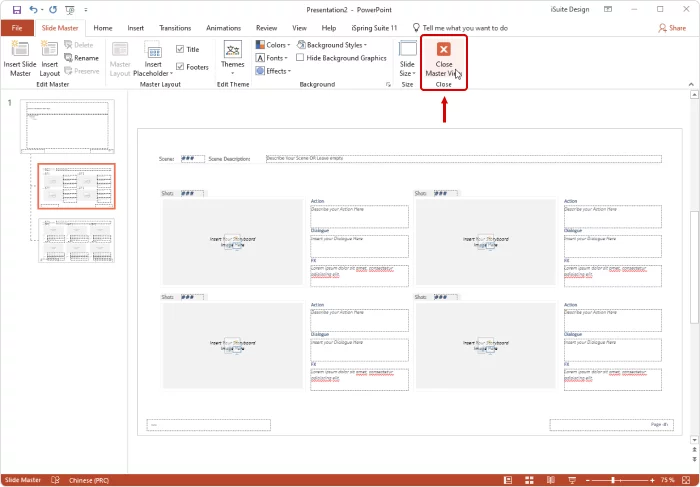 Now you can fill the template with your material.
Bonus: Download the Template From Our Practice
How to Create a PowerPoint Storyboard using iSpring Suite Max?
iSpring Suite Max is a PowerPoint add-on that allows you to turn presentations into online courses without specific skills. It opens as a new tab in PowerPoint and expands its functionality.
With the iSpring add-on, you have wider layout choices to create presentation storyboards and more options to make your slides interactive.
Below you can see how to make a presentation storyboard in PowerPoint with the iSpring add-on.
Step 1
Download a free 14-day iSpring Suite trial (no credit card required) and install the iSpring Suite add-on.
Step 2
Open the PowerPoint application on your laptop.
Step 3
Create a new PowerPoint document. On the left toolbar, select New and click Blank Presentation.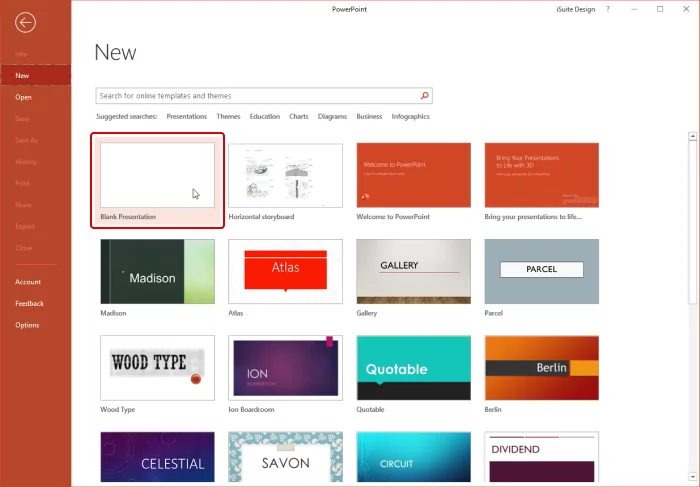 Step 4
Click iSpring Suite 11 and select Slide Templates. Downloading an iSpring template will give you more slide layout options for your storyboard from scratch.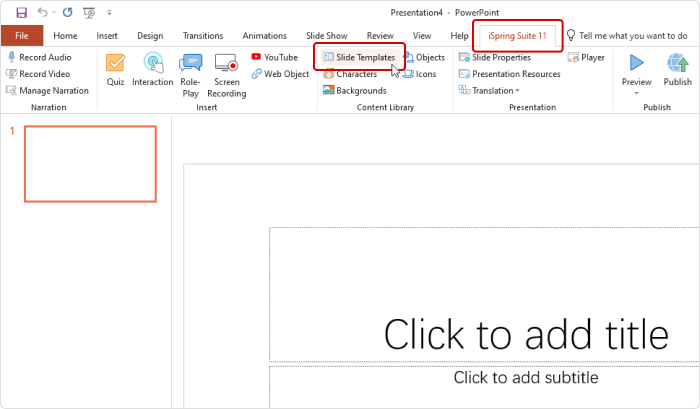 Step 5
Select a template you want to use and click Insert. We have chosen a template that looks like a table of contents for our future presentation. You can find other templates with spaces for images, videos, etc.
Step 6
Right-click on a slide you want to turn into a presentation storyboard and click Layout. Try different options to pick a suitable layout for your storyboard planning.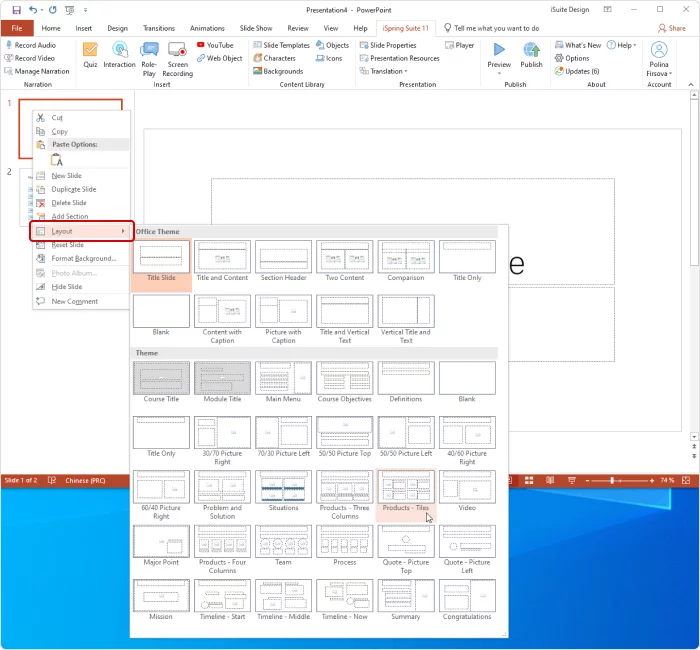 Step 7
Now, you have a blank slide template and iSpring toolbar, allowing you to add content, interactive features, and other details to your presentation storyboard from one place. You can easily customize all your storyboard PowerPoint templates with thousands of assets from the Content Library. In other words, the creative process is much easier with iSpring Suite Max!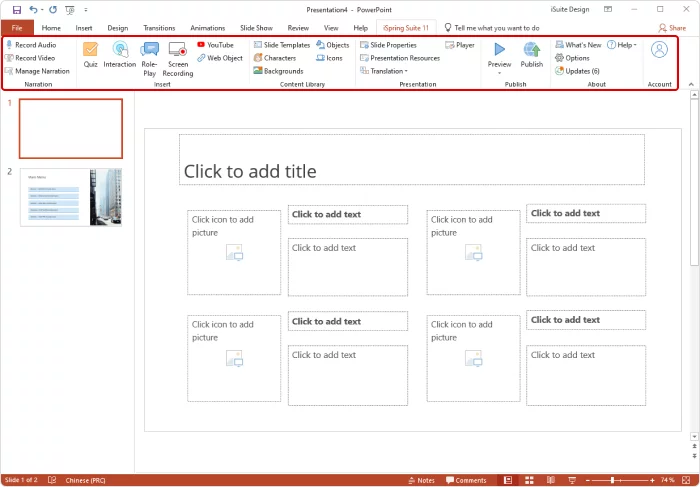 How to Share a StoryBoard with iSpring Suite Max? 
The quickest way to share a project and receive feedback is to publish it in the iSpring Space cloud with the iSpring Suite Max authoring tool.
You can generate a link to view and forward it to colleagues. The link will open on any device and does not require phone or computer memory.
If your colleagues are part of the iSpring Space workspace, they can leave comments for you to see in real time.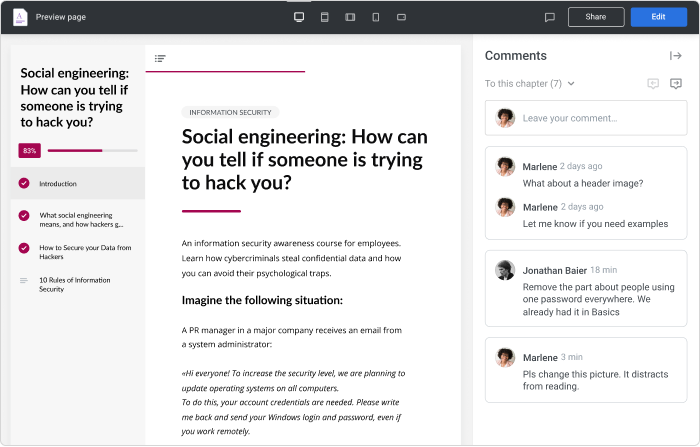 FAQ on Storyboards in PowerPoint
A few words about storyboards in general.
What is the Storyboard Format in PowerPoint?
Storyboarding comes to us from the world of film production. Directors sketched scenes with notes in sketchbooks to describe a concept or an idea in their head in broad strokes.
We no longer need to storyboard by hand, now we can use premade PowerPoint templates. The template includes layouts for various numbers of slides in a deck, usually 4-6 previews with a description.
You can create your own templates if you need more space on the slide or include additional information like:
—  Course navigation, by slide
—  Additional materials (files to download, web links, etc.)
—  Audio/Video
— Comments for the course designer (animation instructions, slide navigation, etc.)
What is the Purpose of a Storyboard?
The storyboard format has proven so useful that it is now used in product development for things like mobile applications, websites, marketing and educational videos, and e-courses.
Storyboarding is an excellent way to visualize the end product and show your customers (clients) before starting work on the design and assembly of the final deliverable. This saves time while developing the educational content and takes into account your customer's desires.