January 20, 2020
Learning Tracks in iSpring Learn LMS and How to Set Them Up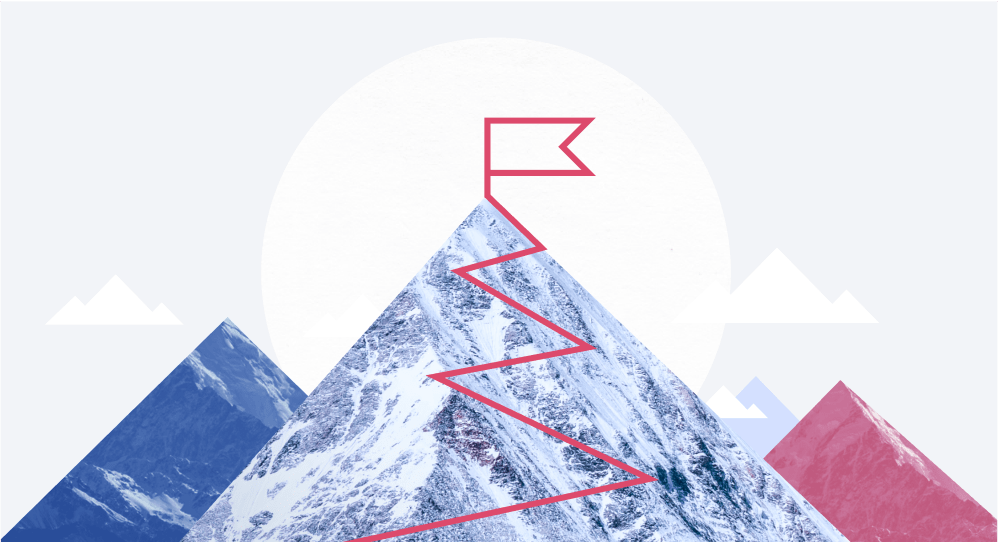 A learning track is a simple yet powerful option that allows you to quickly plan, structure, and organize training, especially when you need to create a long-term training program.
In essence, the learning track is a series of courses that creates a linear flow of what your users have to learn.
Usually, a course in an LMS already includes several content items (modules), for example, a PDF guide, a SCORM file, and a test. The learning track allows you to combine multiple courses into a long-term curriculum.
Ordinary courses are really not enough when you need to create a 90-day onboarding training or a 1-year development program for high-potential employees. Instead of assigning a bunch of standalone courses that are difficult to manage or building a ridiculously long course of 60-80 modules, you can design a smart learning track.
With learning tracks, you can effectively automate enrollments: once a learner steps on a track, the LMS takes care of everything and drip-feeds courses to a learner one after another. From the user's point of view, learning tracks are also convenient. They give guidance, and learners have a clear visualization of what they have done and still need to achieve to reach the goal.
Here's a short video explainer on how to create a learning track:
If you are more into reading than watching, you can find step-by-step instructions below.
How to Set Up the Learning Track in iSpring Learn
For example, you need to create a training program to support a 90-day onboarding plan for new product managers. It's more likely that you already have an understanding of what has to be included in the program. If not, map a sequence of topics and skills and create online courses.
Building a learning track is similar to stringing beads – you just pick relevant courses and thread them one after another. Plus, you can set due dates for every step of the learning track and have the LMS issue a certificate upon program completion.
How to build a learning track
In the menu on the left, select Courses and click Create → Learning Track.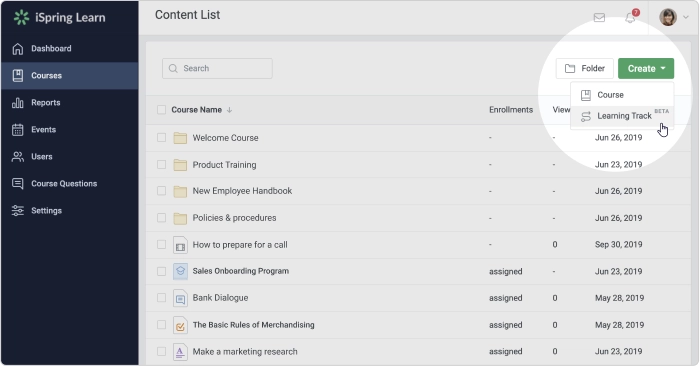 2. To structure your program, divide your learning track into stages. Stages can stand for quarters, topics, significant milestones, or other steps you consider relevant. Just click on Add to create a new stage.
Click on the same button to add a course.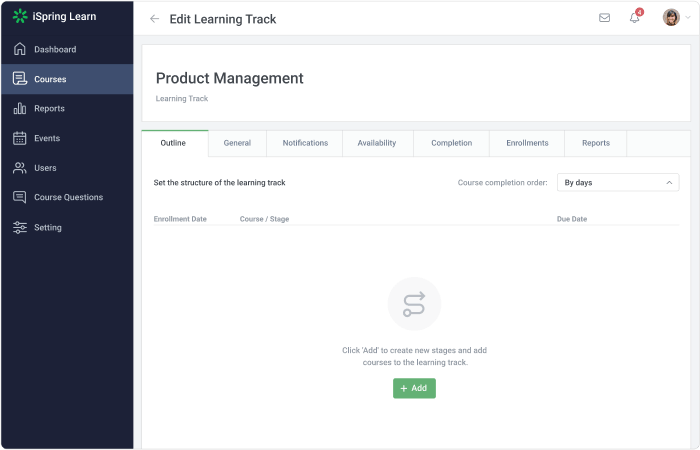 3. After you create a learning track, select how you'd like your learners to complete the courses. You can do this from the drop-down list just above the course outline: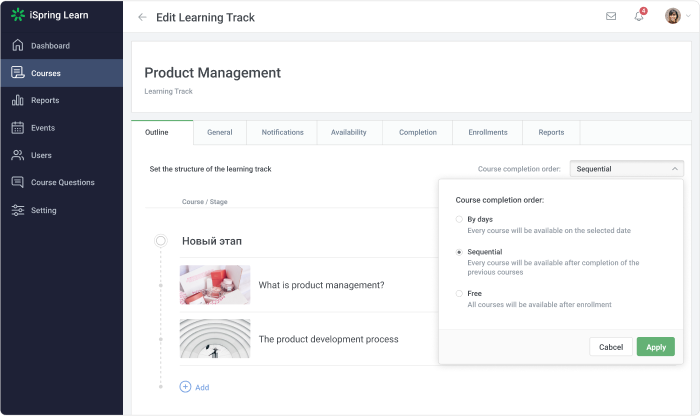 In iSpring Learn, there are three ways users can progress through a learning track.
Track with free course order. If you set the course completion order to Free, all courses will be open and your learners will be able to choose which course to view and in which order. (Please note that the learning module order may still be restricted within a specific course).
A sequenced learning track is ideal when you want to create a self-paced program yet still drip feed content in the correct order. With the sequenced learning track, your learners progress to the next course only after they've completed the previous one. This way, they won't be able to skip important topics but will have a lot of flexibility in terms of when to start and finish courses.
A scheduled learning track. If you don't want your learners to rush through a learning track too fast, create a strict schedule for when each course in a learning track will open. From the drop-down list, select By Day and set timeframes for each course. You can do this by clicking on the Day button at the left of the course icon.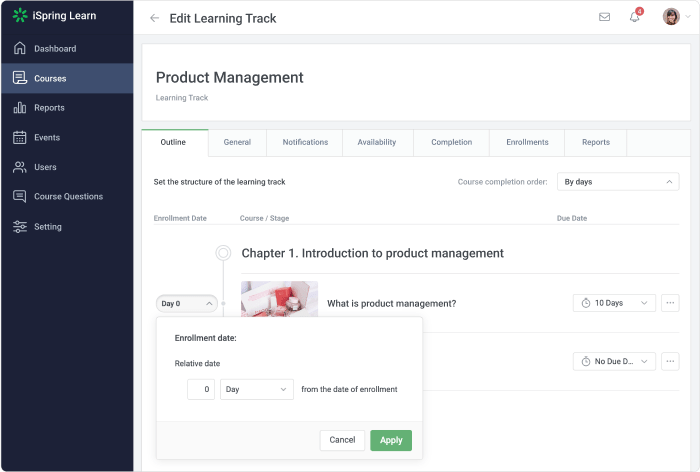 The dates here are relative, which means you don't have to set a definite calendar date but rather specify in how many days (weeks) after the initial enrollment a course should open. This way, the learning track works for any learner, no matter the actual date they enroll: each time a new user is assigned to a learning track, the LMS automatically calculates the calendar dates and creates the individual schedule for this very user.
4. You can also set the due dates to complete a course. Next to the course name, specify how many days or weeks the learners have to complete this course.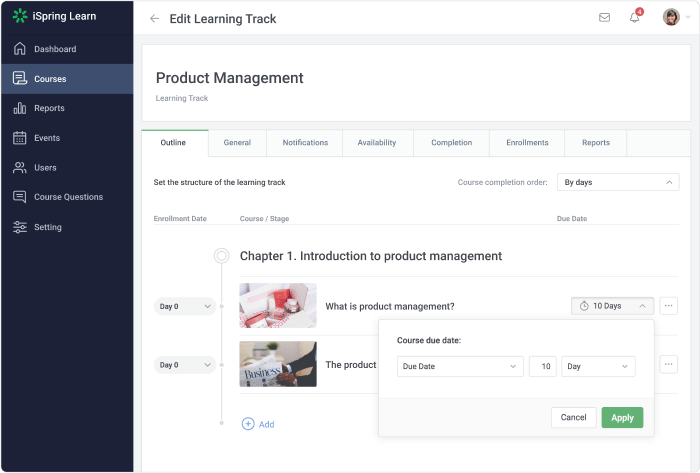 If you don't want to set the time limits for courses, make them evergreen – just select No due date: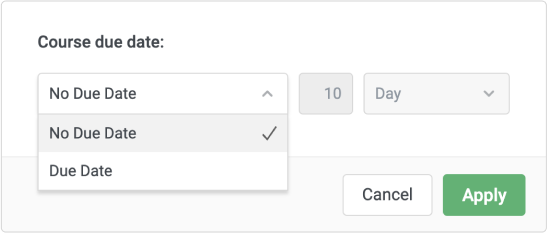 5. The next step is fine-tuning your learning track's look and feel. Go to the General tab to edit the learning track title and description and add a thumbnail and cover images.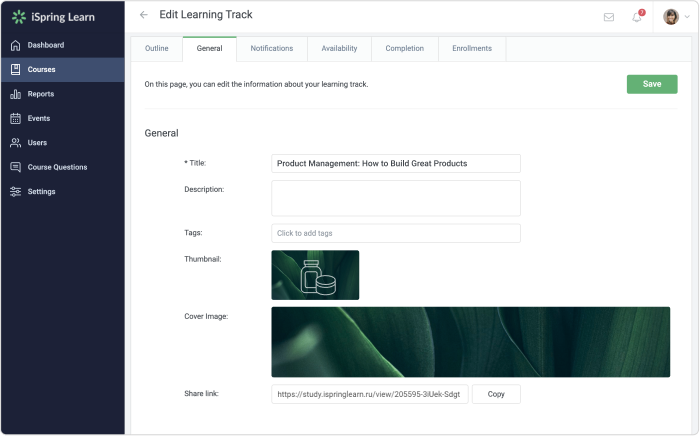 How to enroll learners to a learning track
There are two ways to assign users to a learning track.
Manual Assignment. If you've just created a learning track, chances are high you've been creating it for someone. For example, you have a cohort of newly hired employees, or there are SDRs desperately waiting to start honing their skills; in other words, you have names.
If this is your case, perform these steps:
1. Go to the Enrollments tab and click on New Enrollment.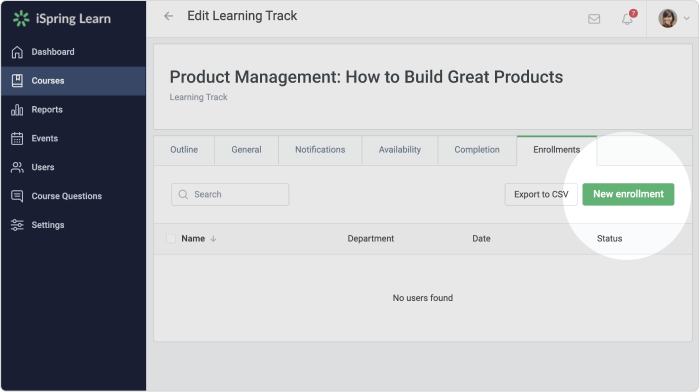 2. Specify user names.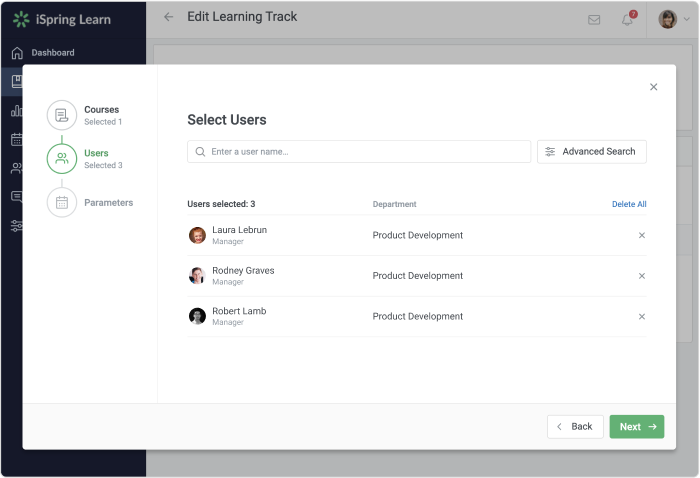 3. Specify a time frame in Parameters. You can select the exact start and due dates or set the number of days that a learner has to complete a course (i.e., 30 days). If you don't want to apply any time limits, opt for No due dates in the settings.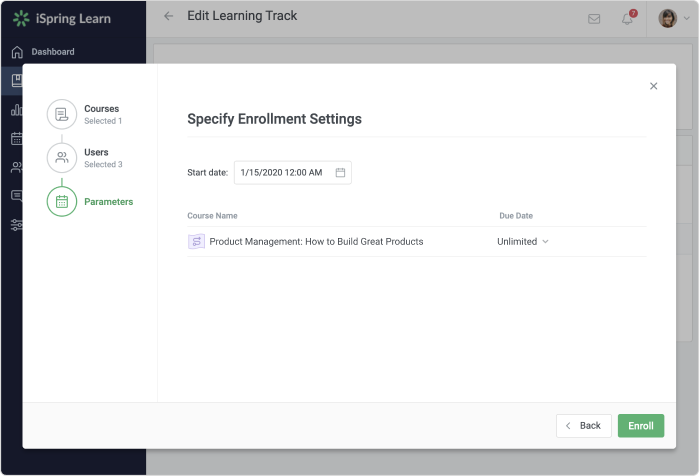 Automated Assignment works perfectly when you need to assign a learning track regularly, for example, to each new team member. You don't know their names at the moment, but you can set a rule in advance. You just create a sort of trigger, e.g., an employee moves to the Marketing department or is added to the First-Time Manager group. Once this happens, the employee will be automatically assigned to the learning track.
And you, as an admin, don't have to even lift a finger, just enjoy a well-oiled automated process. So, how to add a rule?
1. Go to the Availability tab and click on Add Rule.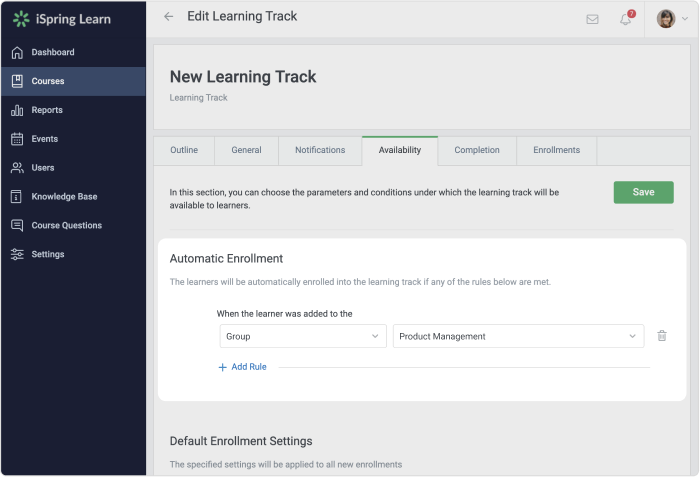 2. Specify automatic enrollment conditions.
How to create automatic enrollment: A video tutorial →
How to Track Learners' Results
iSpring Learn helps you closely monitor learners' progress and analyze it. There are several reports you may want to use to keep track of learning tracks.
Learning Track Progress report
This report gives you overall info on all learning tracks in your account, and you can see:
how many users have been assigned to, started, and completed learning tracks.
what overall learners' progress on each track is.
how many learning tracks are overdue, and more.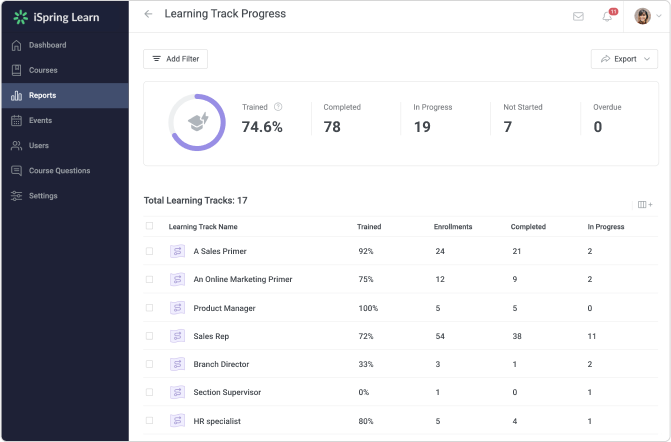 To get more details on a specific learning track, just select a learning track in question and click on Learner Progress.
Learner Progress report
This report shows all the important details on a learning track: which learners are on this track, how many of them started and completed it, and other stats.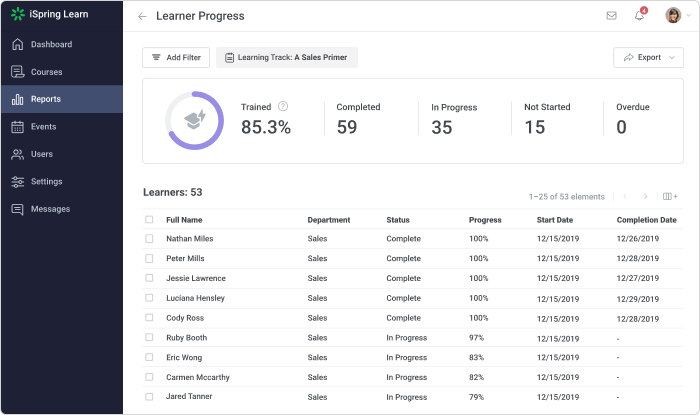 Using filters, you can zoom in on a specific department or user roles, e.g., check out results for all branch managers. You can also apply a time filter to find out the progress on courses assigned in the current month.
If there is a learner who shows poor performance, you can quickly dig into details simply by clicking on this user and then on Completion Details.
Learning Track Details report
With this report, you can see a per-course breakdown of a learning track. The report shows each course in a program, its status, completion date, and other relevant info. For example, you can use this data to understand how a new hire performs, where they shine and which topics they stumble over.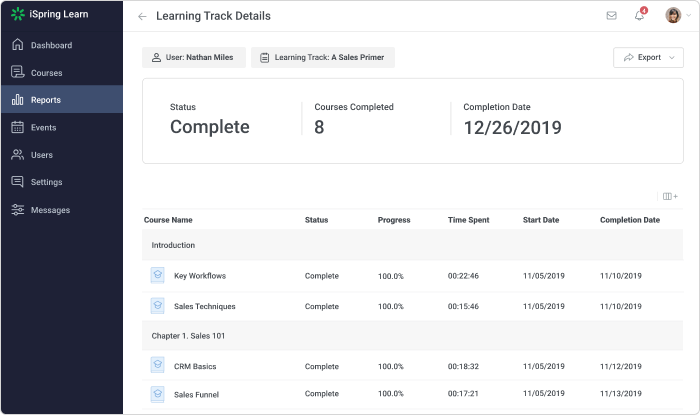 Still, need an even more granular report? Select a course and click on Completion Details.
Course Details report
The report shows:
overall info, e.g., how many learning modules have been completed and how much time has been spent on them.
the granular details on each module within a course: their statuses, awarded scores, and completion dates.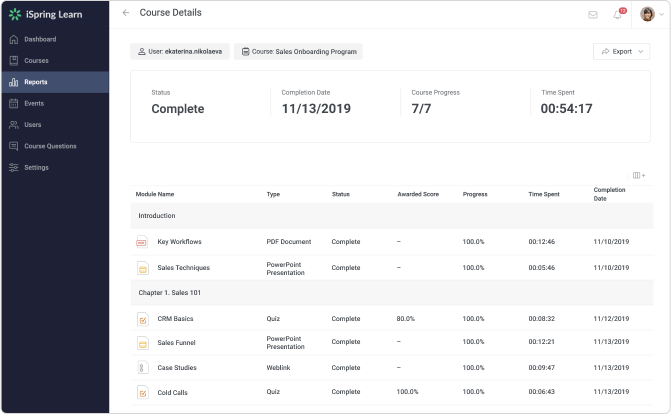 The Course Details report helps you identify learner's strong and weak points, as you can see their progress on each training module.
Learning tracks are an effective way to organize, deliver, automate, and control training. We can't wait for you to try it out and share your opinion with us.