December 11, 2018
iSpring Wins Double Gold in Brandon Hall Excellence Awards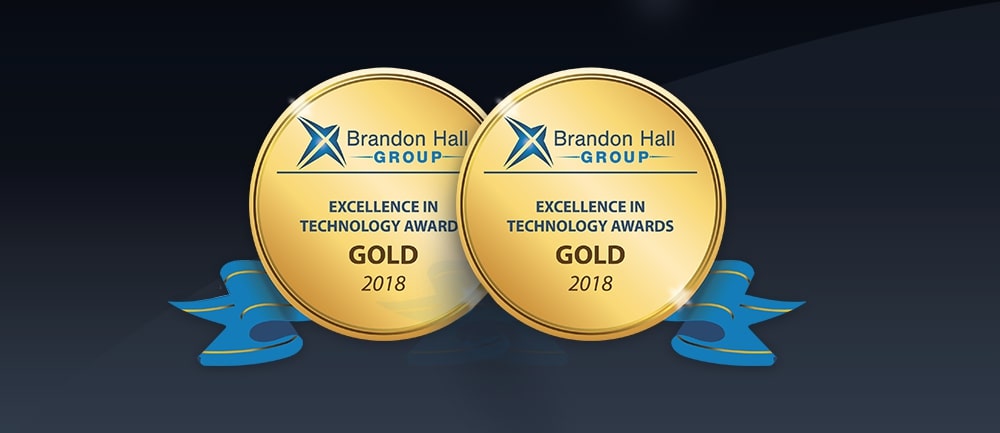 The Brandon Hall Excellence Awards is one of the most prestigious awards programs in the technology industry, often referred to as the "Academy Awards." This year's Oscars went to iSpring Suite and iSpring Learn.
Brandon Hall Group is a preeminent research and analyst firm with more than 10,000 clients globally and over 20 years of experience in technology research. Since 1993, Brandon Hall experts have been recognizing the best tools and solutions that have achieved technology excellence and measurable results in learning and development, talent management and HR.
Over 700 companies from all over the world applied for this year's Award. The Brandon Hall experts announced Gold, Silver, and Bronze awards in more than 80 categories. iSpring won Gold in two categories: Best Advance in Content Authoring Technology and Best Advance in Learning Management Technology for SMB.
The Brandon Hall judging panel consists of independent industry subject matter experts and practitioners, as well as Brandon Hall Group research analysts and executive leadership.
Winners were selected based on a number of criteria, including product innovation, unique differentiators and measurable results. Gold was only given to solutions that successfully met all the criteria. For 10 out of 80 categories, Gold winners were not announced.
iSpring Learn — the Best Advance in Learning Management Technology for SMB
Based on expert research and customer testimonials, the Brandon Hall judges recognized the following benefits that make iSpring Learn the best solution for small and medium-sized business:
Quick deployment of the system. It takes just 1 day to set up iSpring Learn LMS, and it's ready for uploading learning materials and assigning assessments. No paperwork is required.
It was very easy to go out the gate very quickly with iSpring. Now there are 310 learners on our iSpring Learn portal, 43 courses and 11 learning paths. When new marketing people are coming to Moxa, we simply assign them the training on the iSpring Learn portal.

2. A perfect combination of powerful capabilities and easy-to-use interface. Clients can easily manage their training system — from building learning paths to tracking detailed learning results — even without any IT background.
I'm a medical doctor and I don't have an IT background. With iSpring Learn I easily created a learning path on rare diseases for doctors in low-income countries. Right now we are getting ready to upload our new online training to the system.

3. Continuous learning 24/7 on any device, even offline. Employees can learn from their smartphones and tablets anywhere and at any time. With iSpring Learn app, people in the field can download content and learn offline.
With eLearning, our employees can take training whenever their schedules allow. iSpring's mobile app with offline capabilities is especially useful for our account managers and field trainers, as it allows them to download courses to be available offline so they can take training anywhere, anytime.
4. Flexible pricing policy. Clients are charged for active users only. It doesn't matter how many users are invited or registered in the system.
5. Professional support. Whenever users have questions about their iSpring LMS, they can contact support by phone, email or live chat. Over 80% of cases are solved on the phone within a few minutes.
iSpring Tech Support answers questions via phone, email, and chat. Customer service is a part of the product, and our team is committed to assisting customers in record time.
iSpring Suite — the Best Advance in Content Authoring Technology
iSpring Suite won the award for Excellence in the Best Advance in Content Authoring Technology. The key distinction of the toolkit is its unrivaled speed.
Brandon Hall Group experts verified that users can create and publish content with iSpring Suite 25% faster compared to other authoring software.
Another strength of iSpring's toolkit is an extensive set of authoring features. With iSpring Suite, users can build courses, assessments, dialog simulations, interactions and videos using just a single tool. Plus, they can take advantage of the Content Library, which features 51,000+ backgrounds, characters, photos, icons, and buttons to fit any training scenario and boost course creation.
With iSpring Suite, I have created 28 courses and reduced the time to create a course by at least 60% on average. Over the last year, I have trained approximately 6,500 people. As a result, we've seen noticeable improvement in the employees' approach to their work, as well as in productivity.

This is the fourth Brandon Hall Gold award that has gone to iSpring Suite. The toolkit was also recognized as the best in 2010, 2013, and 2016.
We're proud to get two Brandon Hall Gold medals this year! Big thanks to our customers who share their experience and results of working with iSpring. You help us improve our tools day by day to exceed expectations and achieve greater results.