A timeline is a representation of information that can be used in history, paleontology and any other study that requires visualization of sequential elements. It usually represents a horizontal line with segments of time. Each segment can have its own sub-elements. In this article, we will learn how to create a timeline in PowerPoint that represents the Phanerozoic Eon of Earth for Paleontology class.
Check out an easier way to create interactive timelines
1. Get Started
Create a new PowerPoint presentation or open an existing one. Right away, you can apply a custom

Theme

that reflects your style via the

DESIGN

tab.

Then go to the

INSERT

tab and click on

SmartArt

.

Select

Process

on the left and pick the design of the timeline you like in the central pane. Then click

OK

.

The timeline will be created with three elements. Name them according to your topic.

Fill in additional text for your Timeline. If you need to add more sections to your timeline, click

Add Shape

on the top panel. You can also

Add Bullets

to your sections.

Bullets will be placed vertically underneath the selected section.

Familiarize yourself with using the

Text Pane

to fill in text of your timeline more conveniently.

Complete filling out, set custom fonts (Calibri for bullets), resize elements and change shape colors (

FORMAT

tab >

Shape Fill

).
Awesome! Your timeline already looks pretty good inside PowerPoint. We just have to make it interactive by adding some links and animations, and then publish it to a Web format so students can access it online.
2. Add Links and Animations to your timeline
Here is an important point: we will have to break up our SmartArt into shapes to prepare it for conversion, fine tune links, and set custom animations. Therefore, we recommend that you make a copy of your original SmartArt in case you need to change it or create another timeline like this (using convenient SmartArt Format tools).
To copy your SmartArt, just drag it by its border while holding the

Ctrl

key on your keyboard. Drag and drop the copy of the original Smart Art outside the slide.
Then right-click on the border of the SmartArt that's on the slide and select

Convert to Shapes

from the dropdown menu.

Right-click on the border of this shape and go

Group

>

Ungroup.



Select each form individually and apply the

Wipe

animation. Set

Start: With Previous

for the first animation and

After Previous

for all the rest. Set effect options

From Left

for the horizontal timeline bar and

From Top

for the bullets.

After you apply all the elements, the Animation Pane should look like this:

Create slides for each Era; e.g., this slide is about the Cenozoic Era.

Create an action button by going to

INSERT

>

Shapes

>

Action Buttons.



Draw it on the slide and set

Hyperlink to: 2. Eras of Phanerozoic,

which will open the slide with the timeline again.

Copy this action button to every slide so a learner can go back to the timeline from any descriptive slide.
After everything is done, the presentation will look like this in Slide Sorter VIEW.
3. Share Online
You don't need any additional tools to create this interaction in PowerPoint, unless you are not planning to deliver it to anybody online. If you would like to share it on the Web, it will be a great help to use iSpring PowerPoint-to-HTML5 conversion facilities.
You can play around with this interaction or compare your result with ours:
Download our free Timeline template (.pptx, 0.7 Mb)
How to create a timeline faster
There are many benefits of creating your timeline using PowerPoint. You can determine any structure and depth you like, create custom element shapes, colors, animations, etc… Literally, you can create any design you want using just PowerPoint functionality. However, as you can see from this article, it is a pretty creative, complex, and therefore time-consuming process. There is a much simpler way of doing it (though with less freedom of customization).
iSpring Suite has a component called Visuals that lets you create a timeline interaction very quickly with almost no effort! It has a very easy-to-use editing window: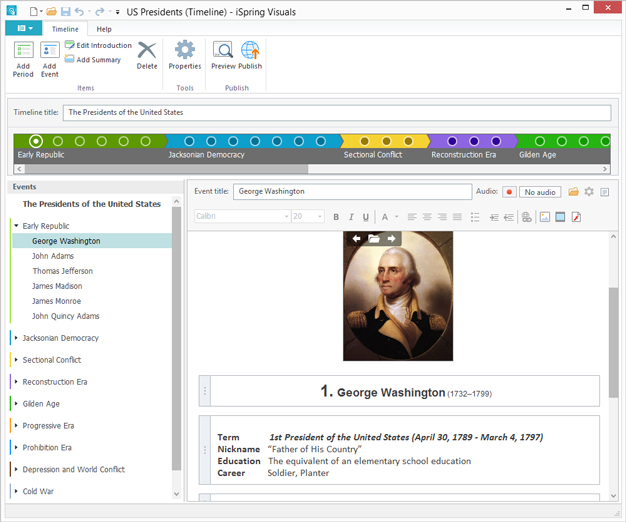 Basically, it has just 2 levels: Periods (colored sections) and Events (dots). You can add any information in the Event window, including pictures, sound, audio, video, etc. The interaction properties window is succinct, and allows you to adjust fonts and color scheme.
By clicking Customize in the Interaction Properties window, the new window will pop up. You can apply custom colors to the bars and the background of the interaction.