iSpring Learn webinars are here! Now you can host live training sessions and online meetings right in your LMS account without switching to a third-party service.
Today, we'll explain how to host your first webinar: invite attendees, share your training materials, and answer audience questions.
Step 1. Create a webinar
1. To schedule a webinar, go to the Webinars tab in the main menu and click Add Webinar.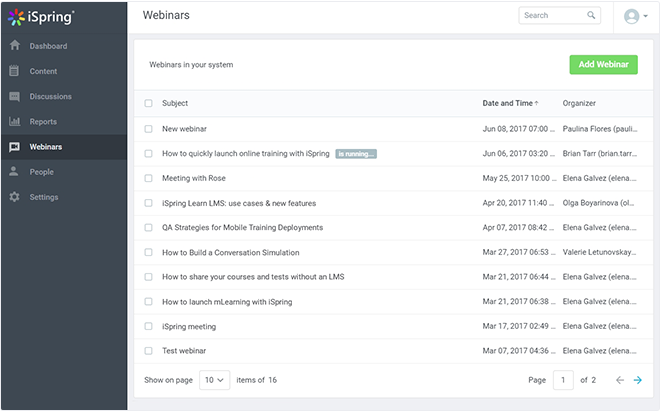 2. Fill out the form with all necessary information: topic, date and time, time zone, and duration.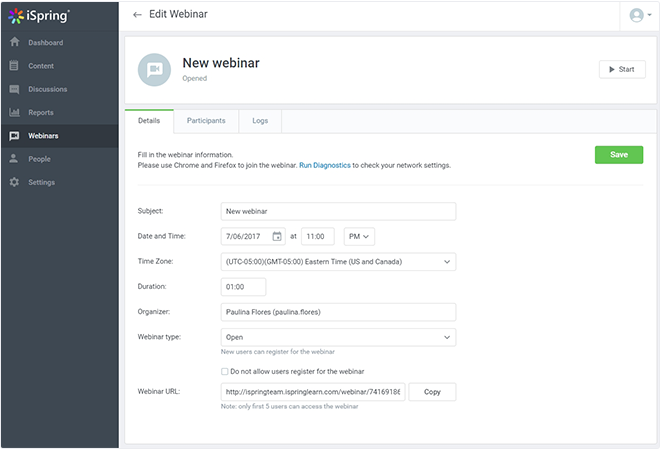 Webinar organizer. By default, the presenter is the person who creates the webinar in the system. You can easily change the presenter to an admin. To do this, type their login or email in the Organizer field.
Webinar type. A closed webinar is available only for the users registered in your iSpring Learn account. For an open webinar, you can send email invitations or share the registration link with anyone you want.
Webinar URL. You can copy the link and send it to your learners so that they can join your webinar.
Step 2. Invite attendees
1. To invite users to your webinar, go to the Participants tab and click Invite User.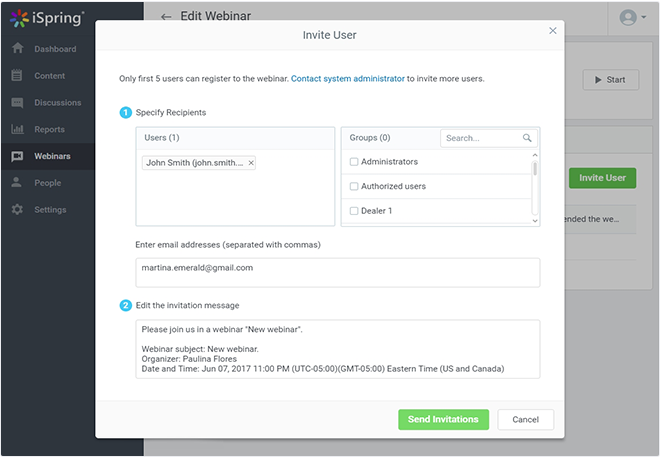 iSpring Learn users. To invite users registered in your account, type their emails in the Users field. You can also invite groups of users. To do this, just select them in the Groups list.
New users. If you want to invite users who are not registered in your LMS, type their emails below. Please check the webinar type in the Details tab: you can invite new users only to "Open" webinars.
2. In the Participants tab, you can check the list of users who will receive an invitation to join your webinar and edit it if necessary.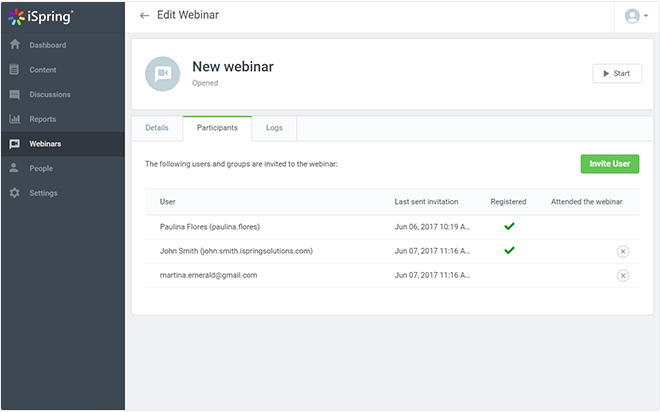 Step 3. Registration of attendees
1. The participants get messages with information about the webinar and a registration link to reserve their seats. Once they follow the link, they see a window where they are prompted to type their details and click Register.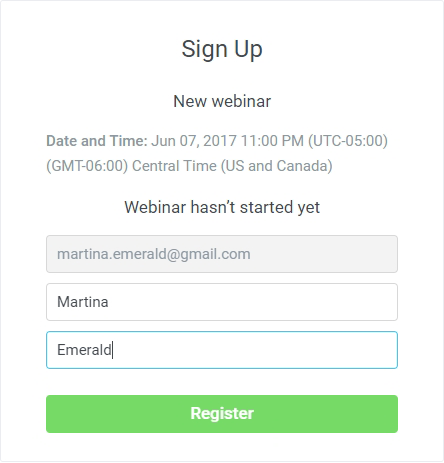 2. After registration, learners receive a confirmation email with a link to join the webinar. If the webinar hasn't started yet, an attendee will see a notification: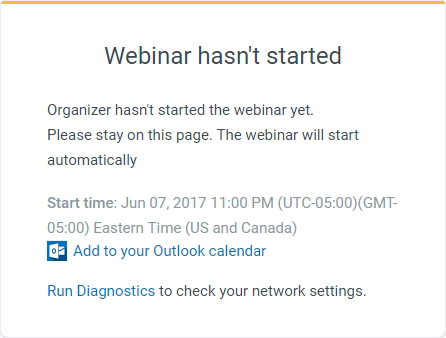 Step 4. Start your webinar
To start the webinar, click the Start button: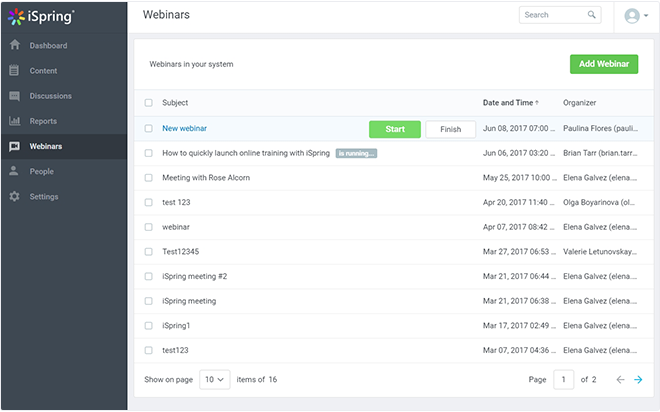 Step 5. Host a webinar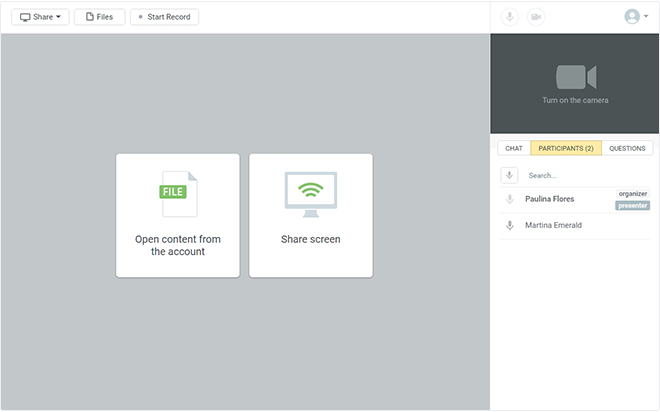 Microphone and webcam
The system automatically checks the installed devices: for example, you will see a notification if a webcam is not connected properly. To start your presentation, turn on your microphone and webcam by clicking their icons on the right panel.
Webinar attendees
All users who join the webinar are shown in the Participants list. You can turn their microphones on and off, and make any attendee a presenter.
Sharing content from iSpring Learn account
During the webinar, you can open an iSpring-made course or video from your account and demonstrate it to your learners.
Note: Currently, courses with quizzes are not supported.
Screen sharing
The Screen sharing feature allows presenters to demonstrate their screens to the audience. You can broadcast one of your running applications or the entire screen.
Note: If you're using Google Chrome, you will be asked to install a special browser extension to share your screen. In this case, we recommend following the setup instructions.
Questions and discussions
Attendees can communicate in the chat or send private messages to each other, and ask the speaker questions.
To ask a question, we recommend using the Questions tab so the organizer won't miss it in the session chat.
All webinar attendees can also use their microphones to ask questions.
Uploading files
If you want to share a presentation or reference materials with your audience, use the Files button on the top panel. Upload your documents, and all attendees will be able to download them.
Webinar recording
You can send the webinar recording to the attendees so they can share it with colleagues and won't miss anything important. To start a recording, click the Start Recording button. Webinar recordings are saved in the content list, and by default they're available only for account administrators.
To make the recording available for all users, go to the Permissions tab and make a recording public (anyone who has the link will be able to watch it). You can even assign it to a user or organization as learning material.
Step 6. Finish the webinar
To finish a webinar, click the account icon in the upper right corner and select Finish webinar.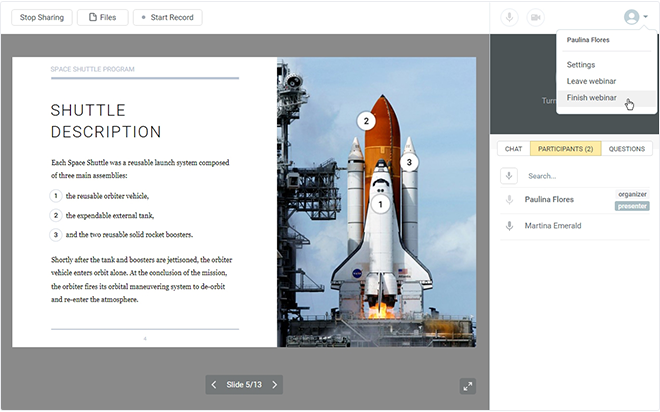 After hosting a webinar, you can track the attendance data. To do this, go to the Webinars menu, select your session and choose the Logs tab. You can view the attendance log, chat log, and attendees' questions, or download these reports as .pdf files.
Note: iSpring Learn webinars have adopted the most up-to-date streaming technology, WebRTC (Web Real Time Communications). WebRTC ensures the highest quality of audio and video. iSpring Learn currently supports it with Google Chrome and Mozilla Firefox web browsers. We recommend that you and your attendees use the latest versions of these browsers.
iSpring Learn
Automate training projects from onboarding to sales enablement.