February 21, 2020
How to Create a Digital Flipbook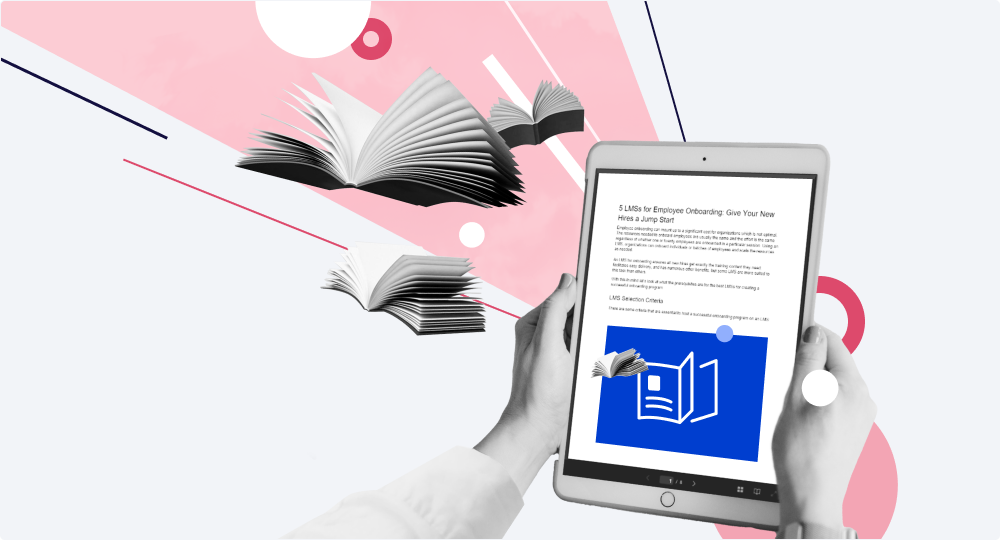 Take a look at any book in PDF format. It looks good overall, but it's still hard to read. You'll have a much more enjoyable reading experience if you format it as a digital flipbook. Why don't we take a look at what a flipbook is and how you can create it with iSpring Flip in just a few clicks?
What Is a Digital Flipbook?
A digital flipbook is an interactive e-book that looks just like a printed publication, with pages that can be flipped and turned. It preserves the traditional look and feel of a paper book but includes interactive elements like links and navigation. 
Here is an example of a digital flipbook created with iSpring Flip:
iSpring Flip is a tool that allows you to transform your PDFs, PPTs and Word documents into the book's pages. It converts your files into HTML5 digital books that are compatible with all modern eLearning standards: SCORM, AICC, cmi5, and xAPI and can easily be uploaded to a website or an LMS. HTML5 flipbooks adapt flexibly to any screen size and orientation, so your learners can read them both on desktops and mobiles.
It is the easiest way to move instruction manuals, working guides, SOPs, and other documentation for your employees online and is a win-win for everybody. 
Your learners will get a great reading experience by flipping through the pages online from the devices they like to use and you will get a good chance to keep track of what learners are reading and how far they have progressed. A word of caution, though: to monitor the progress, you need to publish your document to SCORM or another eLearning standard that your LMS supports and upload your digital flipbook to the LMS. 
How to Make a Digital Flipbook 
Now, we'll get into the step-by-step process of creating a digital flipbook with iSpring. Watch the video tutorial or continue with the following instructions, if you prefer reading.
Install iSpring Flip on your computer and launch the app. 
Install iSpring Flip on your computer and launch the app. 
Click on PDF, MS Word or MS PowerPoint, depending on the type of the file you want to convert to a digital book, or simply select Browse to open the document.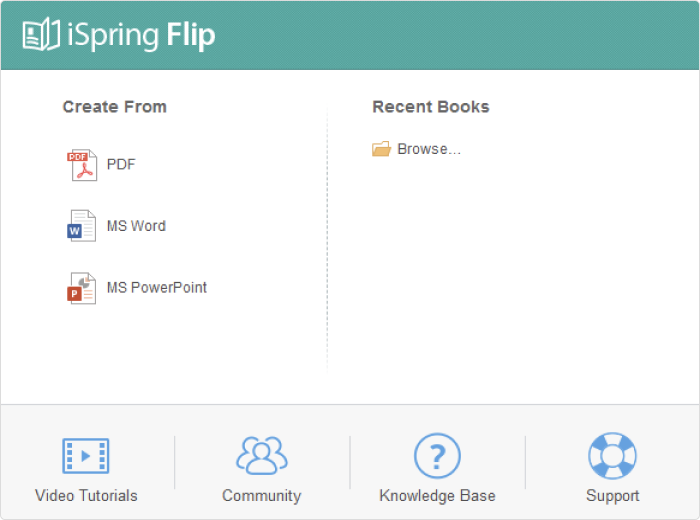 This will provide a full overview of your book. You can navigate through the pages using the thumbnails or the arrows at the bottom. Also, you can get a zoomed-in view of your page with the hand zoom bar in the lower right corner.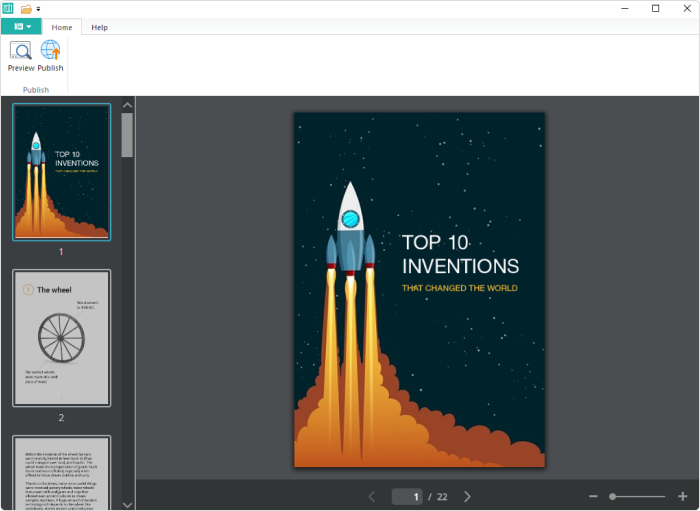 To check how an e-book will look on different devices, click the Preview button. Here you can see how iSpring Flip will adapt your book content and viewing experience, depending on the device and it's orientation.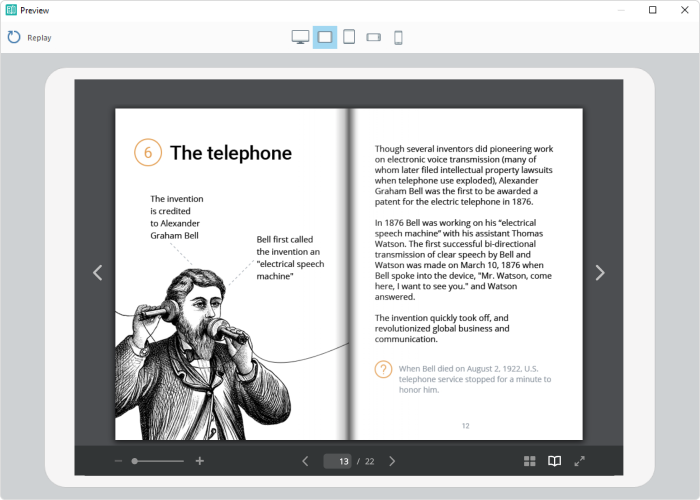 Once you are satisfied with the way your digital flipping book looks, you can go ahead and publish. First, you need to decide your publication output. You can choose to publish directly to your computer, which will give you a file that you can then upload to the platform of your choosing, or directly to an LMS if you want to use this e-book for training. You can choose any format that your LMS supports like the most popular standard SCORM 1.2 and 2004, Experience API, or cmi5.
Here, you can also configure your quality settings by selecting a preset or choosing your own settings.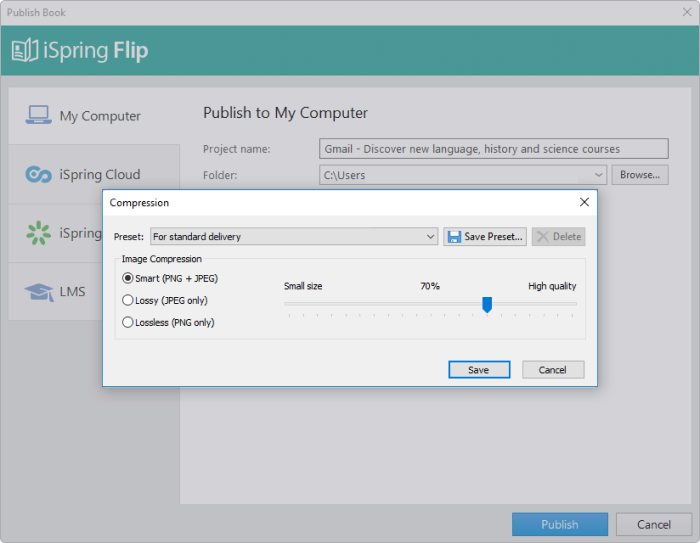 In Additional Settings, you can password protect your book if you want to restrict access for it. You can also enable viewing from a local drive because some browsers restrict you to viewing content locally. This creates a copy of the book that can be viewed from a flash drive, hard drive, CD or DVD.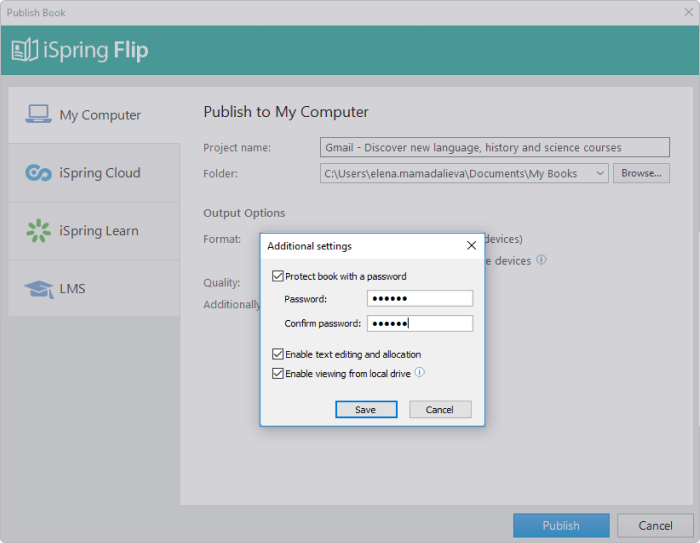 Now, all you have to do is click on Publish.
Congratulations! Your digital flipbook is ready. You can email the e-book to your audience, import it to your website/intranet for sharing, or upload the flipbook to your LMS and invite your learners to read it.
Take your plain PDF, PowerPoint, and Word files to a new level – make a digital flipbook that's so easy to publish and share online for free with an iSpring Flip 14-day trial. 
You can also try the whole iSpring Suite authoring toolkit. You'll not only be able to create digital flipbooks but also author many other types of eLearning materials including slide-based courses, quizzes, video lectures, and dialog simulations.