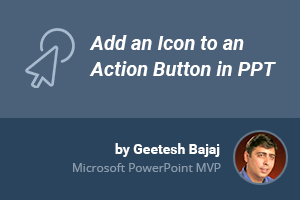 PowerPoint's Action Buttons are easy to place on slides, they are helpful, and they do a great job. But let's face it, they have remained relatively unchanged for 20 years now. Things need to change, at least in appearance to look more contemporary. So today we will explore how you can quickly add some icons to accessorize Action Buttons in PowerPoint, and create a new look!
First of all, you need an icon. There are tons of icons everywhere online. As long as you respect copyrights and read between the lines of a license agreement, you should be good. We also have this page that provides links to icon sites.
http://www.indezine.com/products/clipmedia/freeicons.html
After that, follow these steps:
Add an Action Button on your slide. To add an Action Button, access theHomeorInserttabs of the Ribbon. Then click theShapesbutton to bring up the drop-downShapes Gallery. The last category of Shapes within this Gallery is Action Buttons. Choose the last of the Action Buttons, calledCustom, as can be seen highlighted inFigure 1below.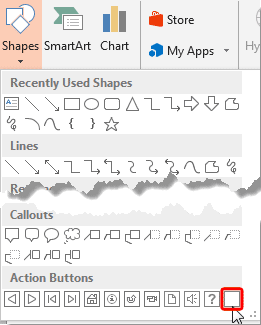 As soon as you select this option and click on your slide, the Action Button will be placed on your slide. Additionally, theAction Settings

dialog box will pop up (see

Figure 2below).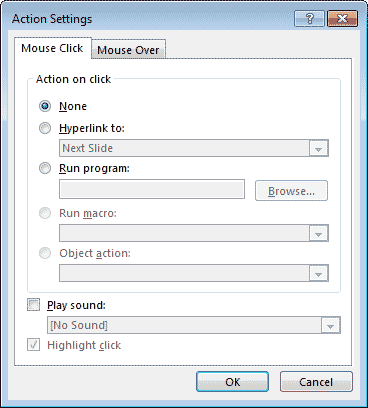 Choose any of the options available as per your requirements. But do remember what behavior you chose. Click theOKbutton.
Now place your icon over the Action Button as shown in Figure 3.
With your icon selected (not the Action Button), access theInserttab of the Ribbon and click theActionbutton. This will bring up the same dialog that you saw in Figure 2.
Apply the same behavior as previously used.
Now play your presentation to test the Action Button. It does not matter if you click on the icon or the area of the Action Button that is not covered by the icon – either way you will end up activating the same hyperlink!
Have any hot PowerPoint tips to share? Tell us in the comments below!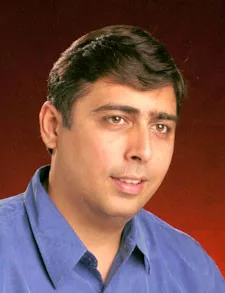 Geetesh Bajaj is an internationally acclaimed PowerPoint, storyboarding, info-diagramming and presenting expert who has been awarded the Microsoft PowerPoint MVP (Most Valuable Professional) every single year for 15 years now. Based out of Hyderabad in India, Geetesh believes that any presentation is a sum of its elements—these elements include abstract elements like story, concept, color, interactivity, and navigation–and also slide elements like shapes, graphics, charts, text, sound, video, and animation. He runs the popular Indezine.com site.