January 18, 2021
Top eLearning Trends That Will Dominate In 2021: Insights from Industry Experts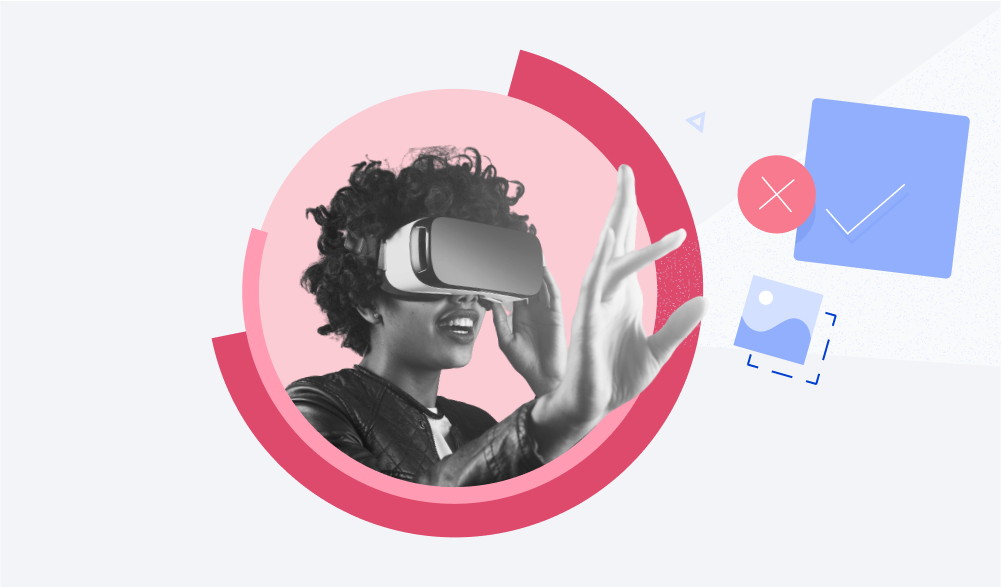 Let's reflect on 2020. Oh, what a year it was! Teachers and training professionals spent a large portion of the year revamping learning strategies to address the new environment brought about by the COVID-19 pandemic. Most of them had to convert traditional instructor-led training to the virtual classroom and eLearning quickly.
Even before the coronavirus outbreak occurred, the eLearning industry had been expanding at a steady pace. And now, it's essential to expect an explosive growth of interest in online training. But what exactly expect to see in 2021?
We asked leading industry experts to share their insights on what eLearning trends we can look forward to this year. Check out their predictions in the infographic below and keep reading to find out what they have to say.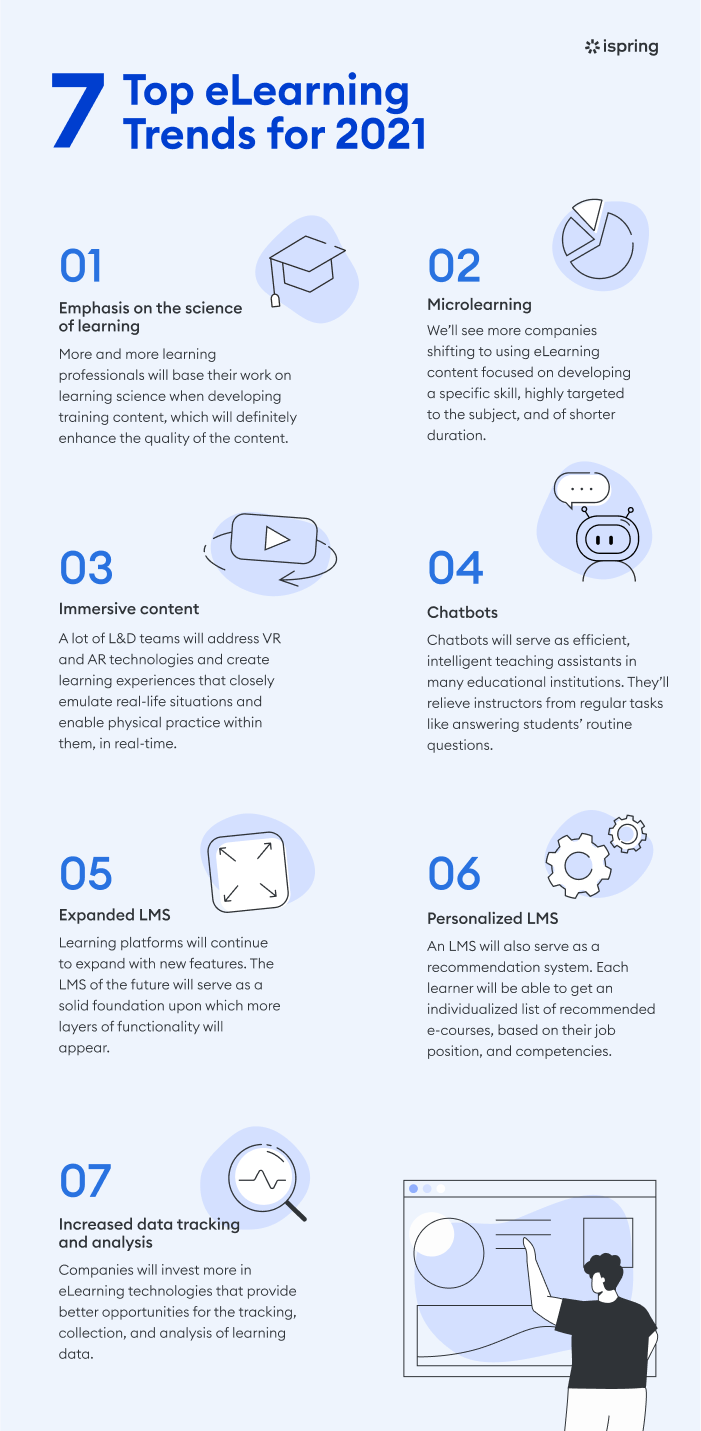 Overall Learning Trends
When talking about training, there are two things always worthy of consideration – what kind of learning content to create and how to deliver it to learners. And this is where we can see constant changes. But before we dive deep into the content trends and changes in eLearning technologies, let's take a look at the larger international tendencies coming over the horizon that are going to affect the entire educational system.
Rebalanced learning model
David Patterson, an eLearning consultant and director of Learning Light, states that 2021 will be a year that sees a reset to the workplace learning rebalance caused by the pandemic situation.
"There will be of course a return to face-to-face learning and development, but this is now much more likely to include eLearning. So the rebalance of 2021 will be around a new style of blended learning, with face-to-face reserved for very high impact sessions and eLearning delivering high-fidelity learning experiences and increasingly tutors using platforms such as MS Teams and Zoom."

However, it's difficult to predict what percentage of learning will occur face to face, via eLearning courses, and through virtual ILT. The challenge is for each L&D team to get this learning blend right.
Humanizing online learning
Many experts believe that, with the evolution of online learning, training industry professionals must become even more focused on the human factor (and all its foibles) than ever before, and, first and foremost, this trend will influence the quality of learning content.
"2021 may be the year we see a significant shift towards a deeper value for learner-centric content, empowered of course by technology and innovations that offer increased accommodations for human behavior."

Jane Bozarth, a director of research at The eLearning Guild, provides a few tips on how to add a human touch to online learning so learners don't feel they are alone on the journey and left to fend for themselves. Her suggestions include involving learners in course development, using peoples' real names, photos, and voices when creating the content, using digital documents for collaborative work, and applying virtual whiteboards during VILT sessions.
Chatbots
Despite the fact that learning content and training per se are expected to be more human-centric, some experts believe that robots will substitute some human actions in education. Jane Bozarth states that chatbots are already used in some educational institutions and are very efficient, since they help to eliminate of some routine tasks that instructors otherwise need to perform.
She shares an interesting example of how a chatbot named Jill Watson, a Georgia Tech virtual teaching assistant, helps students enrolled in a Knowledge-Based Artificial Intelligence (KBAI) course. Throughout the semester, she answers students' routine questions, such as the allowed length and format of written assignments, and thus saves the teaching staff a lot of work.
"What is especially interesting about this is that most students didn't detect that responses came not from a human. And because they didn't recognize that it was a machine, a lot of students nominated her as the best teacher assistant of the year."

This example proves that chatbots indeed save valuable time for teachers and trainers. They are still not perfect, but development in AI and its appliance to learning is definitely a trend that will continue into 2021 and beyond.
LMS Trends
eLearning experts also predict some changes in LMS functionality. No, there won't be any radical transformation – an LMS to which we are accustomed won't turn into a completely different tool. But it will continue to expand with new features. Jane Bozarth expressed this idea in an interesting and metaphorical way:
"The LMS of the future is like a card house, like a brick wall on which new and new layers of tools will emerge."

According to experts, an LMS should have the following options to solidify a better learning experience in 2021.
Communication tools
Given the massive increase in video calls as the new normal due to COVID-19 lockdowns and the general increase in working remotely, we'll definitely see innovative LMS vendors offering additional accommodation for video calls, chat/communication platforms, and similar tech natively embedded within their systems. Moreover, Michael Sheyahshe, a developer and technologist at alterNative Media, notes that LMSs will have the option of tracking online meetings and learners' attendance.
"We may even overhear discussions like, 'Did you attend the video meeting today? Great. The LMS has already recorded the attendance as a 'success' for that course.'"

In fact, this trend may seem old hat because some learning platforms, such as iSpring Learn LMS , already feature web conferencing tools. Still, this is going to be more widely available in 2021.
Adaptability and personalization
One thing many eLearning professionals agree on is that, when speaking about an LMS, we'll also imply a content system. Clark Quinn, an expert in cognitive science and learning technology and executive director at Quinnovation, claims that LXPs are a good move here.
Note: An LXP (learning experience platform) is a true content delivery system that uses artificial intelligence (AI) to make necessary content easy to find and recommends personalized content to learners.
And we can expect that over time the lines between an LMS and an LXP will blur.
"Ultimately, we'll be better off if we can deliver content by description and rules, like a recommendation system, rather than by having to handcraft content to create a 'one-size fits all' solution."

Here's how Marina Arshavskiy, an ID and eLearning specialist, and owner of Your ELearning World, explains why using artificial intelligence is becoming increasingly popular in eLearning.
"According to IBM, learning behavior can be predicted. The use of AI removes the 'human element' from learning, as well as the resulting biases that people bring into education. AI can take a much broader set of learning variables and quickly turn them into personalized learning paths."

Ms. Bozarth also promotes the idea of using AI for learning assistance. She believes that modern platforms will be able to provide the most relevant content pieces to each user individually.
"Soon each learner will have an opportunity to get an individual list of recommended e-courses like on Netflix. It'll be based on a person's job position, their competencies and skills, and prior experience."

However, Jane feels that instructors will still have to manage this process because machine learning won't be able to fully replace educators' monitoring and learners' feedback.
Increased data tracking and analysis
Although eLearning experts have been talking about this for decades, learning data collection and analysis continues to be a weak point. There are already existing technologies, such as xAPI, that have proved to be something of a revolution in tracking learning. However, many companies still don't have the internal resources to properly set up data tracking, let alone analyze that data. Andrew DeBell, a professional training сonsultant at Water Bear Learning, asserts that data in learning will be an area that is guaranteed to be on the rise in the near future.
"Companies are constantly concerned with the ROI of any action they take. With increased investment into learning, they will continue to require more in-depth analytics and analysis to prove it's worth the investment."

Content Trends
As technology evolves, so should the type and quality of content that is produced. On this point, all the eLearning experts unanimously believe that we'll witness or even become direct contributors to the process of content evolution. And as a result, we'll get what David Patterson calls "high fidelity learning."
"High fidelity learning is like a great piece of music. It should first grab your attention for its clarity and precision and deliver an immersive experience."

Richard Goring, a director at BrightCarbon, names three important characteristics of good content: use of visual storytelling, meaningful interactions, and high-quality graphic design. He also notes that people will be looking for new ways to deliver this content.
"Not just linear courses, but interactive, navigable content that they need. Or ways to experience the content with things to do and/or more social interactions with VR platforms playing an increasing role in successful L&D courses."

Emphasis on learning science
Clark Quinn believes that in order to create high-quality content, instructional designers are supposed to base their work on the fundamentals of their ID profession. This includes knowing how learning works and using processes that are consistent with what's known about learning science. This expert predicts that more and more learning professionals will base their work on learning science when developing training content, and he sees a great potential in it.
"I'm seeing more and more people talking about learning science, and not all hype and even mostly right! There are many books, research (the Learning Guild's regular research reports are good), events, and an associated new society focused on evidence-based learning (the Learning Development Accelerator). These are all signs of growing momentum."

Hands-on learning
Dr. Quinn also expects "more emphasis on the importance of meaningful practice." And many experts support him in this regard, since a focus on 'doing', not "knowing," makes learning more effective. At least it boosts learners' engagement, helps them remember new information better, and retain what they learn longer. Clark Quinn foresees that eLearning professionals will move toward creating short simulations, better written multiple-choice questions, and other kinds of hands-on learning experiences.
"Hopefully, we'll see tool vendors aligning their content and assessment capabilities towards designing scenarios and contextualized practice, along with specific feedback for each wrong answer and support for reflection."

Immersive content
This trend is sourced from the previous one. Immersive learning is a technique that uses an artificial or simulated environment through which users can become completely immersed in the learning process. Simulations can provide employees with experiences that closely emulate real-life situations and enable physical practice within them, in real-time. Fortunately, existing technologies allow us to create very realistic and meaningful learning experiences.
"Instructional designers can create exact copies and simulations of systems, entire simulations of working environments for which powerful scenarios can be produced with images and videos."

Jane Bozarth states that Augmented Reality (AR) technologies are already actively used in those industries where human capabilities (vision, decision speed, multitasking) are insufficient. For example, Google glasses are applied in factories and provide employees with instant access to important instructions on how to use a specific tool or how to repair the machine while on the job. Such technology allows you to speed up the work significantly, especially for the one who is working with machinery.
Jane also mentions Virtual Reality (VR) as an effective tool for employee training that will continue to gain popularity in 2021. She considers VR to be an ideal training method for dangerous or high-stake situations – for example, for training firemen, soldiers, or pilots. It also proves to be a great technology for training doctors – it's already been established that VR simulations help to lower risk in life-threatening situations in medical procedures.
While AR and VR are certainly the future of self-paced learning, some experts believe that these technologies are still too expensive for widespread use. For instance, Andrew DeBell sees more potential for training in interactive videos in 2021.
"Interactive video is the step between traditional clickthrough eLearning and a full-scale VR experience. With simple animation tools available on the market, interactive video has become a much more approachable eLearning output. It provides learners with an immersive, effective, and applicable experience that will certainly continue to rise in popularity in the upcoming years."

Microlearning
Microlearning has been a buzzword in the eLearning industry for nearly half a decade and a trend that is here to stay for 2021. Many experts are unanimous that the approach to eLearning that deals with delivering information in small, highly focused chunks allows instructors to provide a sticky learning experience that learners crave.
"The future of learning is in short length, highly targeted content. Learners want to search for a specific skill and be able to easily find a valuable resource. Just think of how YouTube works. If you're looking to learn a new skill on YouTube, the top videos are often around a specific skill, highly targeted to the subject, and just 10-15 minutes in length. In 2021 and beyond, we'll see more companies shifting toward a similar model."

As we can see from Andrew's words, highly targeted content, that is shorter in length and maximizes learning efficiency for employees is what we can expect to see and need to focus on when developing a training program this year.
Final Thoughts
This wraps up our experts' look at eLearning trends that are dominating the industry in 2021, as well as their predictions on how current industry standards should be reconsidered this year. Do you know or expect any other trends to appear in the near future? If so, we would love to hear your thoughts on these trends and how to leverage them to keep up with the changing times in the comments below.