June 22, 2022
The 6 Best Skills Assessment Tools: Separating the Great from the Good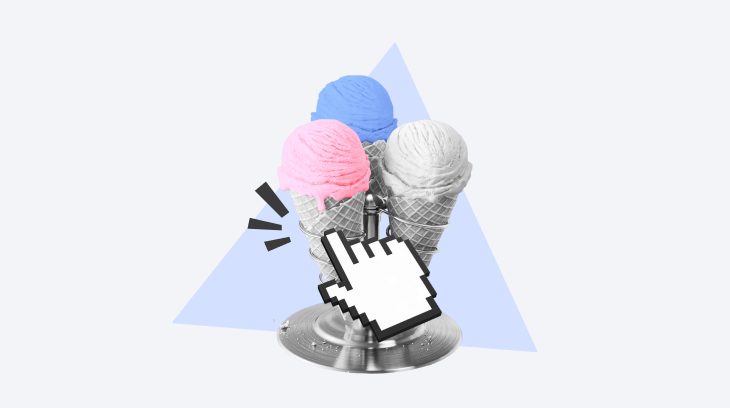 Finding the right talent can be tricky. With such a competitive job market, hiring teams often find their inboxes flooded with emails or desks piled with resumes. And carving out the time to carefully sift through all of them can be cumbersome. But someone needs to do it, and they need to do it right. 
That's why, in this article, we're not only going to explain which skills are typically tested at the hiring stage, but we'll also introduce you to some handy skills assessment tools, so you can effortlessly separate the great from the good!
What Is Skills Assessment?
Skills assessment tests provide objective insight into how well a candidate or employee can perform job-related tasks. It often takes the form of a simple test or questionnaire, or some sort of scenario or simulation. Oftentimes, you'll be required to produce a sample of something, depending on the nature of the job. 
Let's say you're an advertising firm looking for motion graphics designers to create videos. In that case, you'll want first-hand "proof" of their skills such as:
Graphic design
Animation
Typography
Color theory
Creative thinking
Technical proficiency with design software
As an assessment, you might provide them with a sample storyboard and ask them to bring it to life with visuals, characters, and animation using specific software like Adobe After Effects and Illustrator. Based on what they produce and the time it takes to complete the task, you might rank their skills as basic, intermediate, and advanced, and decide if this person meets your requirements. 
In essence, skills assessments help you evaluate a candidate's or employee's ability to perform a specific set of skills. But personal preferences need not apply here; this evaluation process should be standardized and objective. That way, you'll be able to compare all the results to narrow down the options reliably.
Types of Skills Assessment Tests
Now that you have a general understanding of what skills assessments are, let's have a look at the different types:
Hard skills tests are a great skills assessment tool because they closely mirror the work an employee would perform if hired. To assess candidates' hard skills, you can ask them to complete exercises similar to what they'd be performing on the job or provide ready-made work samples. These tests are often used for technical jobs and are especially handy when you have a lot of similar, apparently qualified applicants, but can't seem to narrow them down.
We've already covered an example of job-related tasks above, and here are examples of typical types of work samples based on the nature of the job: 
Examples of  work samples

| | |
| --- | --- |
| Job | Common Work Samples |
| Designer | Illustrations, video animations, templates/layouts |
| Photographer | Photo prints, online photo galleries, publications with photos |
| Artist | Paintings, sculptures, drawings, videos, audio recordings |
| Teacher | Lesson plans, student stats, projects, assignments, assessments |
| Writer | Online/print publications, writing outlines, grant proposals, reports |
A personality test is more of a soft skills assessment tool that determines whether candidates have the right demeanor to not only succeed at their roles, but within the company culture as well. It might include a questionnaire that asks them to rank themselves on various scales, such as extroversion, agreeableness, and critical thinking. It might also involve scenario-based questions that ask how you'd respond in such a situation. For example, if you're hiring a salesperson or looking to improve your current team, you might prioritize extroverted traits.
Here are a few examples of some standard personality tests that employers regularly rely on:
The Caliper Profile. This personality test assesses a candidate's personality across 22 main traits. It's particularly useful for providing insight into an applicant's intrinsic motivation for the job.
Myers-Briggs Type Indicator (MBTI). This classic personality test categorizes candidates into one of 16 personality types. It's often used to measure how much an employee would fit into the company culture.
The Predictive Index. This 10-minute questionnaire is used by some of the biggest names in the game like Subway, Nissan, and Blue Cross Blue Shield. It measures an applicant's personality by asking them to choose words that describe how others expect them to act, and how they themselves believe they act.
Cognitive skills tests are much more general in nature than personality tests, since they don't test for any specific skills that are directly related to the job. Like an IQ test, they test your verbal, spatial, mathematical, and logical reasoning skills, as well as memory and concentration. These skills are desirable in any candidate, regardless of the position they're applying for. That's why most hiring teams find cognitive skills tests useful for preliminary screening – when they're trying to shortlist candidates based on their thinking abilities. 
Here are some popular cognitive skills assessment resources for hiring teams:
The Berke Assessment. This test is a favorite among recruiters (especially Fortune 500 companies), as it measures multiple performance metrics related to personality, cognition, and attitudes.
Pymetrics. This cognitive skills assessment tool is unique in that it uses neuroscience games and artificial intelligence to measure cognition. It's used by big fish like LinkedIn and Tesla.
Bryq. This tool gives insight into both a candidate's psychometric and cognitive abilities. It then generates a matching score that measures how well an applicant would "fit in" at the company. 
How to Choose the Right Skills Assessment Tool
Skills assessments have evolved from the traditional pen and paper tests to far more sophisticated and automated tools. This not only makes distributing skills tests extremely easy, but it allows you to collect detailed data on each candidate's scores and provides invaluable insight while lightening the burden of the assessment process. 
Fortunately, a good chunk of the online skills assessment tools out there provide a combination of the three test types we've discussed – cognition, personality, and even work samples! Though work samples aren't automatable like a personality/cognition questionnaire, many of these vendors actually offer video interviewing, which can be extra advantageous when viewing a 3D sculpture in a video versus a 2D printed format, for example. 
In other cases, you might prefer to create your own custom skills assessment rather than borrowing from templates, especially if you're in a particular niche industry. So that's an important feature to look for when selecting the right skills tool. 
Here are some more key points to consider when choosing a tool:
Ease of use. Whether you're tech-savvy or technically challenged, it's important to choose a skills assessment tool that's easy on the eyes and uncomplicated to navigate. It should have a nice, clean interface and an intuitive design. This will help you get started quicker and also make it easier for your hiring/admin team to view and modify the tests, as well as send and review results. If it's a headache, they won't use it, amounting to lost time and money – and a greater chance of inappropriate hires.
Ready-made quiz templates. Does the software come with ready-made templates? Then you're halfway there. All you need to do is input your questions and corresponding options. It's also worth noting that the best training assessment tools offer different question types to really hone in on certain skill sets. 
Versatility. Having a variety of question types allows you to focus on what you want to access. For example, if you need to check the knowledge of some algorithm, a sequencing question will be a perfect solution, and it'll be great to have such a template in your skill assessment tool. Or if you'd like to see how a candidate or employee would react in a certain setting, then why not opt for a skills assessment tool that offers branched scenarios and dialogue simulations for immersive role-play? The best tools offer unlimited ways to assess candidates/employees.

Versatility also ensures that your skills assessment software can conform to any role or industry. Why navigate different software or juggle multiple subscriptions — especially if you're a large company that has many divisions, each requiring unique skill sets to test for (e.g., coding, design, writing, and sales)? The ideal software should be able to house all these unique test types under one roof. 

Branding. Whether you're hiring new staff or testing current staff, your training assessment tool should be able to showcase your unique branding and what your company stands for. A platform that doesn't reflect your company's brand and values, especially for online applications, will make the test seem generic. As a result, respondents will be less likely to understand the significance behind each question.
Automatic grading/feedback. Poring over the results of every candidate's assessment is a tedious task, especially when bulk hiring. That's why automatic grading should be a no-brainer when you're choosing a skills assessment tool. Not only will this provide you with objective data and insightful analytics, but prospective employees will be anxious for some feedback. 
Just as you test the skills of prospective employees, you should also test the features of prospective skills assessment software. So, let's dive into some top-tier tools that fit the above criteria. 
1. iSpring Suite Max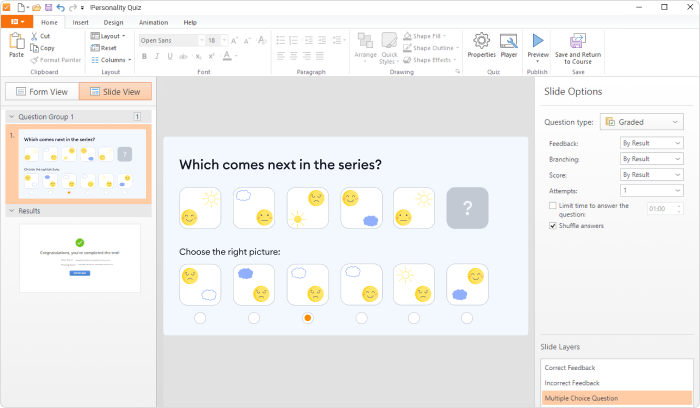 iSpring Suite Max is mainly designed for creating eLearning content, but it's also a great skills assessment tool for recruiters. It not only allows the creation of interactive online courses with a wide variety of media, including animations, videos, and screencasts, but also has a robust tool for building tests with 14 ready-made question templates.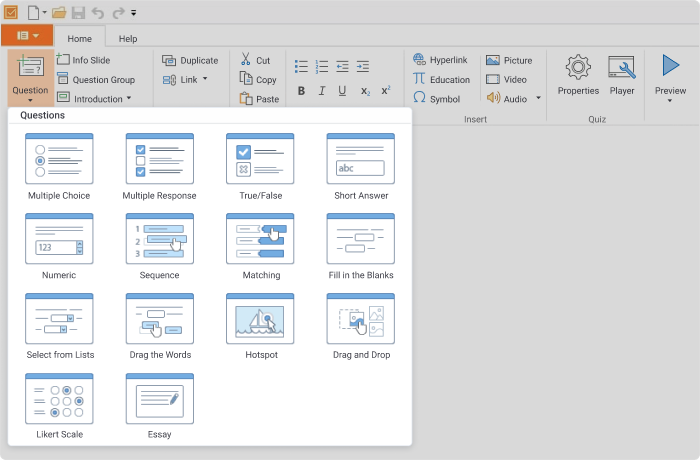 In this way, it's the perfect solution for companies that need to simultaneously train new and seasoned employees and test their abilities.
Here's an example of an employment personality assessment question that you can make with iSpring: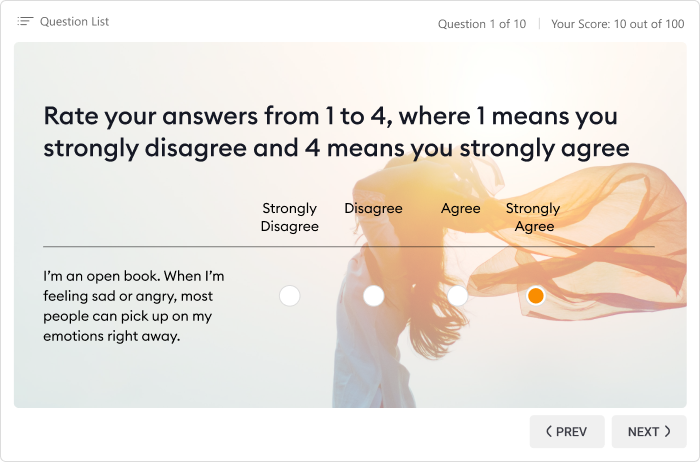 The tool also allows you to create dialogue simulations easily with branched scenarios, so you can test skills like communication, emotional intelligence, and conflict management. These simulated conversations are great for immersive role-play, as they not only feature character dialogue via images and speech bubbles, but they also let you take the conversation down many different paths, depending on the responses you select. In this way, iSpring also serves as an excellent soft skills assessment tool. 
Here's a snippet of a dialogue simulation that you can create in iSpring: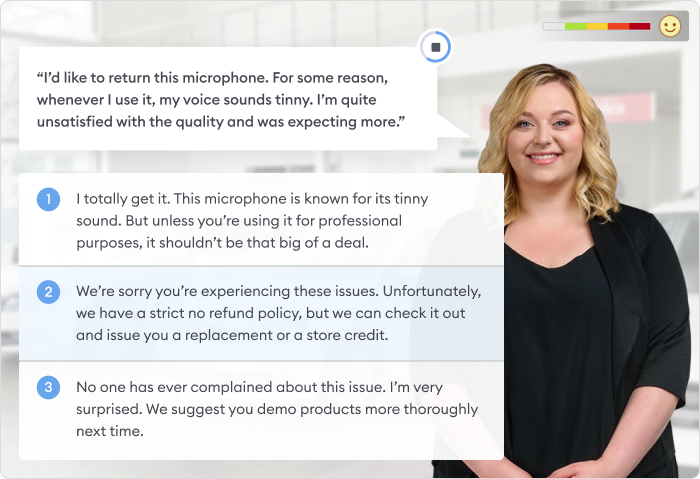 A great aspect is that after a candidate completes a quiz or a dialogue simulation, iSpring Suite checks their results automatically and can send them to the recruiter's and candidate's email address, or to a server.
Features:
14 question types, including drag-and-drop questions
Info slides with text, images, and videos to enhance assessments
Detailed feedback with automated email notifications for assessment results
Question grouping when your assessment contains different topics
Question randomization to ensure each user gets a unique assessment
Testing rules (time limits, negative marking, limited number of attempts, etc.)
Assessment customization (color schemes, logo, custom fonts, images, etc.)
Dialogue simulations and branching scenarios for role-play
A wide variety of content types: slides, screencasts, audio recordings, video lectures, etc.
Automatic assessment of results and robust reporting
Cost: $970 USD / user / year
iSpring Suite free 14-day trial →
2. eSkill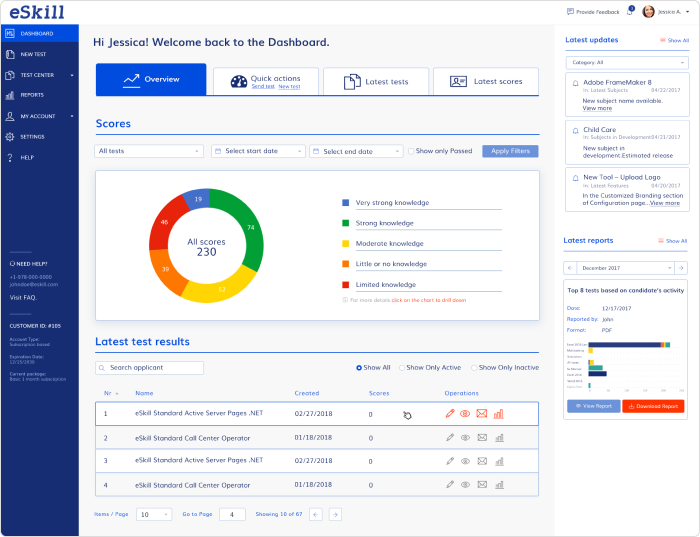 eSkill is a solid skills assessment tool that offers organizations in virtually any field the ability to screen large amounts of candidates, including IT, sales, accounting, and even hospitality. And, for each of these industries, it offers a broad range of test types – from behavioral, pre-employment, and even video-response questions. You can choose from hundreds of ready-made templates or easily customize your own. 
Features:
Large library of skills, behavioral, and video response tests with the ability to customize your own
Software can be easily integrated into your HR management system/applicant database
Branding and customization that help promote your company
Digitization of paper assessments into online assessments or training materials for easier tracking
Flexible pricing plans (subscription or a flat fee for a fixed number of tests/scores)
Cost: Starts at $850 for a package of 25 test scores 
3. Interview Mocha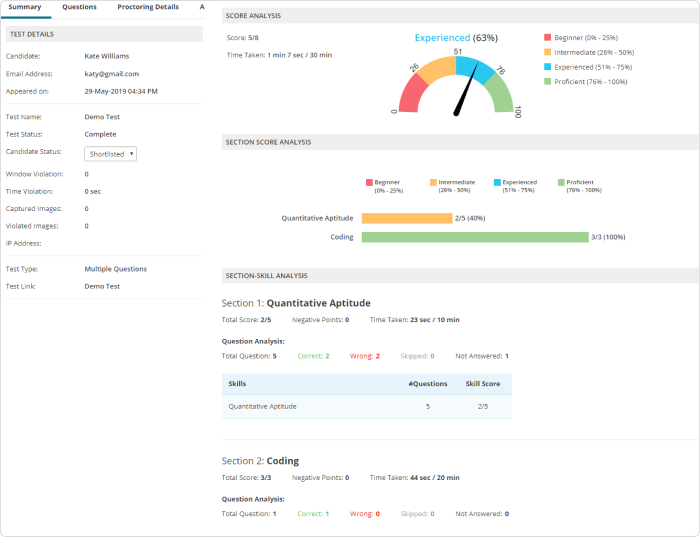 iMocha boasts one of the world's largest libraries of readymade, role-related tests. Because they specialize in helping organizations find remote tech workers, they even offer AI-enabled proctoring to ensure the integrity of the candidates and their test scores. As such, they're best for organizations that are strictly in the tech sphere and work with distributed teams. Customers can curate and customize their own tests easily, or sit back and have iMocha take the reins. 
Features:
200+ premade tests with over 2,000 skills in the remote tech industry
Enables organizations to conduct live interviews with candidates
Provides AI proctoring to maintain the integrity of tests and minimize cheating
Provides highly customizable assessments (mixing skills, adding performance categories, etc.)
Uses AI to provide key data insights for identifying the right skills for a particular role
Cost: Starter plan is $150/month (paid annually)
4. HireMojo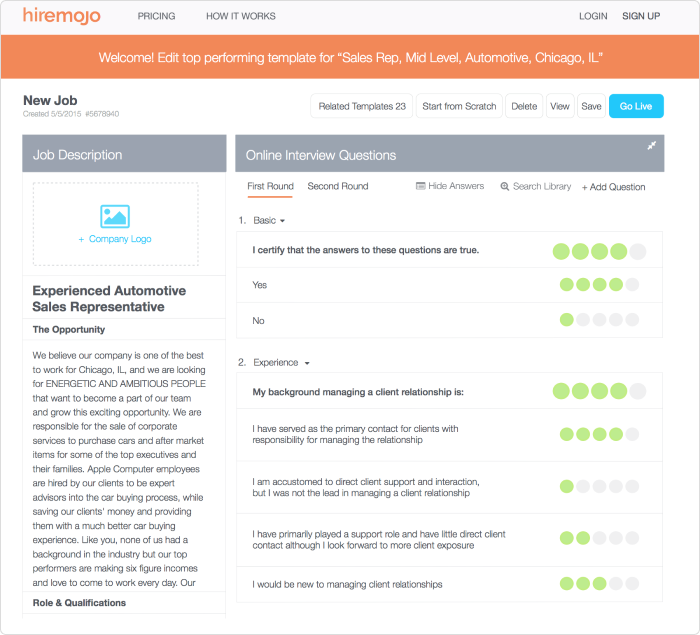 HireMojo is a high-tech skills assessment tool that uses AI, big data, robots, and analytics to help automate every single aspect of the employee vetting process, including writing job descriptions and interview questions. That's why big and busy organizations like Stanford University, Philip Morris, and American Homes use it. This tool allows them to sit back and fill positions, not inboxes. That said, with so much of the recruitment process taken care of for you, there's limited opportunity for customization.
Features:
Offers Smart Job Marketing, which determines the best place to post your job ad
Conducts online interviews and screens resumes to eliminate unqualified candidates
Provides automatic scoring for multiple-choice and behavior-based questions
Uses AI, robots, and historical and predictive analytics to access the best job boards
Cost: Available upon request
5. Skillmeter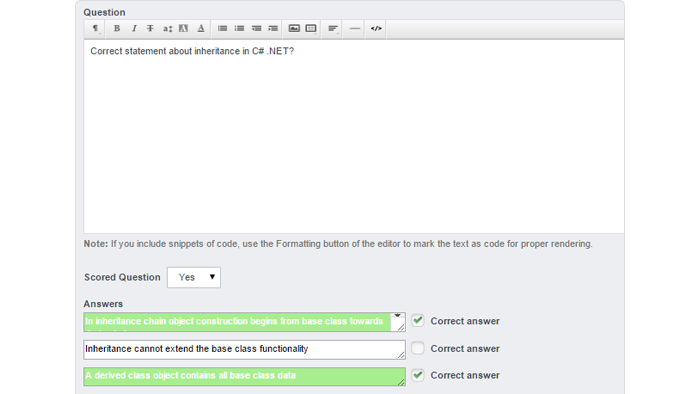 Designed more for hiring teams rather than individual recruiters, Skillmeter tests potential employees by honing in on their knowledge and skills. It is highly customizable and lets you create your own tests in almost any format imaginable. You can even whitelabel it with your own branding and subdomain name. And the best part is, no IT is required. It runs in the cloud, so using it is as simple as signing in. Plus, you can get any candidate's test results instantaneously.  
Features
Creates custom tests, as well as branding with a custom subdomain
Offers 12 different question types (ranking, multiple-choice, typing speed, etc.)
Manages candidates and organizes them by name, test type (i.e., coding quiz), and assigns them a unique pin code
Converts online assessments to paper-based tests for in-person assessments
Provides basic reporting and analytics, which can be exported to software like Excel
Cost: Starts from $59 / month
6. Wonderlic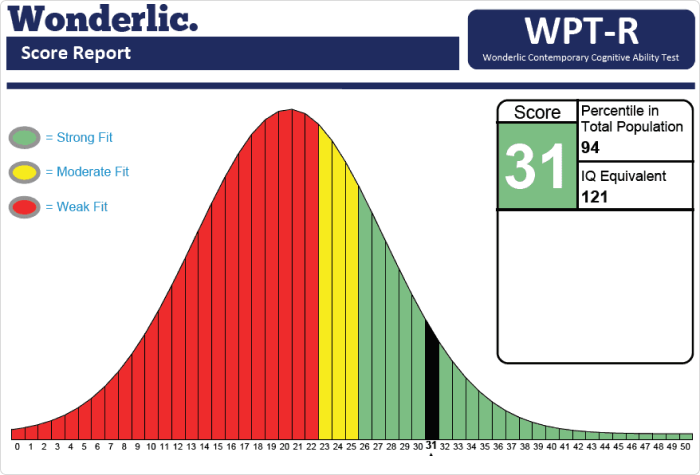 A veteran of the people analytics game, Wonderlic has mastered the art of predictive science to ensure that the best candidates are selected fairly – that is, in an objective, data-driven manner. They are constantly revamping their platforms and tests using the latest tech and techniques (e.g., industrial-organizational (I-O) psychology, AI, and machine learning) to deliver their uniquely patented "WonScores." These scores are a combination of 3 types of assessments: cognition, personality, and motivation. 
Features
Assessments can be taken by candidates individually, but are usually distributed by organizations
Provides job-specific scoring to help hiring teams select the best candidates
Compiles WonScores based on 3 unique assessments: cognition, motivation, and personality
Enables hiring teams to compare top candidates and select those with the highest potential to succeed
Uses a built-in AI platform to make informed, data, and science-driven decisions
Cost: $25 per test (i.e., for individual candidates). Organizations should ask for a quote (pricing depends on the number of tests) 
Conclusion
No one can deny that finding the right fit is a crucial part of hiring employees. With modern skills assessment tools, you can automate the stages of the hiring process and save a recruiter's time for other important tasks. 
But even once they're on board, you might need to train and test their skills periodically. So, if you're looking for an affordable solution, why not take advantage of iSpring Suite's free 14-day trial? It's not only great for creating tests to evaluate candidates, but can also be an effective employee skills assessment tool. And if your assessments indicate that more training is needed, you can bring them up to speed by developing interactive, skills-targeted courses effortlessly.