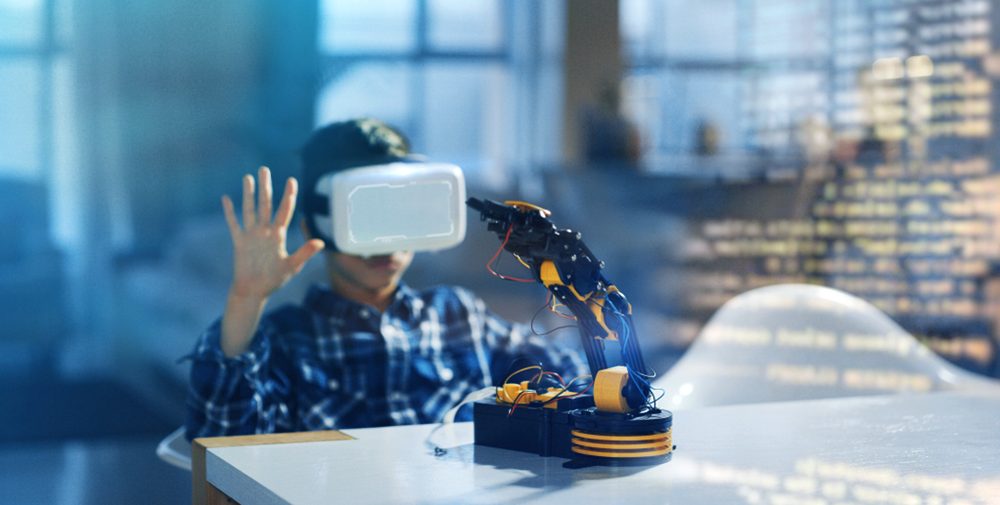 As 2019 approaches, it's high time to see what's on the horizon this time around. We discussed the future of eLearning with leading industry experts, and now we're ready to share the takeaways.
Here are six trends that will impact digital learning in 2019 (and one of them is pretty surprising).
Trend #1. AR & VR are on the Rise
Augmented and virtual realities have been buzzwords for a couple of years now and have finally made their way to the training field. Learners are people, after all, so their attention can be easily distracted by hundreds of things: funny videos sent by friends, their Facebook newsfeed, or even constant IM notifications from colleagues. As for AR and VR, they're excellent at both engagement and entertainment.
Imagine you're in charge of training people who do insurance inspections after a fire or other disaster. With AR or VR technology, you can take a real house and overlay smoke damage all over it. The investigator goes in and learns how to identify and mark it. Then you change the task and turn fire damage into damage from a collapsed roof or a flood. All just like magic, without needing to change the physical house.
Yet, the future possibilities of these two awesome technologies aren't the same. While virtual reality can create a really immersive learning experience, it's AR that will most likely take the lead.
AR offers better accessibility as users only need their smartphones, which most of them already have. As for VR, the biggest issue is the need to wear a headset, which can be a problem for two reasons: the price, and the limitation of users' mobility.
Another thing that may delay a quick win for both AR and VR in eLearning is their technical complexity and longer development pipeline.
Trend #2. AI is Becoming a Normal Thing in eLearning
Businesses have already started adopting artificial intelligence (AI). Now, it's only a matter of time before those algorithms will be extended to eLearning. In a similar way to online shopping ("if you buy this item you might like these items"), computers can improve the learning experience. "If you took this course, the following courses may also be useful." Or if an algorithm detects that everyone seems to be struggling in a certain area of a test, then instructional designers can fortify the learning content on that topic.
One of the most commonplace uses of AI is chatbots. Chatbots are virtual assistants that use instant messages to give users data-related answers and take requests in real time. They can be integrated with a website, a social media page, or an app. If you go to a company's website and start to interact in a chat window, you are likely chatting with a computer unless it needs to hand you over to its colleague, a real human.
For example, Marriott's chatbot helps travellers find a hotel based on specific dates or find open positions if they're interested in joining the Marriott team.
Chatbots are great for accompanying corporate training and automation. A chatbot can help with onboarding processes, as newcomers usually have the same common demands. It can also introduce general info about the organization, its goals and procedures, and provide information on frequently asked questions.
Also, we can use AI as a tutor which advises what courses to take to fill in specific knowledge gaps or gives links to additional content on a topic. Plus, it's able to reduce the administrative load of trainers, since chatbots are quicker than humans in giving data-related answers such as schedules and test results. And they're available 24/7, which provides a great value for eLearning, with its motto of "Learn when and where you want to."
Trend #3. Courses are Being Replaced by Context
The idea that learning is something done via traditional courses during special learning hours is sinking into oblivion. Learning content shouldn't stay in learning portals, waiting for learners to sign in; instead, it should be like Google's search results: available to use when you need it.
The performance support trend isn't actually new; we're just taking another step on the way to embedding learning resources in the daily workflow. Imagine you work at an iron and steel plant and have just taken a course on managing a new water treatment station, which costs over $150,000. Now, it's your call. But what would you do if you found out that you don't remember what some buttons do or how to fix a system error? It'd be great to have quick online reference guides as a source of reliable information delivered right in the moment of need.
By the way, you might notice that all this sounds very similar to microlearning (or better to say micro-training), which is a series of super-targeted short lessons. That's true, as these two trends go hand in hand, and we'll likely see a boost of it in 2019.
Trend #4. Content is Going Visual
The foundation of any eLearning is e-courses. However, the form of e-courses is changing since traditional PC-based classroom training is shifting to mobile on-the-go learning. As a result, we're witnessing classic instructional eLearning moving towards the use of video, animation, engaging scenarios, etc.
Social media also plays a significant role in habituating people to consuming mostly visual content. If you've been paying attention to what's been happening there, you've probably noticed that video — whether recorded or live — has become a driving force on most platforms. Apparently, this is what will happen to learning as well. We bet product demos, how-tos, explainers, and interviews will look much greater in video than just plain instructions (and by the way, the iSpring Suite editor is pretty cool at quickly making professional-looking training videos).
360-degree video is also on the rise, with many cameras available now for under $100 and high-quality smartphone cameras, whereas just two or three years ago you would've had to shell out thousands of dollars.
Trend #5. Learning is Going (More) Mobile
Creating a mobile-first experience for your learners is getting even more mainstream. According to data from November 2018, the share of mobile internet traffic amounted to 48.2% and is still climbing. It seems you'll have very little excuse for creating and distributing eLearning content that's not mobile-friendly in 2019 and beyond.
LinkedIn also surveyed about 4,000 professionals and found out that getting employees to make time for learning is the number one challenge. This means we need to provide employees with as easy access to training as possible. For eLearning solutions providers, having native mobile apps now is a must-have rather than a nice-to-have feature.
Trend #6. The Industry is Looking Back to Its Roots
Surprisingly enough, despite the forecasts of VR/AR expansion and increase of artificial intelligence in eLearning, some experts expect a shift away from "buzzwords" and "trendy tech."
The problem is, innovations are sometimes driven only by a fear of falling behind and looking inferior next to other people in the eLearning industry. When we don't really understand the learning process itself, we can be easily swayed by well-designed distractors. Just keep in mind that the technology is changing, but our goal is the same — business results.
eLearning Trends: a Quick Look into the Future
To recap, here are the eLearning trends it's better to keep an eye on in 2019:
VR is sexy, but AR can find more applications. These technologies are nice to play with, but they're non-starters if you have limited resources.
The same goes for AI. Still, if you have the wherewithal to make use of chatbots, don't hesitate to give it a try.
eLearning is not only about courses now, but about resources.
Visual content is becoming a driving force of eLearning.
Learning content is expected to work well and look sleek on both desktops and mobile devices.
With all the buzz around modern tech, don't forget about the fundamentals of learning and cognitive science. They're an integral part of successful training, and could save you from wasting time and resources on another trendy "miracle pill."
iSpring Learn
Automate training projects from onboarding to sales enablement.