January 22, 2023
Top 22 eLearning Websites for Training Managers and Instructional Designers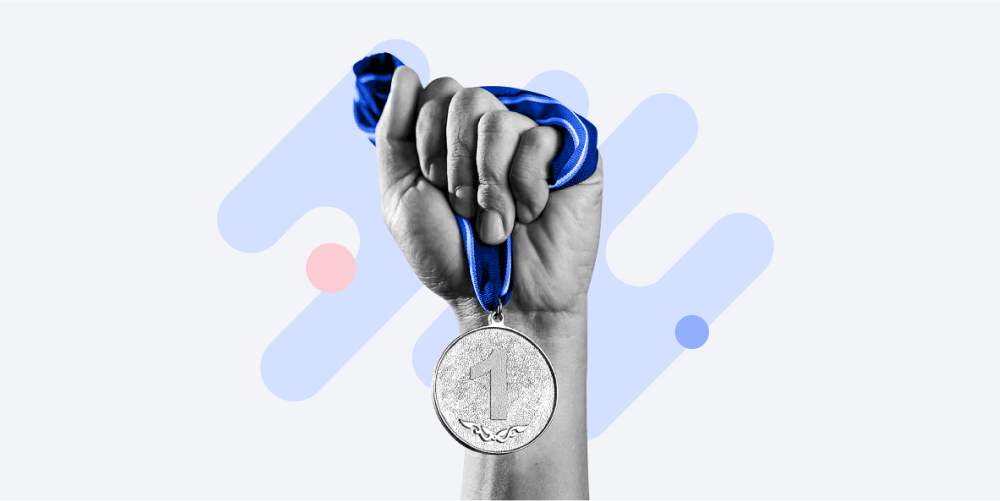 Do you want to grow continuously as an eLearning professional or an instructional designer and stay on top of the trends in the industry? One sure way to do this is to learn from industry experts and thought leaders.
We've compiled a list of 22 eLearning websites that will definitely help you expand your knowledge.
1. iSpring's Blog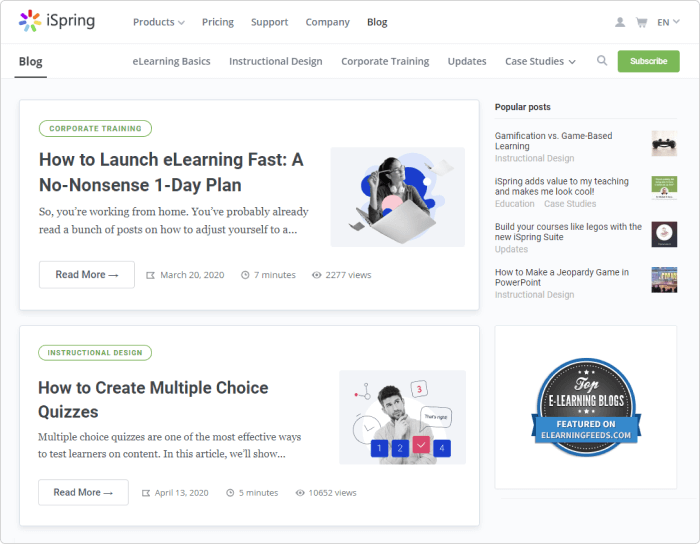 iSpring's blog is a huge source of articles on all kinds of learning topics. Here, you'll find insightful guides and hands-on tips on corporate training and developing eLearning content and inspirational stories about how other organizations run online training and what results they get. On iSpring's website, you can also watch webinars to grow your eLearning expertise and download free checklists and templates that will help you streamline learning content development and get your training off the ground faster.
2. eLearning Industry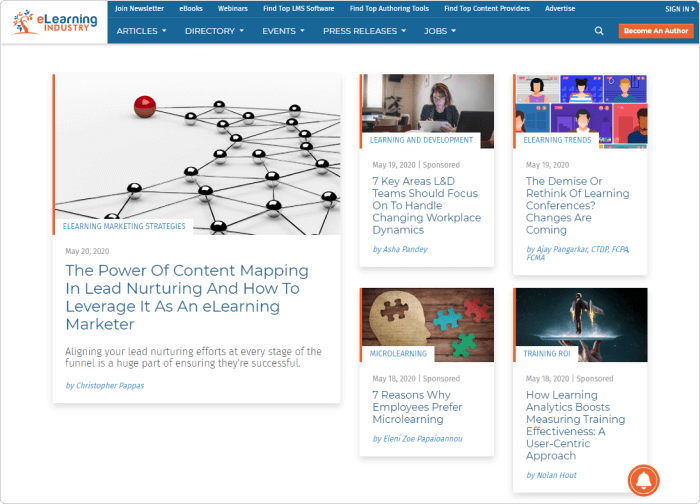 eLearning Industry is the largest online community of eLearning professionals. It was designed as a knowledge sharing platform to help L&D representatives and instructional designers connect in a digital environment and stay up to date with the latest industry trends and technologies. The platform offers a large collection of articles and free eBooks on eLearning. You can also share your personal expertise by publishing your own articles on the platform.
3. eLearning Infographics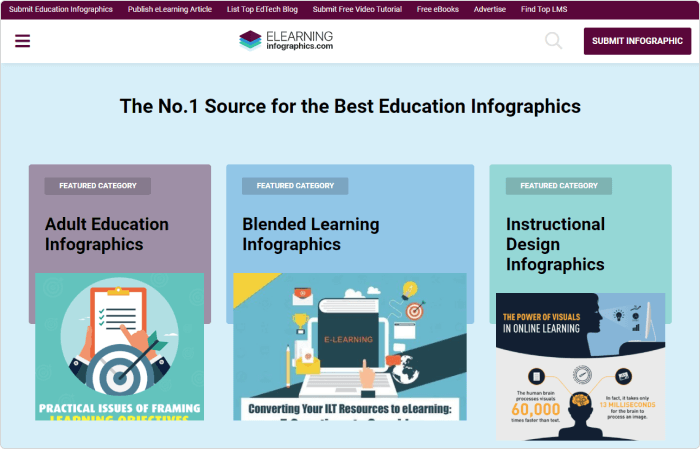 eLearning Infographics is another project created by the founders of the eLearning Industry's network. You can find hundreds of education infographics there. For convenience, all of them are segmented into 16 categories, including mobile learning, instructional design, and adult education.
4. The Learning Guild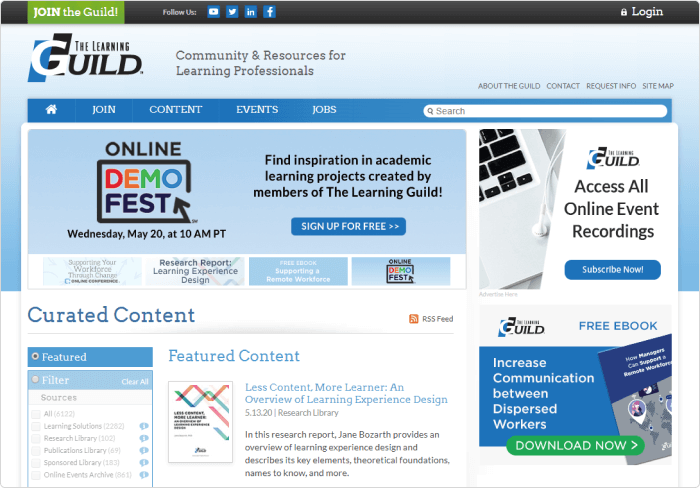 The Learning Guild is another online community for those who support the development and management of corporate and academic learning. The company aims to create a place where learning professionals can share their knowledge and ideas to build better learning experiences and a better industry. You'll find a countless number of resources on eLearning strategies and technologies on their website. The Guild also hosts several industry conferences, including DevLearn, Learning Solutions, and Realities360.
5. Learning Solutions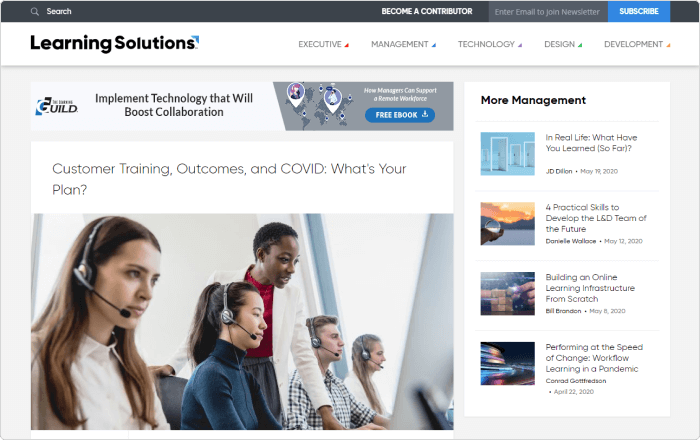 Learning Solutions is the official online magazine of The Learning Guild that aims to provide the learning and development community with relevant information on the most critical topics in eLearning. It collects expert knowledge and curated articles from leaders in the industry.
6. Training Industry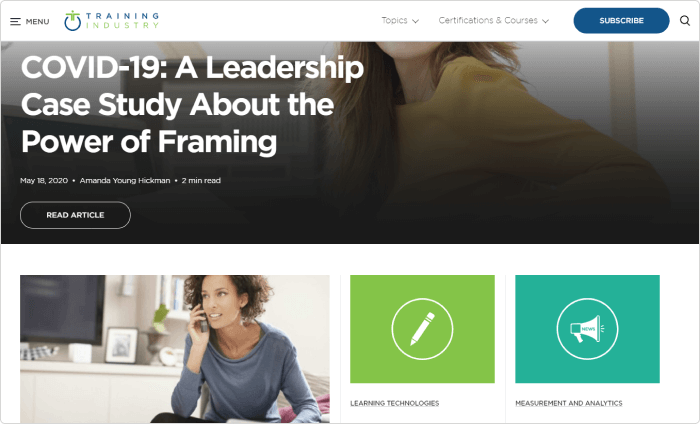 Training Industry represents itself as "the most trusted source of information on the business of learning." It focuses on the learning professionals' needs and provides them with the insights and resources for effective training business management. Training Industry not only posts articles on its website but also conducts virtual conferences, webinars, master classes, and live events for L&D representatives.
7. CommLab India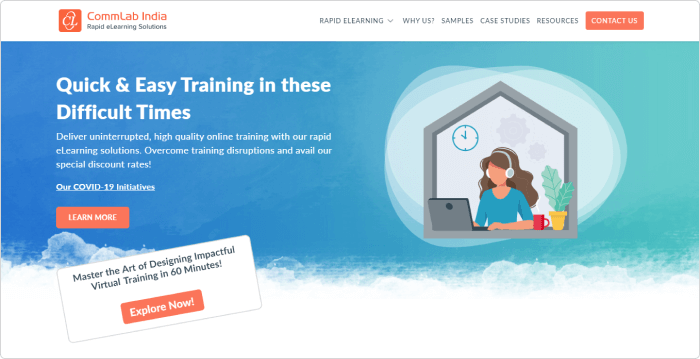 CommLab India is the leading expert in rapid eLearning and authoring tools. In its blog, it covers the latest topics in corporate training and learning technology, and shares a lot of useful tips and tricks on instructional design. You can also download e-books and white papers on eLearning and ID from the CommLab India website, watch webinars, and buy ready-made online courses for employee training.
8. ATD's Blogs
The Association for Talent Development (ATD) is famous for its numerous resources and development of design talent. It has nearly a dozen blogs on its website, each of them covering something useful for eLearning professionals. Famous industry experts contribute posts of the highest quality and value. These two blogs, in our view, are particularly insightful: Science of Learning and Human Capital.
9. eLearning Learning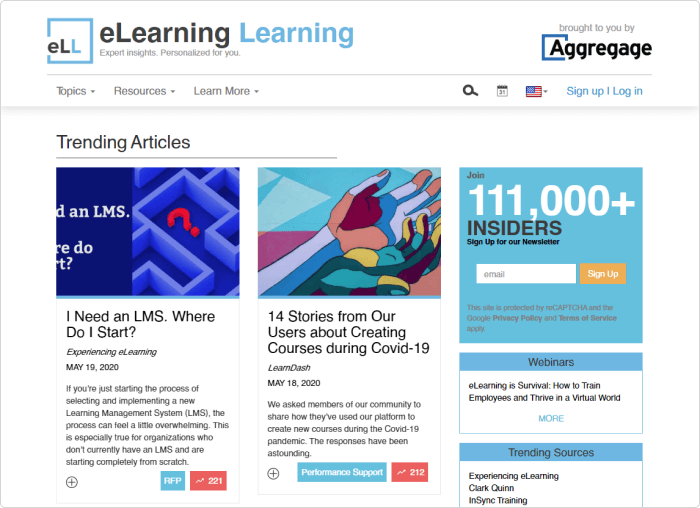 eLearning Learning is a constantly updated hub for commentary from bloggers and businesses working in the eLearning industry. There are many categories you can filter by to customize your own dashboard with news and articles on topics of interest.
10. BrightCarbon's Blog and Resources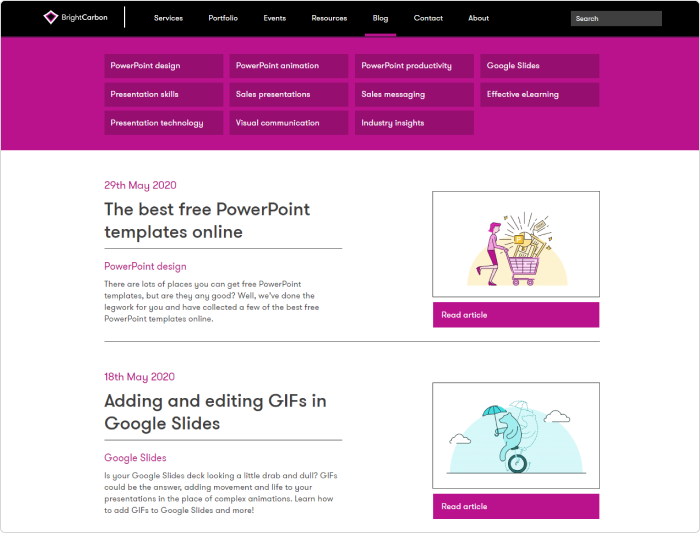 BrightCarbon is a niche presentation design and eLearning agency. On their website, they share PowerPoint tips and tricks, great tutorials, and PPT productivity hacks and shortcuts. There are also a lot of resources designed to help you master the art of presenting, create successful sales tools, and boost your eLearning effectiveness.
11. Talented Learning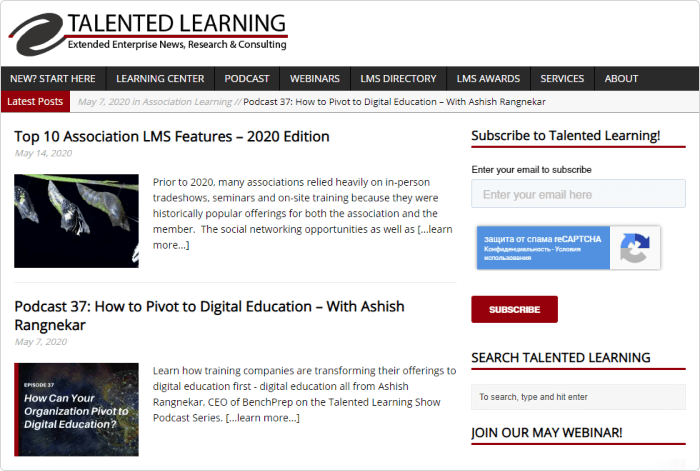 Talented Learning is an independent research and consulting firm that helps organizations choose and use LMS solutions. On their website, there's a lot of useful content, including advice and opinions for learning technology decision makers, free topical webinars, LMS reviews, and expert interviews on "The Talented Learning Show" podcast.
12. Dashe & Thomson's Blog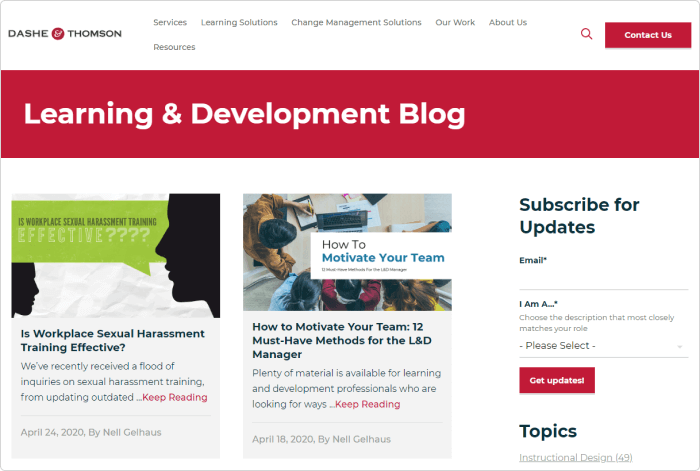 The focus of this blog is on corporate training and organizational effectiveness. It covers everything from managing eLearning projects and creating learning experiences to technical writing and communication. The website also offers corporate training resources that can be downloaded for free, including e-books, infographics, videos, webinars, and templates.
13. The Rapid eLearning Blog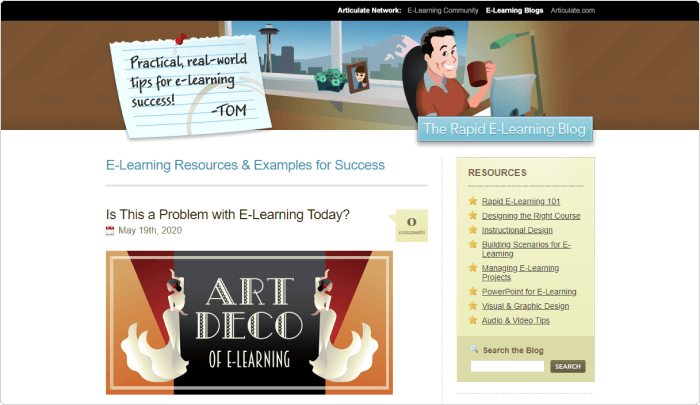 The Rapid eLearning Blog is maintained by Tom Kuhlmann, Vice President of Community for Articulate. This blog provides insights on the ways in which rapid eLearning development addresses training needs. There you can find practical tips to help you become a rapid eLearning professional and download eLearning resources to create courses with the Articulate 360 authoring apps.
14. Gamelearn Blog
Gamelearn is the leading game-based training platform. The company creates serious games that focus on soft skills improvement. On their website, you will find useful articles on serious games and gamification technology, as well as free e-books and game-based learning guides.
15. Learning Rebels Blog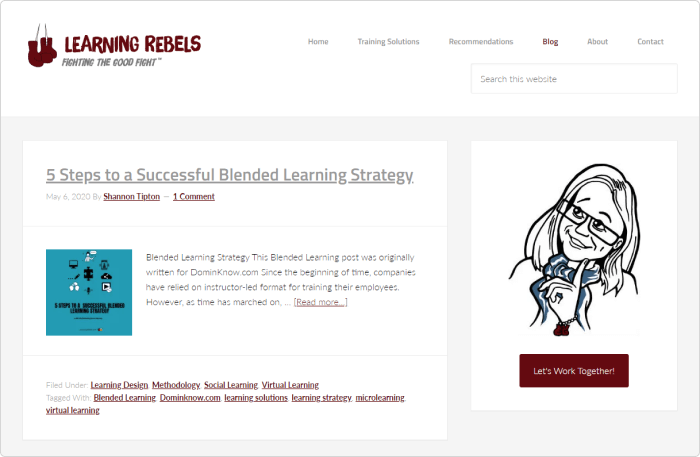 This blog is run by Shannon Tipton, the owner of Learning Rebels Performance Consultancy. Here, she shares her vision of innovating workplace learning and discusses the common issues that instructional designers face. She also gives recommendations on books, sites, and other reading materials, posts inspirational quotes from industry leaders, and provides lessons learned from trade shows.
16. Cathy Moore's Blog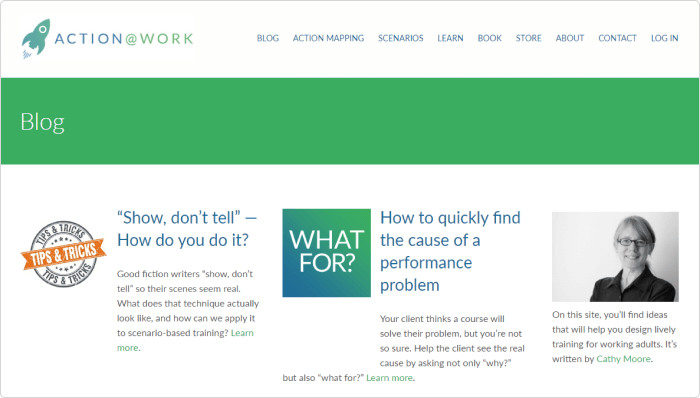 Cathy Moore is an internationally recognized training designer and thought leader. Her blog promises that "you'll find ideas that will help you design lively training for working adults." It focuses on action mapping, a streamlined approach to instructional design, and provides a lot of tips on eLearning development.
17. Learnlets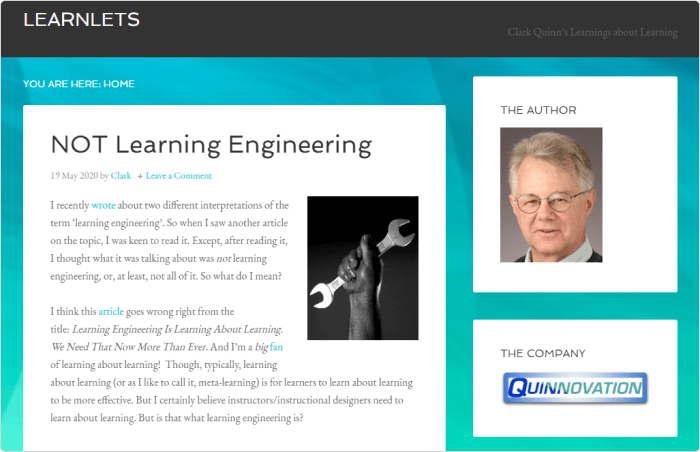 Learnlets is the blog of Clark Quinn, a recognized leader in learning technology strategy and an independent consultant who helps companies improve their organizational learning experiences. On his website, the expert shares his "learnings about learning." Here, you'll find Clark Quinn's reflections on learning strategies, technologies, and design.
18. The eLearning Coach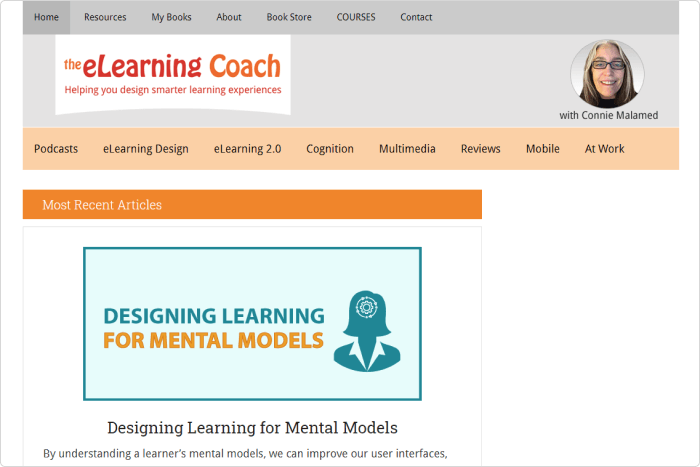 The eLearning Coach is the website of Connie Malamed, a learning experience design consultant. This is a place where she shares actionable strategies, practical advice and resources, and book and software reviews to help you design, develop, and understand learning, instructional design, and visual design.
19. E-Learning 24/7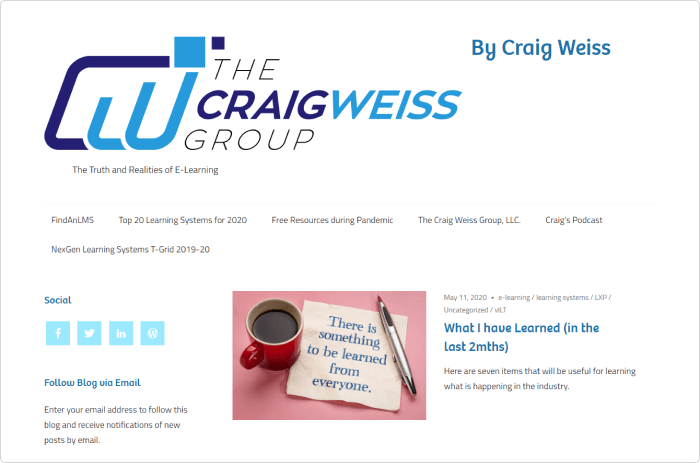 This is the blog of Craig Weiss, another thought leader in eLearning. It is designed to help training professionals understand new trends and find out about emerging technologies. On its pages, you'll find forecasts, debates, and discussions about urgent industry topics. Craig Weiss also reviews eLearning software, giving honest opinions and making insightful tool comparisons.
20. LMSChef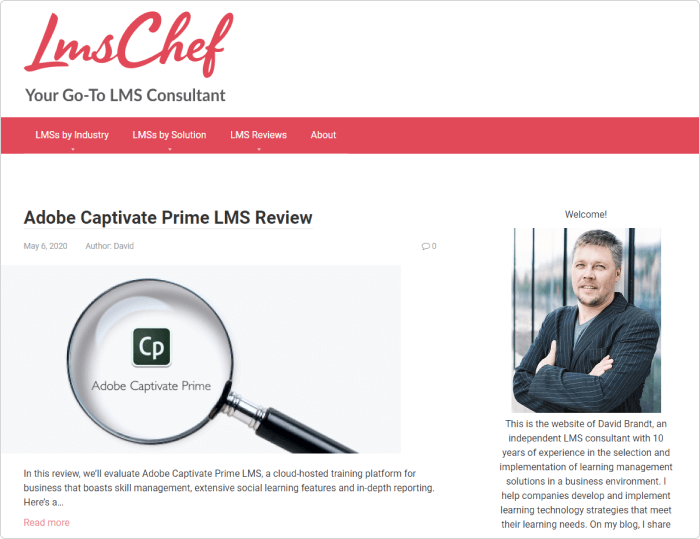 LMSChef is the website of David Brandt, an independent LMS consultant. In his blog, he shares actionable strategies and hands-on advice to help you navigate the LMS landscape and keep up with trends in eLearning technology. Like Craig Weiss, he makes candid reviews of learning management systems. Plus, David publishes detailed kits of LMSs for different industries and learning purposes.
21. Arun Pradham's Blog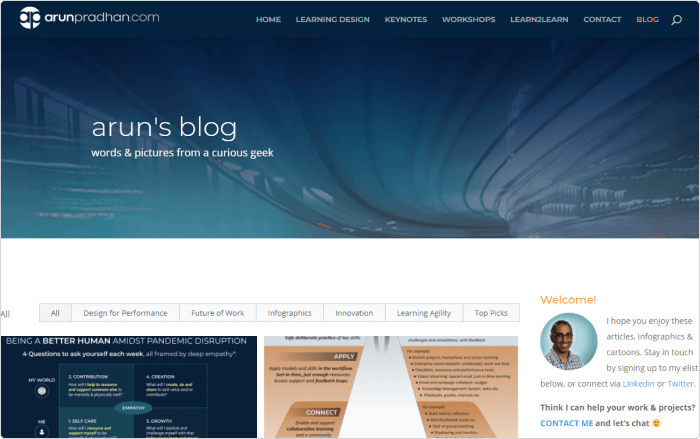 Arun Pradham is an experienced learning, performance, and innovation strategist, as he considers himself a "learning geek." His blog includes articles, great infographics, and cartoons that touch upon learning in general and instructional design in particular.
22. AllenComm's Blog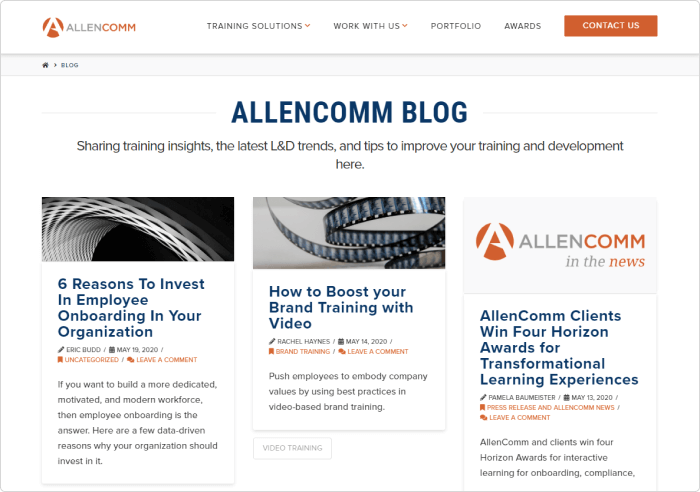 This is a blog run by a leading corporate content provider in the US that shares training insights, the latest learning and development trends, and best practices to improve workplace training. It covers all the topics that might be of interest for L&D professionals, from learning strategy development to training project management.
We hope these eLearning websites will give you a significant amount of insight and increase your chances of keeping up with the latest trends in eLearning and instructional design. Let us know which one you liked most or if we missed one in the comment section below.