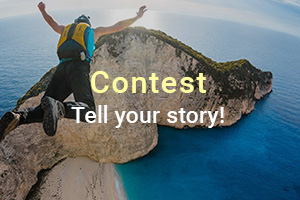 In August, we'll launch a contest for our customers. The idea is very simple – write a story about your experience with iSpring tools and share it on your social media pages, blog or company website. The authors of the most popular stories will get cool gifts from iSpring.
What should my story be about?
Tell your friends on social media or blog readers about:
tasks you solve using iSpring tools;
iSpring features (a review);
courses or presentations you've made with iSpring (with course demos);
tips&tricks for using the full power of iSpring tools;
other topic (if you're not sure if it works, feel free to ask a question in the comment section).
Where should I place my story?
You can publish your stories on your personal Facebook and LinkedIn pages, on your blog or website, on a corporate website/blog of a company you work for, or on any other e-Learning/training website.
The most popular stories will be selected in two categories:
posts in social media;
website/blog posts.
You can try your luck in both categories and publish your iSpring story both on social media and on a blog :)
Which stories can take part in the contest?
It will be a pleasure for us to read all our customers' stories. However, we have a list of rules which an author should follow to participate in the contest:
Reflect your personal opinion, based on your experience with iSpring tools.
Publish your story after the contest launch date.
Write a title for the story.
Add a link to one of our website's pages.
Put your name and surname at the beginning or the end of the story.
It will be great if you add screenshots, videos or demo courses to your post (you can use iSpring Cloud to share your materials. It's free for 30 days).
How will you choose the best stories?
The success of a story depends on the number of shares. A story published on Facebook or LinkedIn gets 1 point for each share. You can post your iSpring story on both social networks, and we will select the one which gets more points.
A story placed on a website or blog gets 1 point for each share too. We take into account all shares on the following social media sites:
Facebook
Twitter
Google+
Pinterest
LinkedIn
You can publish your story on several resources, and we will select the one which gets the most shares.
What can I win?
You can win a prize in one of two categories: social media posts or blog/website posts. The gifts include iSpring licenses and maintenance plan subscriptions, Amazon gift cards, and awesome branded souvenirs from our company.
This is the first time we're holding such a contest, and we're excited to know what do you think about it. Feel free to share your opinions in the comments! Maybe you can suggest some changes to the rules :)
If you've already taken part in such events, tell us about your previous experience.
Stay tuned for our news, share your experience and win presents!